Crimson Trace Scopes: Introducing the Hardline and Brushline
I'm sure by now many of you know Crimson Trace (CT) has their own line riflescopes. Over the next few months, you'll see them highlighted for hunting season here at The WON. Before we get the ball rolling on that series though, I want to share some information on the scopes and the two lines it now offers, a Hardline and Brushline.

Sponsored by Crimson Trace
I reached out to Crimson Trace's Jack Oller and asked him for a little background on CT's decision to create these two lines. Here's his response:
"We initially set up a distinction between Hardline and Brushline to separate our scopes between hunting (Brushline) and target/tactical shooting (Hardline), but we've seen many customers use scopes from each line for every aspect of shooting. As we expand the Hardline and Brushline, I'd say Brushline is a great place to start for hunters, and Hardline is a good starting point for tactical/target shooters, but end-users should pick the scope that fits their need best, regardless of origin."
Crimson Trace Scopes
Crimson Trace designed its Hardline scopes for tactical and target shooters, while the Brushline scopes are geared toward hunters. Here are some of the features both offer:
First and second focal plane options
Aerospace grade 1-inch and 30-mm options
Generous eye relief to get you back on target quickly
Fully multi-coated lens for maximum clarity, exceptional light transmission and glass quality
Both exposed and capped turrets, depending on the particular scope
Waterproof, shockproof and nitrogen purged
Some Hardline reticles are illuminated
All 50 Scopes have ELD glass made in the Philippines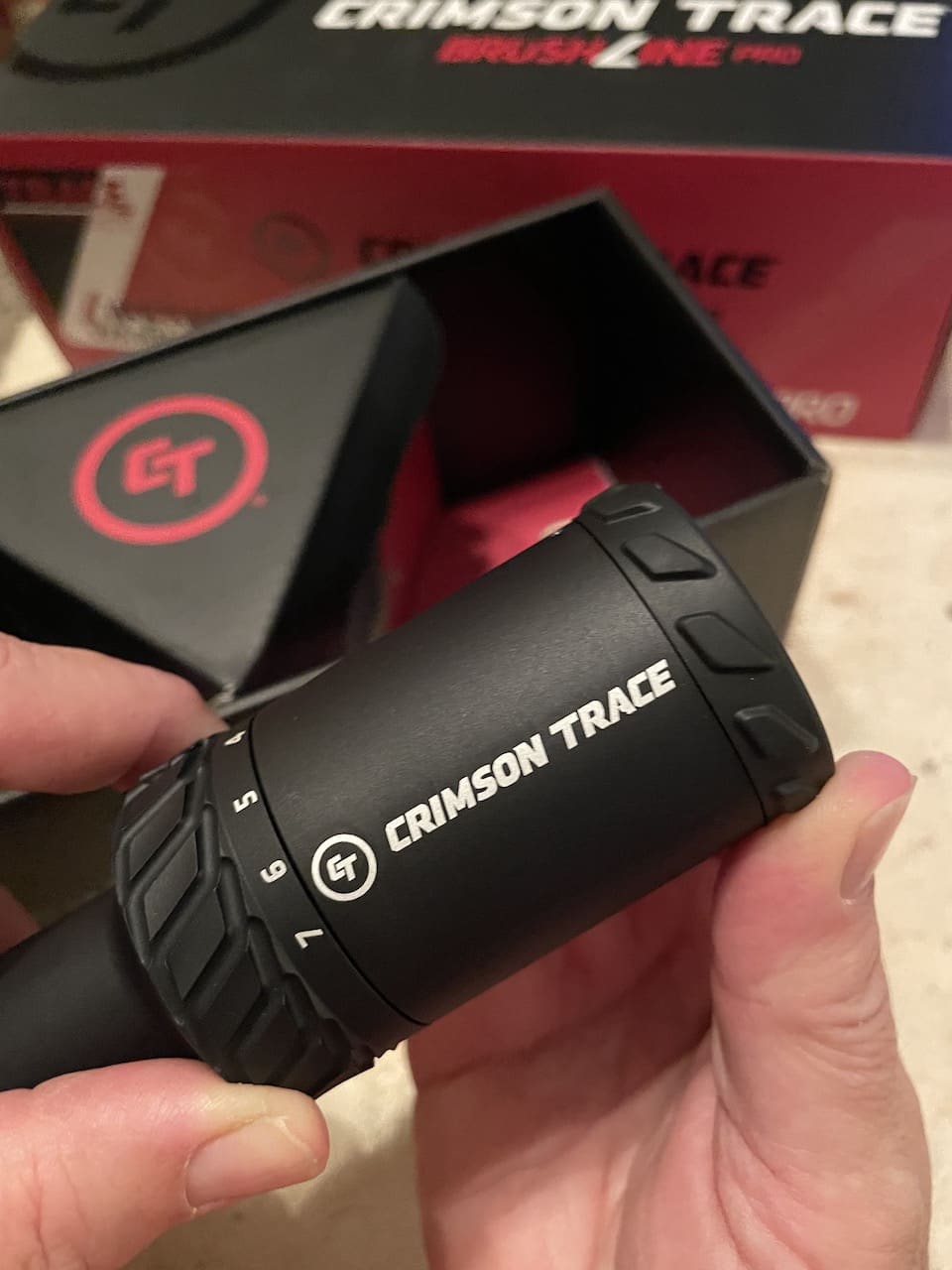 I noticed the oversized, knurled magnification rings and turret caps when I first picked up the scopes. Not only will these benefit the hunter with gloved hands, but also, anyone whose hands are cold or wet and slippery.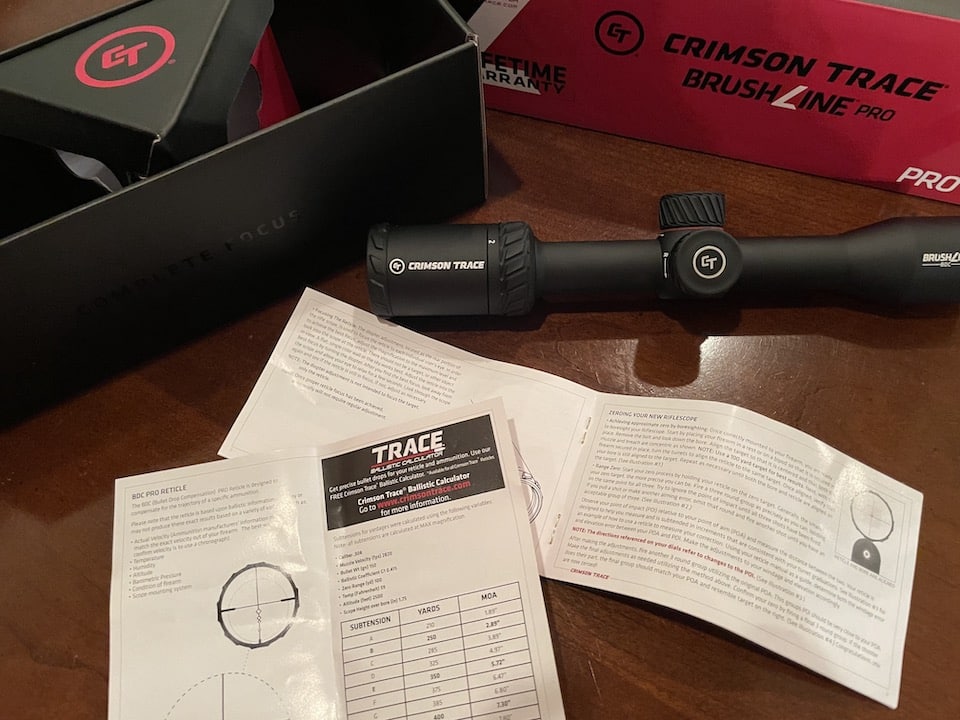 When opening the box the scope arrived in I found two user guides. The first one contained information for setting up the riflescope. Although this is available for download online, it's nice to have a hard copy. The second guide is for the reticle. Again, it's just sometimes nice to have that hard copy to refer to when setting up and using a scope.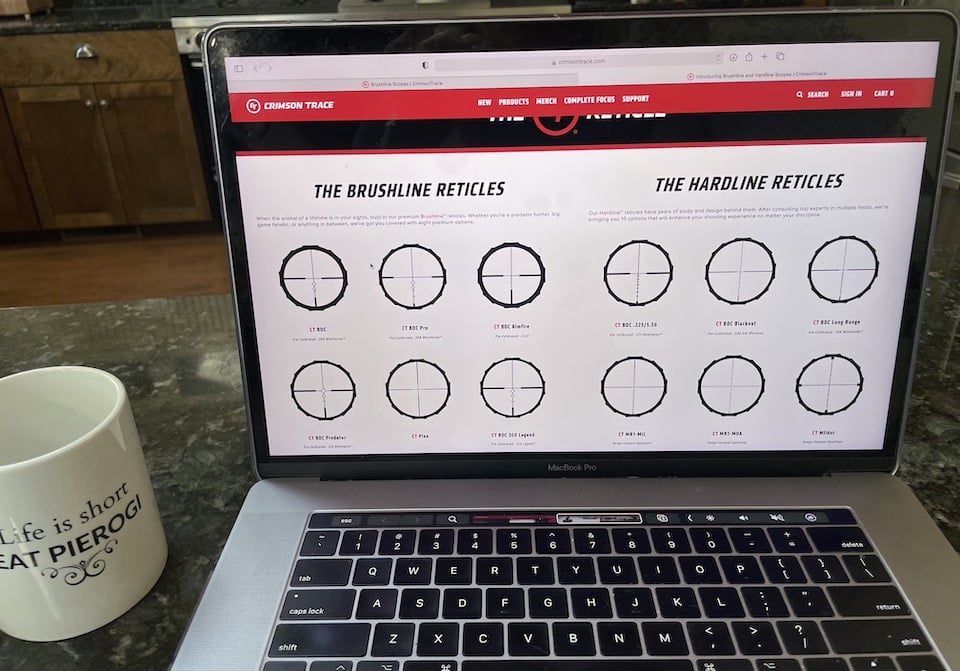 If you're not sure about which riflescope to purchase, CT's website offers resources to help you both before you purchase your scope and once you have it. Here are a few links to CT's content:
Reticles: CT has one page were you can view all 10 Hardline and eight Brushline reticles together. A reticle guide can also be found here.
Mount a scope: On this page CT has a step-by-step guide for mounting and sighting in your scope.
Warranty: Crimson Trace now offers an unbreakable lifetime warranty. At no charge to you, CT will replace a damaged Hardline or Brushline scope at no charge. This warranty stays with the scope, so even if you are not the original owner, it's still covered!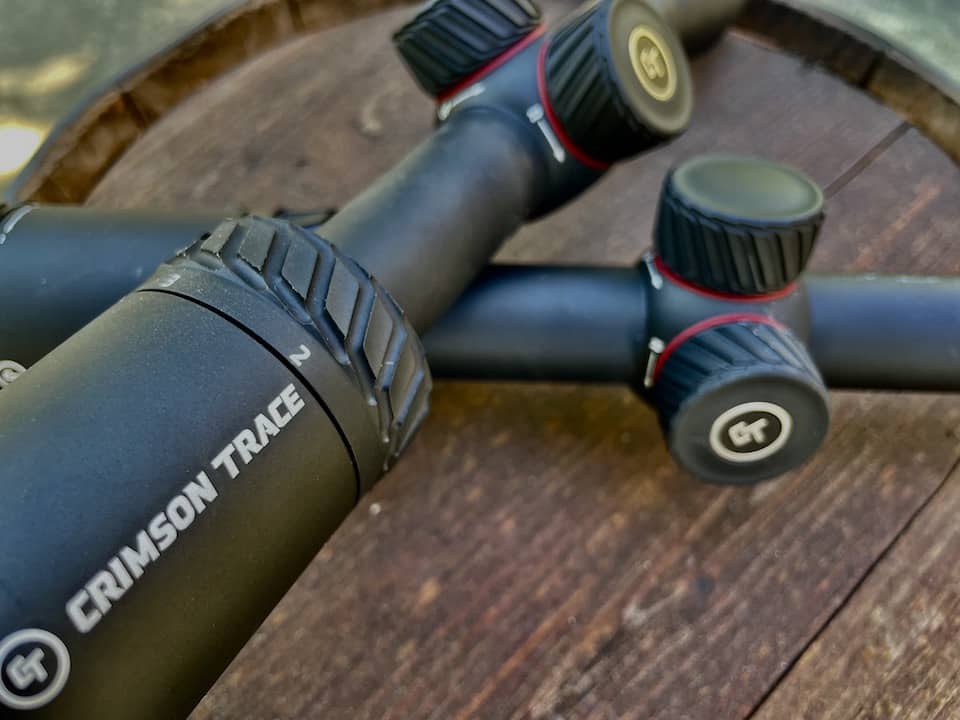 I invite you to visit Crimson Trace's website to search for the perfect scope to fit your needs. And make sure to watch for upcoming posts at The WON, highlighting some of the Brushline scopes and seeing them in the field.
About Michelle Cerino

Michelle Cerino, aka Princess Gunslinger, first entered the firearms industry in 2011 as co-owner, president and trainer at a national training company. She immediately began competing in both 3-Gun and NRA Action Pistol, becoming a sponsored shooter. Michelle is currently a columnist and Managing Editor of Women's Outdoor News, as well as owner of Pervenio LLC. She also manages social media for Vera Koo and GTM Original. Michelle encourages others to step out of the comforts of home and explore. View all posts by Michelle Cerino →