Gear Review: Osprey Poco AG Plus "The Baby Backpack"
When I became pregnant, even prior, there were a lot of comments along the lines of "better enjoy 'it' before the baby comes." From the outside looking in, "it" (my lifestyle), was not ideal to bring a child along. I spent a lot of time hunting, hiking, backpacking, gardening and target shooting. Bringing my daughter with me outdoors was something I was determined to do, and make it enjoyable for her as well.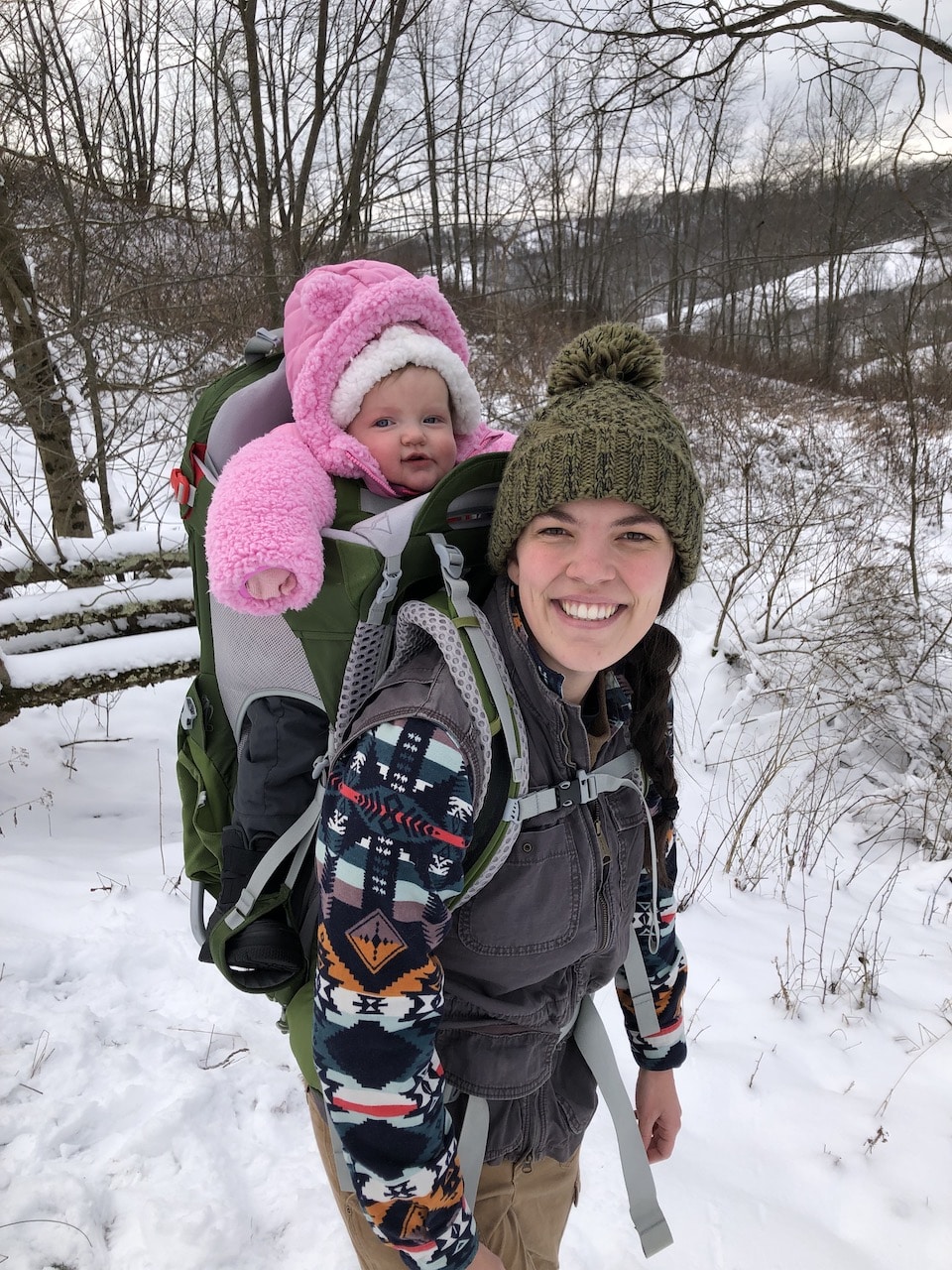 The Osprey Poco AG Plus
Trial and Error: Choosing My Pack
The Osprey pack was, surprisingly, not my first set up, or even my second. It took several months of motherhood to figure out a run-of-the-mill baby carrier was not going to accommodate my life with my daughter. The Osprey pack is designed for children old enough to sit up on their own, and will hold 40.5 pounds (including child and gear). A wrap-style baby carrier seemed to be my best option for newborn carrying, but it was not going to be sustainable considering it was putting extreme strain on my back and shoulders. As my daughter grew, I "upgraded" to a cheap baby carrier I got online. The cheap carrier offered no extra comfort for me or my daughter. One day while out in the woods with her on my back, I came to find out going the cheap route was not only uncomfortable but extremely unsafe. While reaching back to adjust her hat, she slid through one of the straps nearly falling out. Fortunately, she did not.
I felt the need to include my experience with cheaper options to justify the price of the Osprey Poco AG Plus. I was a little hesitant when I first saw how much one cost. At $330 I questioned if the pack was worth the money. My daughter was seven months old when I started using the Osprey pack, but I wish I had gotten it sooner. The overall quality, safety and comfort of the pack blows my previous set ups out of the water. That alone makes it worth every penny.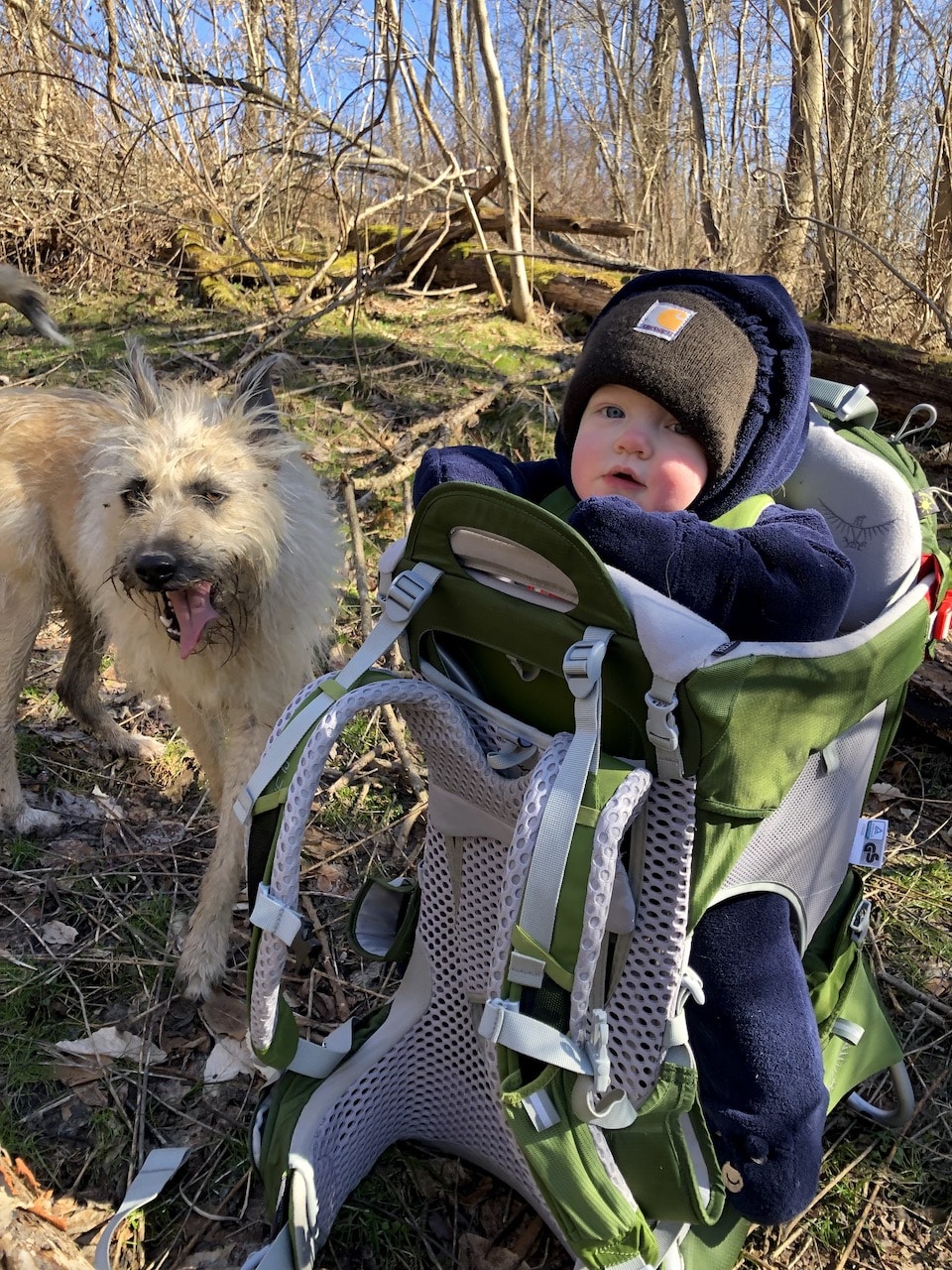 Baby Carrier Not Babied: How I Use the Pack
Backpacking is one of the main reasons I went with the Osprey Poco AG Plus pack. Wanting to stay overnight on the trail, I needed as much gear room as I possibly could. The pack offers 26 liters for gear, more than similar packs I found. It is perfect for day hikes and easy to get on and off without another adult present. The pack has a lightweight aluminum frame and foldable kickstand, which allows the pack to stand freely on the ground, keeping your child in an upright position. One to two nights on the trails are completely doable, as long as someone coming along is willing to carry extra in their pack. Even though it has one of the bigger gear storage capacities, this carrier is still a little small for ultra-light packing. This unisex pack adjusts just like any other pack set up for backpacking, making it comfortable and effortless to make the switch from my previous, childless pack. Find more detailed information on this pack here. My pack has been used and loved by me for so long that it is no longer available, but this model has the same specs.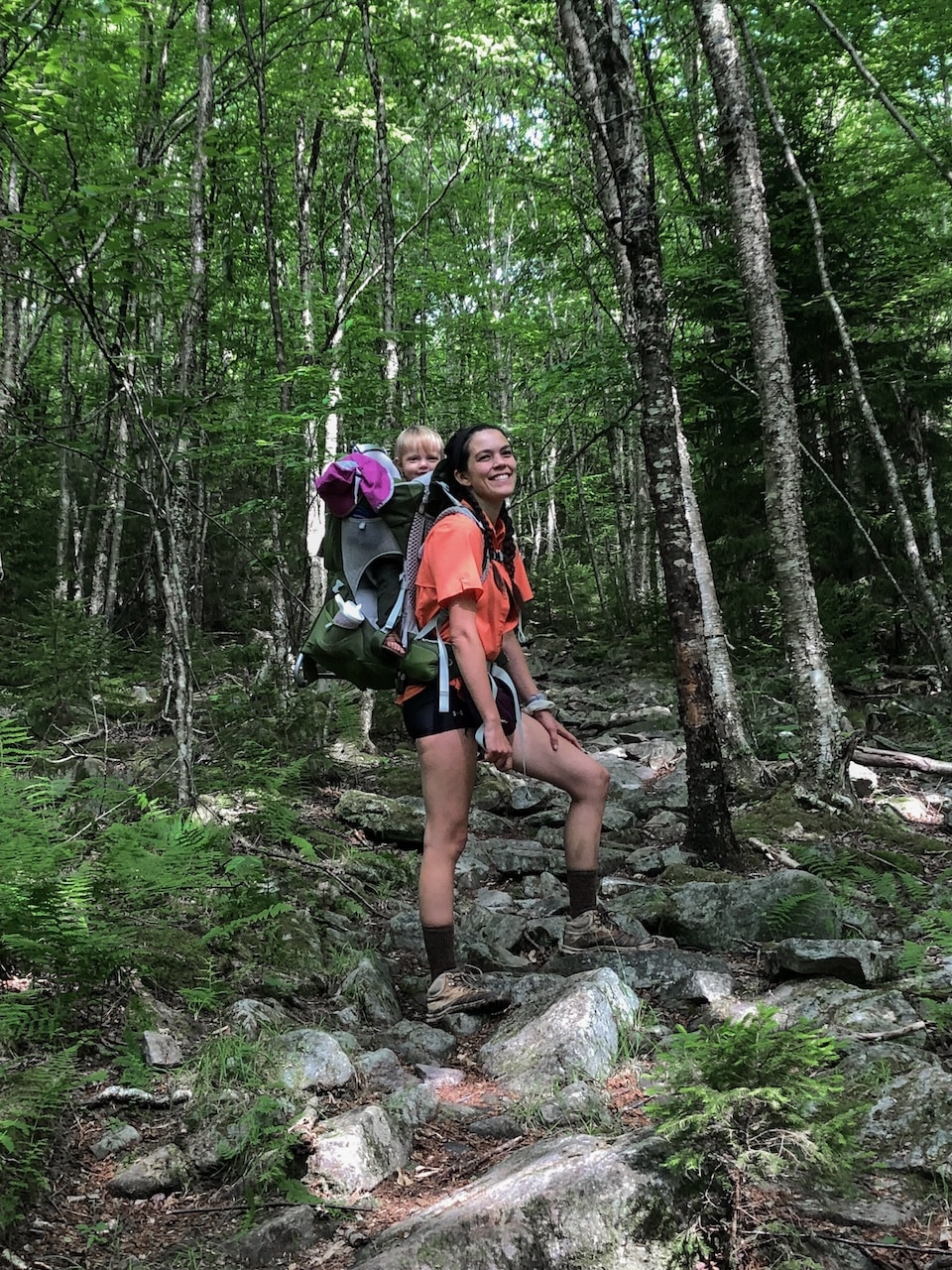 My personal Osprey Poco AG Plus pack has proven itself beyond just trail walking. The outer fabric is rip-stop nylon, and has been through a season of shed and mushroom hunting in the hills of southwestern Pennsylvania where "jagger" bushes have caused plenty of casualties to other fabrics. I have been using the pack for 7+ months and over 100 miles, and have yet to notice any signs of wear.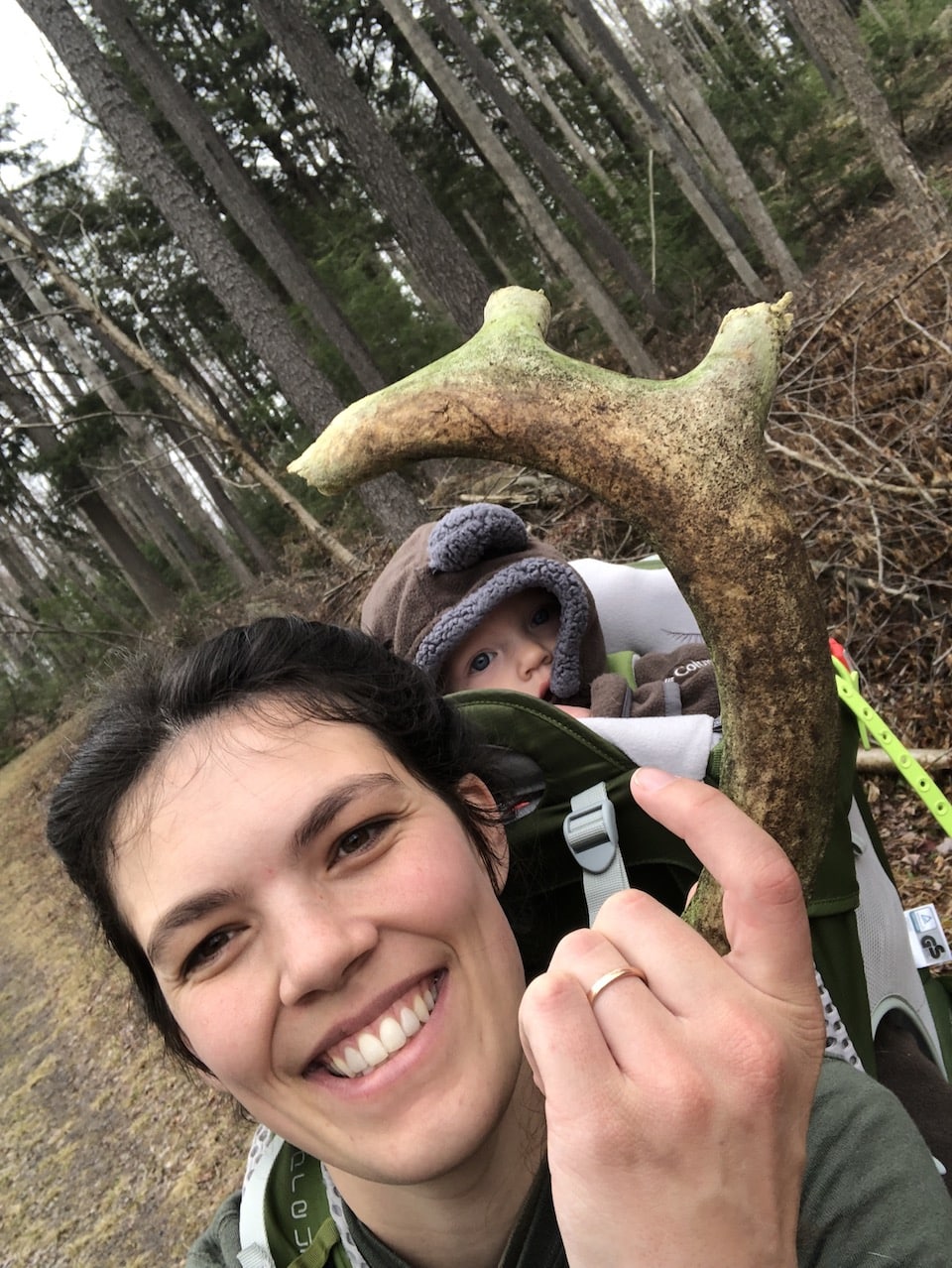 Kid Tested and Approved
My now one-year-old daughter still loves riding around; she sits slightly above my shoulders, letting her see everything that I can. There is a padded shoulder harness inside the seat that holds her in, while still letting her arms move freely. Her legs hang down and out the side of the pack, where adjustable stirrups allow her to have some leverage to stand up and stretch a little all while keeping her snug and safe. The adjustable seat is padded, and fleece lined, but still ventilated enough to keep her cool in the summer. When nothing seems to calm her down, my go-to parenting hack is to put her in the pack and start walking. As soon as she gets in she is all smiles or napping.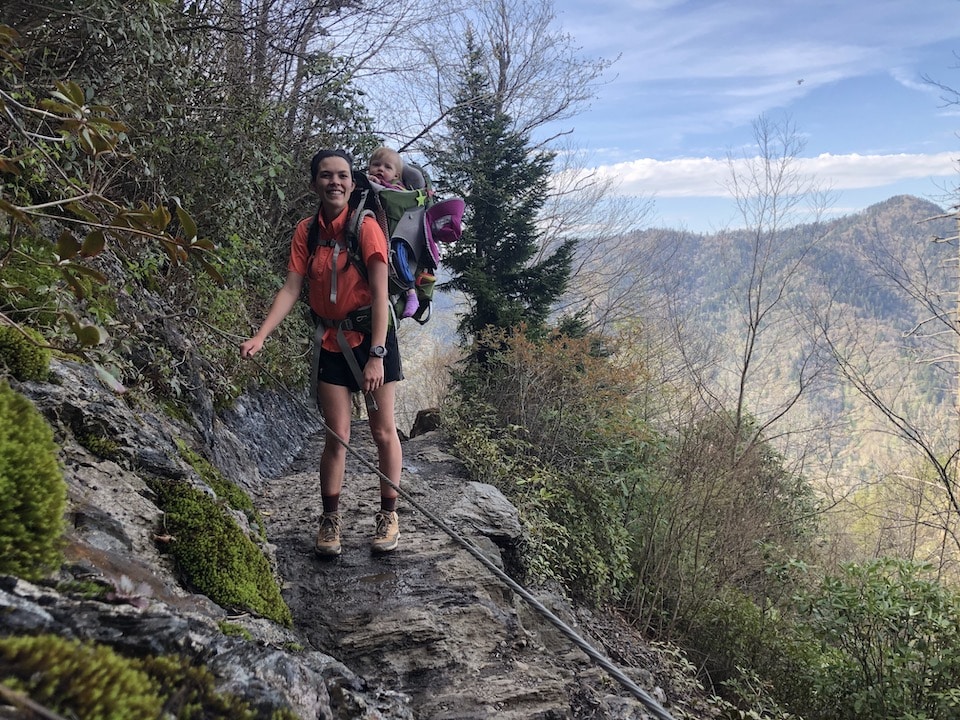 Accessories
There is a UV sunshade that stows away in the back of the pack, but is a little hard to use unless you are in an open field. The sunshade adds a significant amount of height to the pack, making it difficult not to get snagged by low branches. I have personally used the sunshade as a wind blocker, by draping my vest around the sides. This is a feature I thought I would use a lot more often than I do.
Colleen's Takeaway on the Osprey Poco AG Plus
Overall, the Osprey Poco AG Plus is a great pack for any parents wanting to bring their baby along on adventures in nature. From overnight backpacking, to afternoon walks through the neighborhood, the pack is perfect for the great outdoors and fits perfectly into any lifestyle. I highly recommend giving it a try!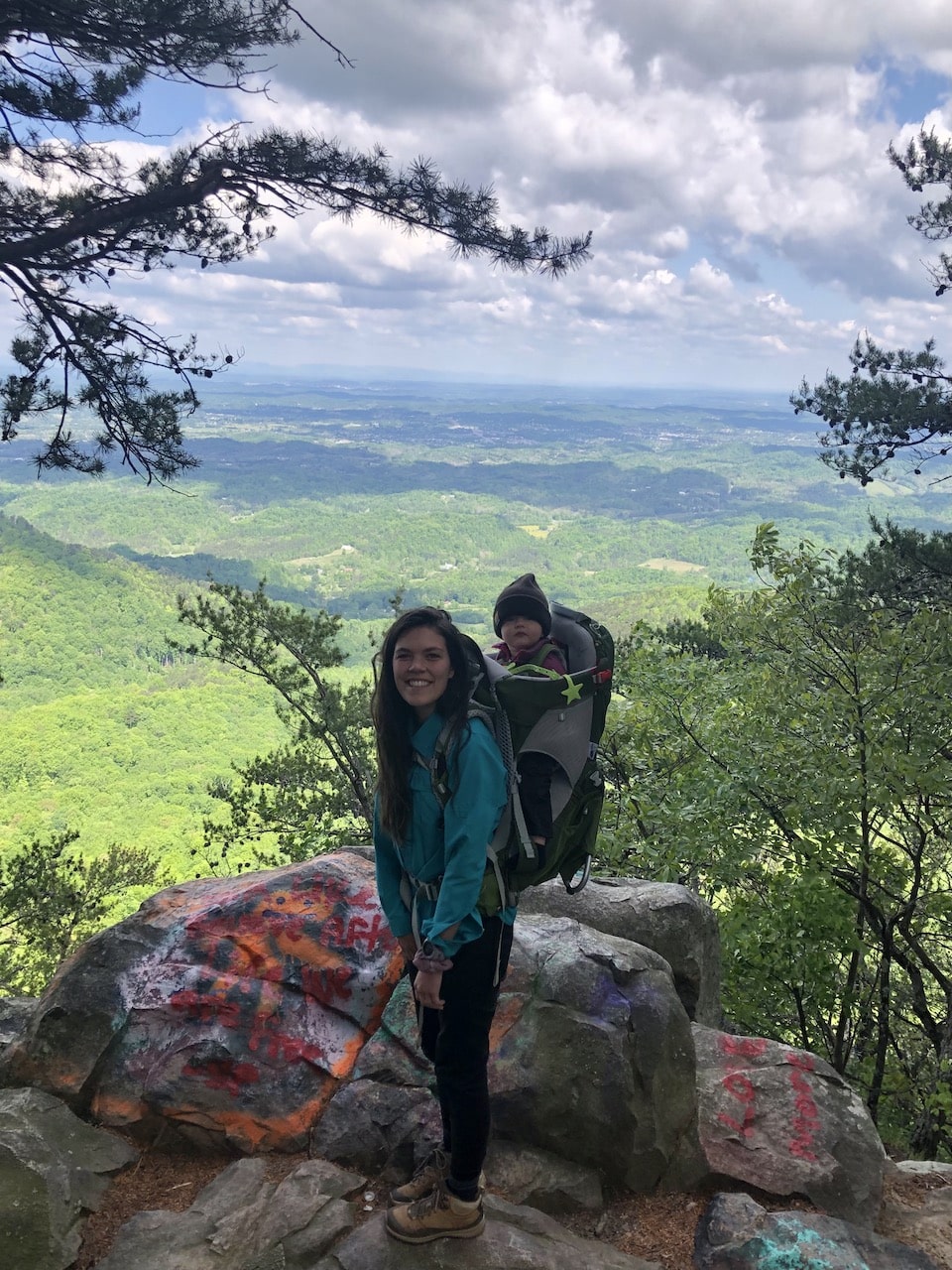 Colleen Lindley Bio
Born into a family with a love for the great outdoors, it's no surprise that her love for nature grew with her. Among many things she is a mother, backpacker, hiker, hunter, gun enthusiast, gardener and aspiring homesteader. Since quitting her "day job", she schedules her work to maximize time spent traveling and outdoors. Now, Colleen owns a photography business dedicated to empowering other women. She also works for Lindley Machine, a gunsmith shop in South Western Pennsylvania, owned by her husband.
About The WON

The Women's Outdoor News, aka The WON, features news, reviews and stories about women who are shooting, hunting, fishing and actively engaging in outdoor adventure. This publication is for women, by women. View all posts by The WON →