Review: CHAMA Pursuit Chair
One of the most overlooked accessories in the field is a quality chair. I don't think enough consideration is given to what you will sit on when you are outdoors. What I have learned is that camping chairs are NOT the go-to chair. I am not just referring to hunting and camping. In a pinch, a basic $6.00 camping chair will work in a deer blind or on a fishing dock. Similarly, an upside-down 5-gallon bucket will work in a marsh or sunflower field for dove hunting.
Sponsored by wildHERness
What I had to ask myself was: did I want to sit in or on that? I do use a camping chair for fishing; it is comfortable enough for that activity but falls short when it comes to deer hunting. The deciding factor presented itself while I was on a deer hunt, and took an intentional "scope kiss" to the forehead. Because the camping chair I was sitting in did not rotate, I couldn't get into position without a lot of movement and noise. I chose not to risk spooking my potential harvest, so I braced myself for the kiss … and made a note that I needed a chair with 360-degree movement and (for the perpetual coffee drinker) a cup holder option.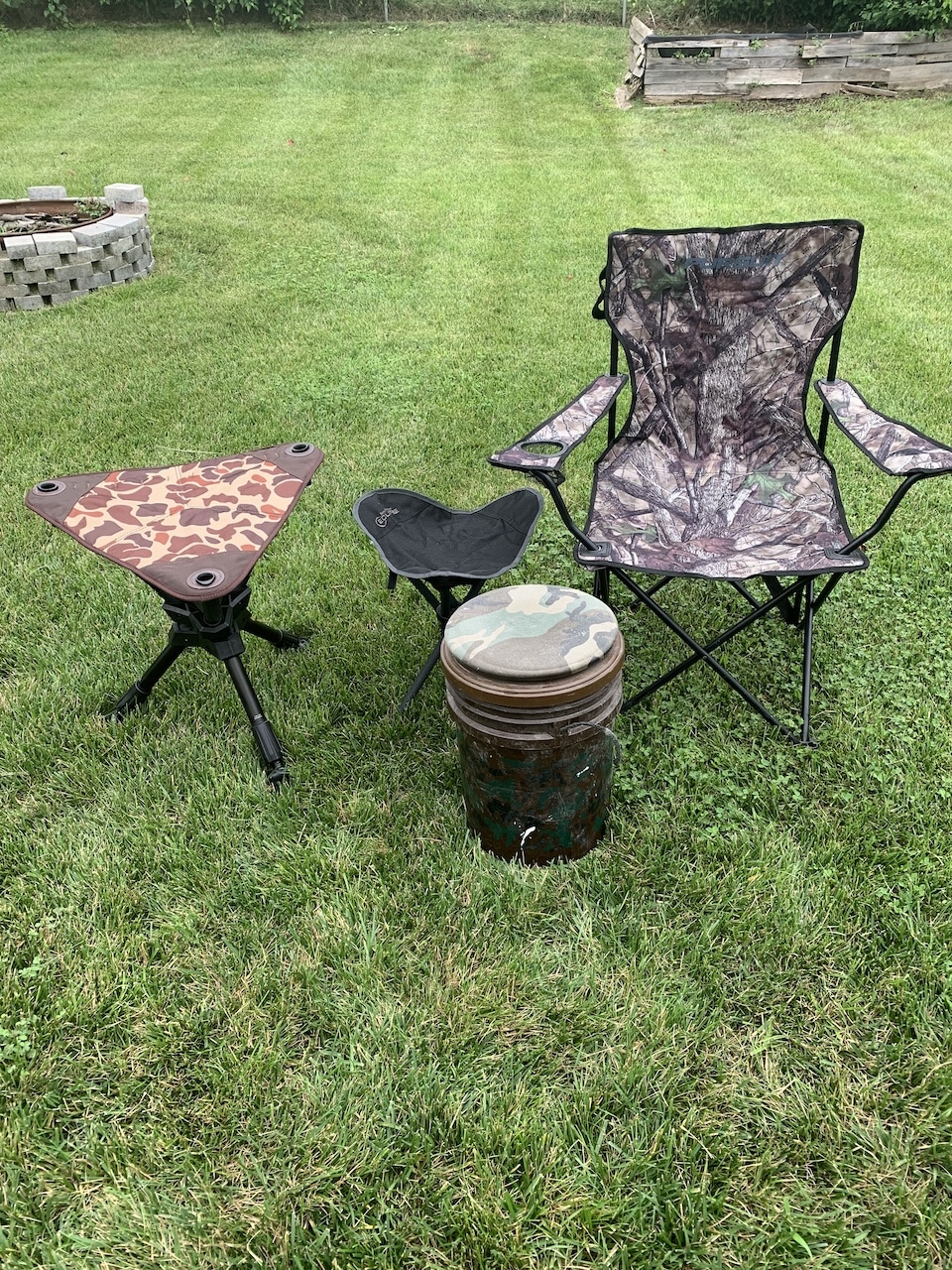 In Pursuit of the Perfect Outdoor Chair
After 3 deer seasons, a dove hunt, several waterfowl seasons andtoo-many-to-count fishing seasons, I narrowed down the must-haves for my new chair.
Preferred options:
A cup holder. This is non-negotiable!
Quiet 360 degree turn.
Light weight.
Multiple outdoor uses.
Camo, but would settle for black.
Back support.
Usable in varied terrains.
Easy to clean, carry and unpack.
I stumbled upon a CHAMA Pursuit Chair (MSRP $179.95 before accessories) at my local gun store. They had three color options on display, and the store staff let me unabashedly examine every aspect of the Pursuit Chair. The price tag was more than I wanted to spend. Before committing to purchasing and saving for it, I decided to research this particular seat online.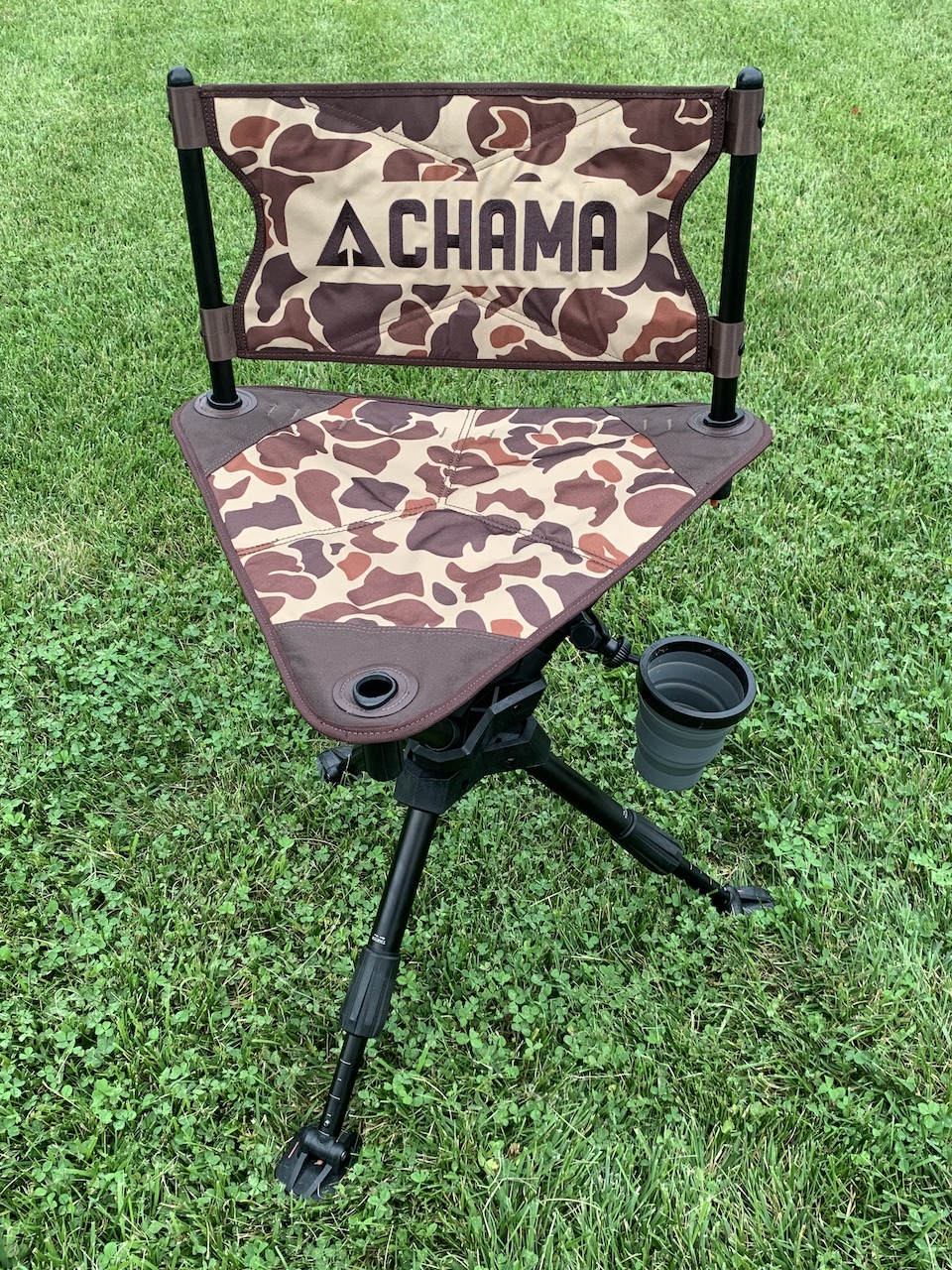 The CHAMA Pursuit Chair
Let's cover some of the details that CHAMA lists on their website:
The chair weighs 8 lbs., including the backrest and carry bag.
Seat heights adjust 20-24 inches with legs fully extended.
The backrest height is 11.75" x 20' wide.
Bag length is 28.5 inches.
Maximum seating weight is 300 lbs.
Standard options do not include a cup holder, but it is available as an optional separate accessory (MSRP $24.95). This accessory is well worth it, if you're wondering! Made of ABS plastic and collapsible silicone, CHAMA stated that the cup holder "will hold anything from a lemonade can to the largest Yeti Rambler. Our holder has a leveling arm with a versatile clamp that can attach to multiple areas of the chair … as well as your ATV, bike, stroller, etc!"
Shop products related to this article!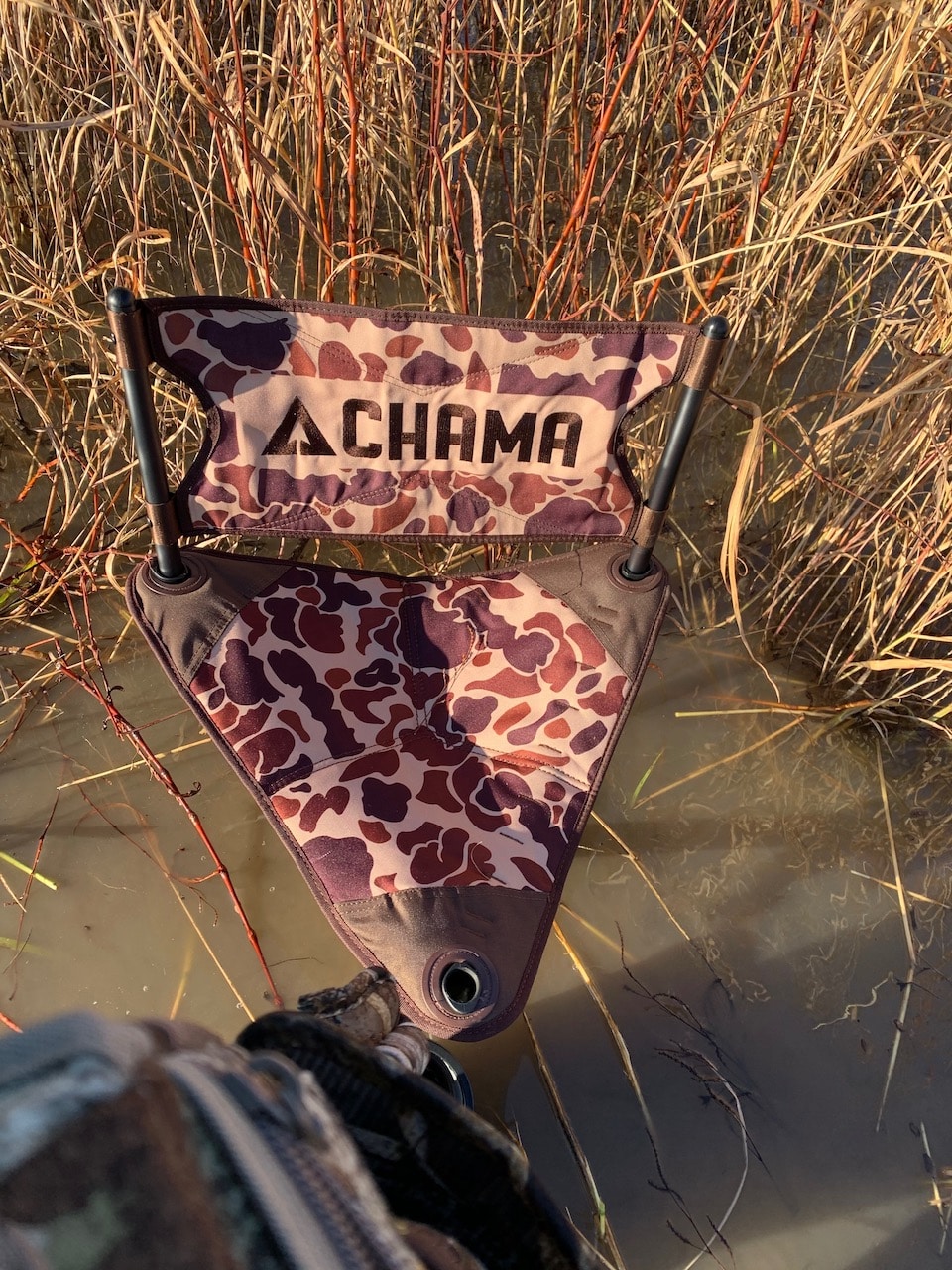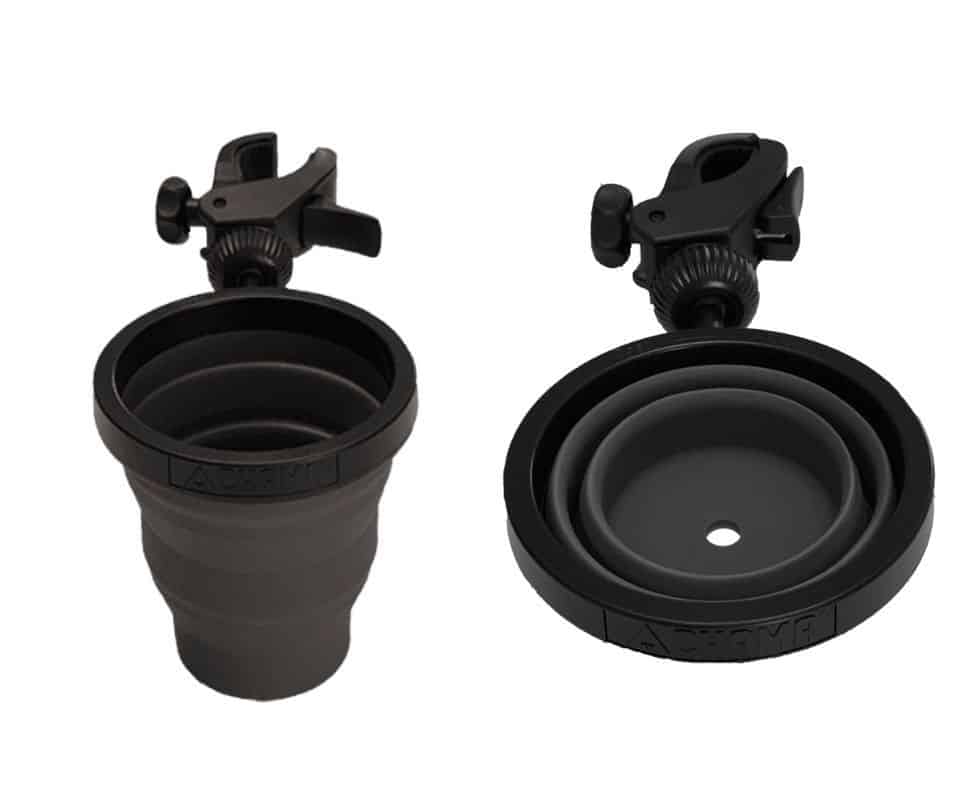 Pulling the Trigger
I decided to take a chance and purchase the chair. If I was not satisfied, I could always return it, right?
Pros:
The carrying case is multifunctional. I can carry 1-2 rods and 1 long gun in the external compartment that has secure latches, snacks in the pocket, and a few accessories. The chair is light, making it easy to carry. I am also impressed that there are multiple ways to carry in the field, with a handle on the top, the side and a sling strap. My first thoughts once my derriere hit the seat, "This is comfortable!" The ergonomics were considered in designing a straight-back sit, but the strap is attached to the bag at a great angle to sling it securely across the back of the chair. Now, for a trial spin…It's a smooth and quiet 360-degree turn! There were several other features that I favored.
– The legs can be individually adjusted and a true to all-terrain adjustment.
– The material dries quickly if submerged in water, and is water repellent if there is a drizzle.
– The chair is light, making it easy to carry. I am also impressed that there are multiple ways to
carry in the field, with a handle on the top, the side and a sling strap.
– Easy to unpack, pack and compact for storage.
– Comes in vintage camo, black and a grey black version at some retailers
Cons:
With an MSRP of $179.95, it's a bit pricey. And, the cup holder is an additional cost. Although I love the chair, it is not designed for relaxing by a fire and potentially taking a chair nap after a long day … I would not recommend it for a campfire chair. But, as you'll read in the next paragraph, I'm learning that a higher price tag product can also mean better customer support on the backend of the initial purchase.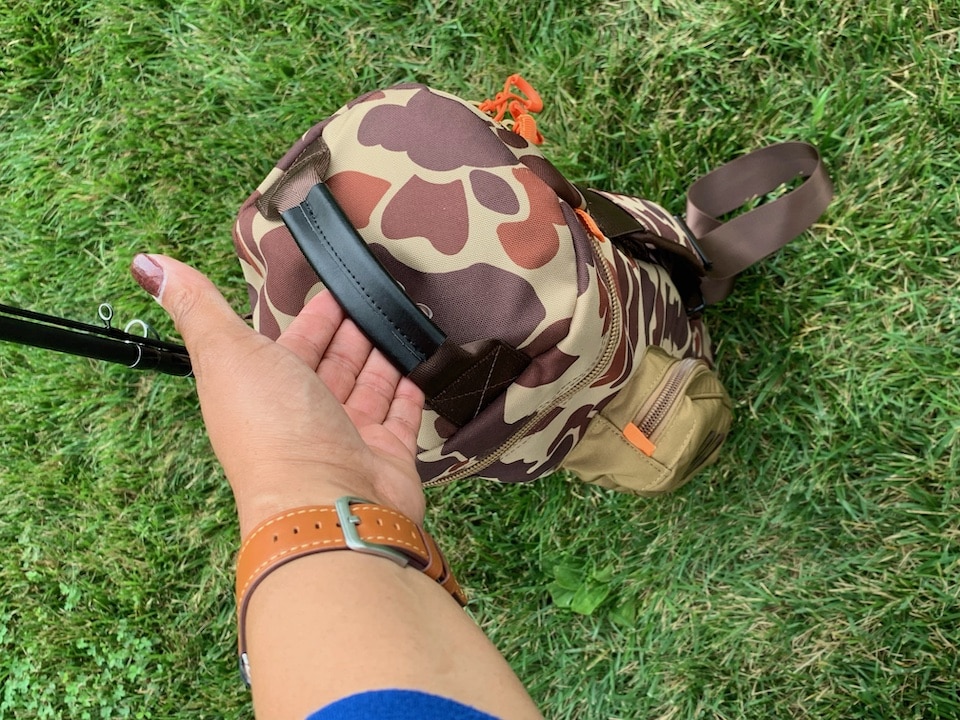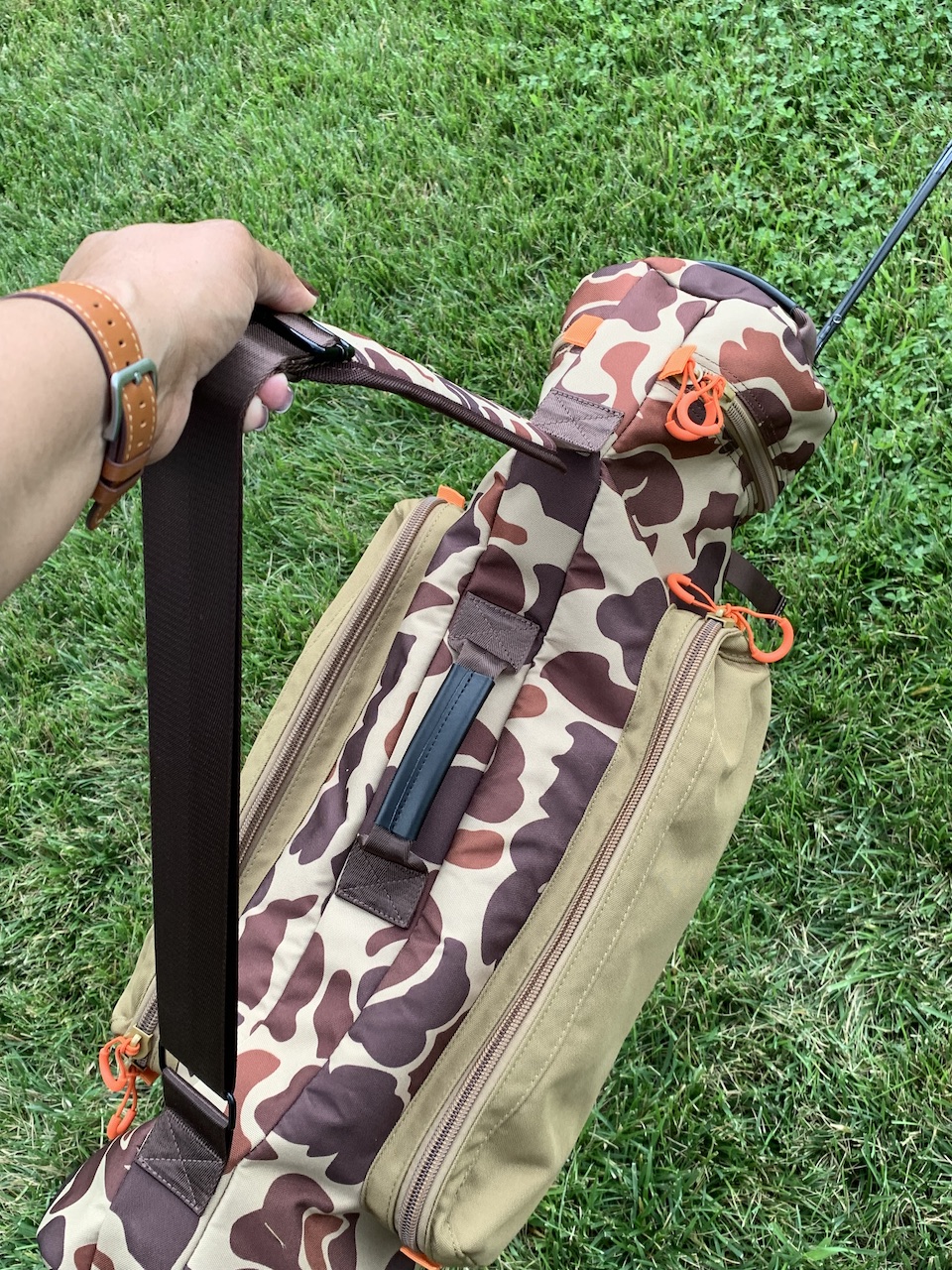 CHAMA Customer Service Experience
A few months ago, I had to contact CHAMA to inquire about the warranty associated with my chair. One of the legs would not stay elongated and would slip. I received an immediate reply and asked to provide proof of purchase. They mailed me a replacement chair and paid for shipping to send my original back. What I learned was there was potentially a little bit of dried marsh mud in the groove of the leg that would not lock. They provided amazing customer service and with a superb, quick turnaround time.
Find out more about the CHAMA Pursuit Chair here.
About Sharenda Birts

Sharenda Birts is the Director of Community Affairs and one of the 4 founding members of wildHERness, a diverse group of outdoorswomen passionate about providing females with a connection to the outdoors through workshops, events, mentoring and community service. Her passion for the outdoors began when she began to learn how to safely handle a firearm and clean it. She does not come from a family background of firearms or outdoorsman and did not have any exposure to the outdoors until she joined a sporting clays league that persuaded her to attend a pheasant hunt. Although Sharenda is a new hunter, she is passionate about sharing her adventures to inspire other city born-and-raised minority women – with the message that they, too, can learn how to explore the outdoors, no matter what their ages. Sharenda is an NRA certified pistol, shotgun, and metallic cartridge reloading instructor who comes from a background with 25 years in the banking and equity investment industry. She also admits to being addicted to clay sports, along with upland and waterfowl hunting. Sharenda's gearing up for angling and fly-tying in the near future. View all posts by Sharenda Birts →