Review: DRYSHOD Legend MXT is a Game Changer for Rubber Boots
Amy Ray is the founder of The Sisterhood of the Outdoors. She travels the country hosting hunting trips for women, and in her spare time, works on her own little piece of paradise in rural Georgia. We asked her to run these boots through the paces of her active lifestyle. See what she thinks about DRYSHOD Legend MXT rubber boots.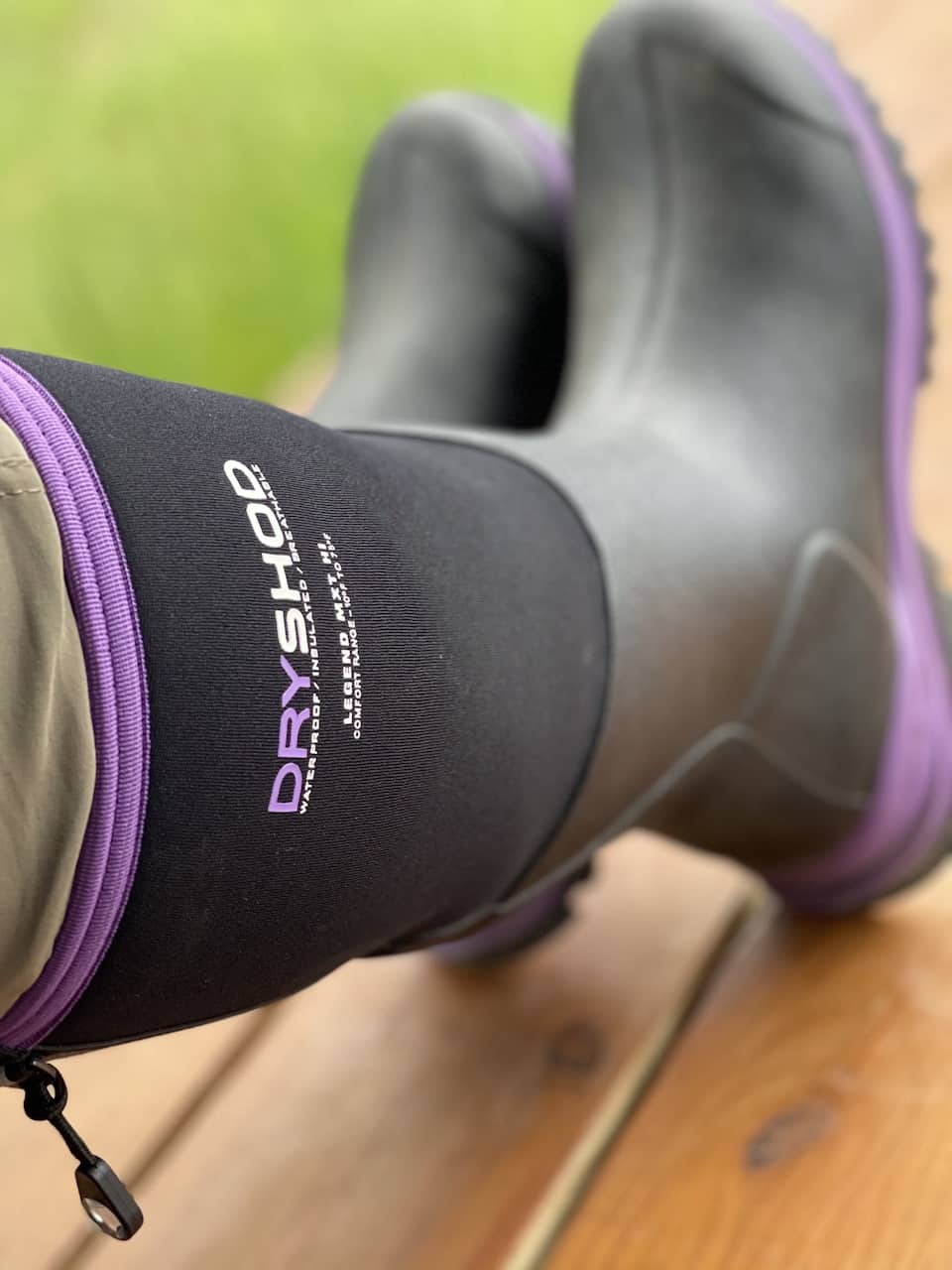 Having the right pair of boots for any outdoor activity enhances the experience. The right pair of boots for hunting, fishing, and working on the farm are a necessity. There is nothing worse than a pair of rubber boots that make your feet sweaty and cold. I have tried a winter-based rubber boot for hunting and while my feet were warm, sometimes too warm in the south, the sole of these boots did not provide the traction I needed for walking in the woods. One time, I experienced a roll – down a hillside of acorns under wet leaves. Imagine rolling on marbles (not great way to get to a tree stand quietly). It was kind of comical and I was glad no one was around to witness the fall. I was rather shocked when I started sliding downhill with both feet. I recovered from the ground and had to step lightly the rest of the way to my stand. I didn't think I would ever wear a rubber soled boot again.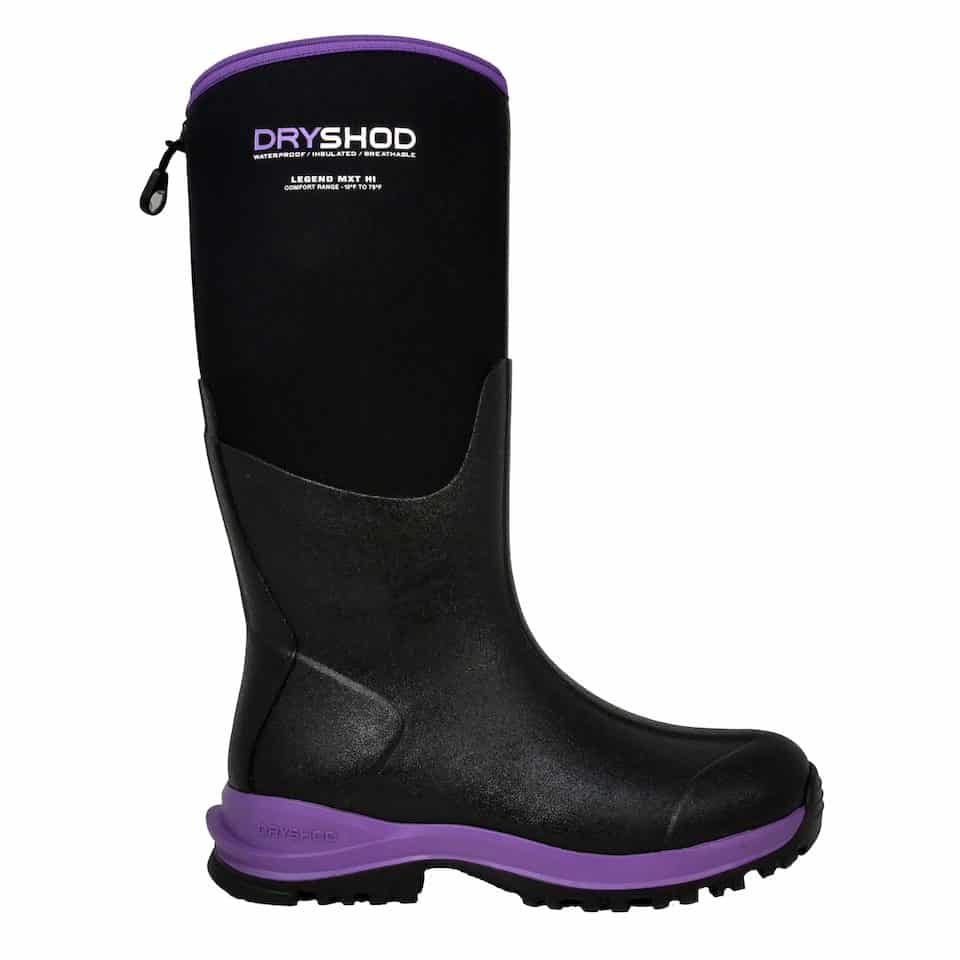 DRYSHOD Legend MXT
Enter the new DRYSHOD Legend MXT, an all-weather, all conditions outdoor boots, constructed of 5 mm Densoprene foam insulation, with a Hydrokote water repellent. These boots fit true to size and they are waterproof, warm and breathable. I have a large calf and they fit perfect. The roll-down design makes them easy to remove. The boot top comes with four-way stretch, which I noticed right away when I tried them on. I wore them for a sporting clay event with temps in the mid 60s. The term breathable means it moves the air to keep your feet comfortable. I was amazed that my socks were dry, and the boots came off my feet easily – thanks to the back-pull tabs.
The Legend's all-conditions rating is for -10 to 75 degrees. This range is perfect for all my outdoor needs. I am looking forward to hunting in cold weather with these boots in the fall. I put them to the test by working on my property after the spring rains in the mud. The traction the sole provided was perfect. Note that DRYSHOD offers different soles for multiple tasks and did not produce a one-size-fit- all-sole. I walked through mud holes and tall wet grass with confidence. I can imagine these boots will keep me upright in many harsh conditions. I also appreciated that the boot's fit is athletic and supportive, with its steel shank arch support. I have experienced foot pain in the past, and I feel fully supported in this boot. After a long day working on our property, I felt so comfortable that I drove home wearing them.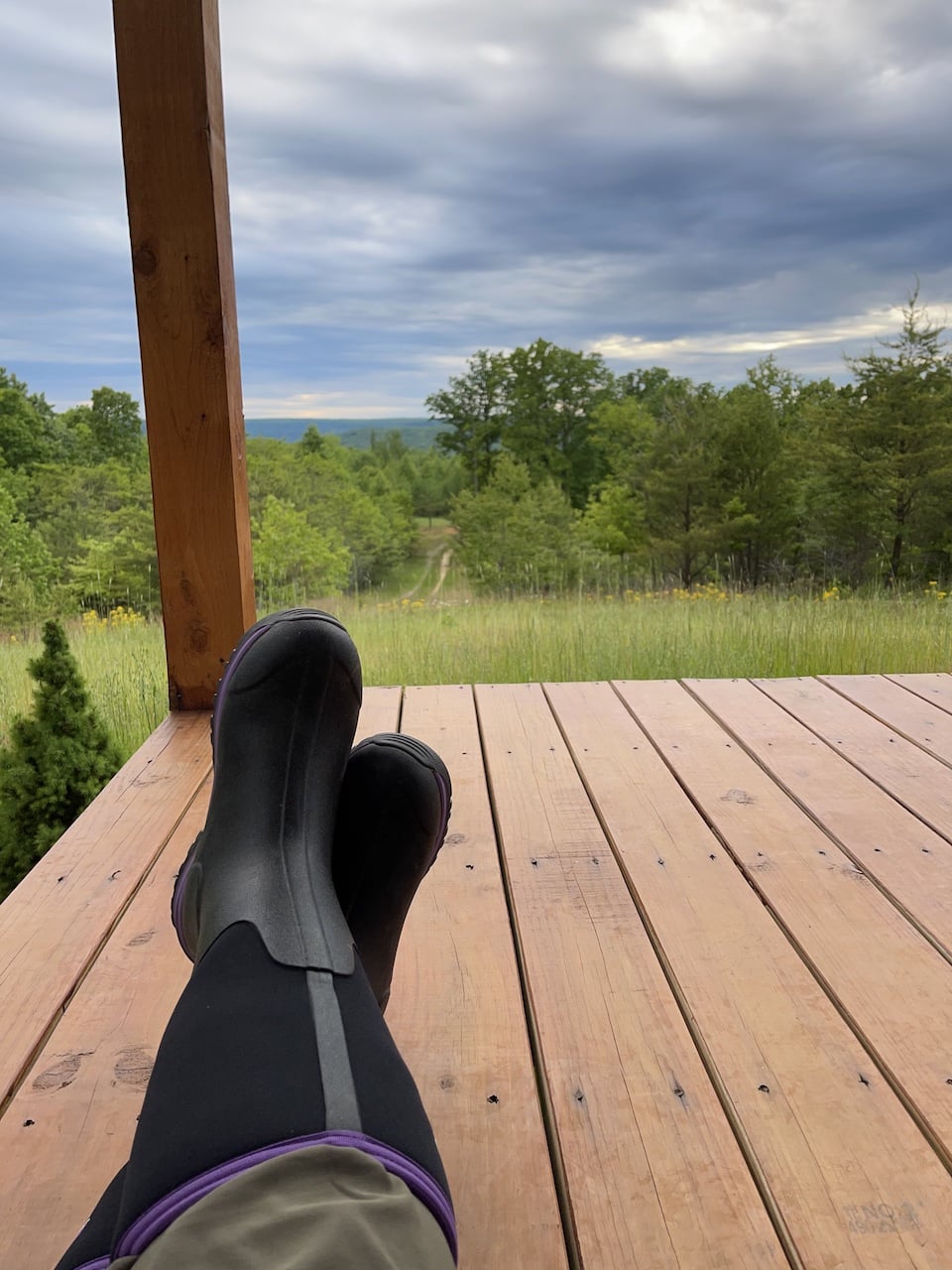 It is so refreshing to find a pair of boots with the technical attributes built in to be comfortable and functional at the same time. This boot offers me the versatility needed to get through multiple seasons and task in the outdoors. DRYSHOD makes boots for hunting, farming, and gardening.
I have a rule about my boots: never ask me how many pairs of boots I own. Now that I have a pair of DRYSHOD boots, I can eliminate a few pairs. Visit DRYSHOD online to get the last pair of waterproof boots you will ever need.
MSRP for the women's DRYSHOD Legend MXT Adventure boots: $114.95. It comes in purple (like mine), or black/black or black/pink.
About Amy Ray

Amy Ray is the owner of The Sisterhood Of The Outdoors, an organization that creates opportunities for women to hunt, shoot and fish. Amy is a pro-staff shooting instructor with Shoot Like A Girl. Amy is certified as an NRA pistol instructor and Refuse to Be A Victim instructor. As a member of the Freedom Hunters advisory board, she helps to expand hunting opportunities for servicewomen, Gold Star wives and daughters of fallen heroes. She also is an avid hunter and shooter and loves mentoring others in the outdoors.   View all posts by Amy Ray →