BoatUS Magazine Names 10 Top Boating Towns
SPRINGFIELD, Va., August 30, 2021: With many wage earners now freed from the daily commute, which towns might score high in the eyes of recreational boat owners looking to relocate? In the just-released September/October 2021 issue of BoatUS Magazine, Contributing Editors Fiona McGlynn and Tim Murphy offer plenty of answers in "10 Top Boating Towns," which looks at how the pandemic has led some to seek out more robust boating lifestyles. Included are some of the most compelling locations across the country that check all the right boxes for boat-owning families, young professionals and retirees.

This extensive feature takes into account both qualitative editor preferences – such as a focus on suburban and rural regions – as well quantitative data. This includes AARP, US News and World Reports, Bassmaster, Niche, and Areavibes. Also, BoatUS editors used their extensive experience and knowledge of top boating destinations around the country to find that great combination of boating amenities and services; real-estate prices; proximity to major airports; and cultural, educational, and major medical services.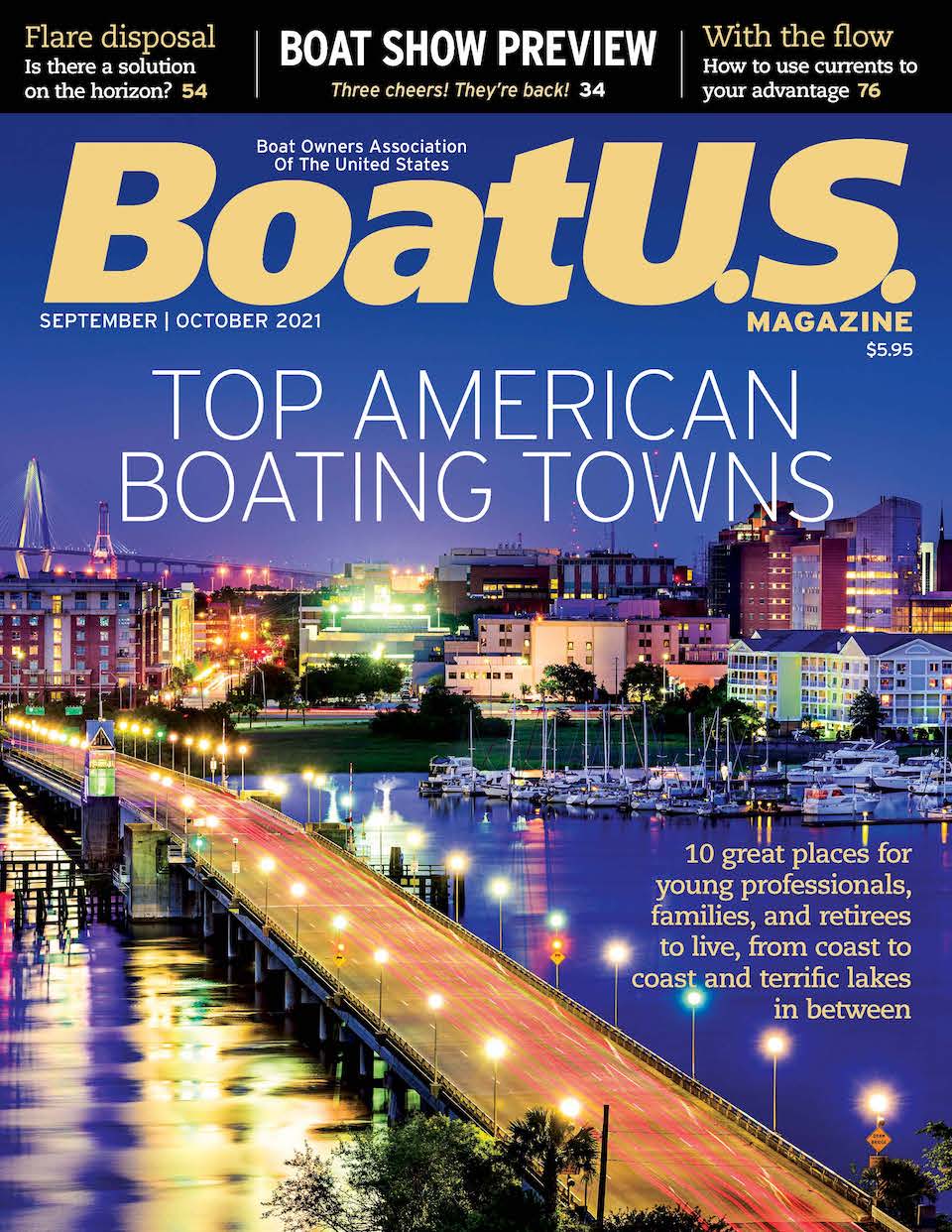 "When it came to evaluate the caliber of the boating lifestyle in each place for this 2021 edition of our Top Towns presentation," says BoatUS Editorial Director Bernadette Bernon, "our editors specifically looked at boating access and the availability of launch ramps, marinas, moorings and boat clubs, inlets to bigger water, events such as fishing tournaments, sailboat racing opportunities, and watersports – as well as TowBoatUS ports and member discounts."
Here are BoatUS Magazine's 10 Top Boating Towns listed alphabetically:
Anacortes, Washington: Homeport to the San Juan Islands and with a population of just 17,000, Anacortes offers a vibrant marine community with six marinas, maritime heritage center, and even a marine trades school. In the shadow of the Olympic Mountains, it also receives far less rain than Seattle, is a seafood and nature-lovers paradise, and consistently scores high with retirees. Festivals such as Shipwreck Day add to the nautical feel.
Benton County, Arkansas: This Midwest gem is in the heart of Arkansas lake country, with the 28,000-plus acre Beaver Lake being the largest. Great for bass fishing, its 480-miles of shoreline meander through spectacular Ozark Mountain scenery. Also keep in mind the lake is just 12 miles from the county seat, Bentonville, a fast-growing city that retains its small town charm. A low cost of living and plenty of jobs makes it appealing to outdoorsy young professionals and families.
Charleston, South Carolina: An historic port city, Charleston offers protected waterways and shorelines that wind through cobblestoned neighborhoods and waterfront dining districts. Locals congregate on sand bars or at other popular raft-up spots and head further afield to the Lowcountry's barrier islands and estuaries. A foodie town that also offers a vibrant art and nighttime scene, Charleston scores high with young professionals.
Clear Lake, Texas: Houston's boating mecca with more than 20 marinas, boatyards and yacht clubs, the 2,000-acre lake offers access to Galveston Bay, which is popular with anglers and watersports enthusiasts. Clear Lake also has a vibrant waterfront dining and entertainment scene. Nearby popular hangouts include Nassau Bay's Party Cove and the waist-deep sandbar at Offatts Bayou. Affordable home prices and highly ranked schools make it popular with families.
Dickinson County, Okoboji, Great Lakes Area, Iowa: A boating oasis in the midst of endless rolling cornfields, the region consists of Iowa's largest natural water body, Spirit Lake, along with five smaller interconnected lakes. While the 500-member Okoboji Yacht Club offers an active sailboat racing program, anglers also won't want to leave the rod at home – some consider Spirit Lake the fishing capital of the world. Small communities, where friendly neighbors know your name, dot lakeshores.
East Tawas, Michigan: Super affordable housing – just $95,500 median home value – and small town life combined with spectacular lakeside scenery appeal to many retirees. Consistent winds make Tawas Bay popular with sailors and kite boarders, and fishing is good year-round. Relive your youthful summers in the quaint downtown – on summer Tuesdays the main drag shuts down to traffic and the half-dozen restaurants and bars spill into the street.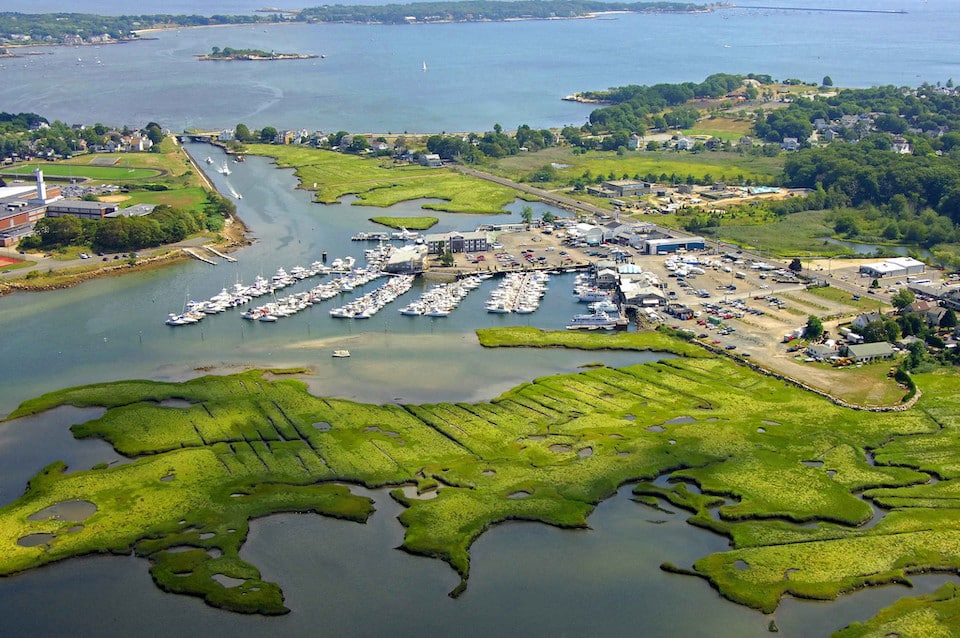 Gloucester, Massachusetts: A stunning harbor with 17 marinas on a rocky and marshy cape, Gloucester is home to a vibrant commercial fishing fleet but makes great strides to appeal to recreational boat owners with several dock-dining options. Whether starting your career or thinking about retirement, you can enjoy a laid-back lifestyle without giving up the benefits of the city life – 37 cafes and restaurants serve up fresh-off-the-boat seafood, not to mention art galleries, museums and hip boutique shops.
Sausalito California: While it may be an outlier in the housing cost category – the median home value is $1.3 million – Sausalito's picturesque houseboat community enjoys direct access to San Francisco Bay, Napa wine country and a bustling main street with waterfront restaurants, galleries, and boutiques. Backing up to Golden Gate National Recreation Area and with six marinas, a wooden boatbuilding school and a plethora of maritime education, history and nonprofit arts organizations, it's come a long way from its 1960s floating art colony days.
St. Augustine, Florida: Atlantic beaches, protected rivers, saltwater marshes and the Intracoastal Waterway combine with a walkable historic downtown featuring a wealth of museums and galleries, and plenty of dining and entertainment options including professional theater. Anglers will also feel right at home and can choose fresh and salt, inshore and offshore options. A dozen marinas and year-round boating season top off its popularity with boat owners.
Stevensville, Maryland: While its cousin just across the Chesapeake Bay Bridge, Annapolis, often gets the limelight, it's Stevensville's more laid-back Eastern Shore environs, more affordable home values and proximity to Washington, D.C., that appeal to young professionals as well as retirees. Access to the entire Chesapeake Bay is at your doorstep with countless opportunities for gunkholing, picnics, watersports and fishing. A cluster of marinas, yacht clubs and waterfront dining options in Kent Narrows is the center of boating activity.
About Boat Owners Association of The United States (BoatUS):
Celebrating more than 50 years, BoatUS is the nation's largest advocacy, services and safety group with more than 800,000 dues-paying members. Our flagship publication, BoatUS Magazine, is the largest circulation recreational marine publication in the US with engaging content that speaks to the passion for boat ownership. BoatUS is also the boat owners' voice on Capitol Hill, fighting for their rights. On the road, we are The Boat Owners Auto Club® offering Trailer Assist® to help ensure a roadside trailer breakdown doesn't cancel a trip to the lake. On the water when boats break down or run aground, our 600+ vessel, 300+ location nationwide TowBoatUS® fleet brings them safely back to the launch ramp or dock. BoatUS offers GEICO boat insurance policies that give boat owners affordable, specialized coverage and superior service they need. We help keep boaters safe and our waters clean with assistance from the 501(c)(3) nonprofit BoatUS Foundation for Boating Safety and Clean Water. Visit BoatUS.com.
About The WON

The Women's Outdoor News, aka The WON, features news, reviews and stories about women who are shooting, hunting, fishing and actively engaging in outdoor adventure. This publication is for women, by women. View all posts by The WON →