Crimson Trace AR Blackout Riflescope Review
The AR-15 is the most popular centerfire rifle platform sold in the US. So why did it take me so long to pick one up and start having some fun? I am relatively new to this type of rifle. And now that I have learned to shoot it, I kind of wonder what took me so long to join the fun. The AR is a very ergonomic semi-automatic rifle and is super fun to shoot. There should be nothing intimidating about trying one out for the first time. The recoil was much lighter than I anticipated and working the action is simple. There are all sorts of adjustable stocks and accessories that make it easy to customize your own rifle. My journey into ownership of an AR platform started with the Daniel Defense M4 v5 in 300 Blackout. What a great rifle to have as my first AR, made even better by adding a Crimson Trace Blackout riflescope. This riflescope has recently been introduced and is part of the Crimson Trace Hardline series.

Sponsored by Crimson Trace
My purpose for this rifle ranges from fun at the range, to hunting and even home defense. For hunting with this platform, my goal is to be accurate out to 100 to 150 yards – all of which I believe is achievable with the (2-7x32mm, one-inch tube) Blackout scope. This scope comes with a BDC reticle for 300 with both supersonic and subsonic subtensions. Although my rifle is not outfitted with a silencer, I plan to add one in the future. The Crimson Trace Blackout scope makes it easy to transition between the two. I won't have to make any changes once I start shooting with the silencer.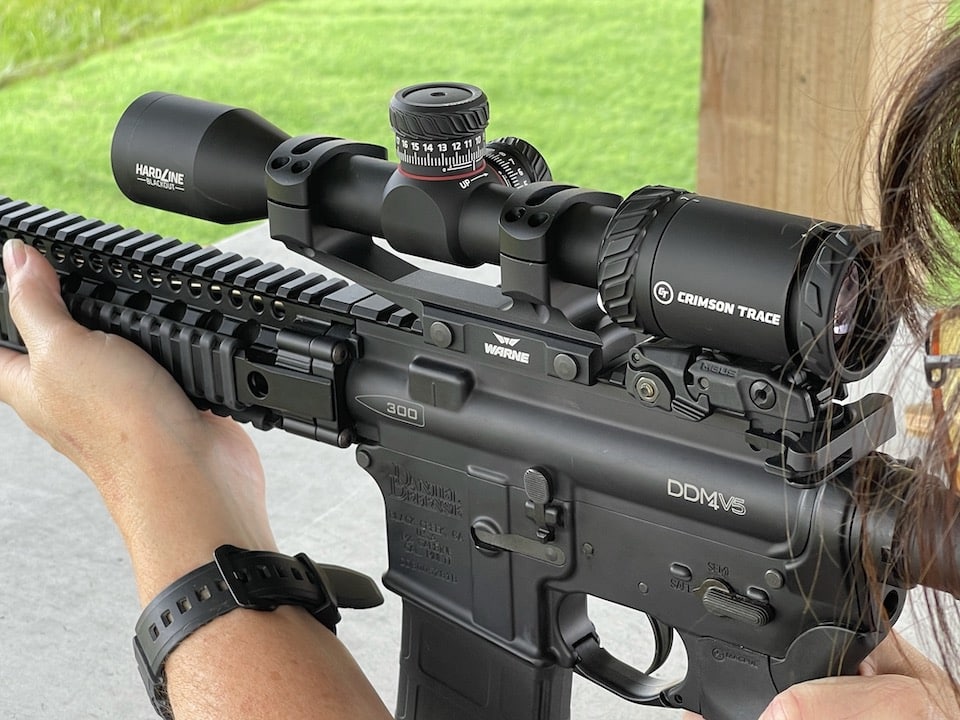 To mount the scope, I chose a Warner one-inch removable mount. Using this system on the rails makes for an easy process to get started. I had the scope mounted, leveled, bore sighted and tightened down before heading to the range. I am a member of the Dead Zero Shooting Park and the gun shop there always helps me with my equipment.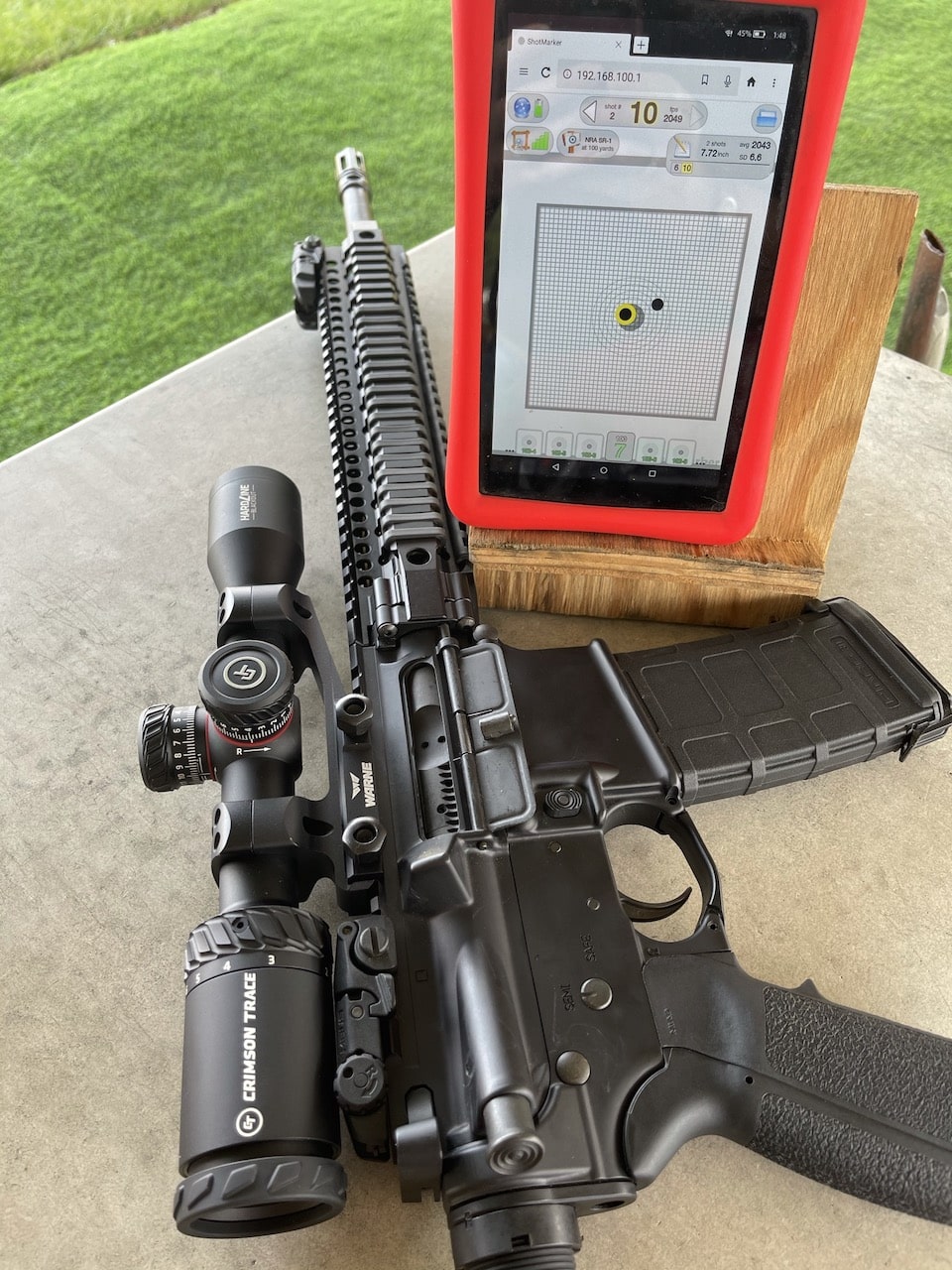 On the Range with the CT Blackout Riflescope
Dead Zero Shooting Park has two 50-yard magnum pistol and AR bays with targets and a long-range rifle range with 25 bays. The sight in process started at the 50-yard range. I chose to shoot Remington 125 grain 300 Blackout. I used a bench rest position to steady my aim. My first shots hit center, but fell a bit low. A few clicks in elevation and the rifle hit center on the bullseye. The dial is very clearly labeled, and is one click equal to ¼ MOA. I was impressed with the glass quality and the ability to fine tune the focus.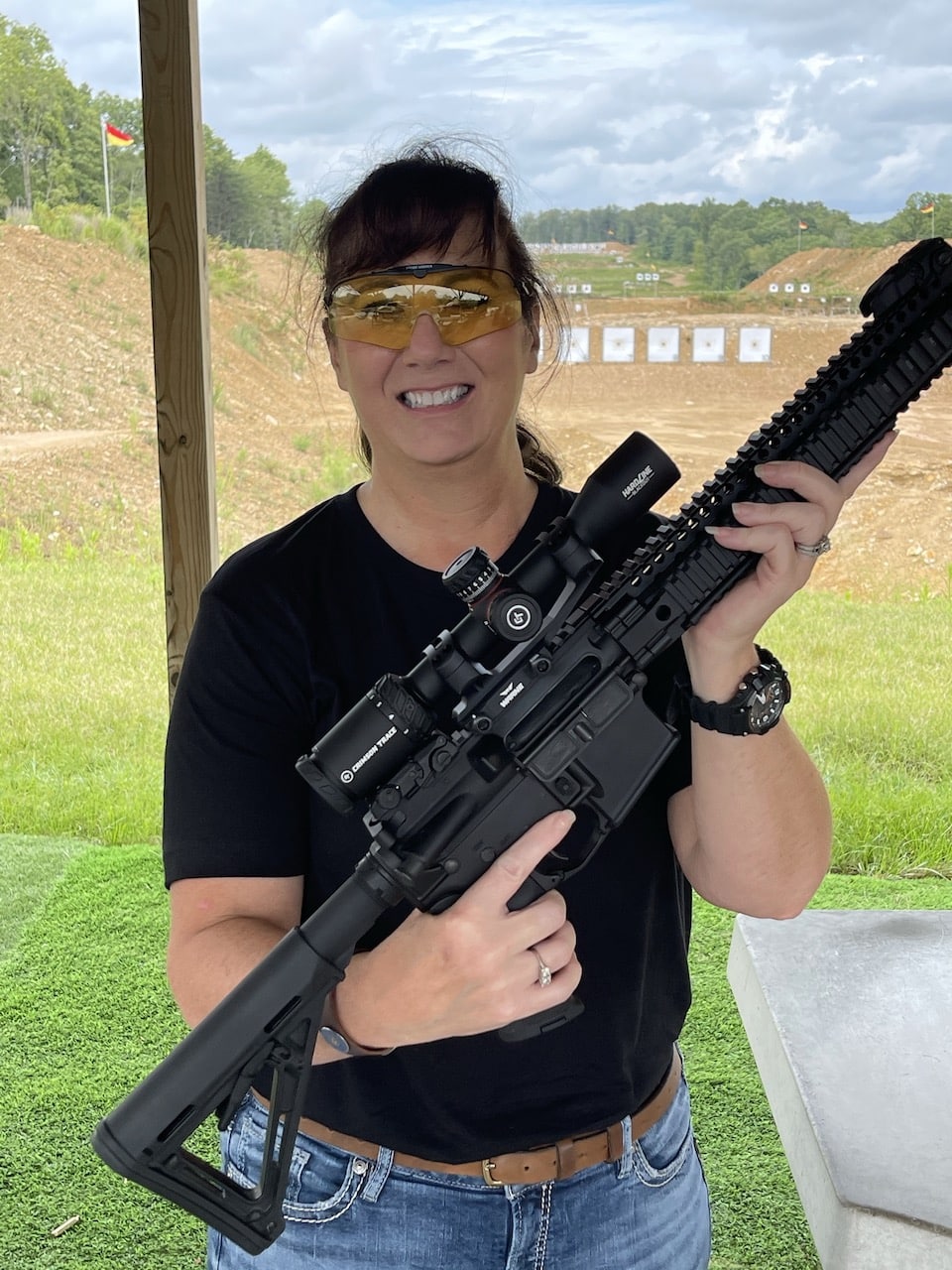 I want to learn as much as I can about my scopes and the ballistics of my rifles. I think it is important to practice at the ranges that I hunt. I moved to the longer-range rifle targets and set up on the 100 yards target. Again, I shot from a bench rest position. The first shot fell slightly right and high, so I made a slight windage adjustment. Second shot scored a bullseye!
I couldn't possibly leave the range without ringing some steel. I set the sights on the 200-yard, 12-inch steel targets and used the chart that came with the scope to do a reticle hold for 200 yards. I must admit my confidence level in my own shooting was not that high, so I surprised myself with three hits in a row – ping, ping, ping! A simple hold was all it took. The reticle is easy to see, which will make it easy once afield with the gun.
Having the Crimson Trace HardLine Blackout scope on my DD M4 has just opened a whole new level of shooting for me, not to mention some fun times at the range. I have confidence in the performance of this system and look forward to many more days at the range. I am also ready to take this scope out on hog hunt. Crimson Trace has provided me with the equipment I need to obtain my goals with my AR platform. At a price of only $259.99 and with a Crimson Trace lifetime warranty, I am certain these will be flying off the shelves.
About Amy Ray

Amy Ray is the owner of The Sisterhood Of The Outdoors, an organization that creates opportunities for women to hunt, shoot and fish. Amy is a pro-staff shooting instructor with Shoot Like A Girl. Amy is certified as an NRA pistol instructor and Refuse to Be A Victim instructor. As a member of the Freedom Hunters advisory board, she helps to expand hunting opportunities for servicewomen, Gold Star wives and daughters of fallen heroes. She also is an avid hunter and shooter and loves mentoring others in the outdoors.   View all posts by Amy Ray →