Junior Ranger Angler Program Introduces Youth to Fishing
The following blog is an excerpt from, "The Junior Ranger Angler Program Introduces Youth to Fishing at Our National Parks" by the National Park Foundation.
For many families, fishing is a time-honored tradition that is passed down from generation to generation. It presents an opportunity to learn a new skill that will lead to many days spent on the water with loved ones. Those curious about the sport can check out our fishing guide, which will equip even the most novice anglers with the confidence to wade into the water for the first time.
The National Park Service protects a wide array of bodies of water, including rivers, lakes, creeks, seashores. Nearly 200 of these sites welcome visitors to take part in recreational fishing. The Junior Ranger Angler program introduces kids and their families to the sport of fishing at many of these sites by offering hands-on instruction and lessons on topics such as local aquatic habitats, species of fish, fishing safety, and more. Participants earn a Junior Ranger patch and certificate, which hopefully mark the beginning of a lifelong love of fishing at national parks. The National Park Foundation's support of the Junior Ranger Angler program helps reduce barriers that often prevent youth from learning the sport, such as the cost of instruction or equipment like fishing poles, tackles, nets, or life jackets.
Thanks to NPF, in 2020, kids learned to fish at national parks across the country. Check out some of the programs that National Park Foundation (NPF) support has helped make possible:
New River Gorge National Park & Preserve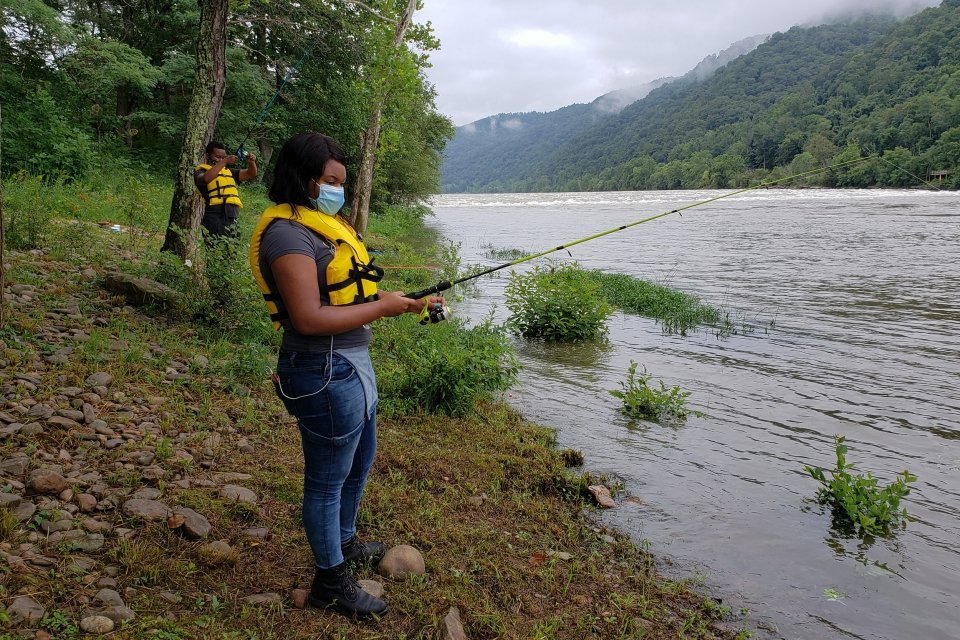 New River Gorge National Park and Preserve hosted grandfamilies at an all-day clinic which brought together multiple generations – children, parents, grandparents, and other relatives – for fishing lessons on the New River Gorge's riverbank. Young anglers and their loved ones spent the day learning the art of fishing, including technical skills related to casting, knot-tying, identifying species of fish, Leave No Trace principles, and more. At the end of the day, participants were "sworn in" as Junior Rangers and awarded a Junior Angler fishing badge. They then celebrated with an outdoor picnic.
Continue reading, "Junior Ranger Angler Program Introduces Youth to Fishing" from the National Park Foundation here.
About The WON

The Women's Outdoor News, aka The WON, features news, reviews and stories about women who are shooting, hunting, fishing and actively engaging in outdoor adventure. This publication is for women, by women. View all posts by The WON →