Taking the Taurus Raging Hunter Hiking and Panning for Gold
Our favorite hobbies can take us out into the middle of nowhere. Collecting rocks and gold panning typically happen in remote areas. On a trip to northern Idaho to visit a gold panning site this summer, which was pretty secluded, we noticed everyone had some sort of gun on them. We did, too, but soon realized they were basically "toys" if we were to run into a bear. Not a good feeling. So, when I had the opportunity to try out the Taurus Raging Hunter as an option for protection, I was extremely interested.
Sponsored by Taurus
When I first opened the box, my eyes got big and I exclaimed, "WOW! This sucker is bigger than I am!" My husband came in to see what I was yelling about and he started laughing. I'm just under 5 foot 3 inches tall, with petite, tiny hands. We both wondered how this would work for me.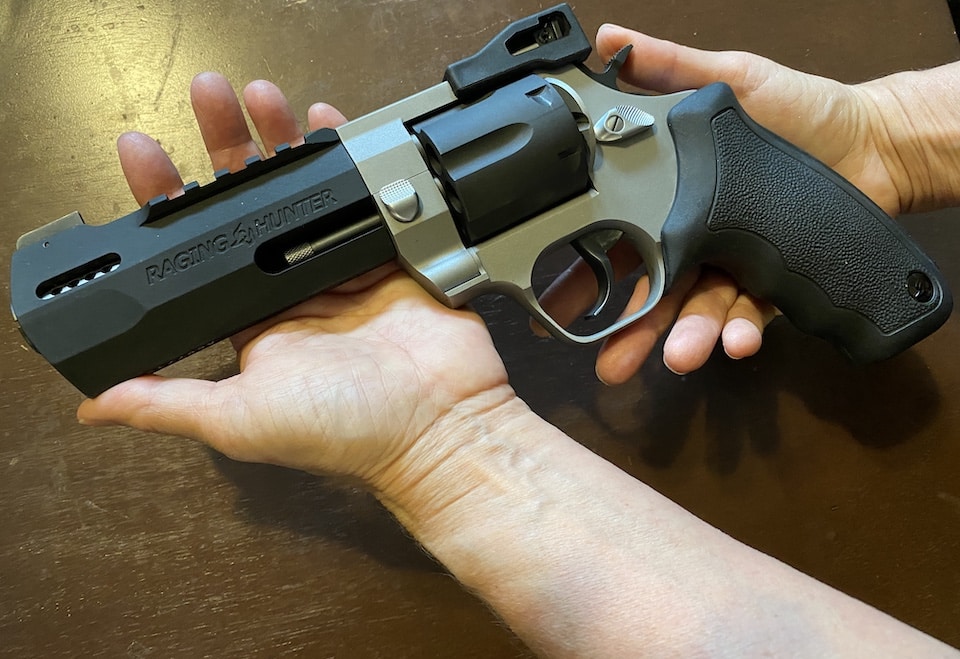 The specs are as follows:
This particular one is a two-tone 44 Magnum with a 5-1/8-inch barrel
Holds 6 rounds
10.9 inches overall length
6.5 inches overall in height
1.8 inches wide
Weighing 49 ounces
Dual lockup cylinder
Picatinny rail
Ported barrel
Scope mount
Also, according to the Taurus website, this gun was the winner of the 2019 "American Hunter Handgun of the Year Golden Bullseye Award," an impressive distinction. I also liked its finish of stainless steel, so whether it's hot out and you're sweating, or it's pouring down rain on you in hunting season, rusting won't be an issue.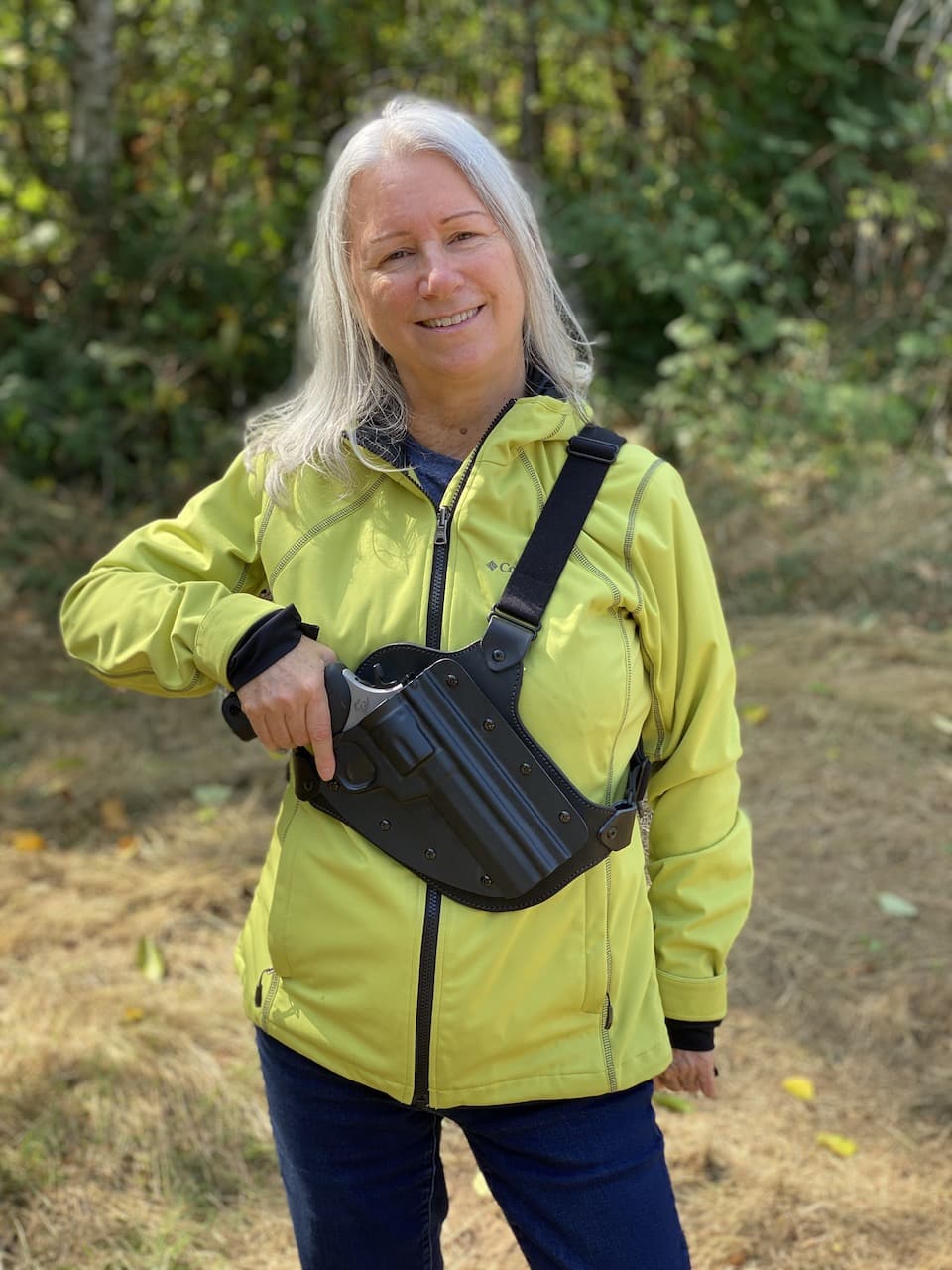 I carried it in a Crossbreed Chest Rig in black cowhide with black Kydex and black stitching. (MSRP $149.95) Frankly, I had the same feeling when I took the chest rig out of the box as I did when I first saw the Raging Hunter – "Wow! This thing is almost bigger than I am!" I couldn't help but wonder how would they work for me?
But, I've really been interested in a chest rig for a long time, so I was excited to try it. I figured it would be much easier and more comfortable when bending over to pick up rocks or pan for gold, as well as to have fast access to the gun if needed – and, it was all that. It is very quick and easy to get on and off, and can be sized easily to fit a tiny person like me or a big guy like my husband.
On the Range with the Taurus Raging Hunter
Now, for shooting the Taurus Raging Hunter. I'll admit, I was pretty nervous. Have I mentioned I'm pretty small? But I hoped that the cushioned grip and the ported barrel would help with handling it.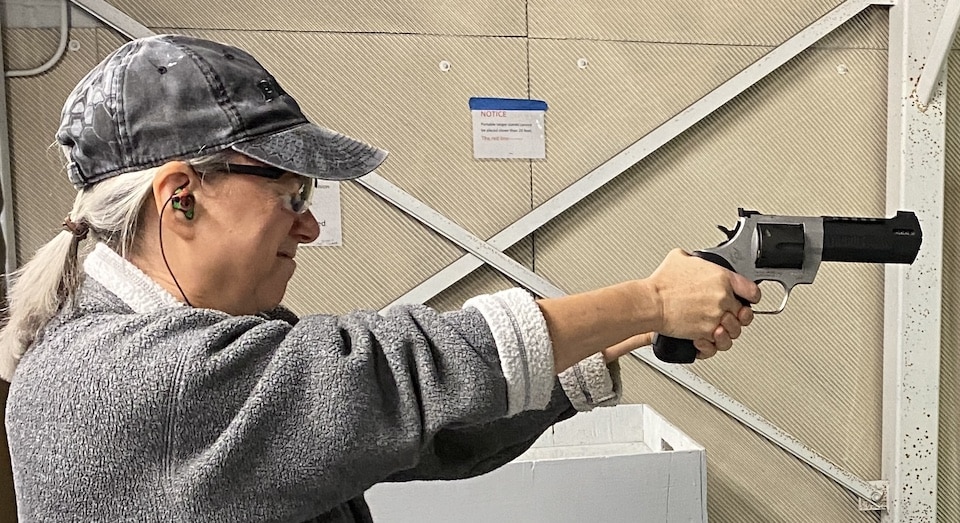 First off, I did have to work on adjusting the sights to dial it in, but then I was ready to go. I tested the ammunition at 25 feet: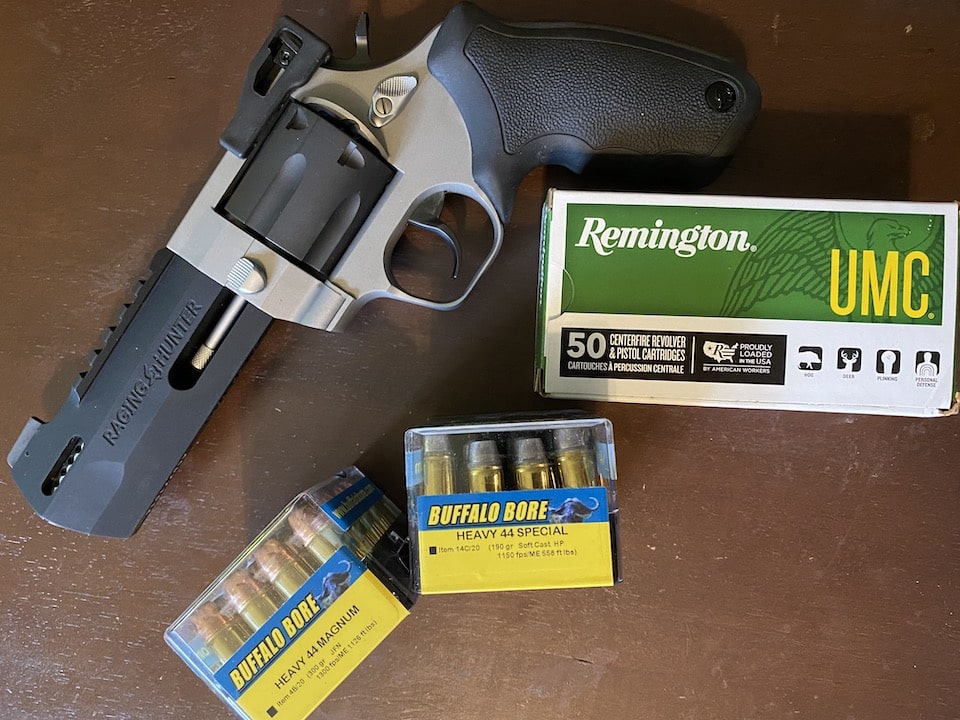 I was surprised by how comfortable it was to shoot. The Remington ammo didn't work as well for me but the Buffalo Bore 44 Special was quite soft in recoil and didn't hurt my hand at all. While a woman may not want to do a lot of plinking with it, mainly because of the cost of ammo, she can easily practice with it to increase confidence and skill. I think it's a great gun for a woman to carry outdoors in order to defend herself and her family, even against something as large as a bear.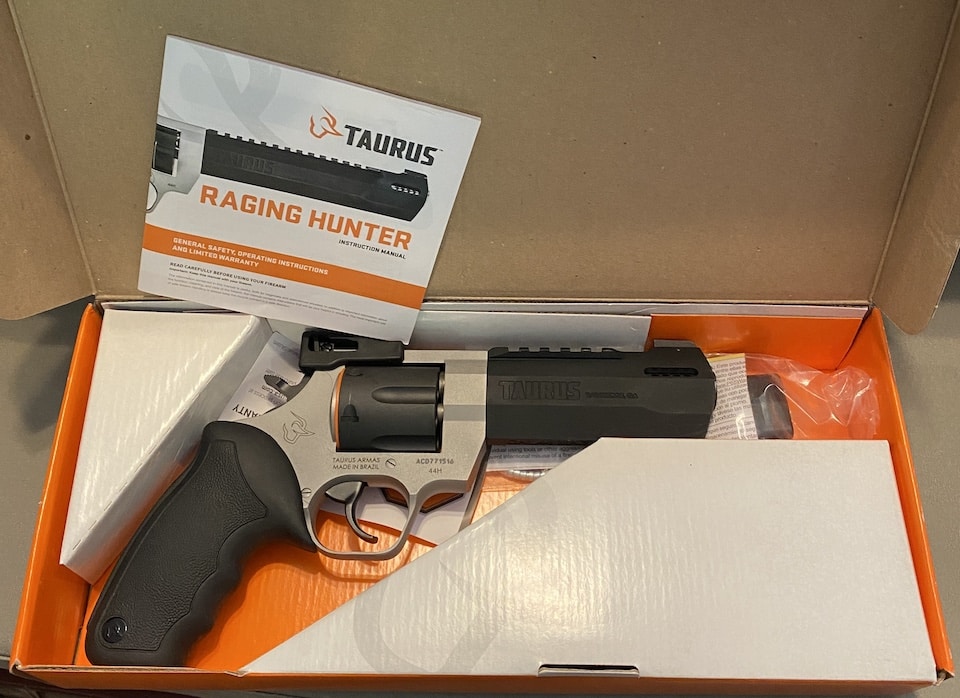 Future Life
And the next time we go back to that gold claim, you can bet I'll be carrying the Taurus Raging Hunter.
MSRP: $1,032.13. Find more information on the Taurus Raging Hunter here.
Note: Our writer plans on purchasing this gun. That's always a true testament to the validity of reviews!
About Nancy Keaton

Nancy Keaton is a retired college administrator, president of her local gun club, competitive shooter and freelance writer whose work has appeared in A Girl and A Gun Women's Shooting League, "American Shooting Journal," "American Concealed," "Northwest Meetings + Events," and other publications. She enjoys writing about a wide variety of topics and interviewing ordinary people doing amazing things. To see a compilation of her writing, check out https://nancykeaton.contently.com. View all posts by Nancy Keaton →