2021 NASP® Academic Archer Equipment Winners Selected
NASP® recognizes archers' success on the range and in the classroom. The Academic Archer program gives recognition to archers for their work in the classroom utilizing their school's grading criteria. At the close of the nomination window on April 1st, 2021, 17,344 students were enrolled by their coaches as NASP® Academic Archers from 41 US states, 3 Canadian provinces, as well as from Africa!
Following the close of registration for Academic Archer, NASP® conducted a random computerized drawing from among all registered students and selected ten student names. Each of these students won a new Genesis bow in the color of their choice and custom Easton Academic Archer arrows! NASP® would like to thank an unnamed generous sponsor who purchased the bows, and of course, Easton Archery for donating the arrows.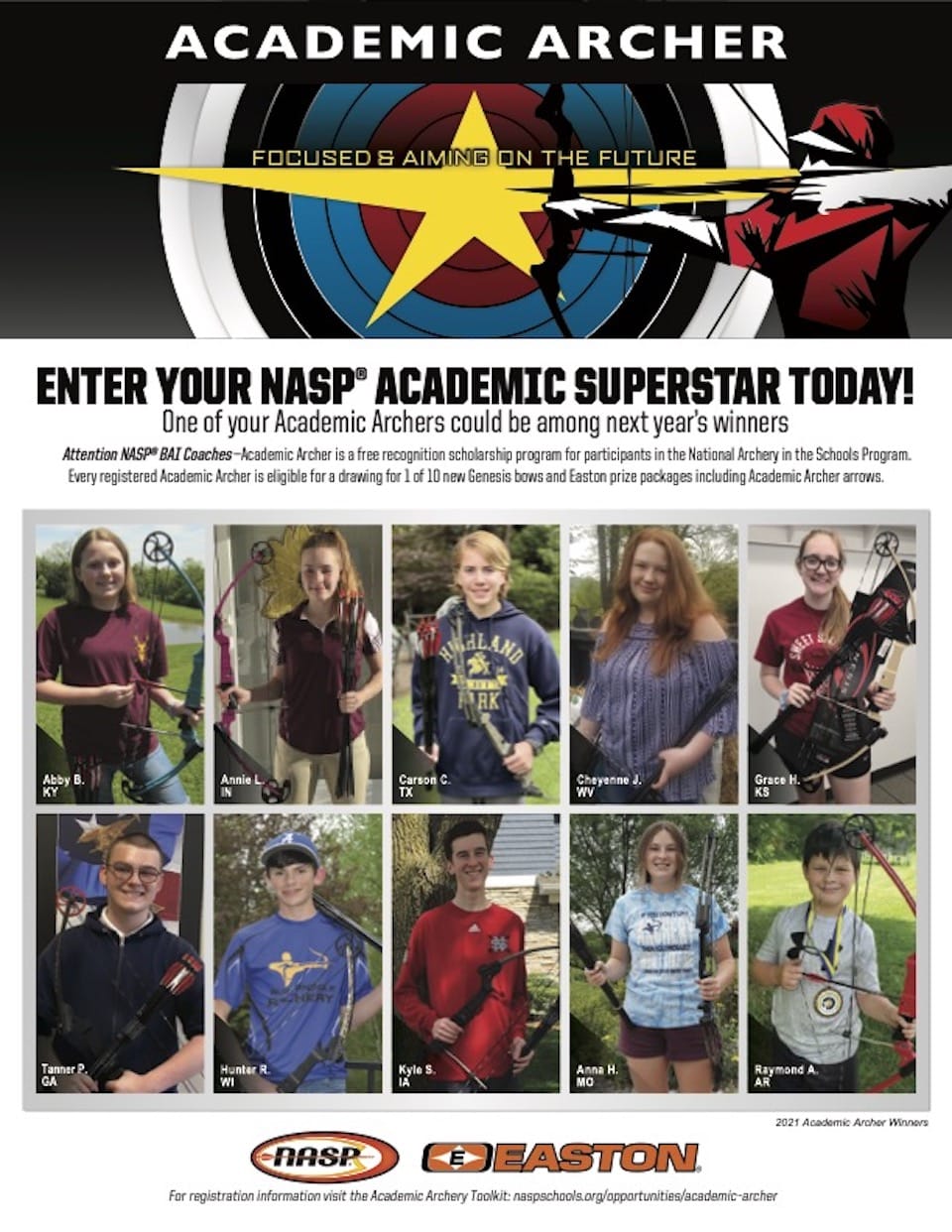 Tommy Floyd, NASP® President stated, "We are proud to join with our partner, Easton Archery, in the continued success of the NASP® Academic Archer recognition program. We continue to have thousands of NASP® archers being recognized at the local level for their efforts on the range and in the classroom. From our 2017 NASP® student survey, 59% of our respondents indicated that NASP® was a motivating factor for them to do well in the classroom. We believe that this continues to send the strongest message about the importance of academic success for our NASP® archers. As the largest youth archery organization in the world, we think our continued focus on what is good for students is directly in line with our goal of helping educators in their mission to prepare students for the successful transition to adulthood. Congratulations to this year's equipment winners!"
Aaron Lucky, Easton President shared, "We at Easton are proud to be associated with the NASP Academic Archer program. It's gratifying to see participants experience the rewards of hard work, practice, and commitment in both academic and archery settings."
Registration for the 2021-2022 Academic Archer program is now open.
This year we are excited to announce that there will be two pathways to nominate your students.
1. For eligible students only participating in-school, their NASP® certified instructor can nominate their archers through the BAI Manager portal.
2. For eligible students participating on school teams in local, regional, state or national tournaments, their NASP® certified instructor can nominate archers through the NASP® Tournaments portal.
We want to send the strongest message possible about how teaching archery as part of the school curriculum is important to the mission of educators. Perhaps a qualifying student from your local school will be among the winners next year! Continue the great work.
For more information on beginning the Academic Archer program in your school: Please visit: www.naspschools.org
About The WON

The Women's Outdoor News, aka The WON, features news, reviews and stories about women who are shooting, hunting, fishing and actively engaging in outdoor adventure. This publication is for women, by women. View all posts by The WON →