Zeroing in the Benelli LUPO for Deer Hunting
As a newer hunter, I'm still figuring out what hunting gear is right for me. The first couple times I went deer hunting, I used my husband's 30-.06, which has more recoil and weight than I'd like. But it did help me harvest my first deer. Now for the first time, I'm hunting with my own rifle. In fact, I'm sighting in a rifle for the first time – the Benelli LUPO Bolt-Action 30-.06 (MSRP $1699) paired with a Crimson Trace Brushline Pro 3-12×42 BDC scope (MSRP $359.99) and the BOG Death Grip tripod (MSRP $279.99).
Sponsored by Benelli
I'll admit, the idea of sighting in a rifle sounded intimidating. But I was surprised at how straightforward and easy it was to zero in my Benelli LUPO.
My shooting range is a long field with a berm on our property. I set up a blanket on the ground about 25 yards away from my target. I put on some eye protection, my ear protection muffs, set up the BOG Death Grip tripod in a prone position and securely mounted the LUPO to the tripod. I used a laser boresight to get the rifle and scope roughly sighted in. Once I felt ready, I put a round in the chamber, placed the crosshairs on the bullseye and took a shot. It landed on the paper! Just a few more adjustments to the Crimson Trace Brushline Pro scope and I had nearly all my rounds by the bullseye. All in all, it took about 15 minutes to get everything sighted in.
The Benelli LUPO is sleek and lighter than what I'm used to at 7 pounds. It's light enough to make the walk to my deer stand easy, yet heavy enough that it's still stable despite any recoil. I hardly noticed the recoil, thanks to Benelli's recoil reduction feature, the Progressive Comfort System which is built into the stock. I feel less anxious about the impact on my shoulder.
I love that the LUPO is a simple, ergonomic rifle that's great for avid hunters as well as semi-beginners like me. I don't want to have to think too much about the function of the gun when I'm hunting and would rather focus on the hunt. Overall, it's very comfortable, easy to handle and a one-size-fits all as the LUPO is adjustable to the fit of the shooter. Even the finger reach to the trigger is customizable.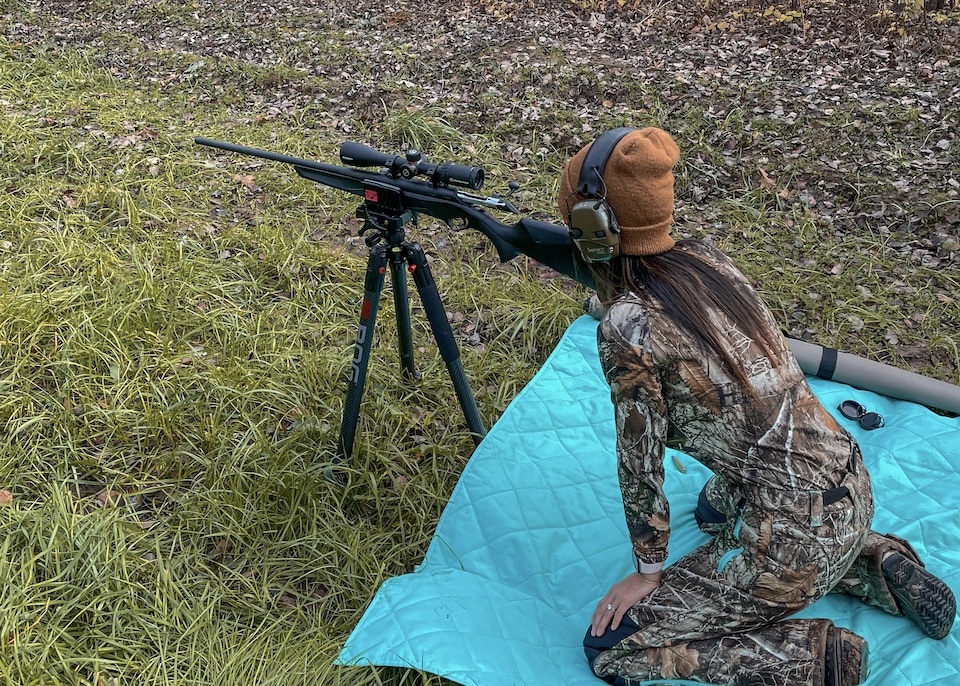 Most importantly, it's an accurate, sharp shooting gun and pairs well with the Crimson Trace Brushline Pro scope. It's a lightweight scope that is easy to mount, adjust and feels durable with great glass clarity. It doesn't have a lot of bells and whistles but it serves my purpose for making accurate shots on the target and will hopefully help me fill my deer tag this hunting season.
My stabilizing platform is the BOG Deathgrip tripod. It's made of carbon fiber so it's very portable, lightweight and sturdy. To save some extra money, you can go the aluminum route as well. The clamp secures my Benelli LUPO so that I have a stable shot as well as a place to rest my gun. The head spins 360 degrees so I can get the best angle during my hunt. It's also easy to use. As someone who shoots a lot of video and photos, this tripod was very similar to a photo tripod and simple to adjust. I like that I can hunt in several different positions, whether It's prone, kneeling, sitting or standing. I'm planning to hunt while sitting in my stand this year.
I feel confident about my setup this year with the Benelli LUPO, Crimson Trace Brushline Pro scope and BOG Deathgrip tripod and I'm looking forward to hopefully taking my second deer.
About Jenny Anderson

Jenny Anderson, known as 'The Girl of 10,000 Lakes' is a young mom, avid angler and outdoors enthusiast. Hailing from Minnesota, there are few places she'd rather be than canoeing in the Boundary Waters, ice fishing on Mille Lacs or enjoying lake life at the cabin. But her love for all things outdoors wasn't something always instilled in her. It's something she discovered later on in life and that's why she encourages everyone to take more detours, step outside your comfort zone and try something new outdoors. View all posts by Jenny Anderson →