Gal Gab: 6 Questions for Jana Waller
Jana Waller, producer and host of Skull Bound Chronicles, helps us ring in the New Year with a new Gal Gab interview. She is an avid conservationist and outdoorsman, and has worked in the outdoors industry for many years. Jana loves to hunt year round (she's even given us tips on shed hunting), is an artist (check out her skull art) and recently received a position as commissioner for Montana Fish, Wildlife & Parks.
This busy lady kindly answers our standard six questions, giving us insights into her daily routine and her wishes for the hunting and shooting industry.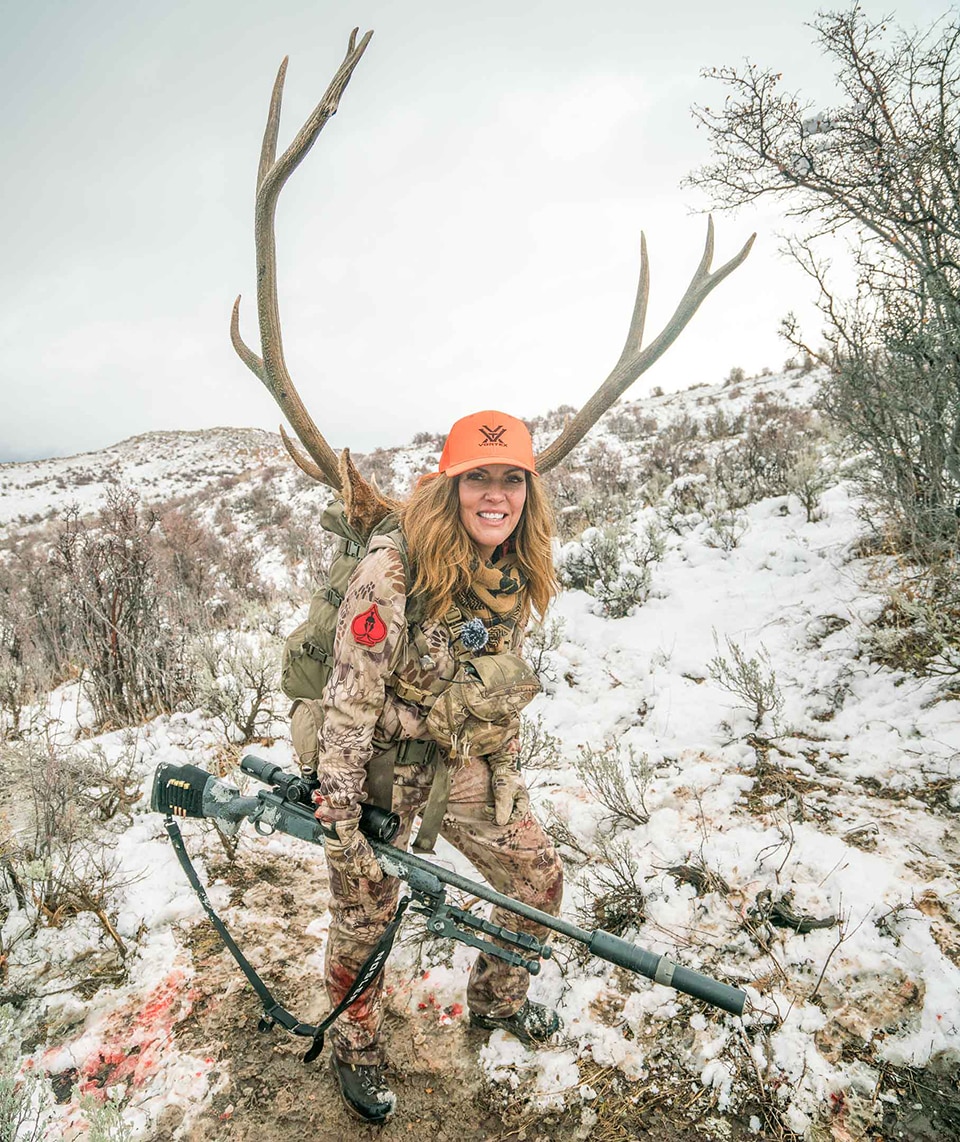 Getting to Know Jana Waller
1. Describe a typical day in your work life:
Every day is different in my "work life," depending on if I'm on a hunt or doing office work. There's a lot of behind-the-scenes tasks to my job that take a lot of 'office' time. Every morning I respond to emails and messages, and then tasks vary; I might work on producing photo or video content for my partners, organize invoices, create travel schedules or write my blog, social media or magazine articles. I still do skull artwork, but not as much in the past year simply because of lack of time. I recently became a Montana Commissioner for FWP, which takes up a bit of time, because I spend time reading up on issues regarding the Commission.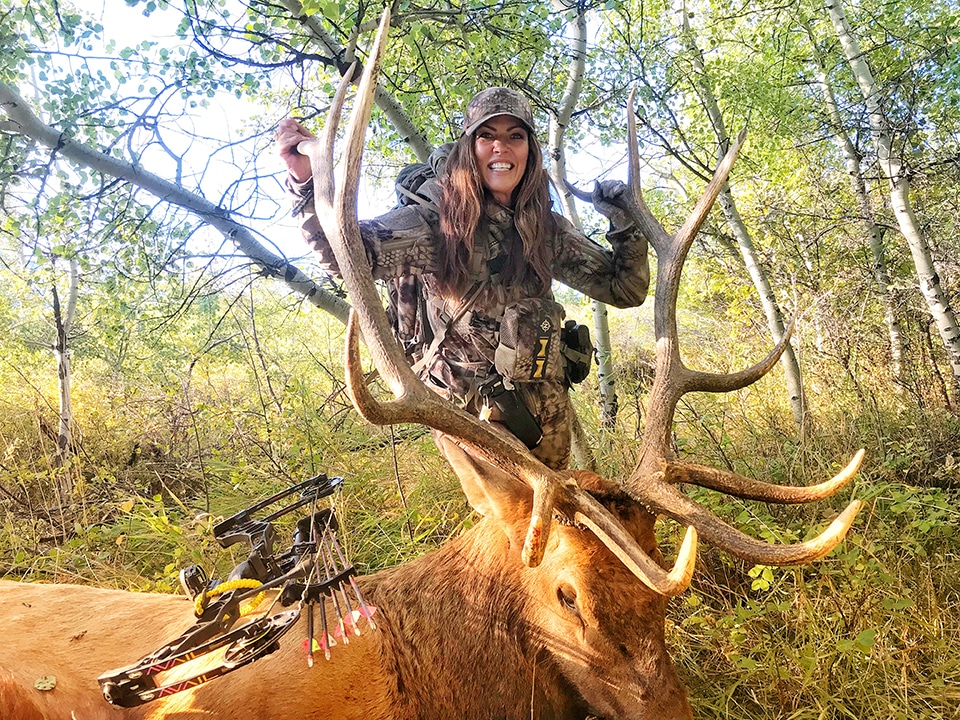 2. #1 piece of advice you would give other females who want to break into the industry?
My advice would differ depending on exactly WHAT they'd like to do professionally in the hunting and fishing industries. I have a degree in Public Relations and Marketing, which has helped me in my career tremendously. More than a college degree, I'd say that experience is going to be a very important factor in succeeding these days. In today's day and age of social media, anyone can appear to be a hunter or angler, but if you want companies to believe in you and you'd like to pursue a career in some form or fashion, experience and hard work are extremely valuable. Many companies in the hunting industry are getting away from the "influencers" and are more interested in proven success. But there are so many types of careers in the hunting/fishing industry that it's a tough question to answer, unless we're talking about a specific career.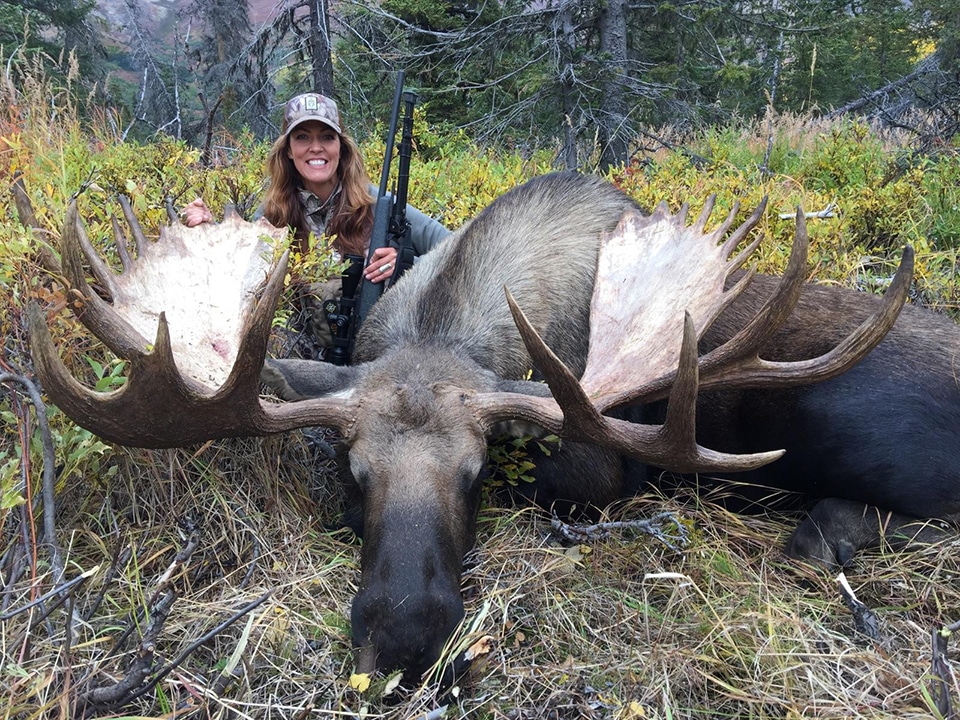 3. What motivates you?
I'm motivated by experiences. I love to hunt, hike and explore the outdoors, and I love any excuse to get into the mountains. Mother Nature motivates me, and after a day or two in the office I can't wait to get back outside. Luckily, I live in Montana and can enjoy the mountains under my feet within minutes. When I'm not hunting, I'm typically thinking about and planning my next hunt. I literally hunt all year, even in the winter months, so there's not really a "time off." My winter months are loaded with expos and shows, which are work related, and when those are over it's right into spring bear season.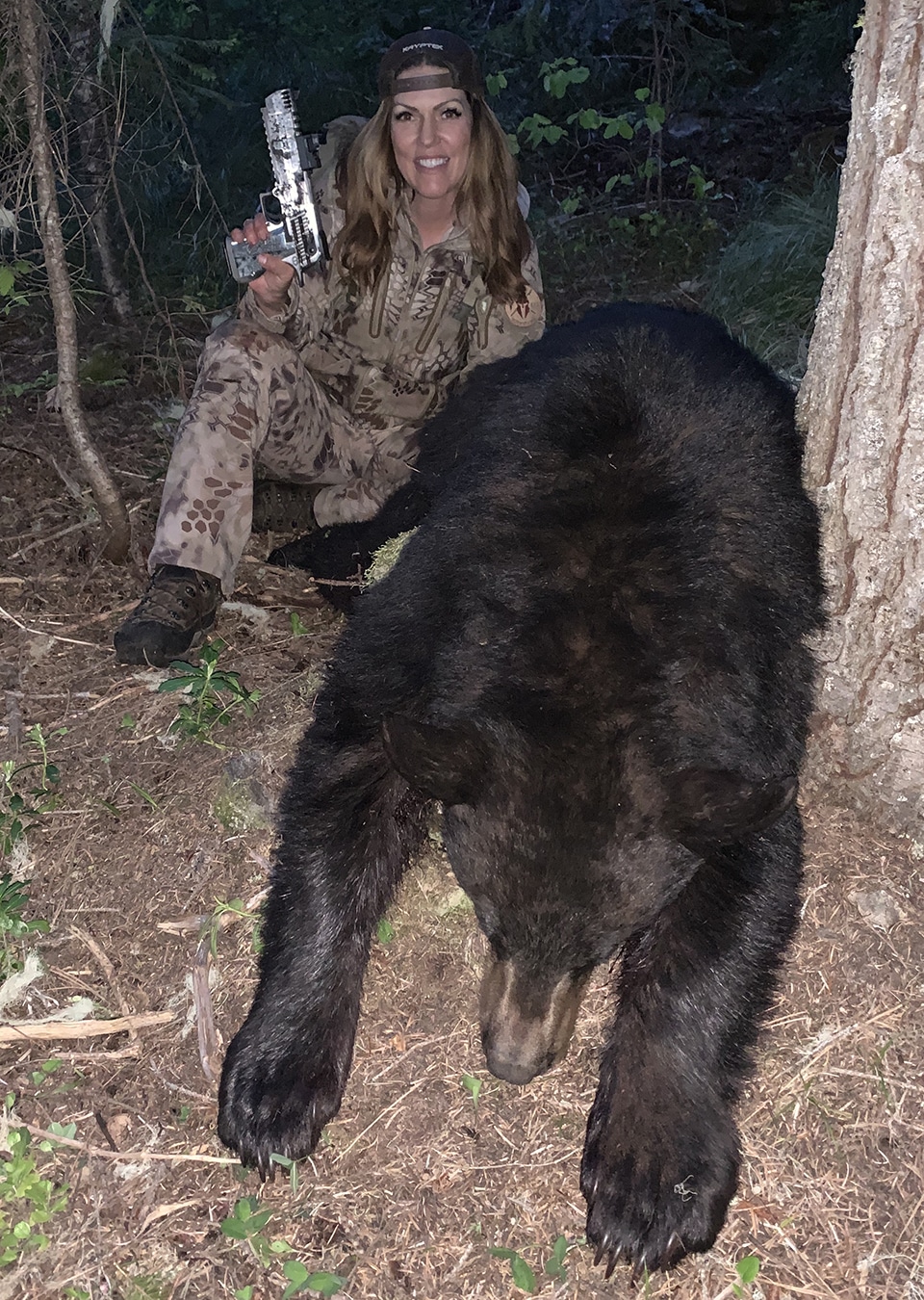 4. Most unexpected thing you've learned, while working in this industry?
The most unexpected thing I've learned in my 12 years of working in the industry is how hard the enemy is working to take away our hunting rights. In terms of "enemy," I'm talking about the anti-hunting organizations. A lot of people are aware of our anti-gun culture and the threats to our gun rights, which in turn affects our hunting traditions, but the animal rights groups are relentlessly working at chipping away our hunting heritage. That's why it saddens me to see hunters bashing other hunters on social media. If they all understood that the REAL enemy is trying diligently to strip away all hunters' rights, hunters may think differently in attacking one another and band together stronger.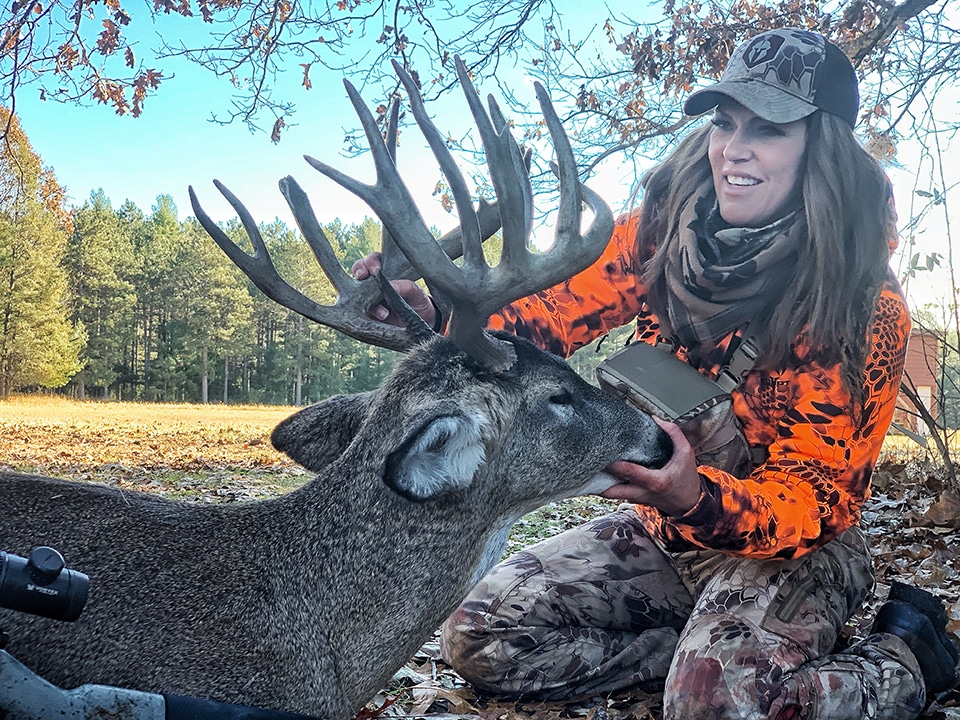 5. Favorite product in the outdoor or shooting market right now?
Mentioning just one favorite product is so hard to do. I'll mention a few that make my life a whole lot easier:
Favorite Gun: 28 Nosler – I use it for almost all big game hunting.
Favorite Optic: My Vortex Fury binoculars with built in rangefinder. SO incredibly handy.
Favorite Tools: OnX Maps Hunt App – I honestly could not hunt without this app. It tells you private land vs public land boundaries, landowner names, unit information, etc.
Ear Protection: My Bluetooth, wireless, noise-cancelling ear buds by Grizzly Ears. They SAVE my ears with all the shooting I do.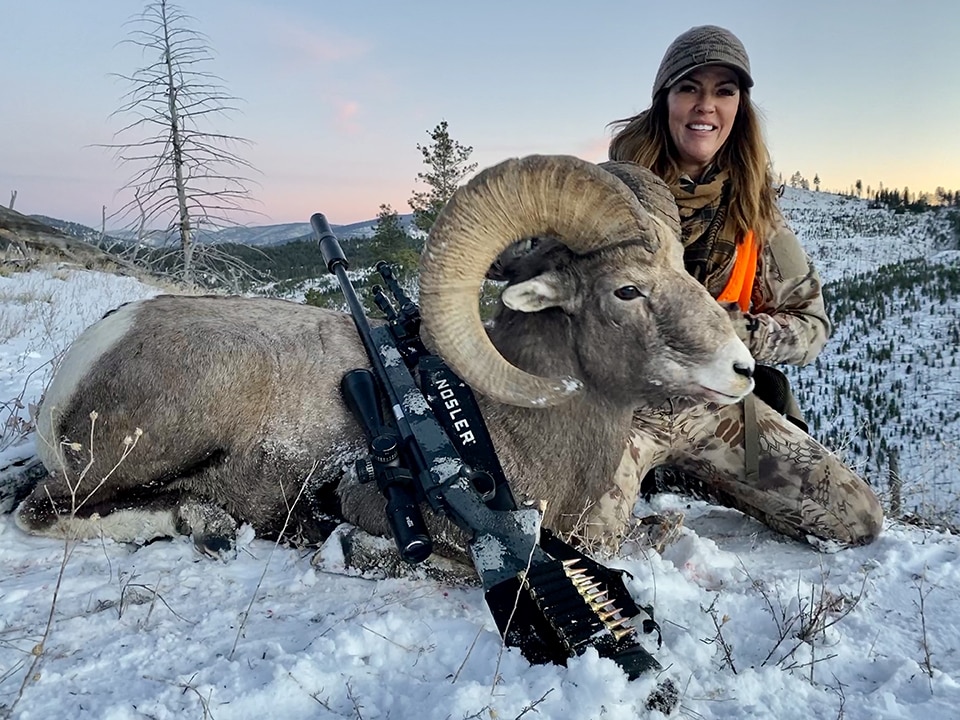 6. Let's have some fun … what weapon would you use to battle a giant?
Well, it depends on the circumstances, but mostly I'd use my Desert Eagle .429 pistol. It packs a punch, is easy to get to if I'm wearing my chest rig and easy to rapid fire shots if the giant is within a 50-yard range.
She's Skull Bound
Follow Jana Waller's hunting adventures at Facebook / Twitter / Instagram. Be sure to visit her website, and learn more about this lady's philanthropic endeavors.
About Jackie Richardson

Jackie Baird Richardson is an interior designer, editor at The WON and avid junker. Watch for her design tips and occasional crafting ideas, bringing the outdoors indoors. View all posts by Jackie Richardson →