Review: Ditale Sofia Pants
We're all tired of the "shrink it and pink it" attitude most companies adopted when the number of women in the outdoors began to increase. We are here, and it's time that companies start to cater to the fact that we aren't going anywhere. We are staking our claim in the outdoor world, and all of our bodies are comin' with us. That means we want clothes that fit our bodies, not a smaller version of the men's line (hello, we have hips!). There are several companies doing this very well, and I am here to tell you about my favorite of them, Ditale Outdoors.
Sponsored by wildHERness
After months of focus groups, social media polls and other market research, Ditale had a great idea of what women want in their outdoor gear – they want options to fit women of all sizes. Women were tired of being told they needed to fix their bodies to fit into clothes, so Ditale developed a line that comes in XS-3X, each with a curvy option! So, if you're between sizes, size down with the curvy option for a more precise fit.
Recently, the CEO of Ditale Outdoors, Raylene Proto, attended a wildHERness learn-to-hunt waterfowl clinic, where she hand delivered samples of their Sofia pants (MSRP $179.00). I was able to test these babies in the field, and let me tell you, I can't wait to see what else Ditale has in store for us!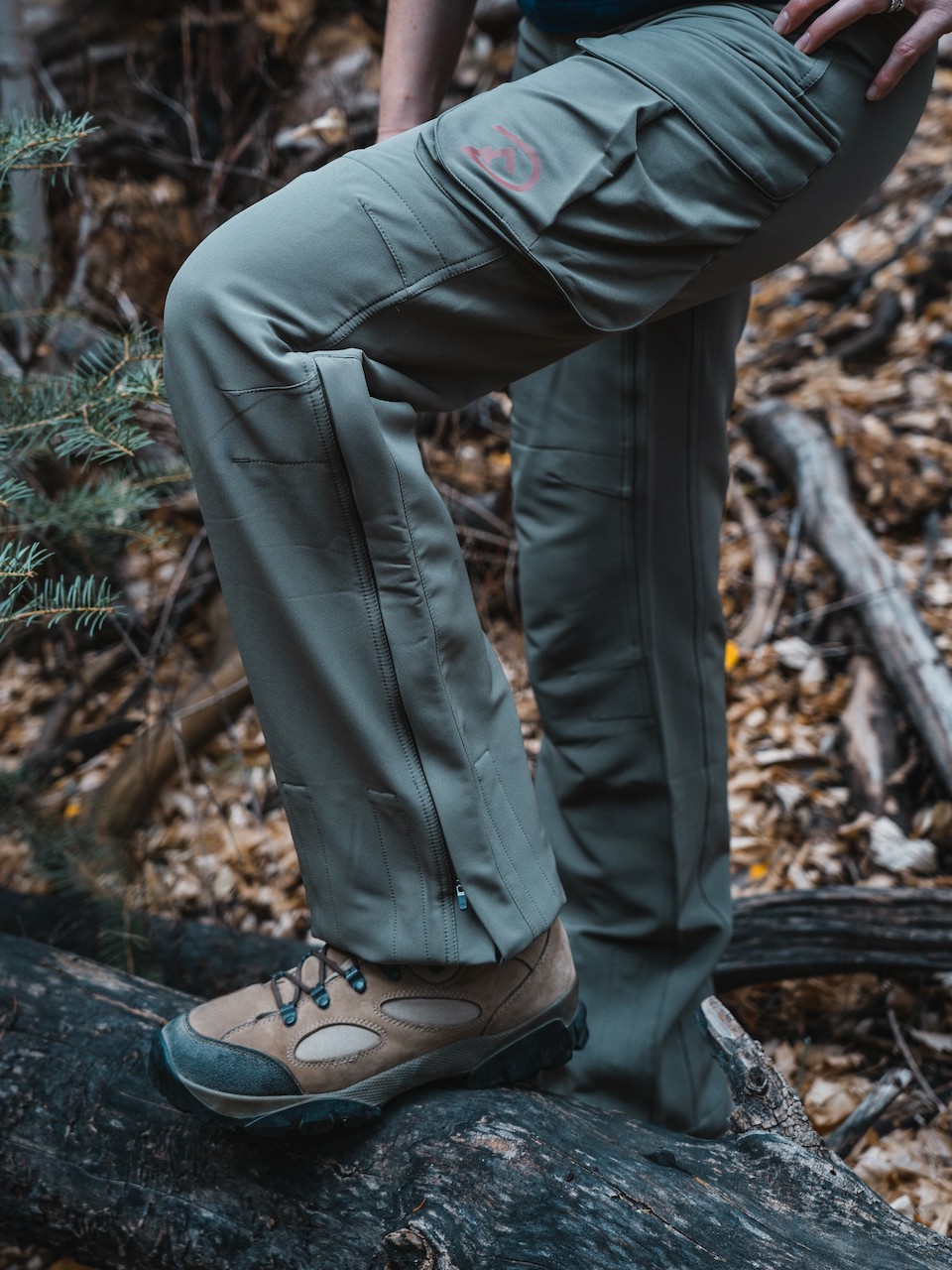 The biggest complaint I have personally is never being able to find pants long enough, because I am 97.6% legs. My friends joke that I look like a giraffe drinking water when I try to reach things on the floor! These pants have an adjustable snap closure inseam, allowing the pants to be lengthened from 29 inches to 34 inches. You should see what a giraffe looks like when it does a celebratory dance!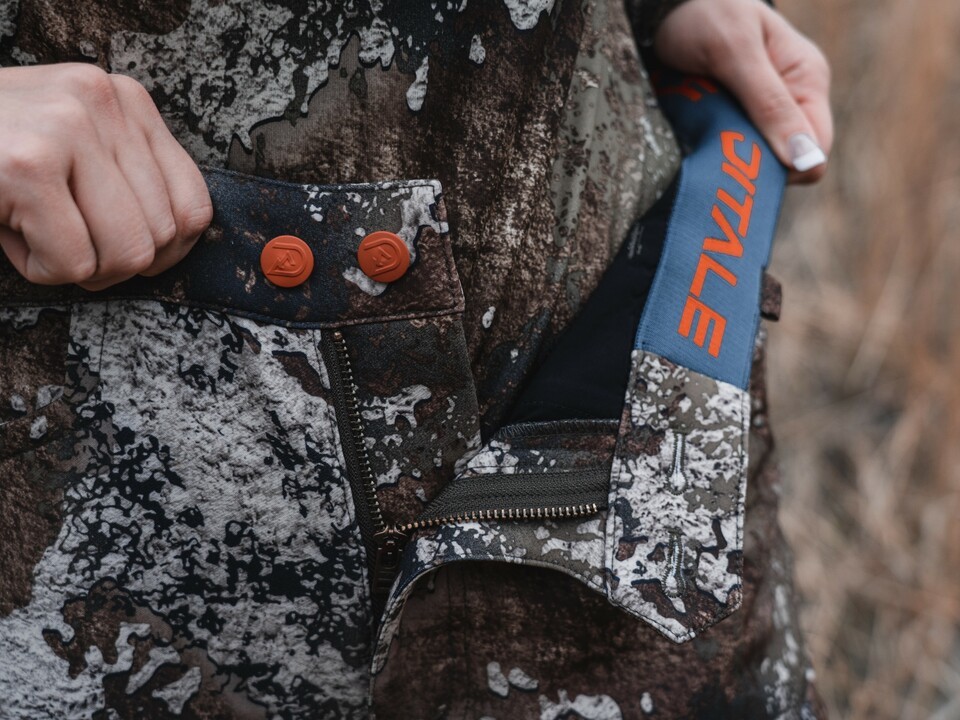 The feature that sealed the deal for me is the stretch in the fabric. Designed with mobility in mind, the polyester/spandex blend provides game-changing stretch capability. Every pair of men's pants I found in the hunting section is simply unpliable, and made me that much more miserable afield. Ditale also designed a wide waistband to keep you covered when squatting or crouching, and the knee area is wide enough to accommodate knee pads. The exterior fabric is ultra-quiet and the interior of the pants is brushed, making them incredibly soft. These water resistant, lightweight pants are ideal for mid-season adventures, or add a base layer to extend them into colder temps.
Another feature in women's clothing that has long-mystified me is the size, or even presence of adequate pockets. Ditale knocked it out of the park there, too! The designed pockets big enough to put person-sized hands in, and deep enough to keep hands warm. They even added a couple of cargo pockets and a reinforced knife pocket. The legs of the pants have reinforced zippers at the bottom hems, allowing the leg openings to widen. I love how easy it is to get my boots on and off in these pants.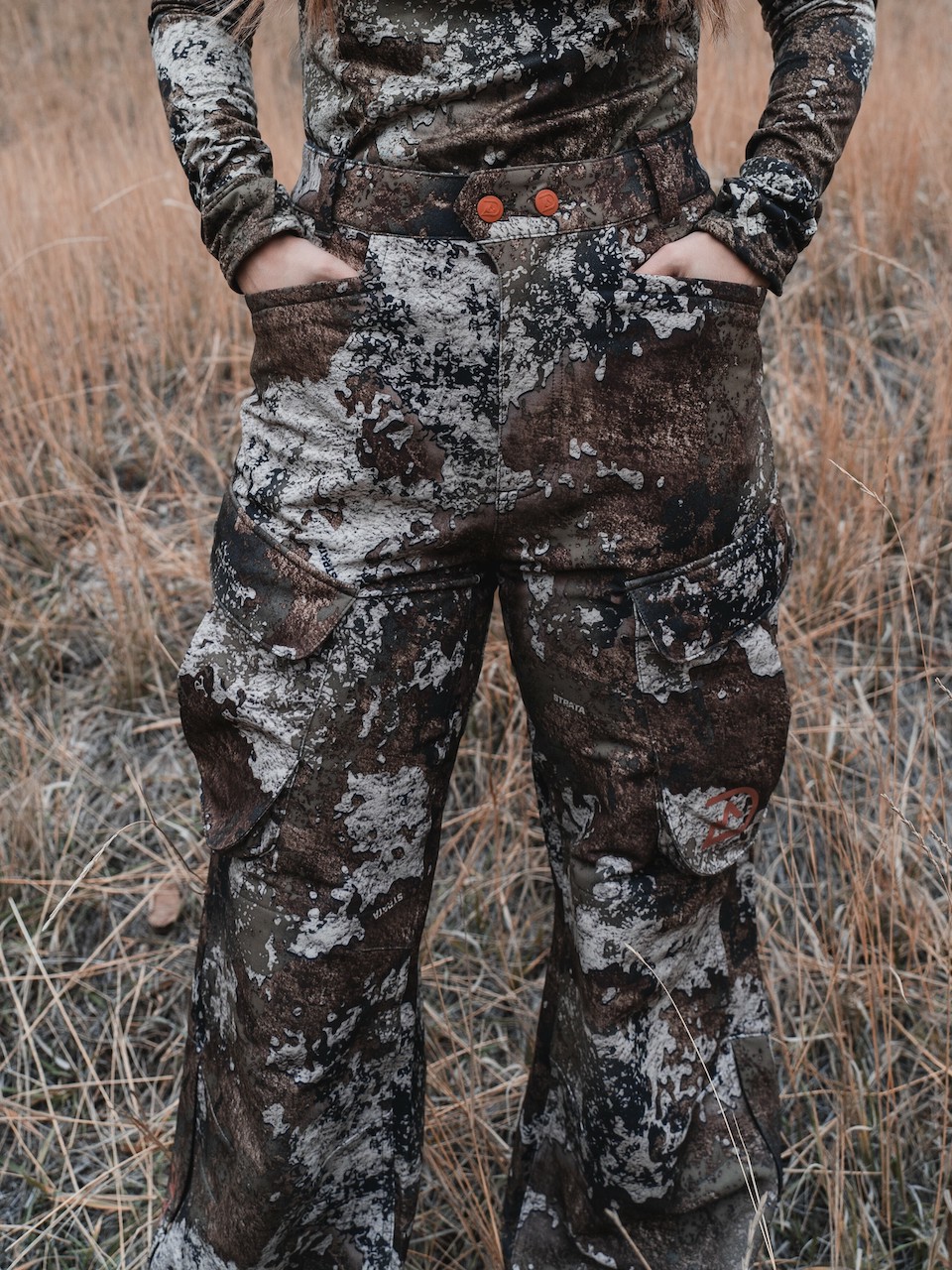 The Sofia pants are available for preorder at Ditale Outdoors and come in two colors: True Timber Strata and Juniper Green. If you want to get your hands on a pair, visit the Ditale booth at the Oklahoma Backwoods Hunting and Fishing Expo from March 4 to 6, 2022. Check their website to see other upcoming trade show dates. Even if you don't trust me now, keep your eye on this company. The women at Ditale got it right with their first offering in the Sofia pants, and I can't wait to see what they think of next.
About Jessica Rice

Jessica Rice is the president of wildHERness, a women's organization located in the Kansas City metro area that encourages women and young girls to explore outdoor pursuits through skill building events and community service. Her love of nature developed at a young age, thanks to parents who encouraged her to explore. An avid hunter and hiker, Jess is passionate about R3 and passing it on to future generations. She holds a Master of Science degree in Zoology from Oklahoma State University and is currently employed by the Kansas Department of Wildlife, Parks and Tourism. Jess is an NRA Range Safety Officer, Project Wild Educator, National Archery in the Schools Basic Archery Instructor, Hunter Education instructor and a Fishing's Future Master Angler Instructor. View all posts by Jessica Rice →