Syren Savvy: Dealing with Hot and Cold Temperatures When Shotgunning
Shotgunners deal with weather all day long, every day, since the shotgun sports and hunting all take place outdoors. We break down how to handle hot and cold temperatures when shotgunning and check in with our "experts."

Sponsored by Syren USA
Does Temperature Affect Performance of a Shotgun?
The first question that came up involved guns and ammo, and whether temperature affects performance of a shotgun. I reached out to my resident expert, whom we call Dr. Bomb, who is an explosives and ballistics guru. When asked about if there's an effect on a shotgun when the barrel gets hot or cold, he answered, "Not within the margin of accuracy expected of a shotgun or a pistol. A rifle, yes." (Short and sweet and home to eat with that answer.)
Then, I asked him this question, "What about the gunpowder in a shotshell? Is that affected by temperature changes so that it would be noticeable to a shooter?" And he replied, "It can be a pretty big effect, depending on the powder. Some rifle powders are specially formulated for less temperature variations, but I haven't heard of any pistol or shotgun powder that are." So, in other words – not that it would make a noticeable difference in the shot pattern.
Then, I reached out to Syren's savvy pro-staff, who, if they're not traveling, competing or instructing, like to weigh in on topics when asked. Here's what they had to say about dealing with hot and cold temperatures when shotgunning: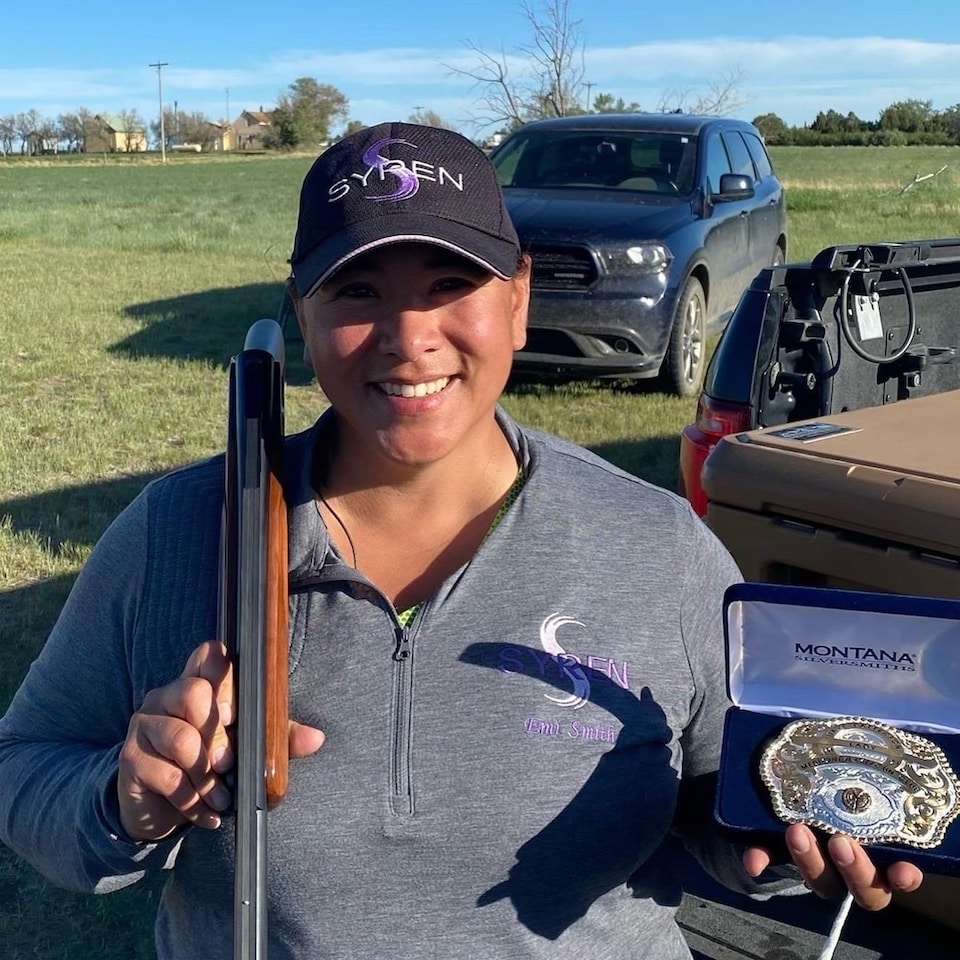 I am from Montana and if you didn't know, Mother Nature can change the weather three or four times a day, no matter what season it is. It could be May or June and you could have a snowstorm in the morning and 80 degrees in the afternoon. When you are talking about being prepared, it is a challenge, I usually carry clothing for any kind of weather when I am attending a registered event or going upland bird hunting.
Hot Weather Tips
Moisture wicking shirt under my Syren shooting vest
Capris or pants – usually lightweight like Columbia or Under Armor athletic pants. I like to be very comfortable while shooting
Voxx Athletic socks with Saucony tennis shoes (take an extra's just in case it rains)
I usually wear my Syren baseball cap
Pilla shooting glasses
Small shooting towel for my hands
Cooling neck towel to wear in between rounds
Small soft cooler with a water or ice or two, 32-ounce Hydroflask water bottles
Note: Make sure you drink lots of water to stay hydrated and make sure you are keeping up on electrolytes. I always make sure in have LMNT or Liquid IV on had just in case you or another shooter get dehydrated.
Cold Weather Tips
Cooler weather is always a blessing, but it also means you need to keep in mind layers are key. Usually in cooler weather, I have a variety of types of clothing. But for the most part I swear the following:
Moisture wicking KLIM (my snowmobiling gear) base layer with a mid-layer under my Syren Shooting vest
Lightweight pants or jeans, like Columbia or Under Armor
Voxx socks or Smartwool socks with Saucony tennis shoes, or if it is really cold, I wear my Danner hunting boots
Syren baseball cap
Pilla shooting glasses
Recently acquired NiCA winter shooting jacket – so exciting to test it out.
Small shooting towel for my hands
Upland Pheasant Hunting Tips
Base-layer and mid-layer tops under my Browning Upland bird vest
Danner hunting boots
Prois Upland pants – these are amazing hunting pants, very comfortable.
Voxx or Smartwool socks
Emi's Mindset Tip
I just try to do keep the same mindset, routine and try to space out the heat and the sweat rolling down your body – or, if I am a little chilled or freezing my butt off. Just take each target as it comes and do the best you can.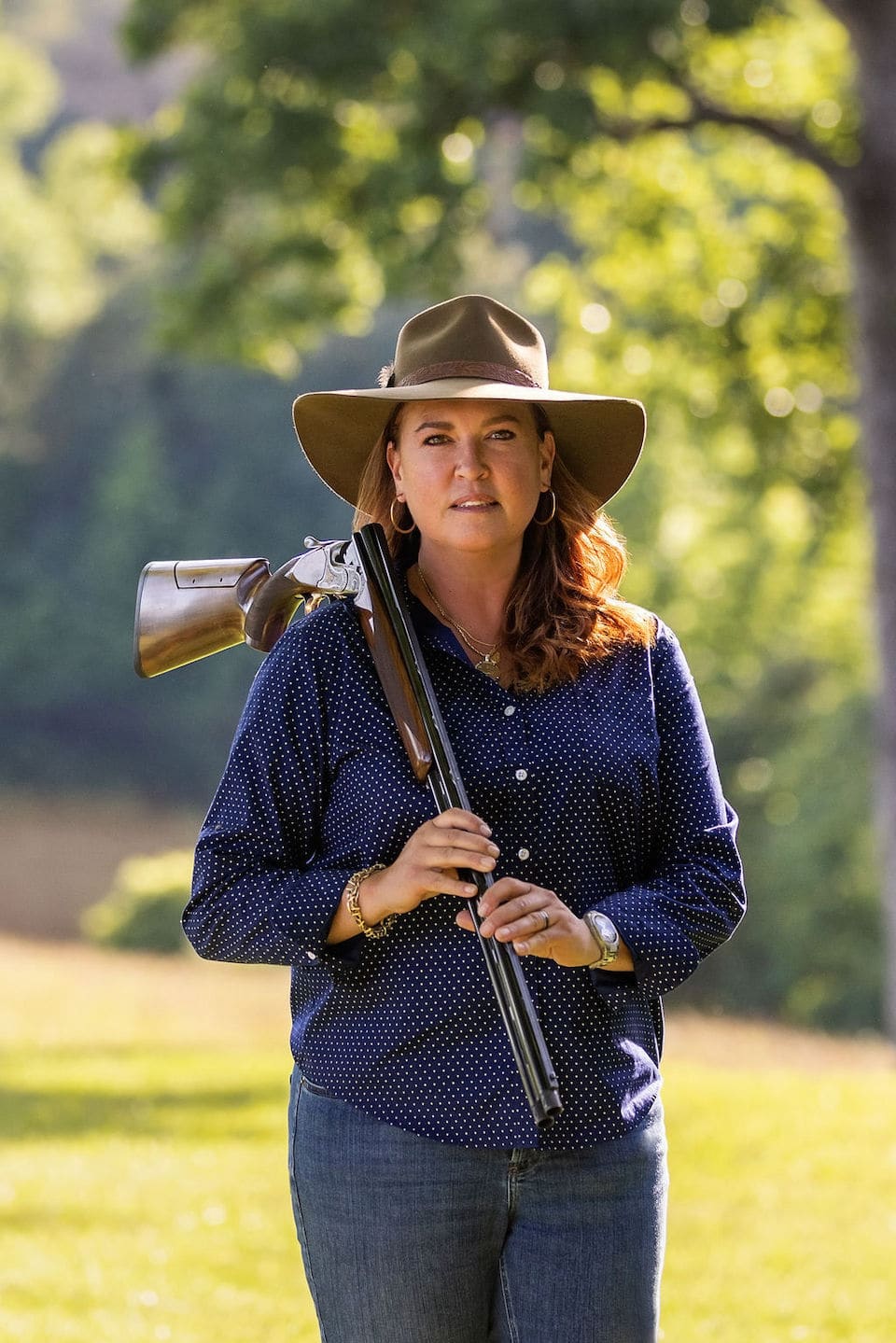 Hot Weather Tips
Peppermint oil on the back of the neck is a lifesaver! It helps keep you cool and also helps keep away those nasty little "no see-ems" that love to snack on you in the summer. I also make sure there is plenty of cold water at hand. As for attire, I love my Duluth Armachillo shirts.
Cold Weather Tips
Toe warmers and hand warmers! I don't know who invented them but I hope that they made millions cause they are worth every penny. I also love my Prois down vest that easily layers under any heavy coat for added warmth without the bulk. You have to be careful about too much bulk when shooting shotgun, it will greatly alter your gun fight and not in a good way. Ariat horseback riding gloves are great for shooting because they fit a woman's hand much better than any shooting glove out there under $50. It's important to be able to feel your gun and your ammo and not get caught up fumbling around, especially if you're getting into birds.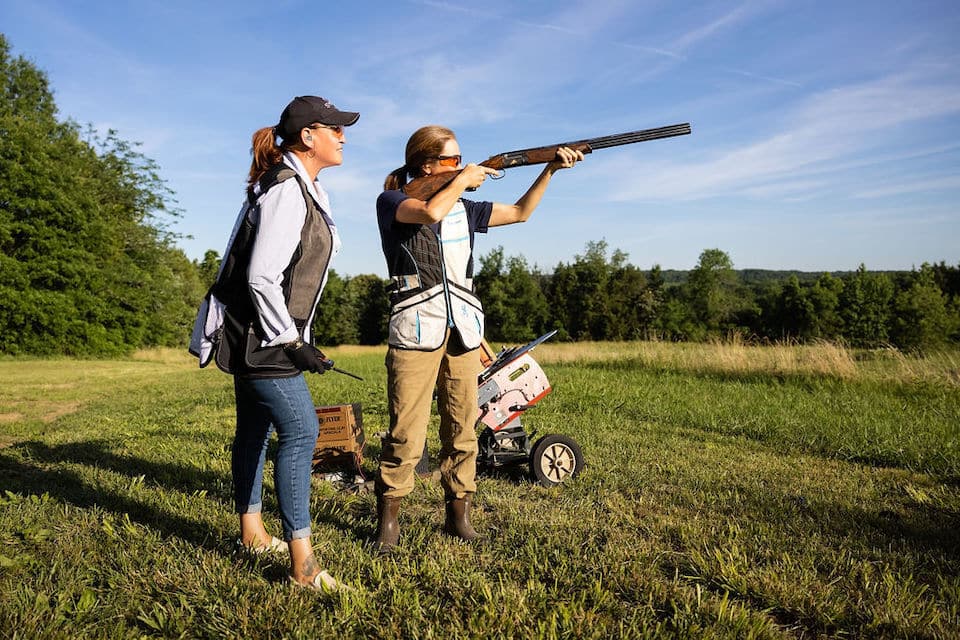 Kate's Mindset Tip
When going out in the hunt field or on the course, it's important to remember that you are there because you LOVE the outdoors, regardless of the weather. If we waited to have a perfect day in regards to the weather we would never get out! You shouldn't push yourself past the threshold, but at least get out there for a few hours and learn what you need and how to cope. You'll thank yourself for even trying and taking the initiative.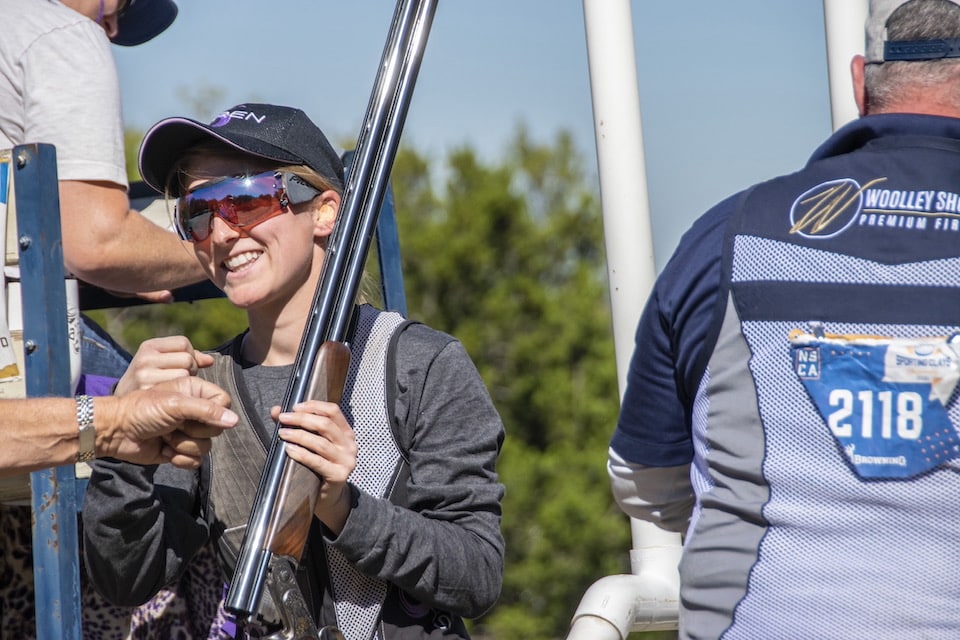 Hot Weather Tips
I wear light, breathable gear, when shooting sporting clays and FITASC in the heat. Columbia makes a lightweight trail pant that I really like. I also always wear my Syren hat to keep the sun off my face. And then I try to drink plenty of water to stay hydrated.
Cold Weather Tips
This would be the question that applies to me the most since I am from Buffalo, New York. (It is 10 degrees here right now.)
I am not a fan of shooting with gloves on, so in the winter I always have Hot Hands in my pockets.
I also am not a fan of shooting in a jacket because it limits my motion, so I usually wear my thermal layer and then my Syren sweatshirt while shooting. I wear a heavy hunting jacket over my vest in between stations on the sporting clays course – almost like how football players wear those heavy jackets on the sidelines.
Ashley's Mindset Tips
I think the most important thing you can do to combat the extreme heat/cold is be prepared.
Make sure you have the right gear to protect you from the elements.
Practice in these elements. The first time you shoot in any condition (rain, snow, wind, heat, etc.) should not be game day.
Don't use the weather as an excuse not to practice, but instead, use it as a chance to see how your body and mind react to it so that you can prepare.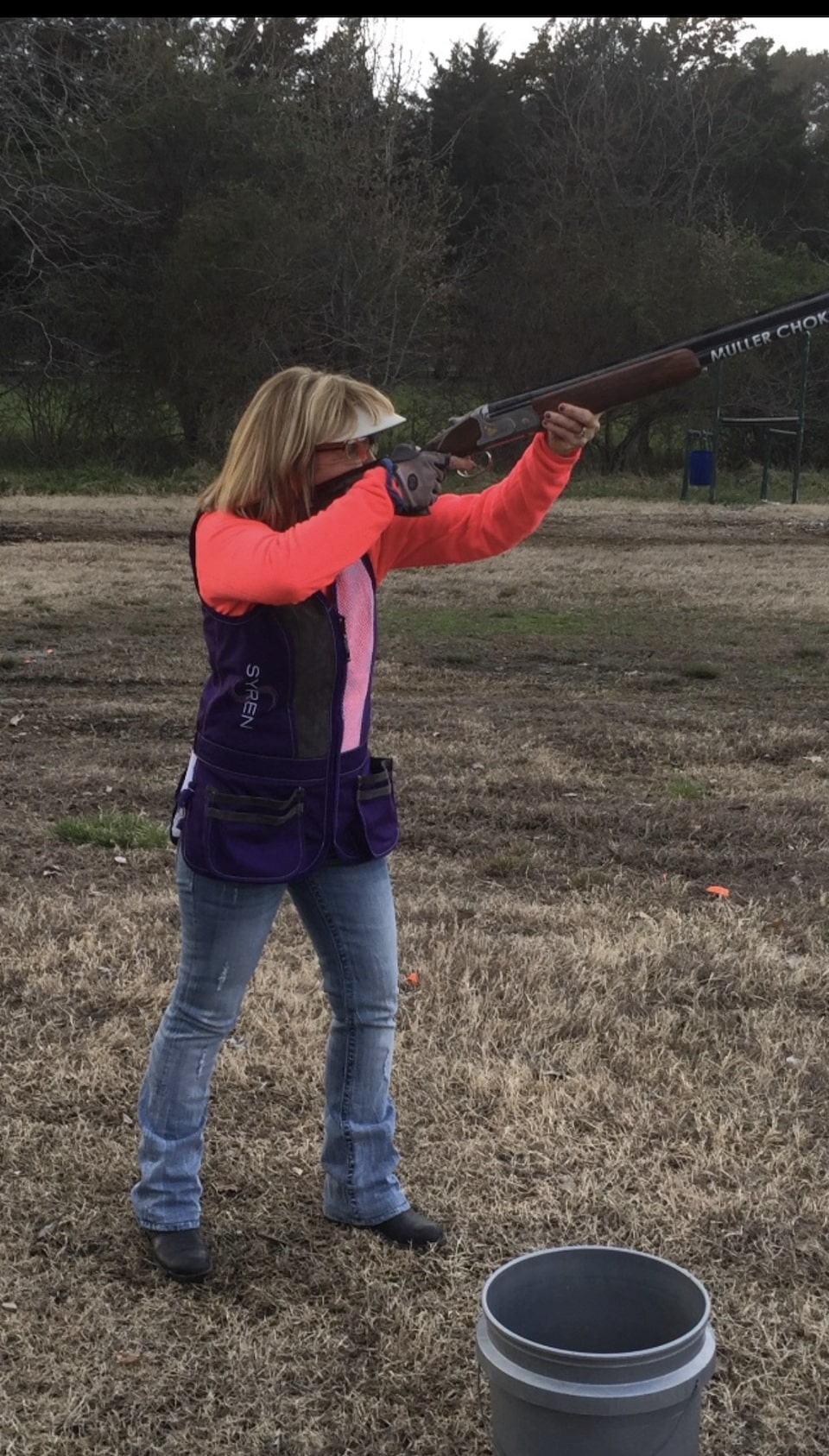 Hot Weather Tips
In extreme heat, I try to stay in shade if possible, wear a hat or sun-visor. I wear my Syren light-color shirts. I pack plenty of water, take a cool wrap that I can get wet and use to help cool off. If it is too hot for a vest, I wear my Syren shell bag. Take things to snack on that are light and cool: grapes, watermelon, cantaloupe or berries.

Cold Weather Tips
I wear Under Armour compression shirts and pants under my clothing, ¾-zip fleece North Face pull-over and the Thermoball North Face jacket and gloves. I put a little heater on the golf cart and a cover on it to stay warm, when I can keep my hands warm. I also use the little hand and feet warmers. I like to take a thermos of something hot. You can buy blankets that are made for golf cart seats. Muck boots help keep my feet warm and dry. They make comfortable gloves to shoot in; I like a glove that's not too bulky, but something I feel comfortable pulling the trigger in. I have couple pair of Under Armour ones they don't seem to get stiff in the cold.
Christine's Mindset Tips
When you shoot you have to keep yourself hydrated and comfortable. Focus more on the target and it will help keep your mind off of the cold or heat. Be positive!

No matter what the day is like, enjoy the outdoors and being surrounded by good people that love the sport as much as you do!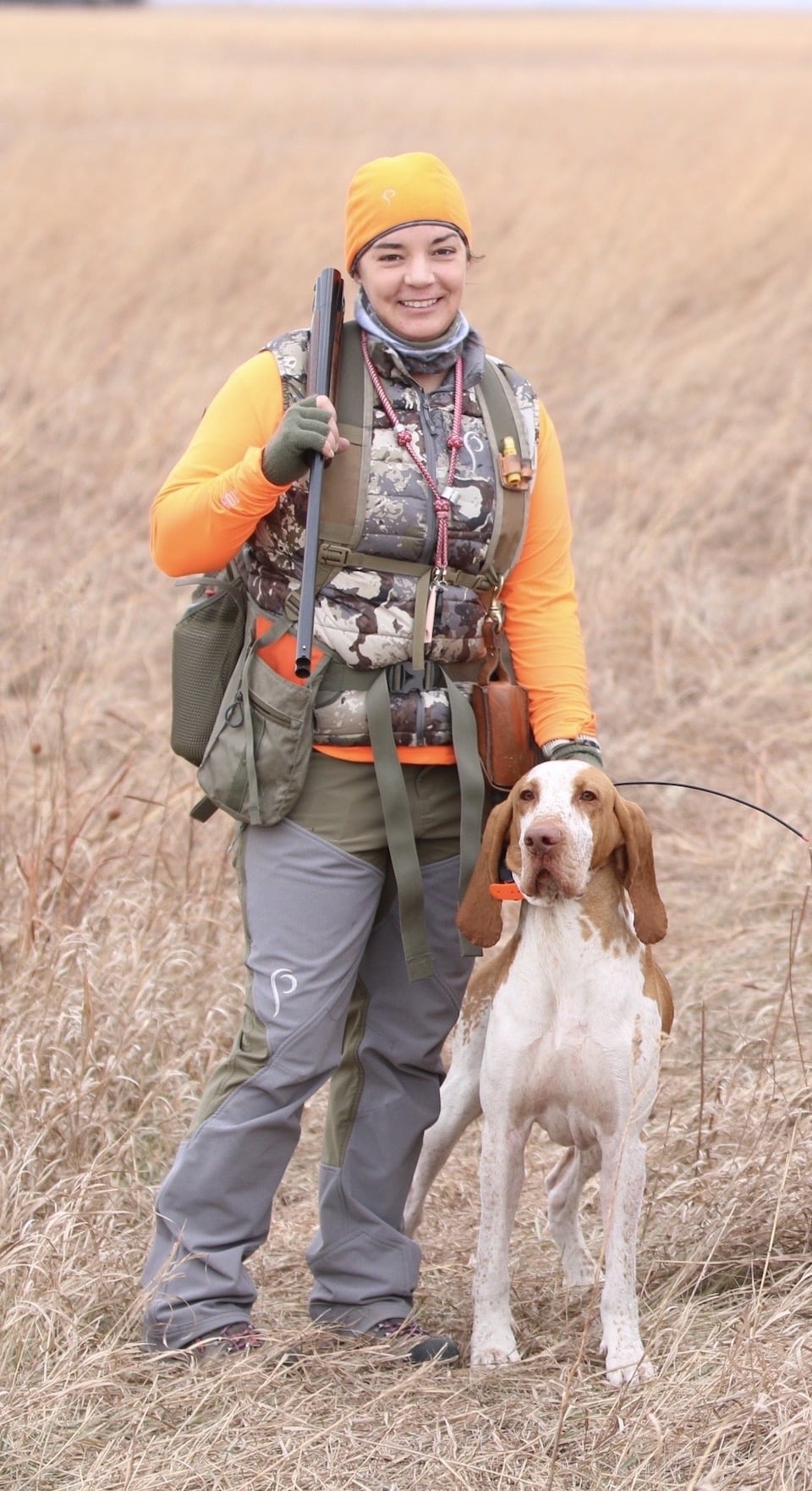 Hot Weather Tips
Upland season starts the beginning of September in Montana, and it sure as heck is warm! I prefer the Prois Pradlann ½-zip pullover because it's very lightweight, moisture wicking, quick drying and provides UV protection. I like the Prois Pradlann Field Pants because they're lightweight and breathable.
After years of buying upland vests that never fit right, were too bulky, or didn't hold enough water, I finally found one that I'm extremely happy with. The Final Rise Summit Vest, the most lightweight on the market at 3.25 pounds, large bird bag, water storage for the dogs and me, along with a weight-bearing padded waistbelt.
Cold Weather Tips
I much prefer to hunt in cool temps! My bird dogs and I are much more comfortable and able to hunt longer. I prefer lightweight, flexible apparel that allows me to climb hills and freely walk through snow without feeling restricted and weighed down. And without doubt, as soon as the birds start flying, the adrenaline always warms me right up!
Merino wool as a base layer is my go-to in cold temps; it keeps me warm, comfortable and odor free. I prefer First Lite Women's Kiln Hoody and First Lite Women's Kiln Long Jane . The Prois Callaid Down Vest is a must for my winter gear as well; it's also lightweight, yet keeps me warm and easy to pack into my strap vest if I need to shed a layer.
My hands stay warm with a pair of First Lite Aerowool Glove Liners , in addition to a pair of First Lite Talus Fingerless Merino Glove .
Darn Tough socks keep my feet warm, dry and blister free.
In addition to a warm hat, I like to wrap a wildrag around my neck for warmth with the ability to pull over my face if it's breezy.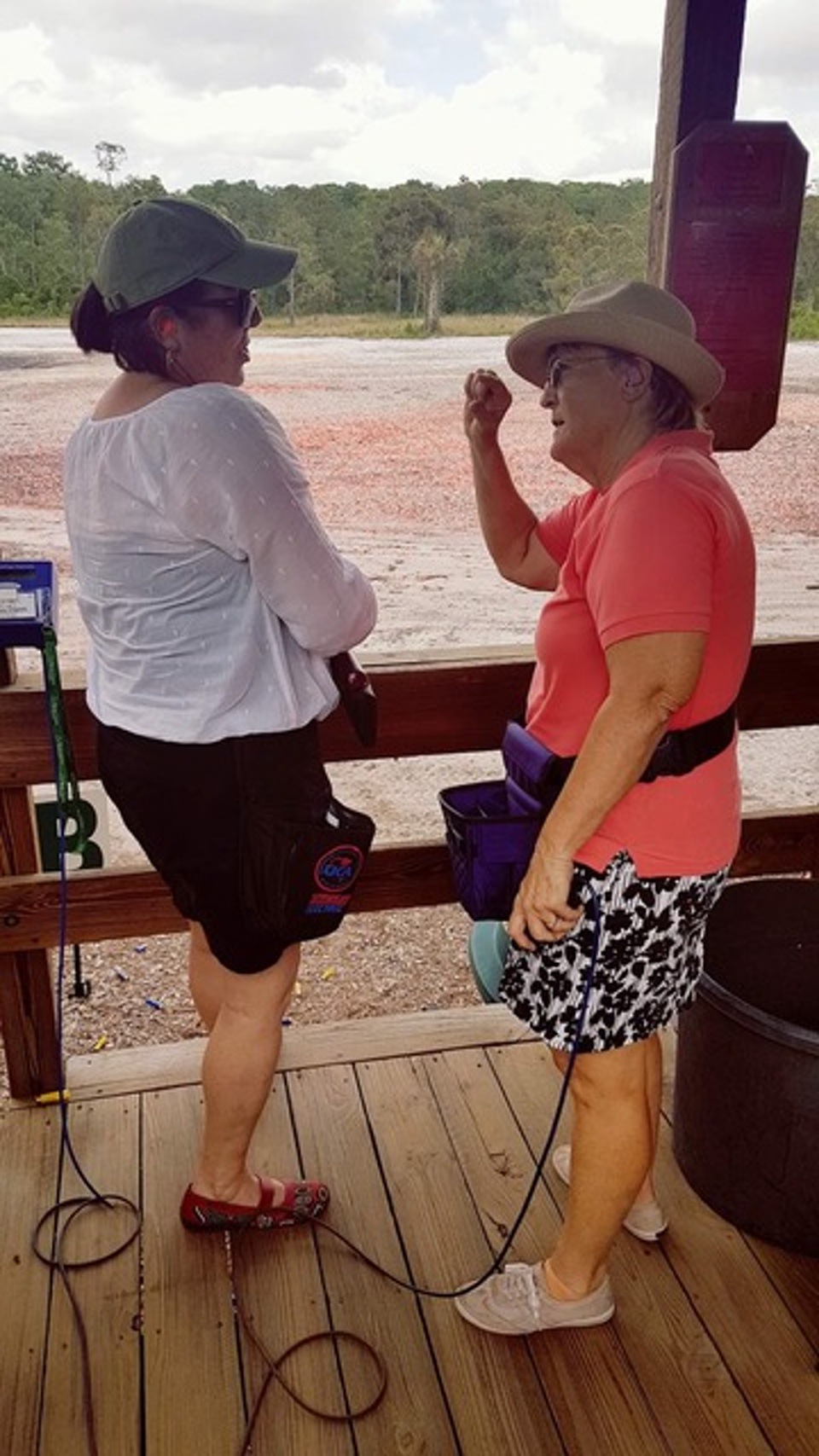 Here in Florida, I use a battery-operated Dewalt fan for the hot days, plus a small cooler with icy water to dip my cooling cloth in. All the clubs keep a lot of water available. When we lived up north, UnderArmour was our best friend – light, thin and warm.
For cool apparel to pair with your shotgun, in either hot or cold weather, visit Syren USA's shop online.
About The WON

The Women's Outdoor News, aka The WON, features news, reviews and stories about women who are shooting, hunting, fishing and actively engaging in outdoor adventure. This publication is for women, by women. View all posts by The WON →