Learning to Cook: Venison Scotch Eggs
The following post is from our teenage writer and newest member of TeamWON, Anna. She shares with us this recipe for her version of Scotch eggs, using meat from a recent elk hunt. ~ The Editors
Did you know that January 25th is the day of the Scottish holiday Burns Night? It celebrates Robert Burns, author of the famous song, "Auld Lang Syne." It is celebrated with traditional dishes, such as haggis. We have a lot of ground elk in the fridge from my Oconto River Kids elk hunt, so we decided to make a twist on Scotch eggs, the first installment in my "Learning to Cook" series.
Scotch eggs are a classic Scottish dish, and quite simple to make. Traditionally, they are made by soft-boiling eggs, encasing each egg in a layer of pork sausage, breading them, then baking or frying. Because I am gluten-free and extremely new to cooking, I made these with Mom. We used Becky Excell's recipe from her book "How to Make Anything Gluten Free" as a guide. We have made Scotch eggs once before, so we tweaked her recipe slightly to suit our ingredients and tastes. I wanted to make these Scotch eggs because they're easy enough for beginners and we could use the elk meat, plus they're fun and delicious!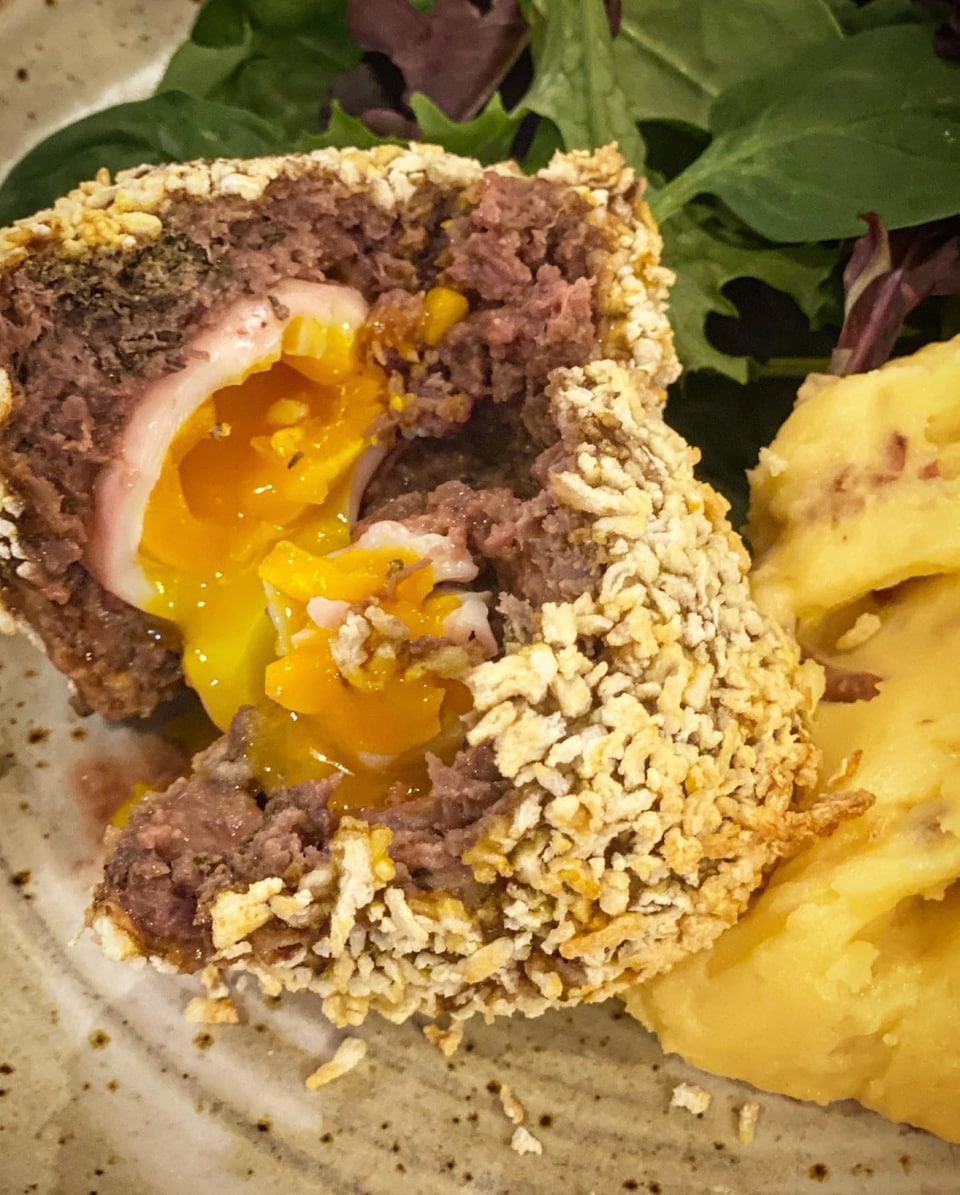 Pork Vs. Elk
Ms. Excell calls for ground pork to wrap around her soft-boiled eggs. We decided to use ground elk both times we made this recipe because we like to use venison whenever we can. The first time, we seasoned ground elk, but it was hard to wrap around our eggs. The elk didn't seal around them easily, and once baked, they fell apart. Pork is a fatty meat, and the fat really helps bind it all together.
For our second time, my mom suggested we add an egg into the elk. It was much wetter, but overall they stuck together quite nicely when forming the patties and after they cooked as well.
Seasoning
In the recipe, the pork is seasoned with sage, salt and white pepper. We tried this mix in our first Scotch eggs and found the sage to be overpowering. Mom, who has been cooking for years, explained why. She said that sage is an herb that is popular for poultry and lighter meats. Because pork is a light meat, the sage adds good flavor to it. Some of our family's favorite sausage has sage. However, when sage is added to darker meats, such as beef and venison, it has a different flavor and too much can overpower the dish.
This time, we decided to keep the salt and white pepper, and instead of sage, used thyme and ground mustard. We liked this combination much more. Mom told me to remember that you can substitute seasonings that you prefer when cooking. For about a pound of elk burger, we used two tablespoons of thyme, one tablespoon of ground mustard, one teaspoon of salt and ¼ teaspoon of white pepper.
Eggs
Most people refrigerate their eggs. This is due to the fact that many buy their eggs from grocery stores. These eggs are washed and packaged. Not too many people know that fresh, unwashed eggs can be kept at room temperature for weeks.
Why does the washing matter? When eggs are washed, the outermost covering on the shell, called the bloom, is removed. This bloom is designed to prevent bacteria from entering the egg – after all, an egg's purpose is to make more chickens. When the bloom is removed, it is much easier for bacteria to get into the egg, so it needs to be refrigerated.
We own many chickens, and keep our unwashed eggs at room temperature, causing an egg's internal temperature to be greater than that of a refrigerated egg. This means that the egg takes less time to cook. We boiled our eggs for four minutes, while most Scotch egg recipes call for them to be boiled for six minutes.
Forming the Scotch Eggs
Everyone says that Scotch eggs are very easy. All you have to do is form a meat patty and wrap the egg! That is what ends up happening, but it's not really that simple. Depending on how long you cook your eggs, they could be firm, or very fragile. Ours were more fragile, which makes wrapping them a very delicate process. The eggs were harder to work with, but we wanted them to still be runny on the inside for the final dish.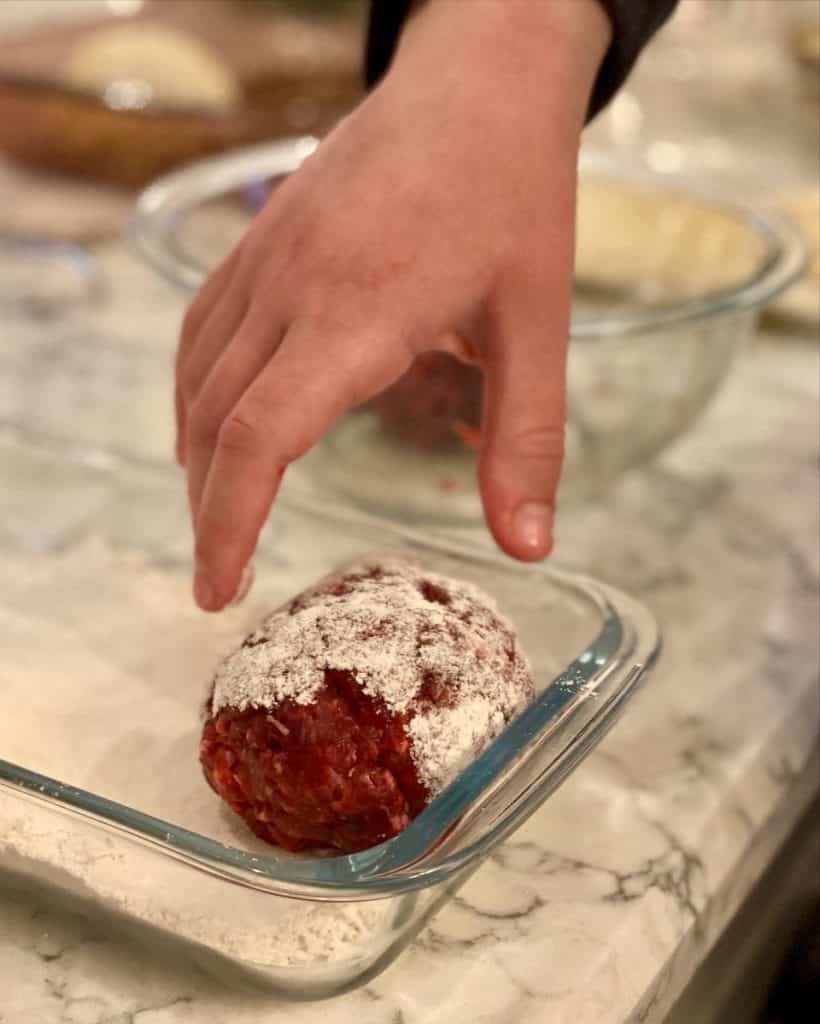 While forming the eggs, we had to do it very gingerly. Any extended rolling could split them, potentially causing their yolks to burst. Also, it is a bit difficult to wrap the eggs in elk. If your patty is too thick, you'll have to take away meat from parts of the patty to fully encase the egg. This can cause the meat to be in an uneven layer around the egg. If the patty is too thin, it will split, too. I learned that the easiest way to efficiently seal the eggs in elk was to pinch the seams together. It's a lot like working with dough.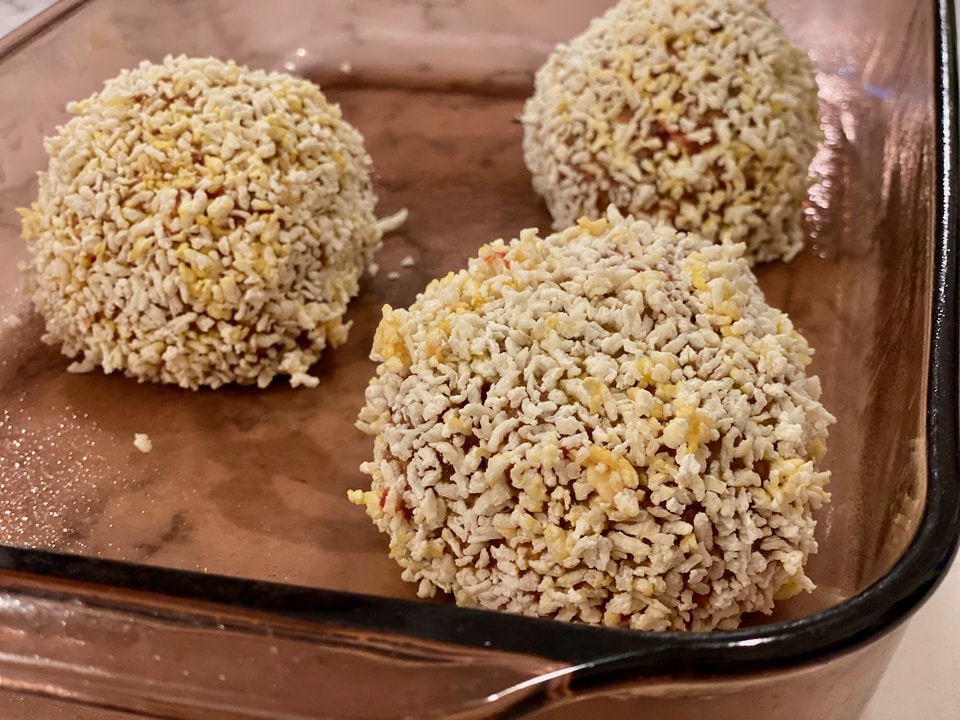 Rolling the meat encased eggs in flour, beaten egg and gluten-free breadcrumbs was slightly easier, but not by much. Excessive rolling could split the elk apart, and then we'd be back to square one. After the assembly, and other than flipping the Scotch eggs midway through baking, the only thing left to do was clean up.
Successful Dinner
After the Scotch eggs finished baking, we cut into them, and Mom took some amazing photos. Once we began to eat, my Scotch egg disappeared quickly, along with our salad and mashed potatoes, or "tatties," as they say in Scotland.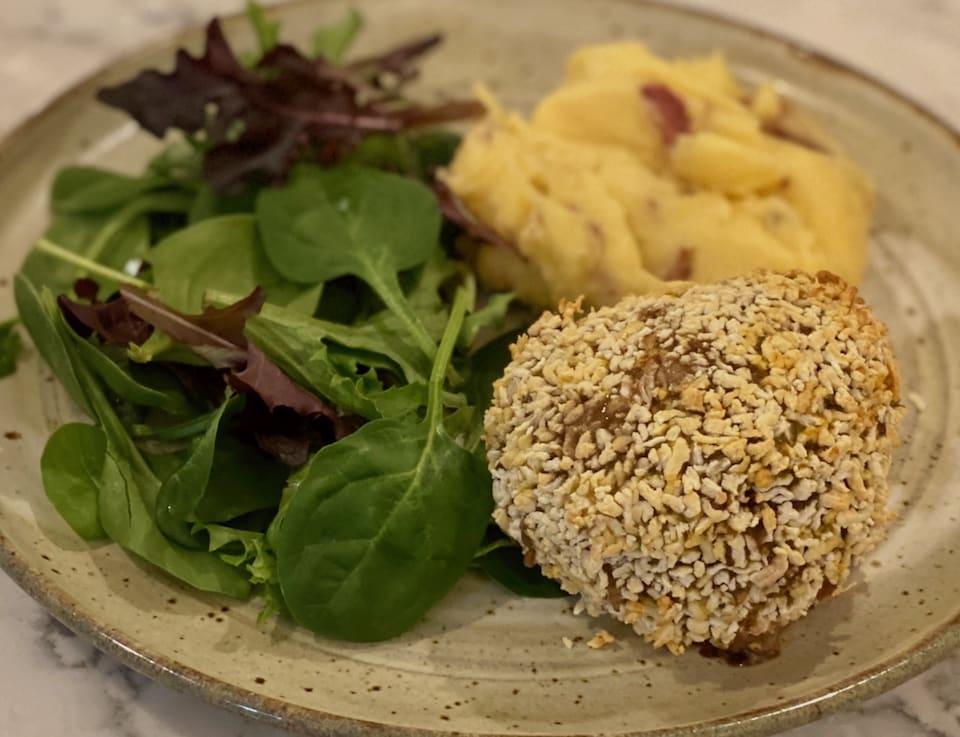 Scotch eggs may be one of the only dishes that I've cooked, but it's certainly one of my favorites. I look forward to making these again and trying new seasonings and meats. If you end up making Scotch eggs, I recommend ending your meal with some Scottish shortbread cookies, too. Here's a recipe for venison Scotch eggs.
About Anna

"Anna" is a teenage girl who loves to write, read, and do just about anything artsy. She enjoys writing about nature crafts and her experiences while learning to hunt and cook wild game. Anna firmly believes that backyard chickens lay the best eggs and that spending time outside with her flock every morning will start the day off happily. She is extremely grateful to her best friend, who inspired her to really take writing seriously. You can find her lost in her latest idea or listening to her sister "Rose" read book quotes. View all posts by Anna →