First Texas Hog Hunt Experience
Some people think hunting is guaranteed. While I consciously know that it's not, I think I subconsciously do expect to always get an animal – especially on a hog hunt where you sit and wait for them to come to the feeder, take your shot and bring home the bacon. Well, I learned that it doesn't always happen that way on this first Texas hog hunt.
A friend of my mom's generously invited my family out to hunt hogs in the hill country of central Texas. Mr. Parr owns a lovely piece of land covered in oaks, huge rocks, beautiful clumps of prickly pear and tons of wildlife. Most importantly for our trip, there are many hogs. The hogs in Texas have some Russian boar ancestry, so some of them have spinal ridges and bigger tusks. Others look like bristly versions of farm pigs, and can be brown, black, blonde, red, spotted or even a combination.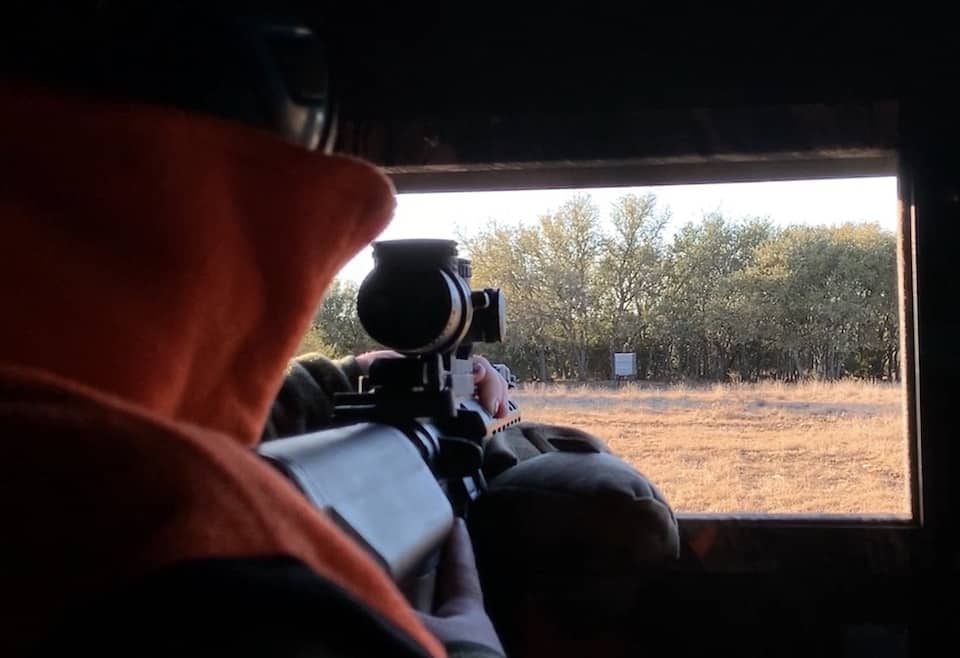 I felt extremely excited before our family left, and was probably a bit annoying to be around. This trip brought a lot of firsts for me, having never hunted wild hogs, seen any in person, or been to Texas. As hog hunting is supposedly guaranteed, our family hoped to get a "tusker" each, as well as some sows and suckling pigs. My sister, Rose, decided that she wasn't ready to hunt, but joined us while we were hunting and took pictures.
On the first day, I hunted with Mom. Mr. Parr showed us the way to the nearest blind early in the morning while it was dark. We wore headlamps, and I kept mine shining on the rocky ground directly in front of me. I stared at my feet, but still tripped several times. Thank goodness we had our headlamps! They certainly kept me from falling.
When we arrived at the blind, the stars were still shining. This gave Mom and me plenty of time to load our guns, whisper about what we were going to do should we see any hogs, and get situated. We also had time to wish we dressed warmer! The temperature was in the twenties, and Mom and I turned into human popsicles. I shivered even after I warmed up.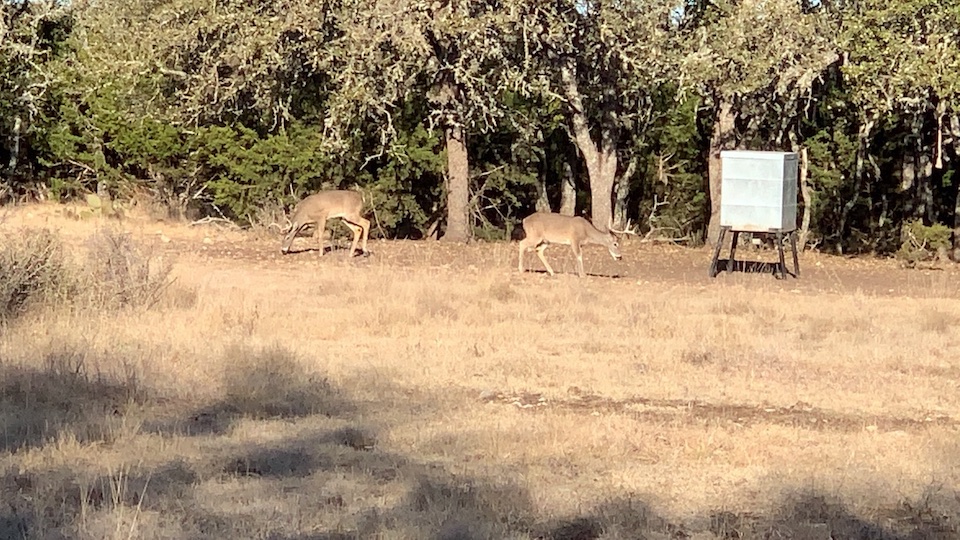 Not long after the sun rose, we heard a rattling noise, distracting us from our chills. The sound meant that the feeder ejected corn. Immediately, a group of axis deer came running to get a meal before any other animals.
It was my first time seeing axis deer in person and I felt very excited. Everything about them is so different from the whitetails at home – from their spotted reddish fur, the way they acted almost playfully and the little velvet antler nubs on the buck we saw. Mom and I sat and watched them interact for a while, until all of a sudden, a "tusker" boar ran out.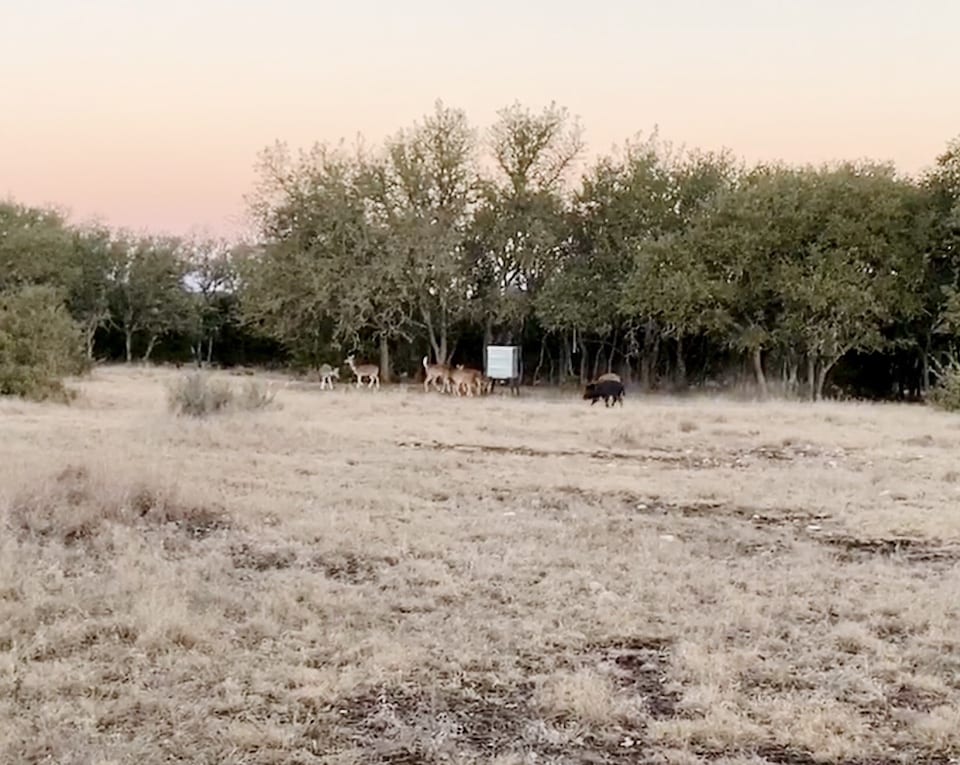 I was totally unprepared and buzzing from the axis. The deer still ate and acted agitated around the boar, who pushed them around. I hurried to get ready, and I followed the boar with my gun. At one point, he stopped and gave me a perfect broadside shot. I aimed at his head, but didn't feel comfortable with the shot. After a doe harassed him, the boar didn't stay for long. He ran off as quickly as he came.
I think I didn't take the shot because of the combination of excitement from seeing my first axis deer and my first wild hog. I also wanted to make my shot perfect to prevent a miss or wound to an animal. When I aimed at the boar, I shook and my heart pounded. Other than the one time he stayed still, the boar moved a lot. I didn't want to take a moving shot, especially on such a small target. Because hogs have a hard armor plate over their vitals, and I used a rifle chambered in .223, I didn't aim at its heart and lungs. Instead, Mr. Parr, who has a vast amount of experience, advised to aim behind the ear, so that the bullet penetrated the skull and went through the brain.
Another issue is that I felt rushed. The boar moved around so much that I just couldn't calm down enough to focus on a shot. I felt disappointed, but at the time I didn't worry about it too much. As Mom explained, when the feeder rattles, it basically tells the animals that it's dinner time. I expected to see plenty more pigs, and the afternoon temperature was much warmer than the morning.
Unfortunately, I didn't get any more chances to take a hog. I felt annoyed at myself for missing my opportunity, but my biggest problem (even beyond boar fever and not being ready) was expectation. Our family expected to take home many hogs. I expected to get at least one hog. I learned that expecting something while hunting sets you up for disappointment.
While my hunt technically failed, I still had a load of fun and I learned a ton. Like my father says, it's hunting, not shooting.
We didn't go home empty handed. On our second day of hunting, Mom shot a little boar. Later that day, Dad took a sow at sunset, just as my mom and I packed up. Oddly enough, though they were separate hunts, Mom and Dad took both hogs when Rose was with them. On the way home, I joked that I want to take her with me next time.
All in all, this hog hunt was a truly incredible learning experience, and I am extremely grateful to Mr. Parr for inviting us.
About Anna

"Anna" is a teenage girl who loves to write, read, and do just about anything artsy. She enjoys writing about nature crafts and her experiences while learning to hunt and cook wild game. Anna firmly believes that backyard chickens lay the best eggs and that spending time outside with her flock every morning will start the day off happily. She is extremely grateful to her best friend, who inspired her to really take writing seriously. You can find her lost in her latest idea or listening to her sister "Rose" read book quotes. View all posts by Anna →