Indoor Nationals Final: Recurve Preview
LOUISVILLE, Ky. – The 2022 USA Archery Indoor Nationals Final is a spotlight shootdown where the top eight archers across all ages from this indoor season go head-to-head for $65,000 in prize money with payouts to all places. The event will be held at the Kentucky International Convention Center in Louisville, Ky. on March 17.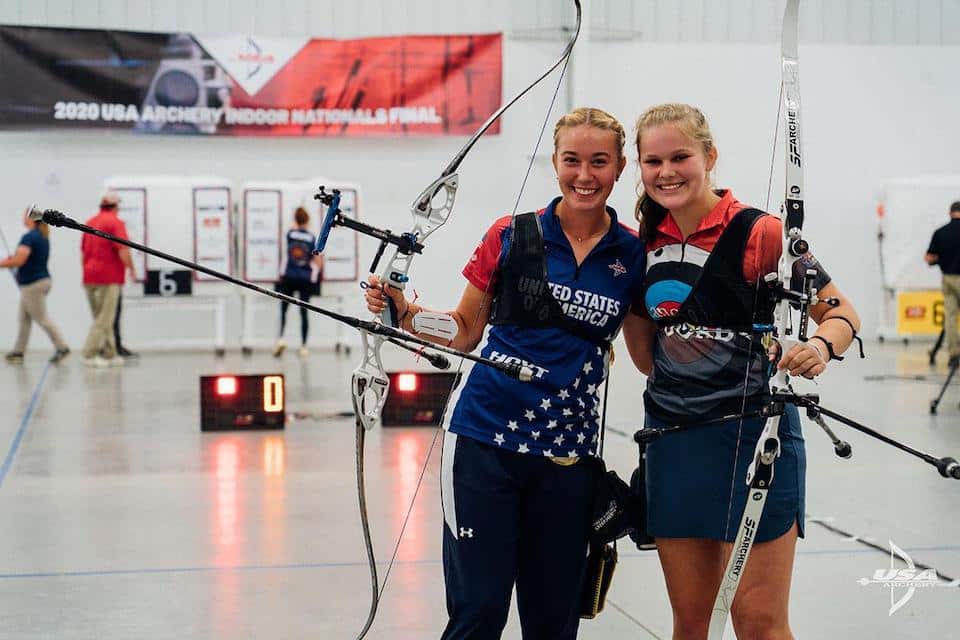 This year's recurve bracket is stacked with tough competition. 2018 Youth Olympic Games Champion Trenton Cowles (Burbank, Calf.) took the top seed with 1178, just edging out four-time Olympian Brady Ellison (Miami, Ariz.) who qualified second with 1177. World Champion Ellison has spent much of his career ranked No. 1 in both the U.S. and the world; he is also the reigning Indoor Final Champion. Cowles competes as a collegiate archer at Texas A&M University and has begun an impressive international career.
Qualifying 3rd and 4th are Jackson Mirich (Phoenix, Ariz.) and Jack Williams (Orange, Calif.) after posting 1173 and 1172 respectively at the Indoor Nationals. Mirich is an up and coming talent who has had several appearances on U21 international finals stages. Olympian Williams, world no. 8, recently upset Ellison to win the World Cup Final Champion title.Joe McGlyn (Floral Park, N.Y.) seeded 5th with a score of 1170. McGlyn has decades of archery experience and won the team gold at the 2001 World Archery Indoor Championships.
Seeded 6th is 1996 Olympic Champion Justin Huish (Simi Valley, Calf.), who qualified with an 1162. 7th seed Christian Stoddard (Piedmont, Calif.) was close behind with an 1161. Stoddard is a U18 USAT member and part of the RED program. Following Stoddard in the 8th seed with a final score of 1160 is Venugopal Kunnavakkam (Huntington Beach, Calif.), another collegiate standout from Texas A&M University.
In the recurve women's bracket, Tokyo 2020 Olympian and 2021 World Archery Championships silver medalist Casey Kaufhold (Lancaster, Pa.) qualified first with a 10-point margin over 2nd seed Eunice H. Choi (Suwanee, Ga.), scoring 1170 and 1160 respectively. Choi has been the U21 Indoor National Champion the past two years and finished the 2021 season on top of the U21 USAT rankings.
Seeded 3rd and 4th are Molly Nugent (Gilbert, Ariz.) and Jordan Marie Meiners (Conroe, Texas) with qualifying scores of 1139 and 1138. Still recovering from a surgery she had late last year, Nugent shot the qualifiers wearing a boot and shooting on a knee scooter. Nugent won the gold at the 2021 Field Nationals, where she was also awarded the Shenk Award for having the highest cumulative scores in the USA Archery Indoor, Field and Target Nationals. Meiners made her Team USA debut with a top 10 finish at the 2021 World Archery Youth Championships.
Erin Mickelberry (Bothell, Wash.) qualified 5th for the Finals with an 1135. Mickelberry won the team gold at the 2019 Pan American Games and has been a staple on USA's international teams for much of the past decade.
Liberty Hofmaster (Marion, Iowa) and Alyssa Artz (Lititz, Pa.) tied for 6th with a qualifying score of 1133. Artz is the reigning Indoor Final silver medalist. Not far behind them was Emily Nelson (Dublin, Ohio) who finished the qualifiers with an 1132, filling the 8th and final spot for the women's recurve division.
To keep up with the action from the Final on March 17, follow USA Archery's live results page. The quarterfinals will begin at 3:00 pm ET, and the gold medal matches will stream live on Competition Archery Media and USA Archery at 5:00 pm ET. Stay tuned to www.usarchery.org for other division previews this week as we gear up for the Final!
About USA ArcheryUSA Archery is the National Governing Body for the Olympic sport of archery in the United States. USA Archery selects and trains Olympic, Paralympic, World Championship, and World Cup teams, as well as developing archery at the grassroots level across the United States. For more information, visit www.usarchery.org.
About The WON

The Women's Outdoor News, aka The WON, features news, reviews and stories about women who are shooting, hunting, fishing and actively engaging in outdoor adventure. This publication is for women, by women. View all posts by The WON →