Review: Franchi Affinity 3.5 Waterfowl Elite
After spending several days waterfowl hunting with The Sisterhood of The Outdoors, I was chatting Barbara Baird's ears off on the car ride from Arkansas to Missouri about how beneficial I imagined it would be to have a dedicated waterfowl shotgun, in camo, with the option of using 3.5-inch shotshells. Prior to our hunting adventure, Barbara asked if I would be interested in reviewing a Franchi shotgun, and you know I was up for the task as it would give me chance to try another brand on for size. The only request I asked of Franchi was to send a 28-inch barrel shotgun. I didn't ask any questions about the model they were sending; I figure the less I know, the more open-minded and honest I could be. I was doubly please when I picked it up from my gun shop and saw that it was waterfowl shotgun, specifically the Franchi Affinity 3.5 Waterfowl Elite semi-automatic! It is rare that you get to demo shotguns before you make a commitment to one. And, with even better luck, the Affinity arrived with impeccable timing, just days before I was to leave on a snow goose hunt.
Sponsored by Benelli
Until recently, I had to make do with one shotgun for all my activities. Sure, it got the job done, but only with conscious effort and work arounds. The frequency with which I've been waterfowl hunting (and plotting for upcoming turkey seasons) had me wondering if a camo gun would work more in my favor. Like everyone else, I have had trouble finding ammo for the last few years. I would either find 3.5-inch shells in the right shot size, or I would find the wrong sizes for my 3-inch shell shotgun. I had quickly convinced myself that I would increase my odds of harvesting snow geese and waterfowl with a single shot if I could stretch my shot spread pattern another two-to-five yards provided by those 3.5-inch shells.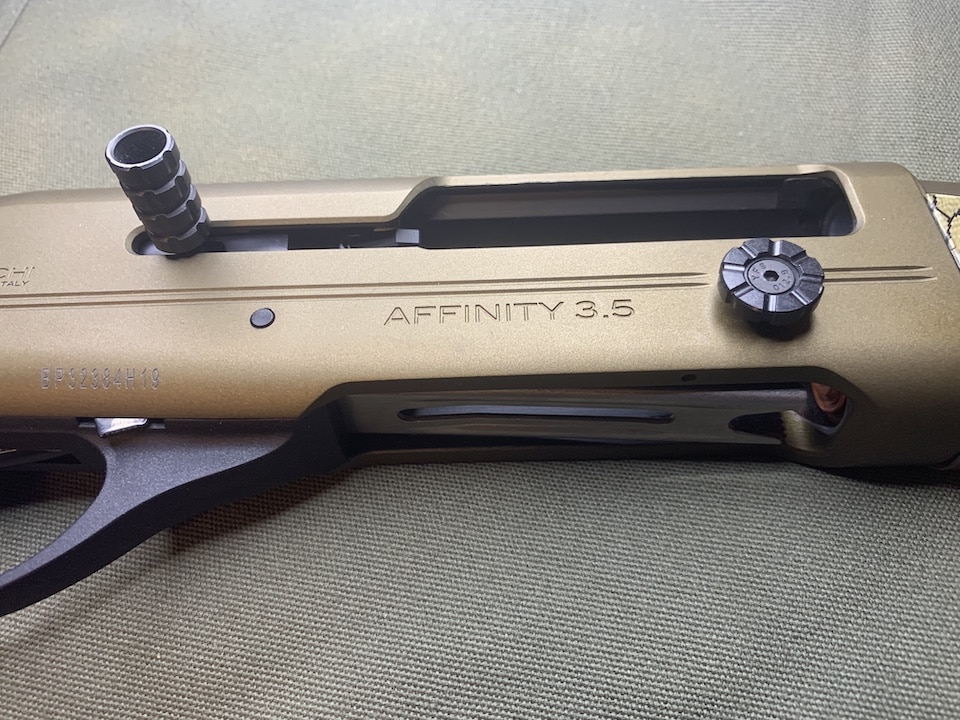 Franchi sent me the Affinity 3.5 Waterfowl Elite semi-automatic in the Gore Optifade Waterfowl Marsh Stock finish, with a Burnt Bronze Cerakote barrel finish. Here are some of the gun's specificiations:
Standard 28-inch barrel
Shim kit (with five stock drop and cast adjustment shims)
Optional Gore Optifade Waterfowl Marsh or Waterfowl Timber stock finish
TruGlo Dual-Color Fiber-Optic Sight
Stock counterweight (A counterweight can be used to adjust a shotguns balance if you feel it is needed.)
One flush choke tube – Modified, steel shot approved to use
Franchi Affinity Waterfowl 12 gauge Trulock choke tube set All are clearly marked with Steel shot OK and diameter, but NOT notched.

Close Range .720 (Cylinder)
Mid Range .710 (Improved Cylinder)
Long Range .700 (Modified Cylinder)

Choke Key
¾-inch TSA recoil pad
Round Capacity is 4+1 varying by shotshell length
Weighs 7 pounds
Oversized bolt frag handle and frag bolt release (I have a new appreciation and love for these extended features, worked really well while wearing gloves.)
It is tapped and can be mounted with a red dot or scope

My first thought when I removed the Affinity from the box was that it was awfully light. I started to feel a little apprehensive about how the recoil was going to feel shooting the 3.5-inch shotshells. I was warned that I was making an unwise decision when I decided that I was going to "mag dump" (at least 10) 3.5" shells, turkey loads, consecutively from the Affinity. But I was determined to ignore the dissuaders; I was determined to learn this lesson on my own.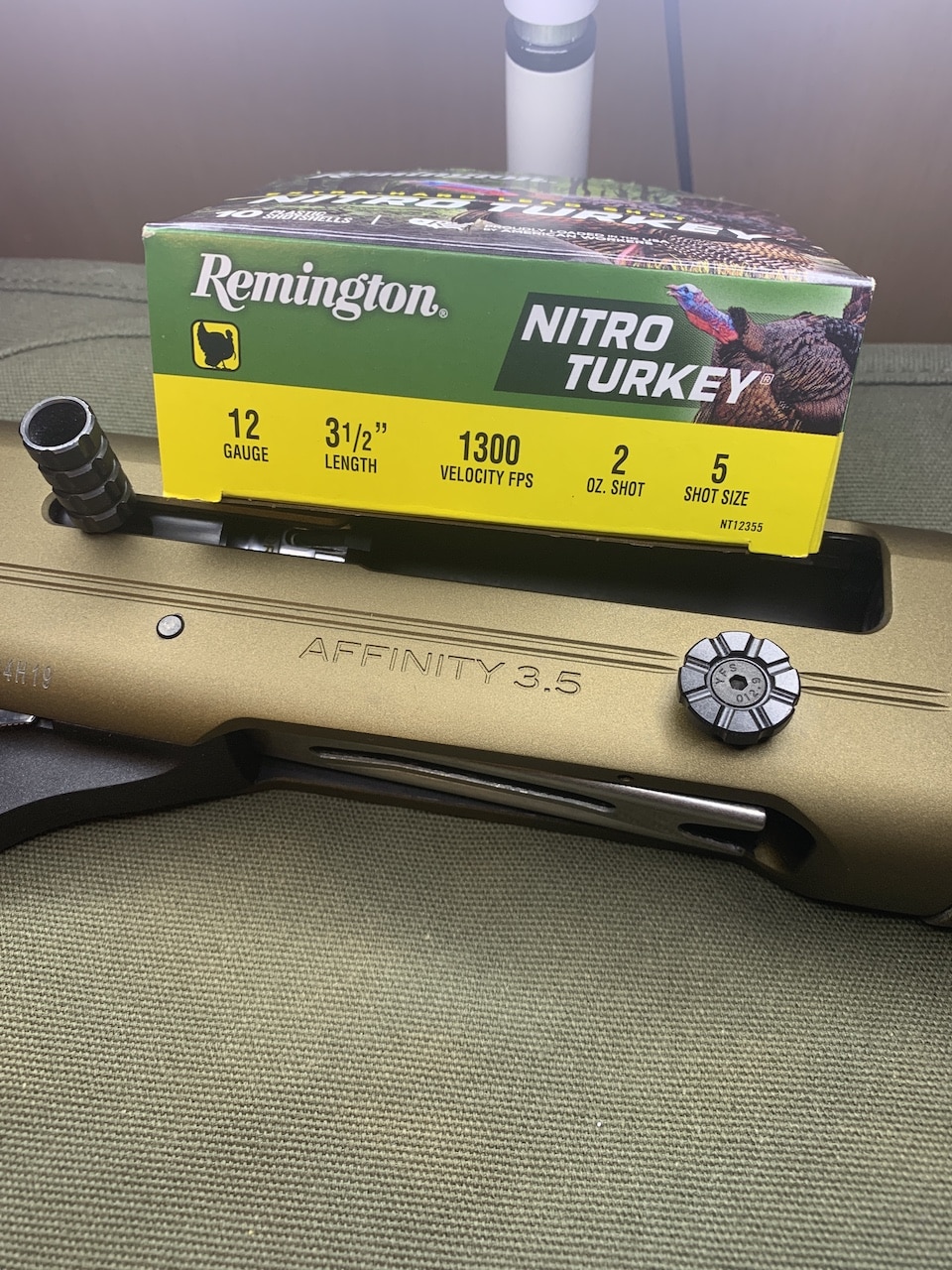 This shotgun is a demo gun, so I immediately checked to see if it needed adjusting to fit me. As mentioned, the Affinity came with shims. In case you are wondering what exactly shims are and what they are used for, I recommend visiting the Benelli Firearms Channel. It offers a simple, yet very informative, demonstration video hosted by Michael Murphy & Sons, Fine Firearms and Accessories. Michael covers the process of drop-and-cast adjustment, and adjusting a shooter's point impact from a 90/10 to a 60/40 pattern spread.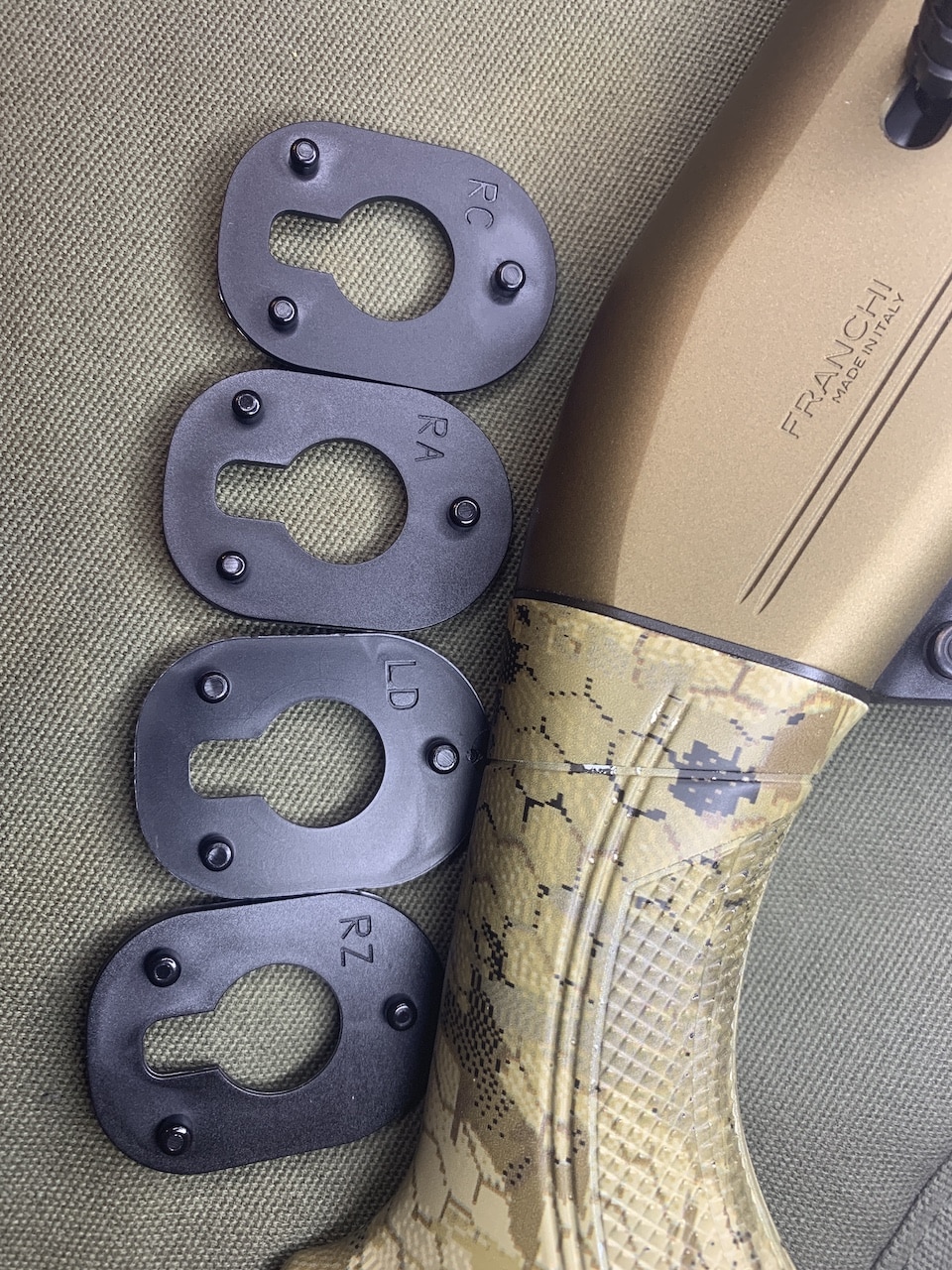 Franchi at the Range
First, I rounded up a few ladies for some sporting clay fun, which would allow me to enable a few other friends that have not had a chance to use a Franchi. The Affinity shouldered well and its sight alignment felt good out the box.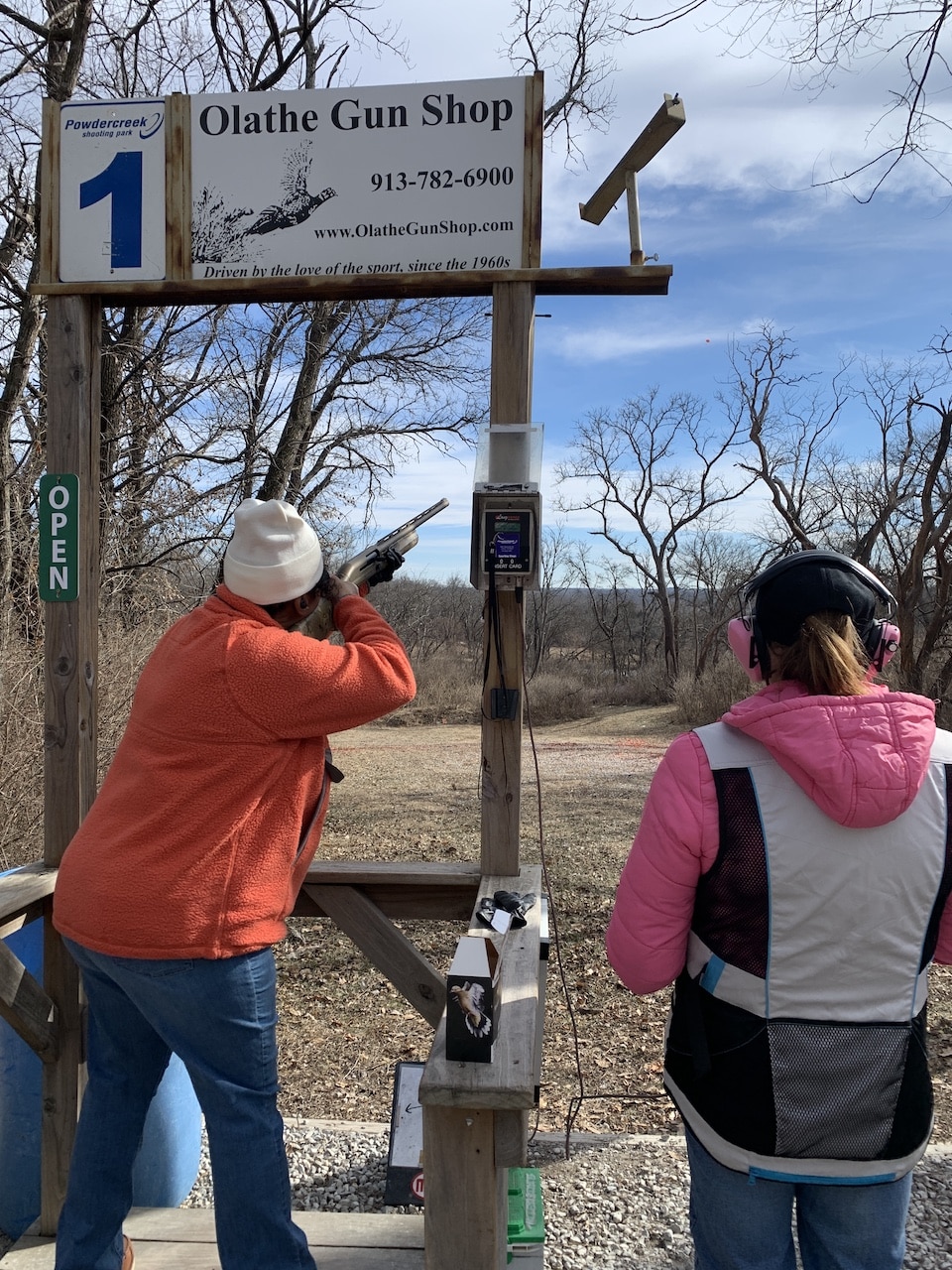 Next up was a little waterfowl field testing. I might as well hunt local before I travel to chase birds, right? It gave me a chance to pay attention to the camo pattern in the field and blind.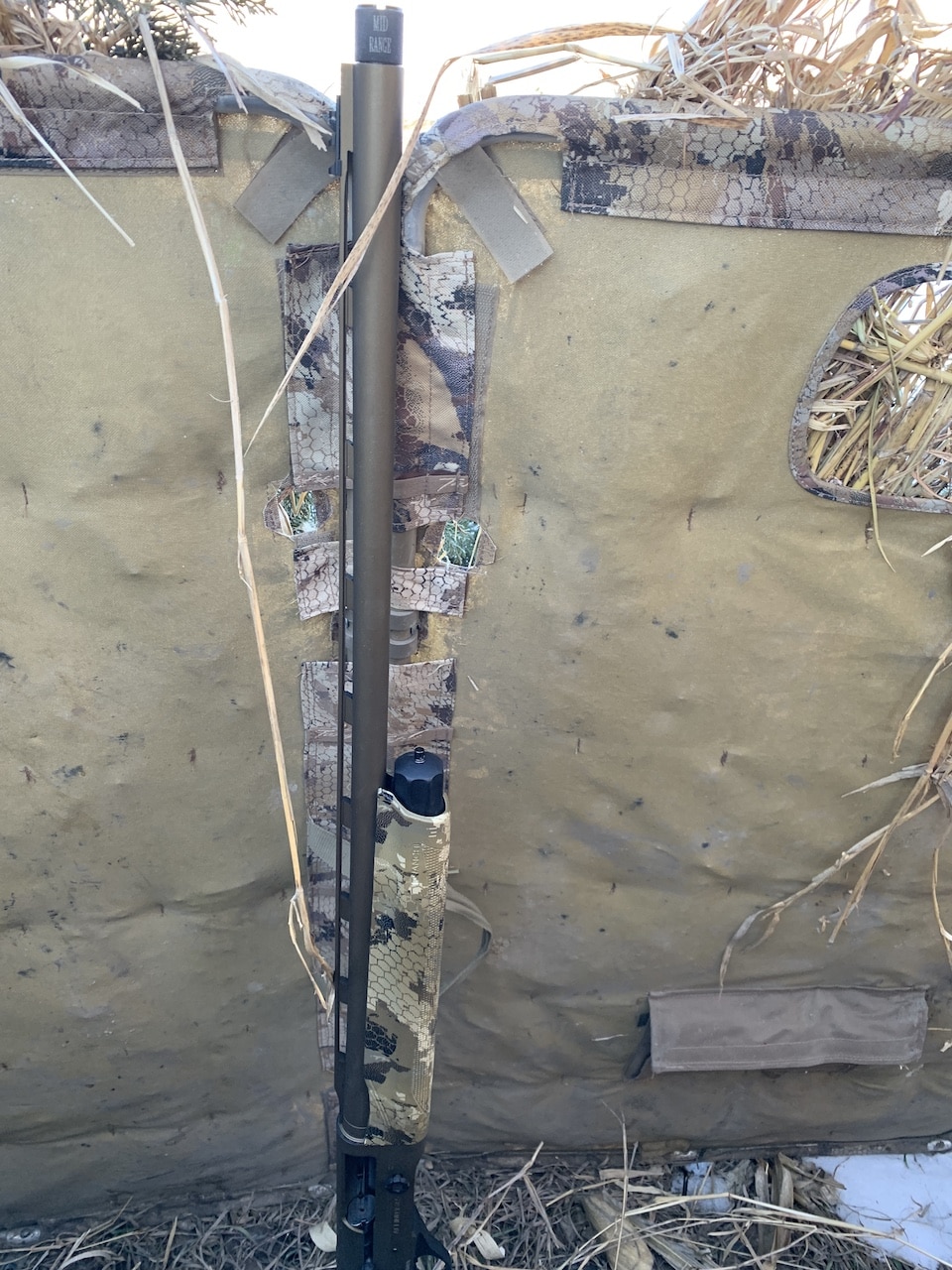 I love the camo pattern and the ergonomics of the forward grip. However, I am on the fence about how long the finish on the stock will last as it is starting to show signs of wear in a few places. This is a demo gun, so I cannot say how long, how many hands or conditions it has encountered. Franchi does come standard with a 7-year warranty on the mechanical parts, but not on normal wear/tear/corrosion. Fair enough. Most users probably do not treat loaner firearms as if they would their own. So, a little wear was expected. Originally, I was thinking if I ever got around to purchasing a 3.5-inch camo pattern shotgun, I would lean toward either the Bottomland or the Realtree line. But, I like how versatile the Gore Optifade Waterfowl Marsh is and it blended in very well for the region I typically hunt.
Franchi Affinity Field Test
How do I think the Franchi Affinity 3.5 Waterfowl Elite did in the field? Zero complaints. I harvested my first snow goose at a conservation hunt. I shot several 3.5-inch BBB 12-gauge shot shells without any discomfort. It impressively handled the recoil the ammo dealt it. It felt like I was using -2 ¾-inch target loads, to me anyway.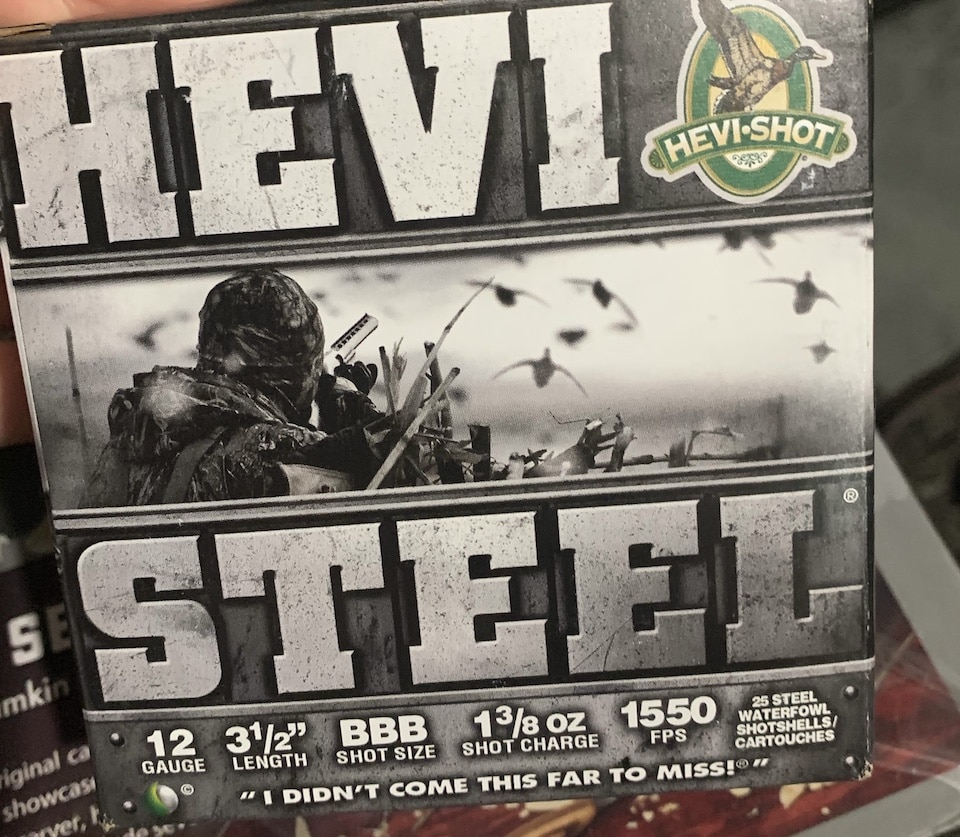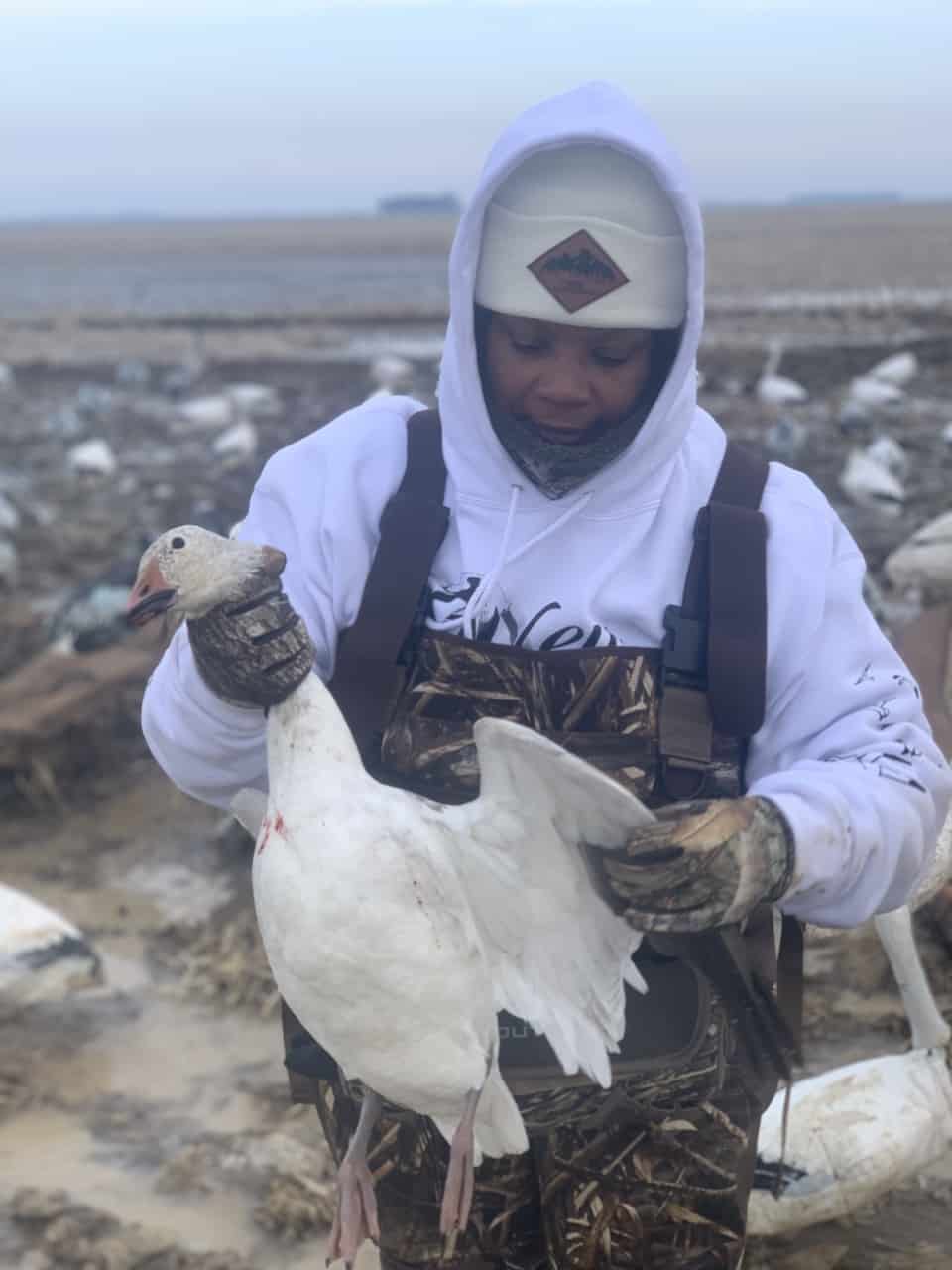 My friends allowed me a few moments to really look at my first snow goose and marvel at nature. But after that, we stayed true to one of my favorite HeaviShot mottos: "I didn't come this far to miss!"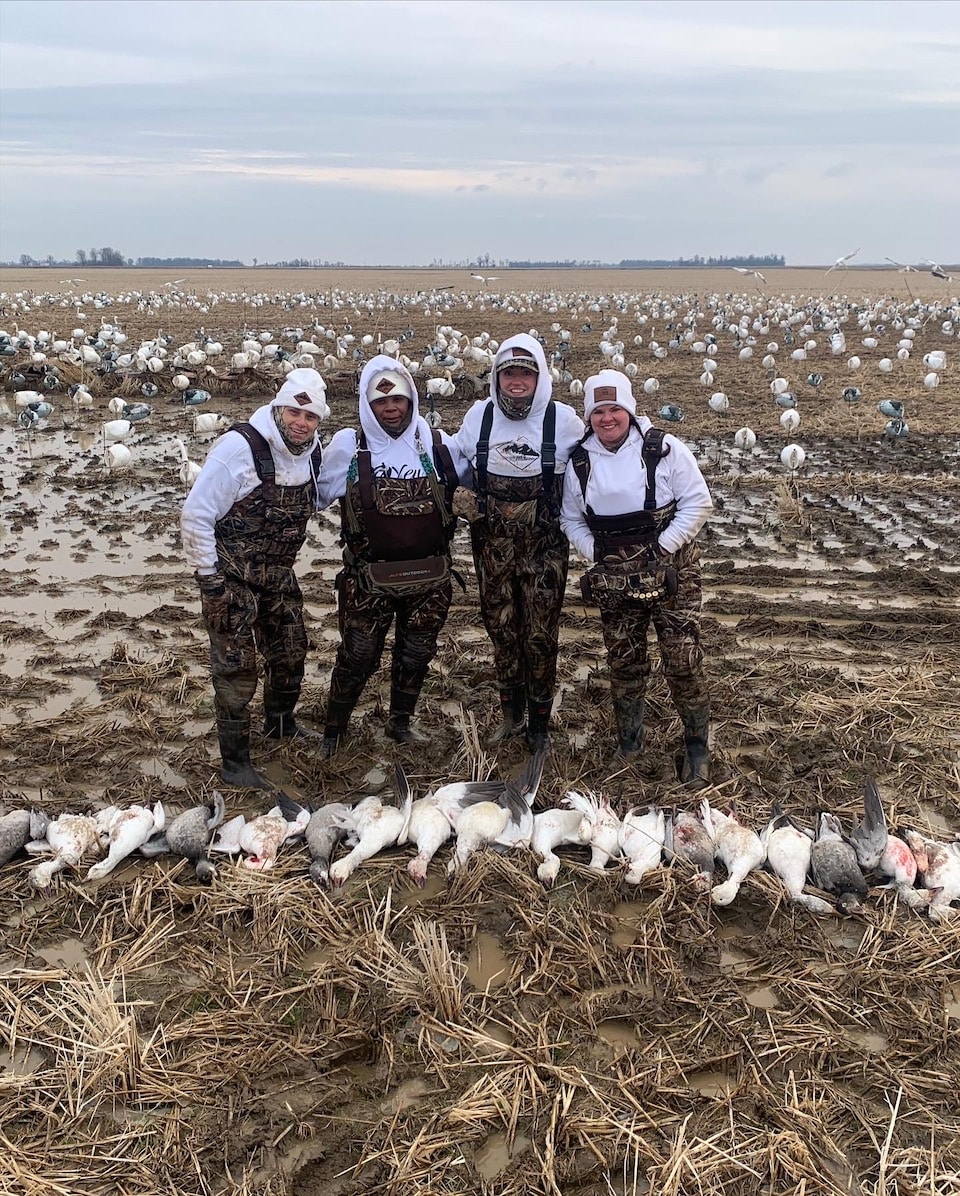 It was even easy to completely break down and deep clean and oil it as well, bolt included.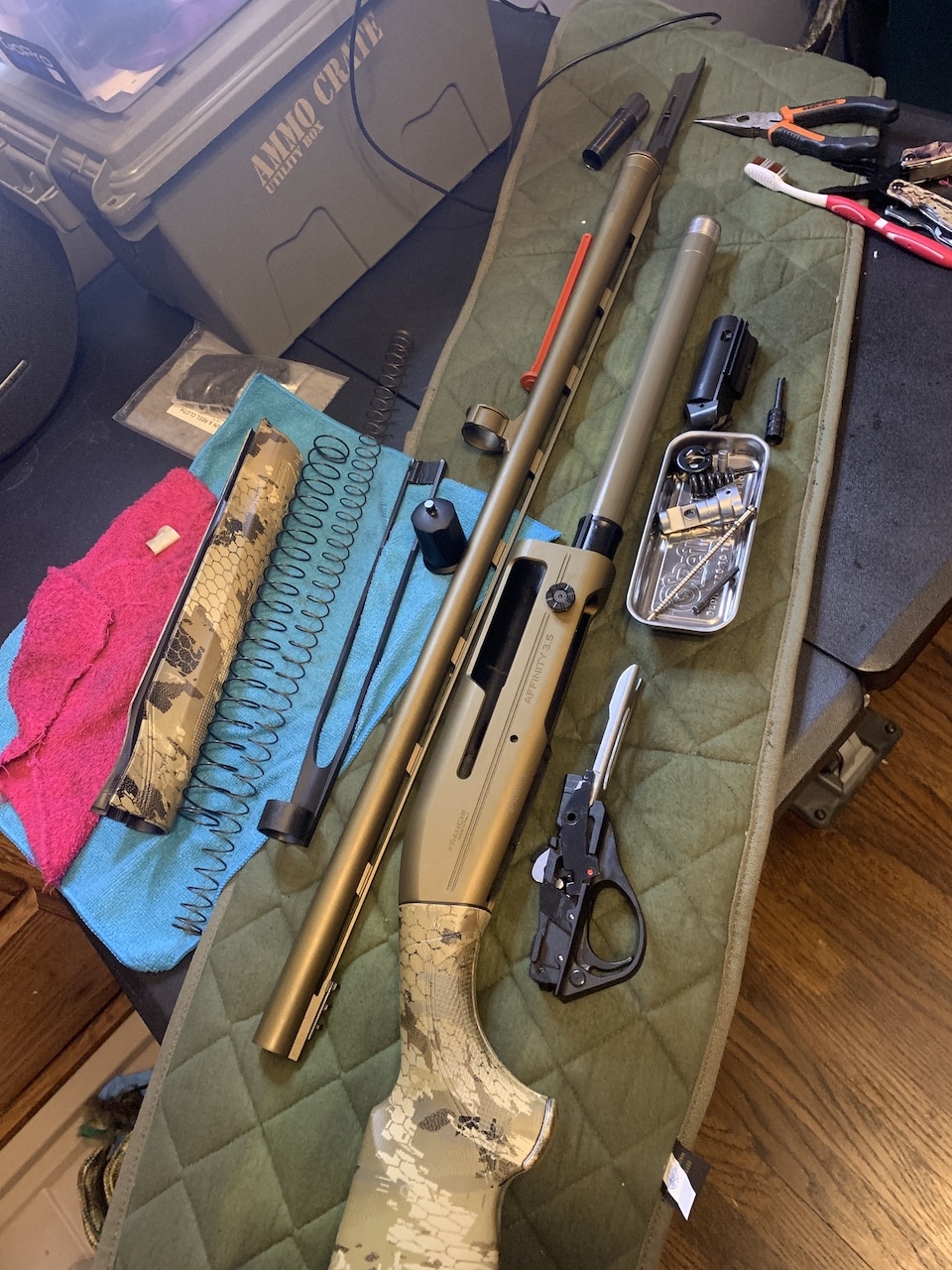 I am not sure if I will be able to harvest a turkey before the Affinity has to be returned. I was on the fence when it arrived. The stock finish just doesn't make me feel as if it will last that long, but I could be wrong.
On a side note, I am disappointed that Franchi's YouTube channel does not have that much content. The most recent is four years old. Other than my stock pickiness, it has made the list of purchase considerations. The recoil handling, the ergonomic structure and weight worked well and in my favor. Its price point is fair and economically feasible.
I think they are doing themselves a disservice, though, because had it not been for me reviewing it, I might not have even considered one for waterfowl. I had not even looked to see if they offered one. As a semi-new shooter and hunter, I feel as if the gun industry focuses on "the top brands." It would be great to see more content and attention to the Franchi line.
Because of my hunting season, I did not to place this one in as many hands as I normally would have, but the few that did try it out felt the same way as I did. Frankly, they seemed shocked at how well it felt. The recoil handling is still amazing to me. I have narrowed my options down to two if I decided to purchase waterfowl shotgun — and the Franchi Affinity 3.5 Elite made the list. Price point will be the determining factor.
Learn more about the Franchi Affinity 3.5 Waterfowl Elite shotgun.
MSRP: $1249
About Sharenda Birts

Sharenda Birts is the Director of Community Affairs and one of the 4 founding members of wildHERness, a diverse group of outdoorswomen passionate about providing females with a connection to the outdoors through workshops, events, mentoring and community service. Her passion for the outdoors began when she began to learn how to safely handle a firearm and clean it. She does not come from a family background of firearms or outdoorsman and did not have any exposure to the outdoors until she joined a sporting clays league that persuaded her to attend a pheasant hunt. Although Sharenda is a new hunter, she is passionate about sharing her adventures to inspire other city born-and-raised minority women – with the message that they, too, can learn how to explore the outdoors, no matter what their ages. Sharenda is an NRA certified pistol, shotgun, and metallic cartridge reloading instructor who comes from a background with 25 years in the banking and equity investment industry. She also admits to being addicted to clay sports, along with upland and waterfowl hunting. Sharenda's gearing up for angling and fly-tying in the near future. View all posts by Sharenda Birts →