Review: Will Primos Signature Series Turkey Vest Work for Her
Spring in the woods. It's a magical time of year, carrying with it new life and the promise of chasing the biggest game bird in North America, the wild turkey. After a long lull in action in the lives of many hunters, spring turkey season is arguably the most anticipated hunting season of them all. The U.S. Fish & Wildlife Service reports that nearly 2.5 million people hunt turkeys—that's 21% of all hunters in the US! And the resulting amount of gear available to help one in their pursuit of longbeards is overwhelming. I'm here to help narrow down your search for the most vital piece of basic turkey hunting gear, the vest.
Sponsored by wildHERness
Pockets in women's clothing has long been an irksome subject. Recently, while doing a load of joint laundry, my husband pulled out a pair of my skinniest jeans. With absolute indignation, he remarked, "Why even bother making pockets? You can't use these to carry anything!" I laughed and thought, "Welcome to my life, sweetheart."
Despite my best efforts, I typically end up carrying a bulky backpack in addition to my turkey vest every spring. The weather is variable enough to need extra layers and rain gear. Any hunter knows the value of snacks afield … can't skimp in this area. Plus, you never know which type of call will get the gobblers talking — you gotta have a few different options to gobble back.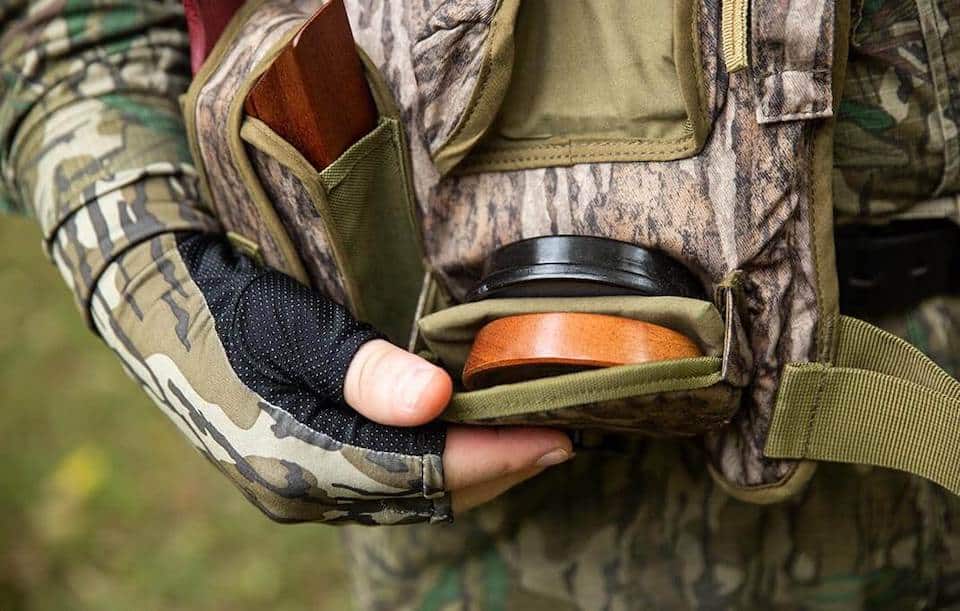 Legendary Will Primos put gear accessibility at the top of his requirement list when designing the new Will Primos Signature Series Turkey Vest (MSRP $199.99). While I don't know that Mr. Primos had the exact same sentiment in mind as my husband when designing this turkey vest, but with the number of functional pockets in his vest, that's what I'm imagining. Even the pockets have pockets, keeping your slate and striker or lid and box separate for silent carry through the woods. Those pockets boast a magnetic closure, keeping your gear safe and closing silently. There's a pocket for your hydration bladder, a pocket for your license, and even a pocket designed to hold a Thermacell! Interior zippered mesh pockets offer even more secure storage.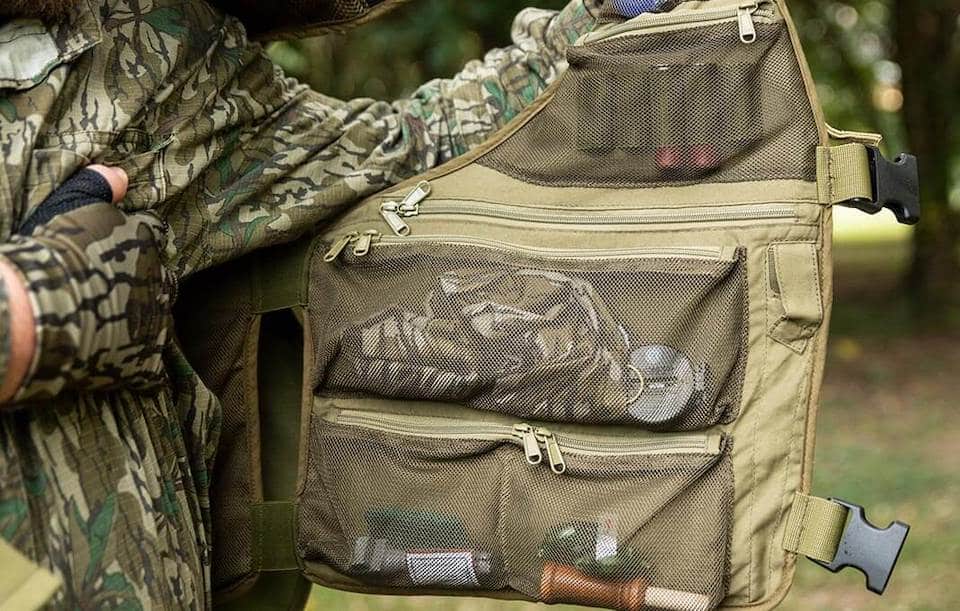 Made from a lightweight polyester boasting Mossyoak Bottomland camo, the vest is very comfortable and quiet. My favorite thing about it is the adjustable shoulder straps that can be lengthened to accommodate any woman's upper body. The outward facing part of the shoulder straps are textured to prevent gun sling straps from sliding. Attached are two comfort items: a 3-inch seat pad and a zip-in upper back pad. Both pads are removable, making long sits against a tree bearable.
I will tell you that this vest will carry you through years of chasing thunder chickens! It's worth spending the money to have a product designed by a professional gear hound and hunter, because it will be the only turkey vest you'll ever need to get the job done. Check out the line of calls and turkey gear available at www.primos.com!
About Jessica Rice

Jessica Rice is the president of wildHERness, a women's organization located in the Kansas City metro area that encourages women and young girls to explore outdoor pursuits through skill building events and community service. Her love of nature developed at a young age, thanks to parents who encouraged her to explore. An avid hunter and hiker, Jess is passionate about R3 and passing it on to future generations. She holds a Master of Science degree in Zoology from Oklahoma State University and is currently employed by the Kansas Department of Wildlife, Parks and Tourism. Jess is an NRA Range Safety Officer, Project Wild Educator, National Archery in the Schools Basic Archery Instructor, Hunter Education instructor and a Fishing's Future Master Angler Instructor. View all posts by Jessica Rice →