Wild Game Cuisine: Bison Sliders
Football season has come and gone, but making and eating sliders should be a year round event. This recipe from Wild Game Cuisine incorporates bison meat, and is well-worth making in the off season! ~ the Editors

Get your guests ready to support their favorite team on Game Day with these juicy Bison Sliders. The sliders are packed with Durham Ranch ground bison, parsley, onion and garlic then topped with crisp pickled red onion and tangy arugula. You'll score points with your guests before the first touchdown.
Makes 32-34 Sliders
For the Sliders
2 1/2 lbs ground Durham Ranch Bison
1 egg
1/2 cup bread crumbs
1 onion, finely diced
1/4 cup parsley, chopped
1 tablespoon garlic cloves, minced
1 tablespoon Dijon mustard
1 tablespoon Worcestershire sauce
Pretzel slider rolls
2 tablespoons butter, melted
Pickled red onions
Baby arugula
Fontina cheese, sliced thin
Mayonnaise, optional
Pickled Red Onions
1 large red onion thinly sliced
1 cup cider vinegar
1 tablespoon sugar
1 1/2 teaspoon kosher salt
2 tablespoons whole peppercorns
Whisk together vinegar, sugar and salt in a bowl until dissolved. Place onion in a jar with peppercorns and pour vinegar over the top. Cover and refrigerate for 24 hours before using.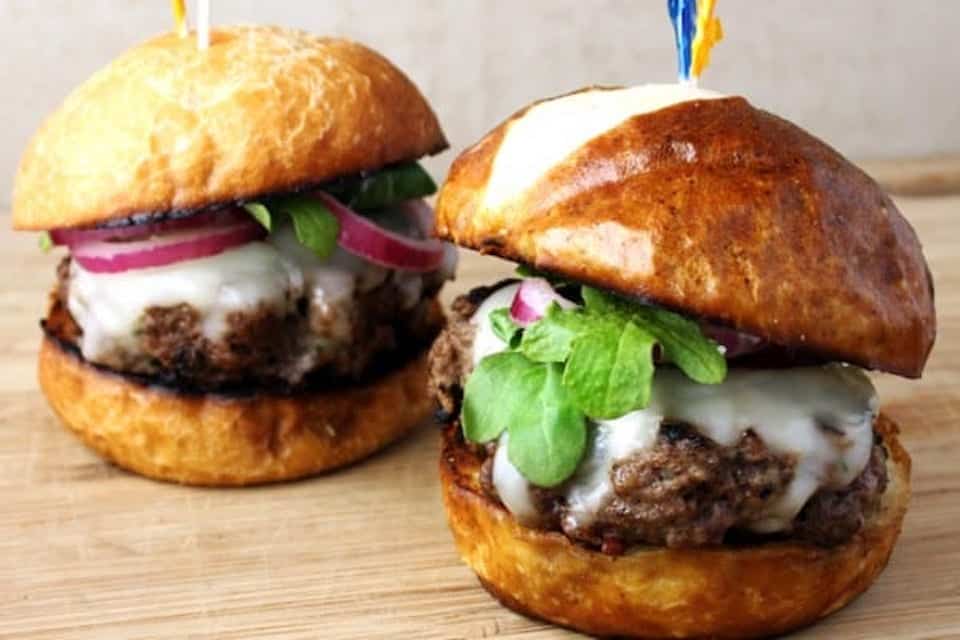 Directions
In a large bowl, mix together the ground bison, egg, breadcrumbs, onion, garlic, parsely, Dijon mustard and Worcestershire sauce. Form meat patties slightly larger than the size of your slider rolls and depress the center with your thumb so that the meat doesn't shrink while cooking.
Heat a large cast iron skillet or griddle over medium-high heat. Working in batches, cook sliders for about 7-8 minutes or until browned. Turn and continue to cook another 5 minutes. Place cheese on top of each slider and cover with a piece of tinfoil or a lid for an additional 1-2 minutes or until cheese melts. Remove from heat and let rest.
Continue learning how to make these bison sliders from our friends at Wild Game Cuisine here.
About The WON

The Women's Outdoor News, aka The WON, features news, reviews and stories about women who are shooting, hunting, fishing and actively engaging in outdoor adventure. This publication is for women, by women. View all posts by The WON →