New Anglers Net Fishing Skills and Catch 103 Fish at LLGF
FORT MYERS, FL – March, 2022- – Women and a few lucky men from all around Florida united to learn fishing skills at the "Ladies, Let's Go Fishing!" (LLGF) Gulf Coast University March 26-27 at Bass Pro Shops, Fort Myers, FL. The University offered education, fishing skill practice and an optional fishing trip.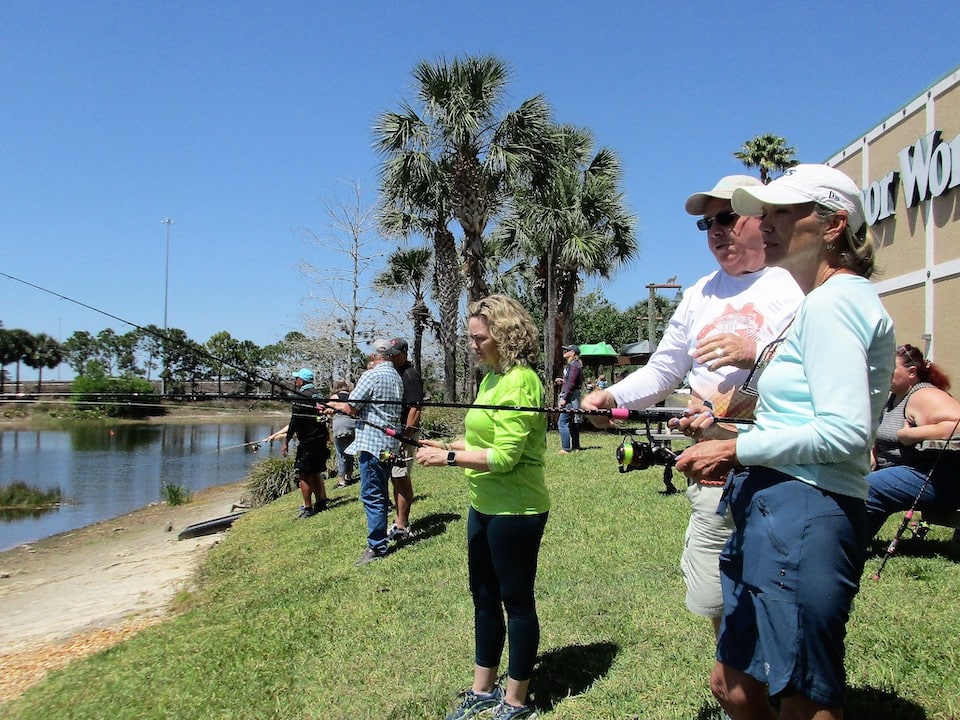 The "No Yelling School of Fishing" provided classroom presentations by Capt. Jon Fetter/Inshore Fishing, Capt. Debbie Hanson/Fishing Basics/Conservation and Capt. Rob Fussnecker/Best Times to Fish. Skill practice for knot tying, fly casting, spin casting, live shrimp usage and net casting was offered.
On Sunday, participants embarked on their chosen fishing adventures from five boats, catching or releasing 103 snook, redfish, sea trout and other species.
Featured on national network television and more, the series is supported by major partners including Recreational Fishing and Boating Foundation, Take Me Fishing, Vamos a Pescar, Mercury, Magic Tilt trailers, Shearwater Boats, Power-Pole, Penn, TACO Metals, Fish & Wildlife Foundation of Florida and Fish Florida. Largest Annual Sponsors are Freedom Boat Club, Lowrance, ICOM, CCA Florida STAR, Bob's Machine Shop, AFTCO, Costa, Smith Optics, Frogg Toggs, Hubbards Marina, Star Brite and Future Angler Foundation. Largest donors and class-specific contributors are listed on the website.
Future 2022 LLGF events, with optional or included fishing are:
May 6-8 South Florida Offshore Seminar Fort Lauderdale, FL
June 24-26 Keys Fishing Learning on the Water and Screamin' Reels tourney Islamorada, FL
Sept. 23-24 Guy Harvey Outpost Bass Seminar & Tournament Camp Mack, Lake Wales, FL
Oct. 7-9 Keys Saltwater Weekend Seminar, fishing and Fishing Fever tourney Islamorada, FL
Nov. 19-20 St. Augustine Surf Fishing Academy
Additional: Several Virtual Meetings.
Contact: Phone: (954) 475-9068; info@ladiesletsgofishing.com; www.ladiesletsgofishing.com, www.facebook.com/ladiesletsgofishing.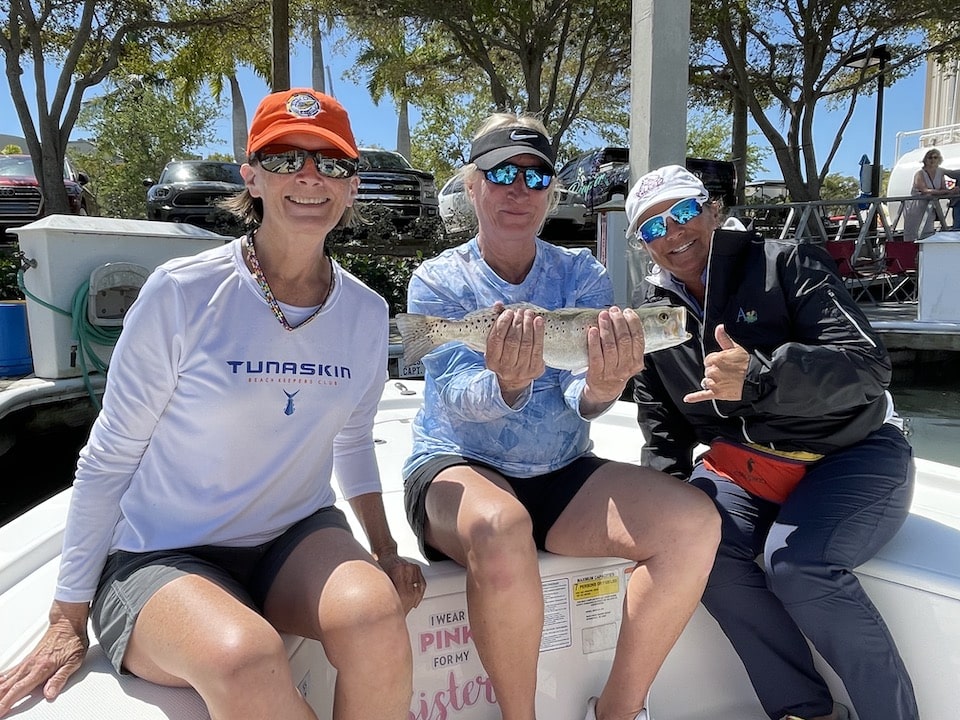 Ft. Myers University Fishing Report – Half Day, Sunday
Every boat caught or released fish. On five boats, participants caught 103 fish. "Caught" could signify either landing or releasing.
Capt. Brian Lynch Sea Shift Charters: Fishing with live pilchards, anglers released 15 snook 14 to 24 inches and a nice redfish. Christina Gonzalez brought her son, Danny to learn fishing together. Danny caught a snook, his first fish ever, and continued to release 4 more. Christina released her first snook ever at 20 inches then released four more, plus a nice 27 inch redfish. It was her first saltwater fishing experience. Diane Greco released 6 snook. They improved their casting skills and learned how to retrieve their line from trees.
Capt. Rob Fussnecker Aqua Breeze Charters: Fishing with popping corks and artificial bait, the anglers had action all day, hooking 45 sea trout up to 22 inches. Nine were over 19 inches. Most fish were released and a six were kept. Three anglers had never caught trout before.
Capt. Bill Walker: With live pilchards, all anglers released multiple snook from 14 to 30 inches for a total of twelve snook. Two jack crevalle ranging from 12 to 16 inches were released.
Capt. Jon Fetter, Catching the Cure Charters: Fishing in Estero Bay with popping corks and live shrimp, participants released 3 trout, 3 ladyfish and 10 catfish. They improved their casting and learned how to release fish. They also learned to use a fish grip when holding fish to prevent it slipping from their hands.
Capt. Sean Middleton, Feelin' The Mojo: Fishing with live pilchards, the anglers learned how to set up their rods for fishing and perfected casting. They lost a snook and released a catfish. One lady had so much fun, she booked him the next day and released eight snook and a mangrove snapper.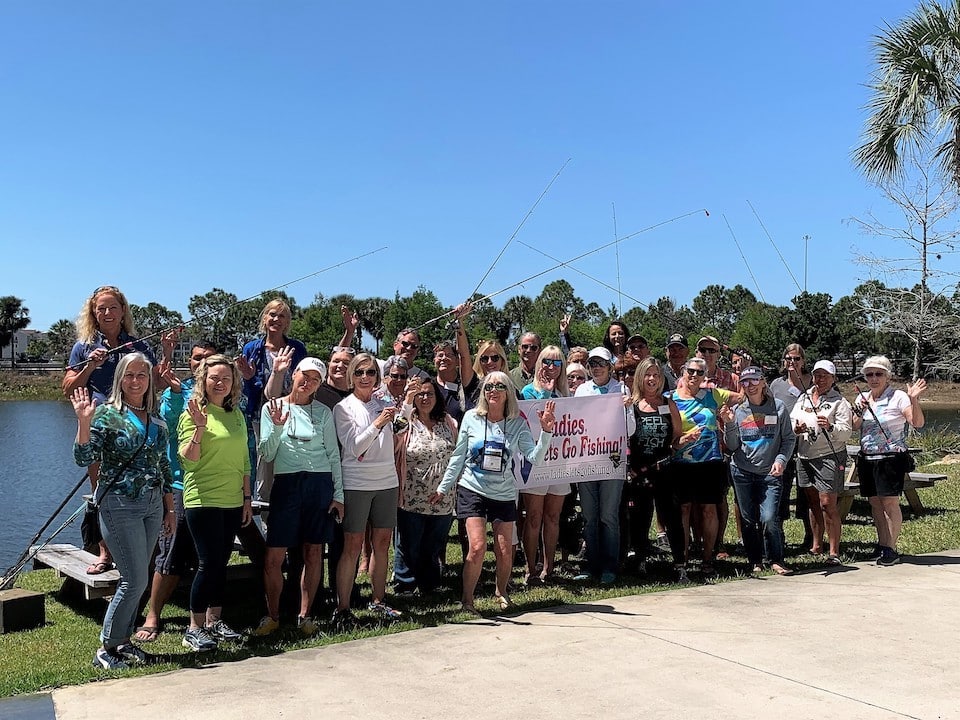 About "Ladies, Let's Go Fishing!"
"Ladies, Let's Go Fishing!®" (LLGF) is a nonprofit national organization dedicated to attracting more women to sport fishing and to promoting conservation and responsible angling. LLGF promotes networking and encourages mentorship. Founded in 1997 by Betty Bauman, Ft. Lauderdale, Florida, LLGF has over 9,000 graduates and is the largest organization in the world whose objective is to introduce primarily women to fishing. Both Bauman and the University series – dubbed "The No-Yelling School of Fishing" – are renowned nationally in the sport fishing and marine industries. The organization has earned rave reviews from national media including "Inside Edition," CBS' "The Early Show," NBC's "Nightly News," "Good Morning America," "Outdoor Life Network," USA Today, the Wall Street Journal, Southern Living and more.
About The WON

The Women's Outdoor News, aka The WON, features news, reviews and stories about women who are shooting, hunting, fishing and actively engaging in outdoor adventure. This publication is for women, by women. View all posts by The WON →