Catch More and Bigger Spring Panfish
PARK FALLS, Wisc. — May 2, 2022 – Few angling pursuits are as humble, simple and enjoyable as spring panfishing. We conjure images of bobbers and docks, spawning fish in the shallows, and plain presentations that always seemed to work from the depths of our childhood memories. For most of us, panfish is where it all started. But that's not to say that the game is static, or that we haven't come a long way from simpler times.
Truth be told, there can be more nuance required to maximize success and enjoyment while targeting bluegills, crappies and perch these days, especially in heavily pressured waters where panfish are relentlessly sought and harvested for the great table fare they provide. That's why we asked Alicia Joy Thompson to share her top strategies for bringing more panfish to the boat this spring.
Alicia's Advice
Enter Alicia Joy Thompson, avid multi-species angler, angler-educator, and owner/organizer of Ladies Midwest Meetup, a group that creates experiences to help more women get outdoors. Alicia is a St. Croix Rods pro-staff member among other companies and offers admirable angling advice to all who enjoy fishing. "For crappies and gills, just like everyone I'm waiting for that shallow bite," says Alicia. "We do a few trips every year in north-central Wisconsin where crappies are finishing up the spawn, and bluegills are moving in. That late-May time period is a perfect time to target the shallows in much of the Midwest because you can get both species throwing many of the same things."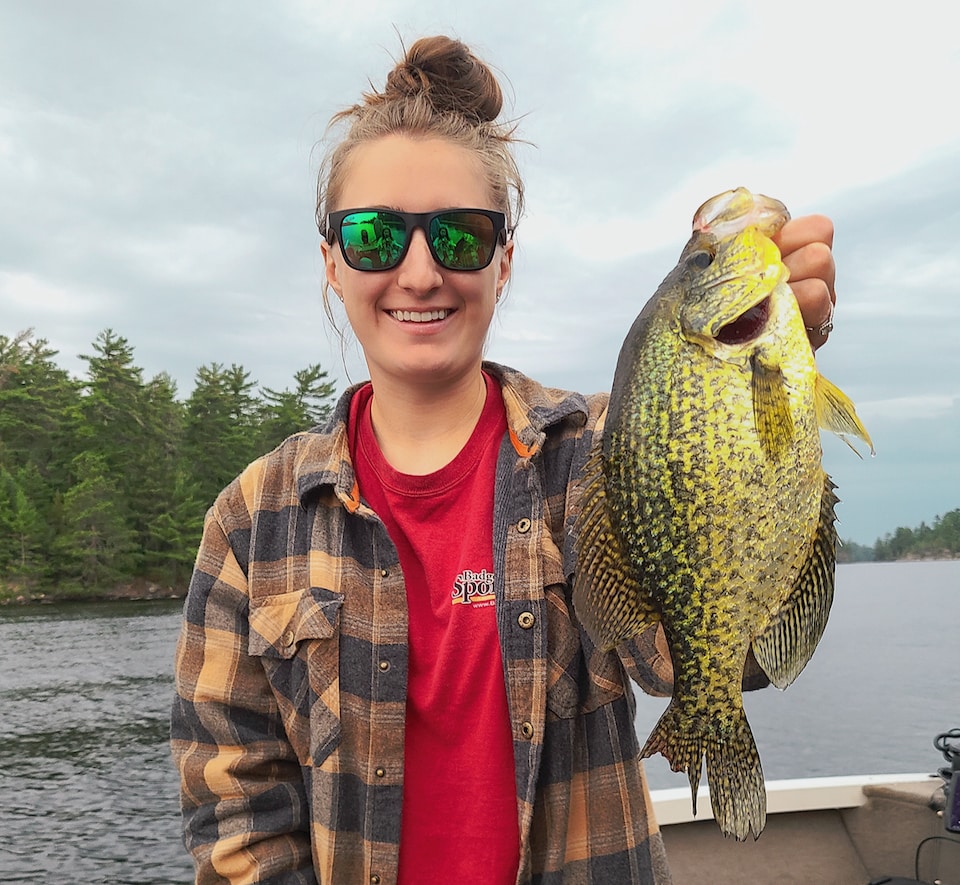 Multi-species is the name of the game for Thompson, who travels extensively in search of both fish and locations to hold the next meetup, which requires a versatile approach. "Slip bobbers are nothing new to panfishing, but there are few systems out there that can do it all as well as pencil floats can," she says. "If we're looking to get whatever's eating rather than targeting specific panfish, we're running a simple slip and bobber-stop setup with a plain single hook and split shot. It seems overly simple, but it's tried and true, evenly distributes the weight of the rig, and offers great casting distance."
Crawlers are a favorite bait early, and eventually give way to plastics for Thompson, who targets early weed growth, even lily pads. "I'm looking for cover, something that creates pockets of safe water from predators," says Alicia. "Brush and logs are key areas, but pads and anything that makes panfish feel at ease keeps them from being prey rather than eating it." As water warms and fish become more active, Thompson loves open-water free swimming simple plastics like curly tail grubs. "Smaller sizes are preferred to be able to tackle bluegills, but we get some really nice crappies that are just finishing up the spawn when water temps are pushing into the 60's," Thompson says. "I just try to keep the presentation basic to attract the most fish of any species and avoid being boxed in."
When it comes to rod selection, Alicia favors a no-nonsense approach that's as multi-purpose as it is utilitarian. "When I first started buying my own equipment, I needed rods that would be versatile," she says. "Nobody starts out buying only high-end specialized gear; we build slowly. For me, that meant I had to make a walleye rod a panfish rod at times, and to get more sticks in the lineup, I had to make sure each one would cover a variety of techniques." With that in mind, Thompson has a few favorites to note.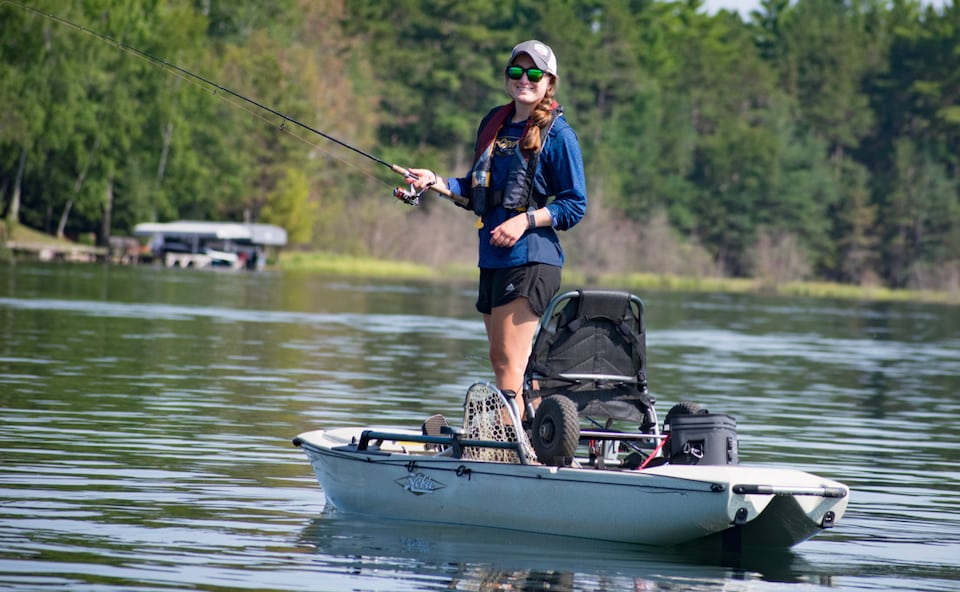 "I love the St. Croix Panfish Series rods in an extra-fast action, like everybody else," says Thompson. "Especially when fish are spooky and I need to cast for distance, these things can really make even the smallest jigs fly well." For Alicia however, her initial crappie and bluegill rod wasn't for panfish at all. "I just started with a walleye rod that also threw a bobber really well. It was a 6'6" St. Croix Premier medium-light power in a fast action (PS66MLF). That rod did it all, and well, which I think is a good thing to remember for youth or anyone just getting into fishing. They're really affordable, handcrafted in the USA, and allow you to have a few rods for the price of a really high end version, which can be nice when you're just starting out. There are a couple rods in the Panfish Series that are really similar, including the 7' and 7'3" medium-light power extra-fast action models (PNS70MLXF and PNS73MLXF). And for dedicated bobber rods, you can't beat the PNS80LMF2 and PNS90LMF models. These are perfect tools for lobbing bobber rigs and their extra length make them ideal for pitching and swimming jigs, too. Want to have a blast sight-fishing shallow crappies with tiny hair jigs or swimming jigs? It's what St. Croix National Sales Manager and crappie addict, Dan Johnston, calls the 'Pitch and Swing', and these 8' and 9' rods are what you want to have in your hands."
Alicia has another reason to stay versatile, which is a Mississippi River backwaters perch bite she hits in the spring. With so many species, techniques and tackle need to serve a variety of needs. For the perch, Thompson looks for back eddies or true backwaters with little flow or current. "Flats are often in that six-to-eight feet range, and vegetation usually means lower flow which can really hold big schools," she says. "We walk to find fish, and though the water temps need to be perfect, you can find variation anywhere near shore in that 45-50 degree range and find them just stacked."
An avid ice angler, Thompson encourages anglers to use what they have. "I'm running Widowmaker ice tackle under slip floats a lot of the time, it's what I have on hand from ice season," she reveals. "Perch especially love those small tungsten jigs with plastic or bait if it's colder. People often think they need to rig specifically with different setups and jigs for each species, or certain bites, but there are a ton of staples that you can use and depend on all season. For the ice gear, it's great to be able to extend its use into open-water."
For a growing number of panfish anglers like Thompson, some fish are just too big to cut. That's why selective harvest is an important part of their fishing. "I think it's important to note that these fish are carrying out their spawning cycles during this time of year, and especially bedded bluegills are vulnerable," says Thompson. "With any water clarity, you can see these fish, target them, and simply take the biggest and best. It's important – especially this time of year – that we teach new anglers and kids to avoid that practice and help them understand the principles of selective harvest right away by putting most if not all of those big spawners back." It's good advice, as everyone enjoys catching large panfish, which are becoming more and more rare on smaller, more-heavily fished waters. Don't fall into the trap of thinking that if you release a big fish, somebody else is just going to keep it. Focus on doing your own part. If you catch a fish – any fish – and release it and then someone else catches it, that means catch and release worked.
Springtime and early-summer panfishing is an ideal way to get out and experience lots of bites. It's also one of the best times of the year to get kids and new anglers on the water for some quality memory making. Follow the advice of our experts, treat yourself to some modern panfish rods, and you'll be well prepared to maximize the fun.
About St. Croix Rod
Headquartered in Park Falls, Wisconsin, St. Croix has been proudly producing the "Best Rods on Earth" for nearly 75 years. Combining state-of-the-art manufacturing processes with skilled craftsmanship, St. Croix is the only major producer to still build rods entirely from design through manufacturing. The company remains family-owned and operates duplicate manufacturing facilities in Park Falls and Fresnillo, Mexico. With popular trademarked series such as Legend®, Legend Xtreme®, Avid®, Premier®, Imperial®, Triumph® and Mojo, St. Croix is revered by all types of anglers from around the world.
About The WON

The Women's Outdoor News, aka The WON, features news, reviews and stories about women who are shooting, hunting, fishing and actively engaging in outdoor adventure. This publication is for women, by women. View all posts by The WON →