GTM Increases Sponsorships for Women's Shooting Organizations
GTM Original, aka Gun Tote'n Mamas, continues its support for national women's shooting organizations through funding and showing up. Two powerhouse shooting groups – Shoot Like A Girl and A Girl & A Gun Women's Shooting League – benefit from GTM's belief in the mission to educate women shooters.
GTM is in its third year of a trusted partnership with Shoot Like A Girl (SLG2), a women's shooting organization that offers a trailer – complete with a crew of certified instructors – that travels the US. The trailer comes equipped with Firearms Test Shots, where women can shoot either a 9mm pistol or a .223 rifle with the use of a military grade firearms simulation system and also, shoot a bow on a live archery range. Shoot Like A Girl also offers a store onsite, so that clients may have hands-on experiences with various firearms, bows and of course, GTM concealed-carry purses. The beauty of this storefront is that SLG2 appears in Bass Pro Shops and Cabela's parking lots across the country, and these stores also carry GTM's fine line of bags within their walls, making it easy for a woman who just experienced shooting in the trailer to walk into the store and purchase a bag to go with her new gun.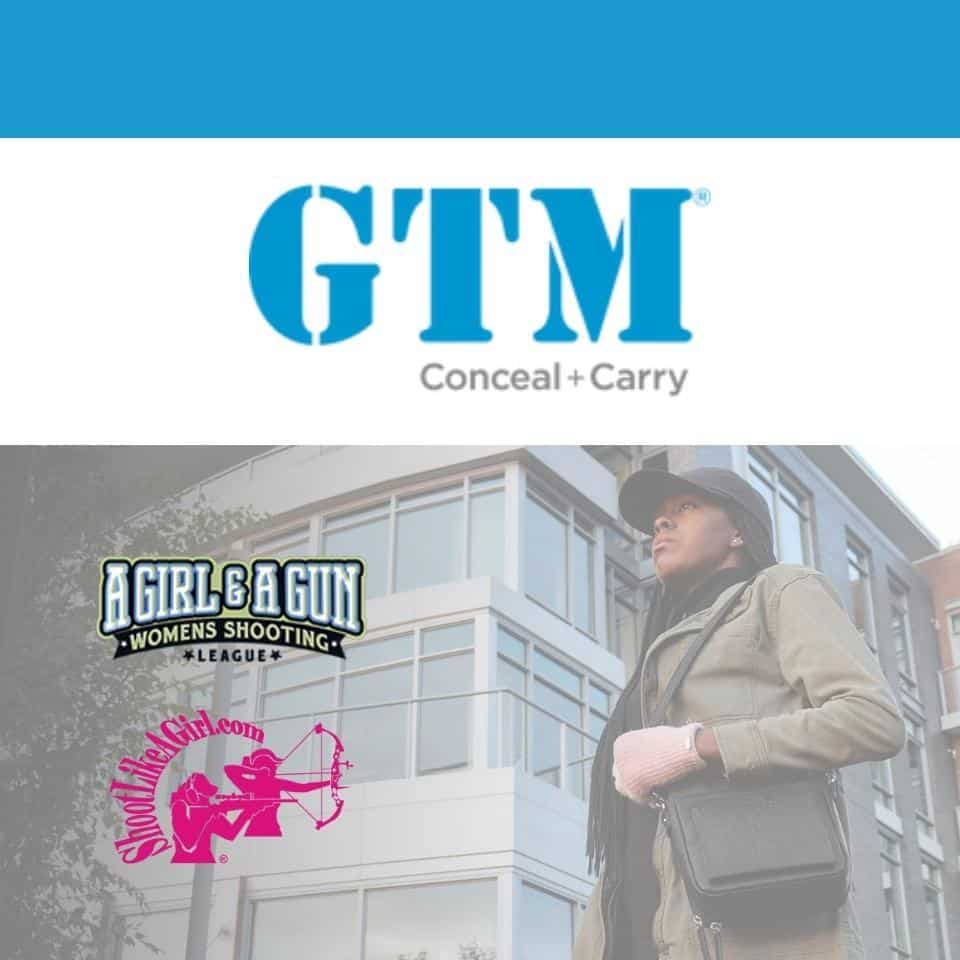 Karen Butler, president of SLG2, said, "So far, this year, Shoot Like A Girl has interacted with nearly 1,500 guests during our 'Sea To Shining Sea Tour' across the country. At these events, women are given an opportunity to shoot a pistol, rifle and bow, plus check out great products like concealed carry bags from GTM Originals. Corporate partners, like GTM, enable Shoot Like A Girl to provide this experience to our guests for free. Additionally, their families and countless other attendees gain the opportunity to learn about firearm safety and the great products from GTM. Supporting Shoot Like A Girl is not only gaining our partners customers, it is providing a community service in promoting firearm safety."
A Girl & A Gun Women's Shooting League (AG&AG) has benefitted for the past six years from sponsorship by GTM. This year, GTM sponsored at the Platinum level for AG&AG's annual national conference, held in Colorado at the end of April that included 550 members, 100 instructors and staff, along with 150 vendors/guests. Attendees participated in training sessions with some of the nation's top firearms instructors, along with hearing motivational speakers and seeing valuable firearms' related merchandise from select vendors. GTM Team worked with the attendees on meeting their concealed carry, off-body options and critical bag fittings.
Julianna Crowder, president of AG&AG, said, "Providing quality concealed carry bags is the first step in helping women to be responsibly armed if on-body carry is not a choice. We are grateful to be the next part of the equation: giving women access to professional training on how to be efficient and safe with their chosen carry methods. We are proud that together with GTM we are able to help equip and empower women protect themselves and their families."
Claudia Chisholm, president of GTM, said, "The synergy of what Karen, Julianna and GTM bring to women's personal protection is a circle of determination, necessity and urgency. We work together to fill voids the industry is now embracing. Karen's innovative approach to conquering first-time shooting fears is an experience everyone should see when her truck arrives. Julianna's vision and creativity has escalated women's protection training to an unprecedented level, with more than 800 participants this year at the national conference. I cannot applaud loudly enough these two organizations for their barrier-breaking achievements. It's truly an honor to help support and participate in their continued growth, which shows how serious we are about women's protection."
Learn more about GTM concealed-carry bags and purses at the GTM Original website.
About GTM Original
GTM Original – Serious for Women's Protection
GTM Original, Gun Tote'n Mamas, is an affordable line of leather purses and handbags, inspired and developed by women. Our parent company, Kingport Industries LLC, is 100% American Women owned and operated since 2002 – celebrating 20 years of supplying the best! Every one of our products has been tested by instructors from elite training facilities, including CSI, FBI and Navy SEALS. We respect feedback from citizens who are consumers and concealed carriers. We want to hear it all – we are not afraid of criticism and HIGHLY encourage your feedback. It is comments from the field that will continue to make these bags the best for the jobs they are designed to do.
About The WON

The Women's Outdoor News, aka The WON, features news, reviews and stories about women who are shooting, hunting, fishing and actively engaging in outdoor adventure. This publication is for women, by women. View all posts by The WON →