Taurus Team Wins BIG in 2022 "Steel Challenge"
May 2022 (Bainbridge, GA) – Taurus, manufacturer of premium handguns for defense, hunting, and sport shooting, is extremely pleased to announce that the Taurus Shooting Team delivered an outstanding performance at the 2022 World Speed Shooting Championships held April 28-May 1 at the CMP Marksmanship Park in Talladega, Alabama. Team Captain Jessie Harrison and team member KC Eusebio both earned top title wins in their divisions and each set first-ever records.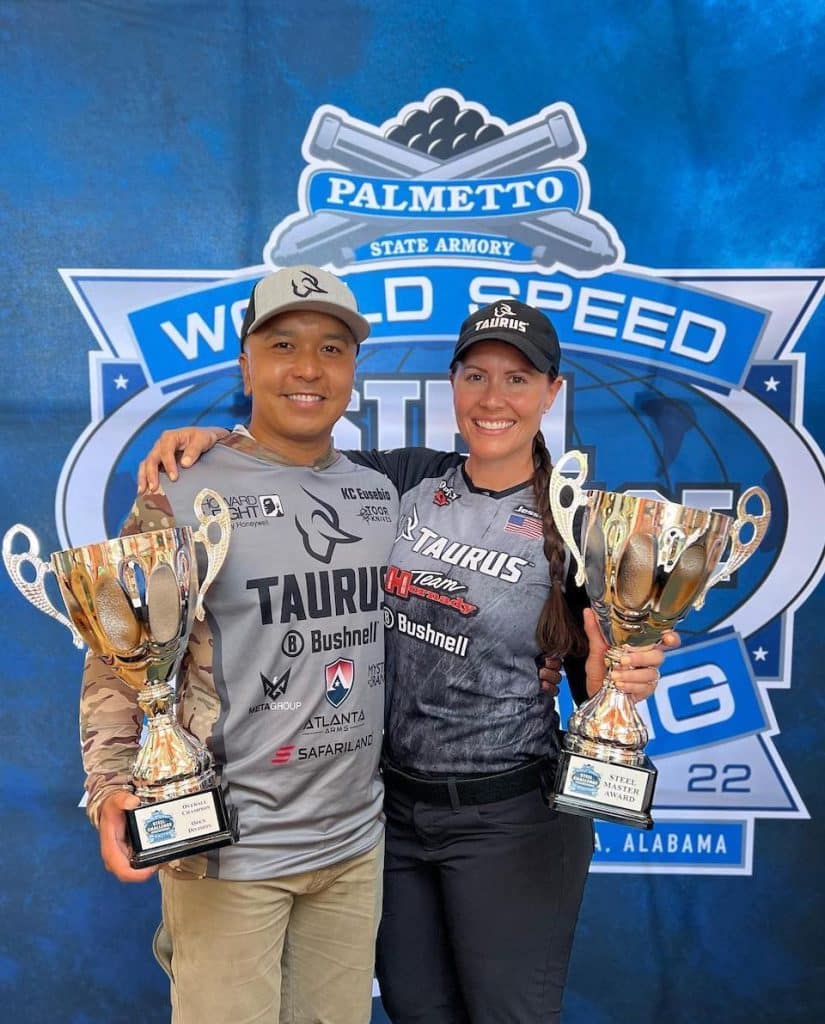 KC was the Overall match winner of the event and earned his 9th World Speed Shooting title, making him the first shooter to post this many title wins. Shooting a custom open gun, KC delivered a match-winning time in the Open Division of 76.49.
"Winning my 9th title feels so special since I hold the world speed shooting championships near and dear to my heart," said Eusebio. "The competition isn't only about speed but it is a test of mental fortitude. One mistake and that's the end of your match. From the draw to the last shot, your heart is racing. This is my first world speed shooting title with Team Taurus, and I can't wait to go for my 10th. I'm also so very proud of Jessie for being the first lady to win Steel Master. Team Taurus has a lot to be proud of. I owe a big thanks to everyone at Taurus for being one of the best companies I've ever worked for and with. I'm looking forward to winning more together!"
Team Captain Jessie Harrison also had a record-breaking event, being the first woman to capture the Overall Steel Master title. To be eligible for the Steel Master division, competitors must shoot two centerfire divisions and one rimfire division. The best aggregate score of the three divisions wins. In addition to winning the Overall Steel Master title, Jessie took High Overall Lady in the Open division with a time of 90.35, 3rd overall in the Open division, and 2nd Overall in the Single Stack division (setting a new Ladies Single Stack world record time of 101.41).
This marked Jessie's 15th Ladies Open World Speed Shooting title. She shot a Taurus 1911 9mm for the Single Stack competition and a Taurus 1911 9mm in the Open category.
"This year's Steel Challenge was such a success for KC, and one that marks another career milestone for me," said Harrison. "Winning the Overall Steel Master title is something I have always strived for but have only just achieved in my 17 years of competing at the Steel Challenge. One thing I love about the Steel Challenge is that there is always room for improvement and there can always be a better score! That's what keeps me motivated year after year, to try and beat what has already been accomplished.
"I couldn't be prouder of KC and his 9th World Speed Shooting Championship title. I've watched him win all but one—his first title in 2003—and I know the hard work and discipline he devotes to his craft. Because of that, he has accomplished a feat no other shooter has achieved in the history of the sport!"
Everyone at Taurus congratulates Jessie and KC on their outstanding performances and looks forward to more event wins throughout the 2022 competition season.
For more information, go to TaurusUSA.com.
About Taurus:
Taurus Holdings, Inc. ("Taurus") and its subsidiaries continues to evolve and produce revolutionary new products. In addition, new standards for quality and efficiency help deliver reliable and affordable guns to the market. Taurus is based in Bainbridge, Georgia. Taurus is owned by Taurus Armas, S.A. which is a publicly traded company based in Brazil. Taurus Armas S.A. manufactures a wide variety of consumer and industrial products that are distributed worldwide.
For additional information, visit www.taurususa.com.
About The WON

The Women's Outdoor News, aka The WON, features news, reviews and stories about women who are shooting, hunting, fishing and actively engaging in outdoor adventure. This publication is for women, by women. View all posts by The WON →