USA's Emma Kim Wins Bronze at ISF Gymnasiade
NORMANDY, France – The ISF Gymnasiade, the premiere multi-sport competition for high school student athletes age 16-18, featuring 3,500 athletes from 63 countries, wrapped the archery competition today.
16-year-old Emma Kim, a 60m U18 world record holder who finished 7th at the last edition of the World Archery Youth Championships, led the USA's performance in Normandy and locked up a podium finish today taking bronze for the recurve women.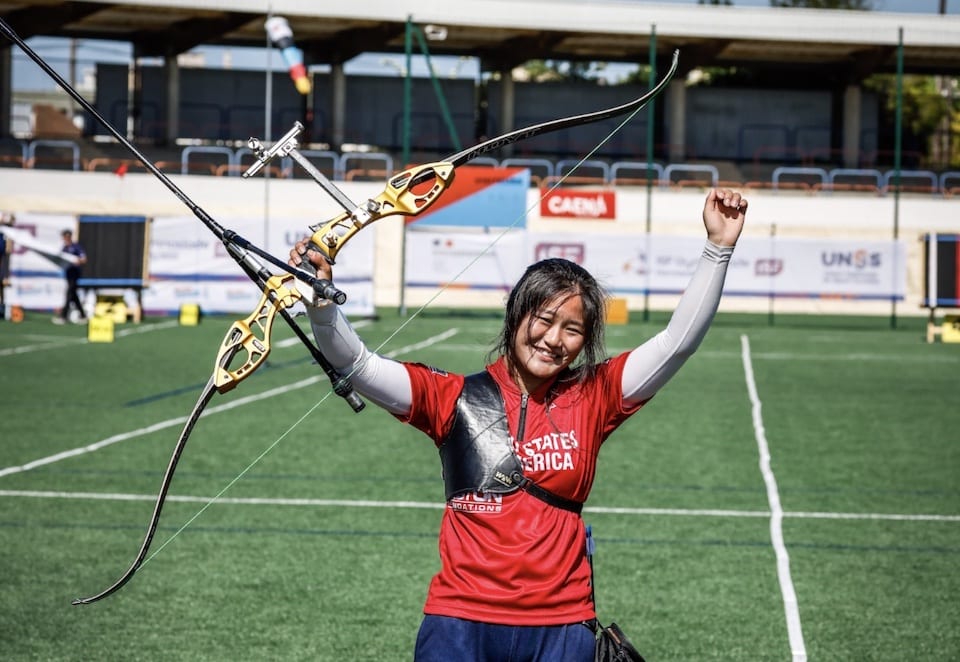 Through to the final four for today's events, Kim met top seed Li Tsai-Chi of Chinese Taipei in the semifinals. Through tricky wind conditions, Kim put up a good fight, but the match ended in a XX finish to send Kim to the bronze final.
Shooting against Ukraine's Dzvenyslava Chernyk in a match televised live on the Olympic Channel, Kim remained composed and strong. She found her footing in the finals venue quickly and took an early 2-0 lead. Chernyk took the second set but then Kim pulled ahead and never looked back, taking a 6-2 win and her first major international medal.
"I had a lot of adrenaline coming out the semifinals, but I felt confident and I trusted my shot so that's all I could control," shared Kim. "During my medal match I felt brave and I had a good experience and I'm glad for bronze."
Emma Kim added: "It was my first time shooting in a televised match and it was such a cool experience. I feel proud that I was able to represent my country. This win means so much to me because it feels like all the arrows that I shot during this harsh competition was finally worth it and that I can go home feeling accomplished. Next for me is Gator Cup! My goal is to make the senior national team and hopefully the Olympic team in 2024."
Results from the competition are available via the ISF. Photos courtesy of John Kim.
About USA Archery
USA Archery is the National Governing Body for the Olympic sport of archery in the United States. USA Archery selects and trains Olympic, Paralympic, World Championship, and World Cup teams, as well as developing archery at the grassroots level across the United States. For more information, visit www.usarchery.org.
About The WON

The Women's Outdoor News, aka The WON, features news, reviews and stories about women who are shooting, hunting, fishing and actively engaging in outdoor adventure. This publication is for women, by women. View all posts by The WON →