21 Survival Items to Look For at Every Yard Sale and Thrift Store
Being prepared to survive a disaster or even just an everyday emergency doesn't have to cost a lot of money. By planning ahead so you know what you're looking for you can prep frugally. For example, I picked up my two best cast iron skillets secondhand. But that's only the beginning of the survival items you can find at yard sales and thrift stores.

A Word to the Wise About Thrifting
If you look around you, everything you see used to be money. Whether the person wanted it, needed it, could afford it or not, they paid for it with hours of their life.
When you are out looking for secondhand items, it would be very easy to get carried away at all the cool stuff you 'think' you 'might' need or use. But that kind of strategy makes it difficult to remain budget-minded.
You must think critically, plan intentionally, and head out with a list in hand, prepared to make the best use of two precious resources: your time and your money.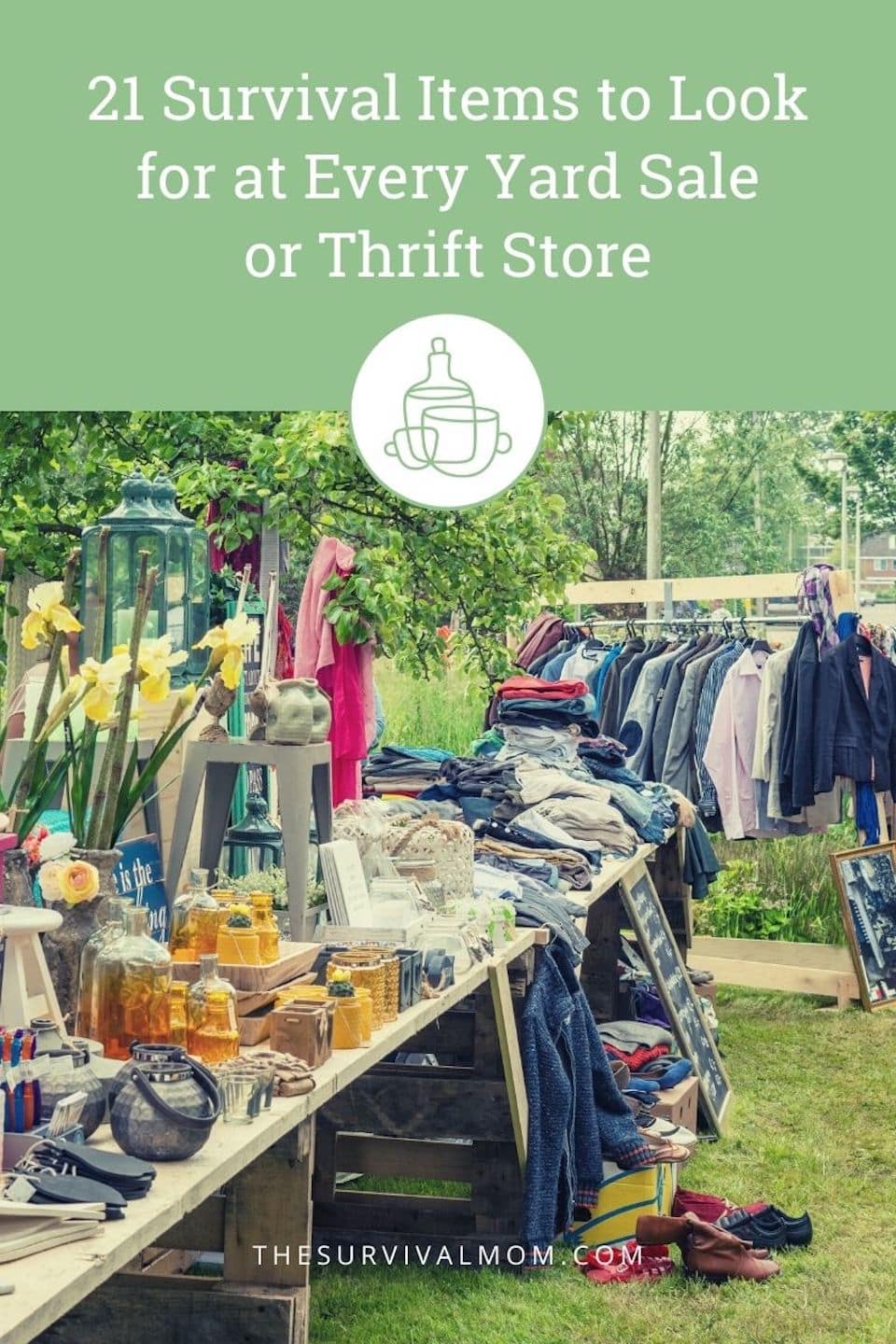 To help you in this, I've created this list, which you can also receive by email in a handy printable.
Survival Items to Look for at Yard Sales and Thrift Stores
1. Sterling silver flatware
Even if you can only afford to buy a spoon or a fork at a time, sterling silver is known to have antimicrobial properties. Some people believe that simply using silver flatware as everyday eating utensils can ward off harmful microbes.
Typically, a single piece of silver, such as a spoon, will run about $50. Buy from reputable sellers, such as established estate sale agents and thrift stores.
2. Survival related reference books
Peruse Amazon lists and become familiar with titles, authors, and subject areas. Books about homesteading, gardening skills, primitive camping, wilderness survival, and so much more are very often found for just a couple of dollars or less.
Other books to look for: Boy Scout manuals, Foxfire books, and issues of Backwoods Home magazines and anthologies.
Continue reading, 21 Survival Items to Look For at Every Yard Sale and Thrift Store from The Survival Mom here.
About The WON

The Women's Outdoor News, aka The WON, features news, reviews and stories about women who are shooting, hunting, fishing and actively engaging in outdoor adventure. This publication is for women, by women. View all posts by The WON →