Records Fall at SoCal Showdown Qualification
CHULA VISTA, Calif. – Not only is this the largest SoCal Showdown in history with over 640 archers on the field, but with perfect weather to start the adult qualification line today, records fell as the level of talent continues to soar this season. The Easton Foundations' SoCal Showdown marks the third of four stops on the United States Archery Team Qualifier Series Events tour and the race for national ranking points is heating up.
Paige Pearce, who has topped the podium at both of the first two events in the best season of her life pulled out a personal best 709 for a new compound senior women's national record. "I cleaned all three practice ends this morning and right then I knew it was going to be a good day," said Pearce. "I opened with a 356 on the first half and then the wind started picking up. I could feel my nerves building, but I tried to stay calm and execute strong smart shots through the gusts. Luckily, I had a few points to play with going into the last end to still break the national record, and I needed them! I finished with a 353 to total a 709 and I couldn't be happier! Breaking my own national record has been a goal of mine over this last year so I'm stoked I pulled it off!"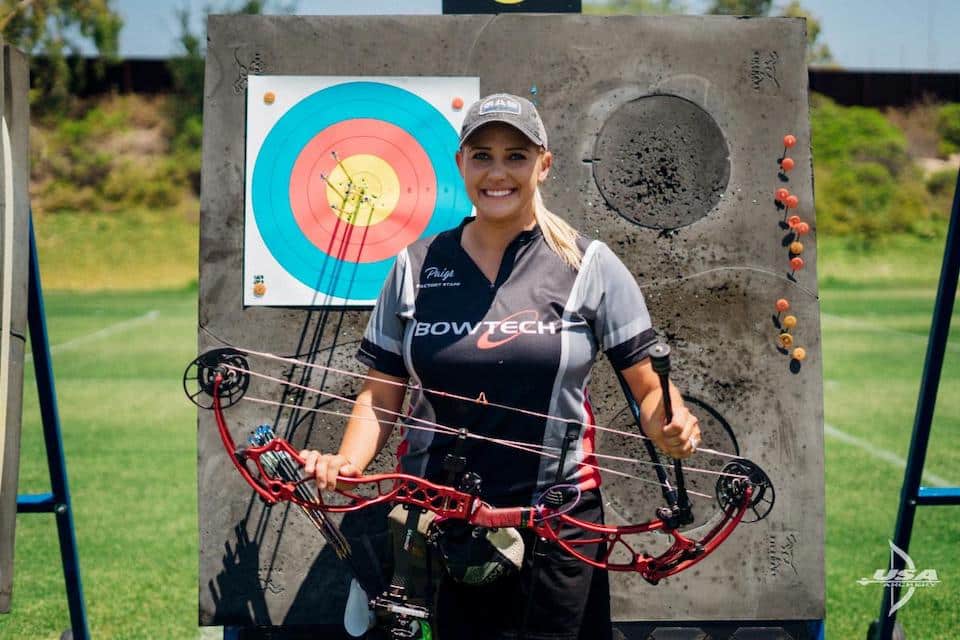 Pearce added: "It seems that at every event this season the scores just keep climbing and climbing in the women's division! I'm proud to be shooting with so many incredible women who keep driving the level of competition upward!" Toja Ellison also had a 356 first half and finished with a 704 while Linda Ochoa-Anderson qualified third with a 698.
On the same field, para compound women open and 50+ archer Martha Chavez also broke her own national record with a 656 in her first season back post-surgery and with a whole new equipment set up. "I haven't felt this good in a while, but it took a whole group of people to get me back on track and here I am. It's awesome," said Chavez.
For the compound men, Braden Gellenthien smoked a 359 first half, finishing with a 711 to top the qualification round where 12 men broke the 700 mark. As new names continue to emerge as top talents this season, Nick Kappers, Louis Price and Sawyer Sullivan ranked just behind.
On the recurve field, Casey Kaufhold and Brady Ellison led for much of the day, but in the final end it was Jack Williams who jumped to the top of the men's list, matching Kaufhold's 676.
"I had a very strong start, I was very happy with my first half," commented Kaufhold on her 344 opener. "Then I had a little trouble with the wind but I finished with a 58, finished with a 10 so I'm pretty happy and I feel ready for matches. I think it's more fun than qualification."
On working to beat the boys' scores, Kaufhold laughed that she always has that goal in mind. "This morning Brady asked me how many points I was going to spot him and I said 'none because I'm going to beat you and then I did.' So, I'm pretty happy about that and then Jack shot good and got me by an X but hey, still a good score." Kaufhold cleared the women's field by almost 30 points over Catalina G'Noriega, whom she has faced in both gold medal finals so far this USAT season.
Marcus Cooley topped the barebow men's qualification round with a 606, just ahead of Nolan Encarnacion: "I felt pretty strong most of the day," said Cooley. "I've had some strength issues in the recent past that I've been working on for a few months to overcome, so today went well. Hopefully, everything goes as well tomorrow as it did today."
Christina Lyons pulled out the top score for the barebow women with a 587. Russell Harrel and Ramona Aguilar-Becker took the barebow 50+ top seeds.
In a competitive recurve 50+ men's field, Mike Gerard took the top spot today with a solid lead, finishing with a 652. "The weather and place are beautiful, so it's great to come home," commented California native, Gerard. "Things kind of went my way here and there. I'm ready for tomorrow. Before I came here, I was on the right track and I hadn't been in a long time. So, it's been a great little run up until now and I'm hoping it'll stay that way through tomorrow."
Hot off her win at the Pan American Youth & Masters Championships last weekend, Susan Bock took the recurve 50+ women's top spot with a 633. Timothy Gillingham edged out George Ryals IV for the top compound 50+ men's qualification score with a 697 and Deanna Cronin also returned to the top women's spot with a 675.
The para divisions saw some stout competition today as well; Eric Bennett had his best score in a while, topping the recurve men's competition with a 634 and a wide lead over Michael Lukow and Kevin Mather. Candice Caesar took the recurve women's gold over Valeria Duron by 99 points with a 492.
Jeff Sena took gold for the compound men open with a 682 ahead of Douglas Godfrey Jr. and Lance Thornton and Jason Tabansky won the W1 round over Jonathan Charlesworth.
Competition continues this afternoon with the youth elimination matches and the adults will shoot head to head tomorrow morning. The senior recurve and compound gold medal matches will stream live on USA Archery's YouTube. Complete results can be found on Between Ends. Photos from the event are available on USA Archery's SmugMug.
About USA Archery
USA Archery is the National Governing Body for the Olympic sport of archery in the United States. USA Archery selects and trains Olympic, Paralympic, World Championship, and World Cup teams, as well as developing archery at the grassroots level across the United States. For more information, visit www.usarchery.org.
About The WON

The Women's Outdoor News, aka The WON, features news, reviews and stories about women who are shooting, hunting, fishing and actively engaging in outdoor adventure. This publication is for women, by women. View all posts by The WON →