2022 Champions Crowned at JOAD Nationals
DECATUR, Ala. – Elimination rounds finished the individual competition at the 2022 JOAD National Target Championship. After two days of qualification, archers went head-to-head in individual elimination matches leading to the crowning of the National Champions.
Shooting U13 compound, Makena Lawhead faced Peyton Smith to narrowly win the gold 146-145. "I didn't think I was gonna win today because when I got into the gold medal match, my first arrows were 8, 9, 10 so I didn't think I was going to do that well," admitted Lawhead. "But towards the end, I got three 30s and that helped a lot!"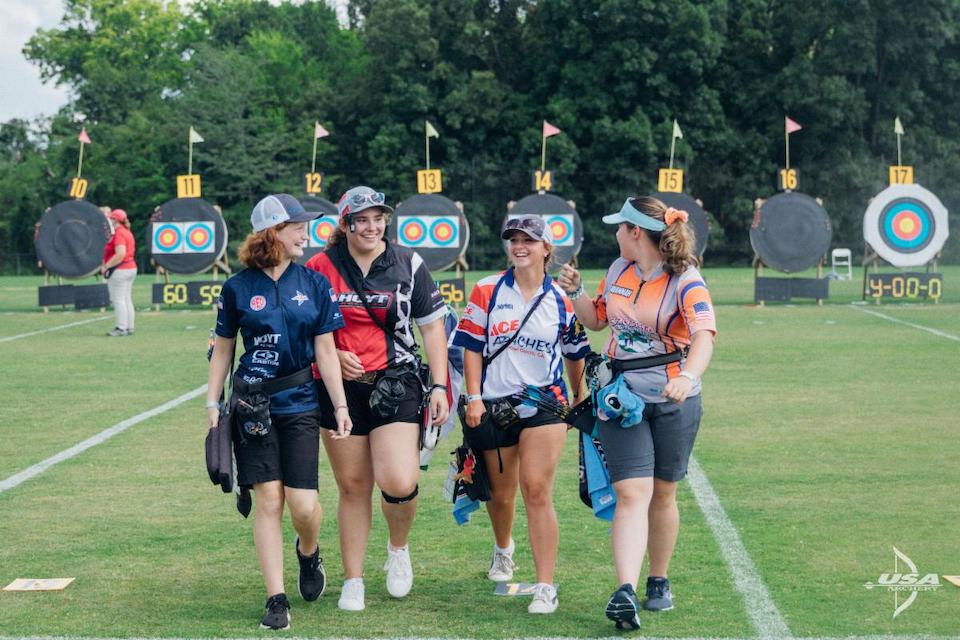 In a similar train of thought, Barry Parrish who won U13 barebow added, "All I was thinking about during my matches was the power of one point." Parrish took home the National title after a 6-4 win over Pranav Sanjay.
Keeping cool under pressure was a theme for several archers throughout the day.
"There were a couple of times during the gold medal match where I got a little rushed and panicked," said Christian Jones, winner of the U18 barebow division. "Luckily, I was able to talk myself down and recover from that."
Among the U18 fixed pins women, Jayden Azbill shot plenty of arrows to prepare for JOAD, but she primarily focused on her performance in matches. Azbill shared, "My weakness is eliminations so I've been working very hard on practicing specifically for those." Practice paid off for Azbill after she won her gold medal match with Madalynn Puryear 138-128.
View the complete results and official photos. Tomorrow's competition features optional team rounds where over 100 teams will face off in friendly rivalry.
About USA Archery
USA Archery is the National Governing Body for the Olympic sport of archery in the United States. USA Archery selects and trains Olympic, Paralympic, World Championship, and World Cup teams, as well as developing archery at the grassroots level across the United States. For more information, visit www.usarchery.org.
About The WON

The Women's Outdoor News, aka The WON, features news, reviews and stories about women who are shooting, hunting, fishing and actively engaging in outdoor adventure. This publication is for women, by women. View all posts by The WON →