Paige Pearce Wins Bronze at the World Games 2022
Birmingham, Ala. — Paige Pearce has won bronze in the compound women's division at the World Games 2022.
The World Games is the pinnacle event for compound target archers as the proposed inclusion in the Olympic Games gains momentum. Also the 2019 Pan American Games bronze medalist, Pearce now has a new podium finish to add to her list of international accolades and records.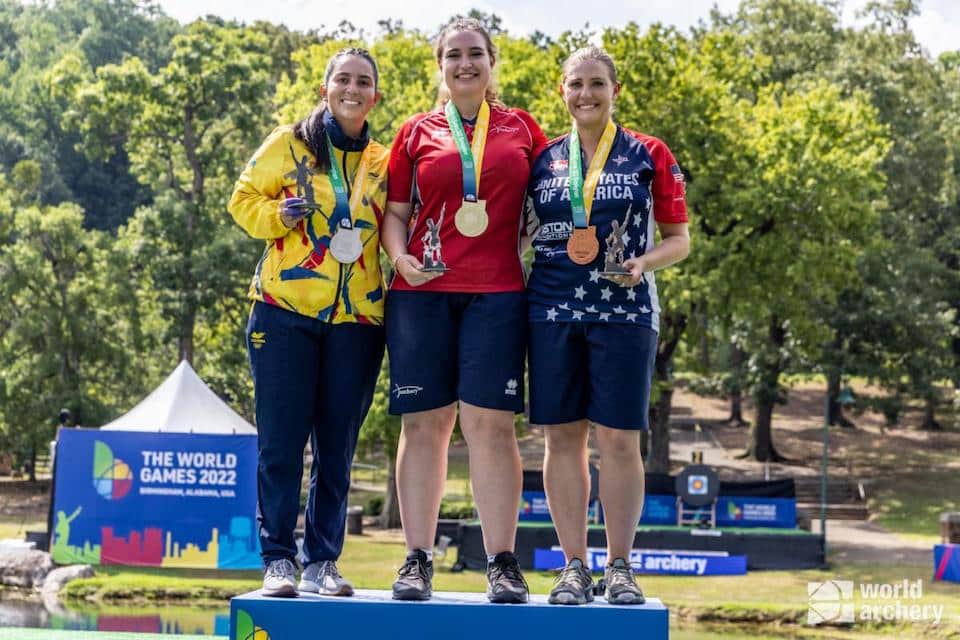 The field shifted to a small, picturesque lake in Avondale Park where archers shot along the water for the semifinals and finals.
The semifinals match between Pearce and Great Britain's Ella Gibson was a nail-biter straight through the finish. While Pearce posted four straight 29s through the opening ends, Gibson alternated with 30s to build a 118-116 lead headed into the final three arrows. Pearce stepped up under pressure to shoot a perfect score as Gibson dropped two 9s. The tie at 146 resulted in a single-arrow shoot-off with Pearce posting a 9, but Gibson's 9 was scored closer to the center.
"Yesterday was a tough day for me. So today my whole thing was to come out with a clear head and a new mindset – stay calm and make good shots out there. Even though I didn't win my first match, I was able to do that my whole way through," said Pearce.
Moving into the bronze match, Pearce faced Toja Ellison of Slovenia. In another tense matchup, Pearce closed with three back-to-back perfect scores. Pearce's solid groupings and calm mindset helped to secure the bronze, finishing 148-145.
"I had a few shots in the first match that I thought would hit the 10 that didn't. I had to tell myself, 'Okay the more comfortable I get I think it will tighten up,'" said Pearce. "So going out into the second match for the bronze that's exactly what happened. I executed the same shots and tightened it up a little bit which was what I needed to win the medal."
The recurve field competition starts Sunday followed by the barebow event, which starts Wednesday. Results will run live throughout the event via The World Games and the finals will stream live on the Olympic Channel.
About USA Archery
USA Archery is the National Governing Body for the Olympic sport of archery in the United States. USA Archery selects and trains Olympic, Paralympic, World Championship, and World Cup teams, as well as developing archery at the grassroots level across the United States. For more information, visit www.usarchery.org.
About The WON

The Women's Outdoor News, aka The WON, features news, reviews and stories about women who are shooting, hunting, fishing and actively engaging in outdoor adventure. This publication is for women, by women. View all posts by The WON →