My First Gun Media Event Courtesy of SilencerCo
I never really gave much thought to silencers (aka suppressors), until I started interviewing the SilencerCo ambassadors, and then I became seriously intrigued. Also, I've never been to the renowned Gunsite Academy in Arizona, so when I was asked if I would like to attend a media event there at the invitation of SilencerCo's Jessica Kallam, vice President of marketing, I answered, "Yes, please!"

Sponsored by SilencerCo
Day one we began in the classroom Gunsite CEO Ken Campbell welcomed us. The training we would receive is based on Gunsite's carbine courses. I talked with the SilencerCo staff, Quinton Mount and Caleb Gosnell, and said I was a little concerned about the weight of the ARs since my left arm is not strong. They worked with Mike Glaser with North Star Arms, who co-sponsored the event, and quickly put together an MS15 pistol with a 10-½-inch barrel that worked well for me.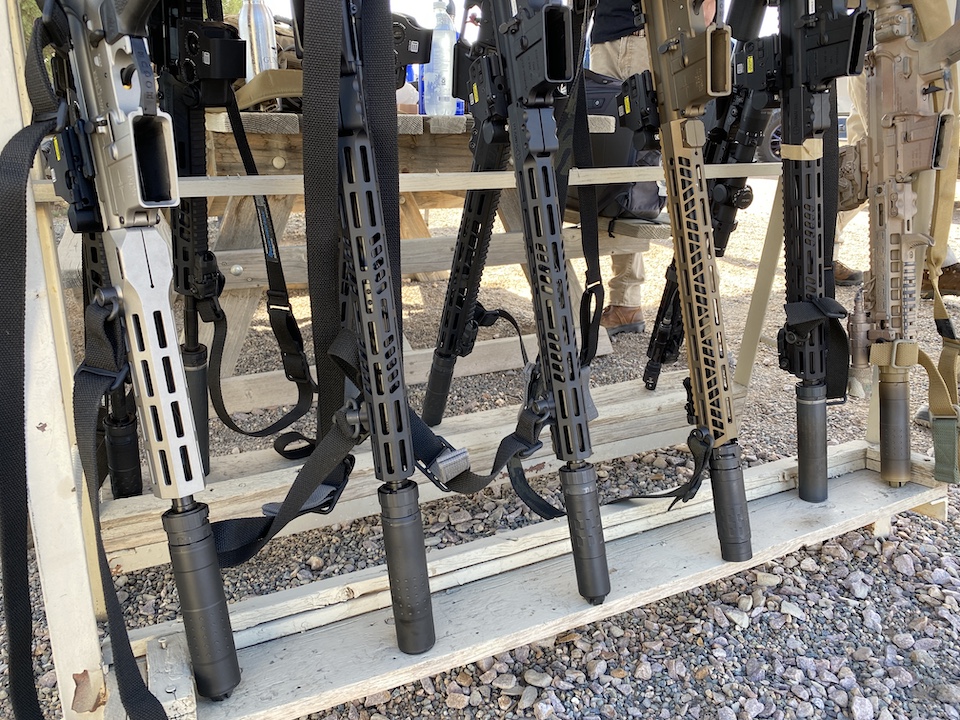 We headed out onto the range where we met our instructors – Chris Currie, Verlin Rector and Jerry McCown. We spent time zeroing in our rifles, then we worked on basic skills. I discovered that suppressed rifles are so much quieter that I didn't need hearing protection when standing away from the line, but contrary to what the movies show, I preferred hearing protection while on the line and shooting.
Since Arizona in the summer equals brutal heat, Gunsite recommended that we drink plenty of water and to sit out for a few minutes if we felt the need. During one of our afternoon breaks, Campbell drove up and pulled out a cooler. To our surprise, he offered us Otter Pops. Of course, we all grabbed one. He said that he started doing this during kids' classes then realized the adults like it just as much. It also gives him a chance to check in and make sure things are going well.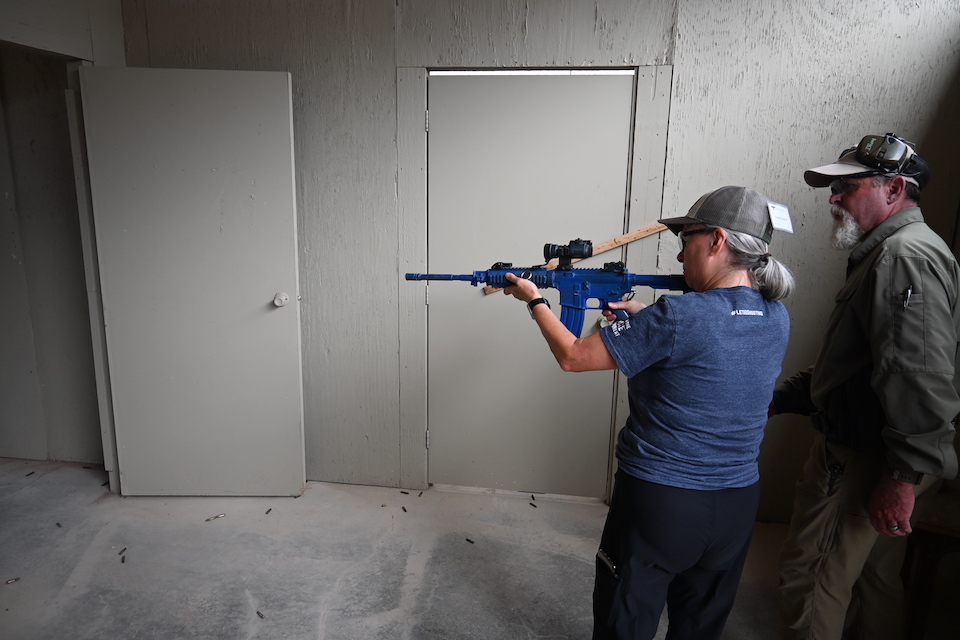 Day two found us back to the range to work on more drills, such as learning how to shoot around a corner without crowding it or exposing too much of our bodies. By now though, my arms felt like noodles from lifting the rifle, but I really wanted to try the drills and go through the "shoot house." Currie said he had an AR blue gun that I could try and since it's a plastic dummy gun, it weighed a lot less. I liked being able to practice the drills, participate and learn.
In the afternoon, Campbell came around again and this time we all flocked around his pickup like kids to an ice cream truck since we knew Otter Pops would appear. He seemed just as happy to see our excitement and you can tell he truly enjoys providing this little treat.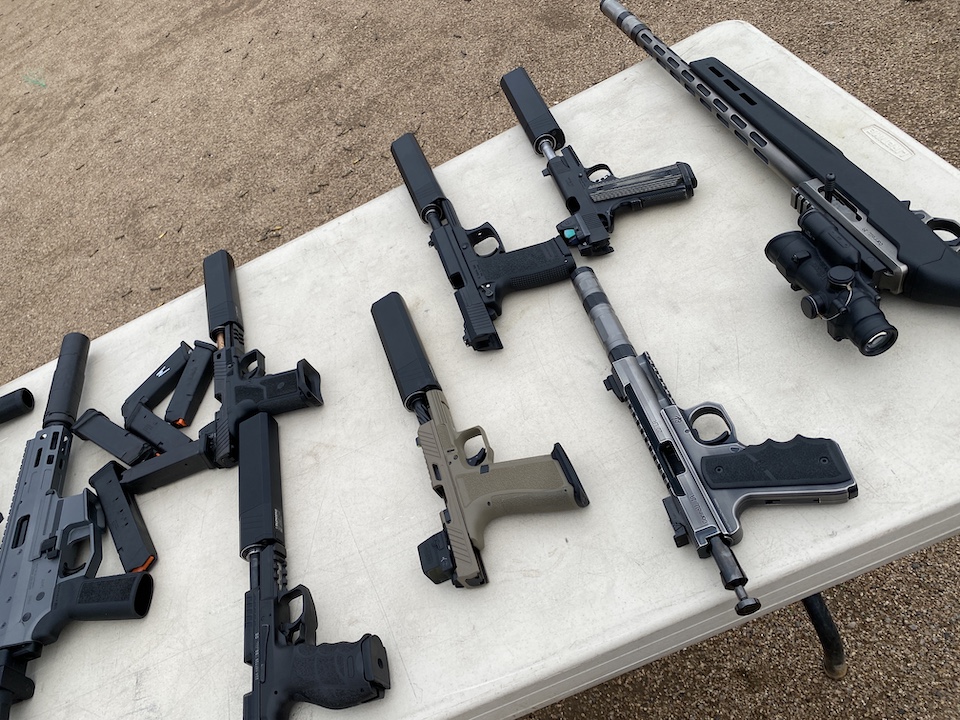 On day three we finally got to shoot a variety of firearms, beginning with some unsuppressed guns with Timney Triggers, who also co-sponsored the media event. The vice-president of communication for marketing and sales, Chris Ellis, spent a few minutes telling us about the history and philosophy of the company.
When the Gunsite crew offered a Smith & Wesson M&P pistol with the Alpha Competition trigger for me to shoot, my excitement really piqued, since that's what I use in competition. That combination impressed me, especially the crisp break point of the Timney trigger.
Next, we tried suppressed firearms, some of which sported the new Osprey silencer. I wondered if the guns would feel too heavy or clumsy since I've never used a silencer. Imagine my relief because I felt no issues like that.
I even got to shoot a suppressed "machine gun." I knew I'd never forgive myself if I didn't try one when I had the chance. I felt nervous, so I only held the trigger for a few short bursts at a time, but soon realized it wasn't scary at all.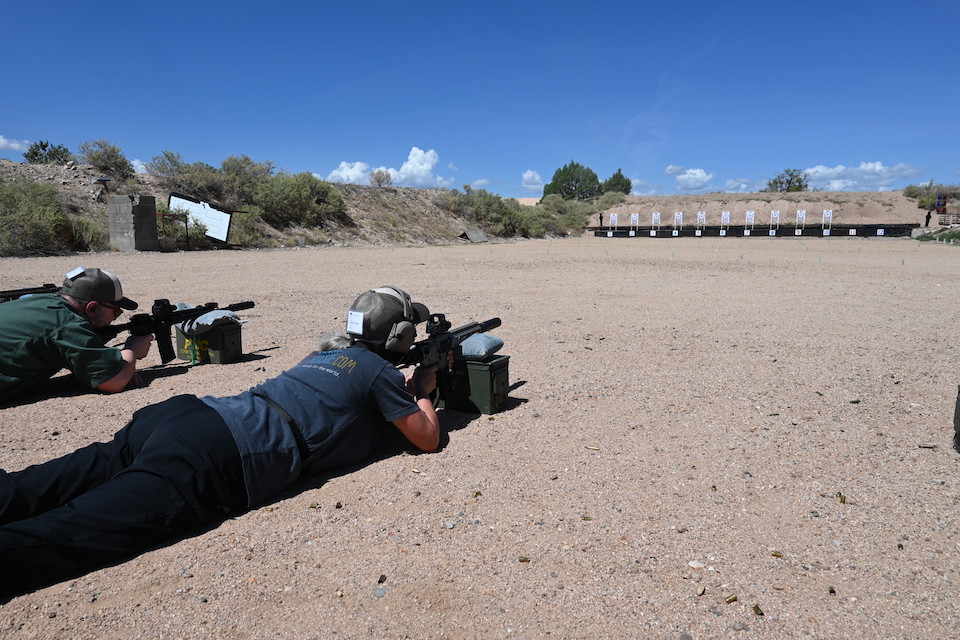 Ultimately, the .22 Scorpion Volquartsen with a Switchback suppressor ranked as my most favorite gun/silencer combo. I compared it to shooting a BB gun. I liked it so much that I shot it quite a bit, practicing transitioning between the steel targets. As I completed one round of 10 shots without a single miss, I turned around to the group watching me and grinned and giggled. Mount laughed and said, "That's the way everyone reacts to that gun." I think this would be an excellent combination to teach new shooters who are concerned about noise and recoil.
I also tried out a .22 Volquartsen rifle with a scope and the Switchback. I chose to use it later in the final part of our training on a fun shooting course called "The Scramble," which is a trail with steel targets placed out around 100 yards.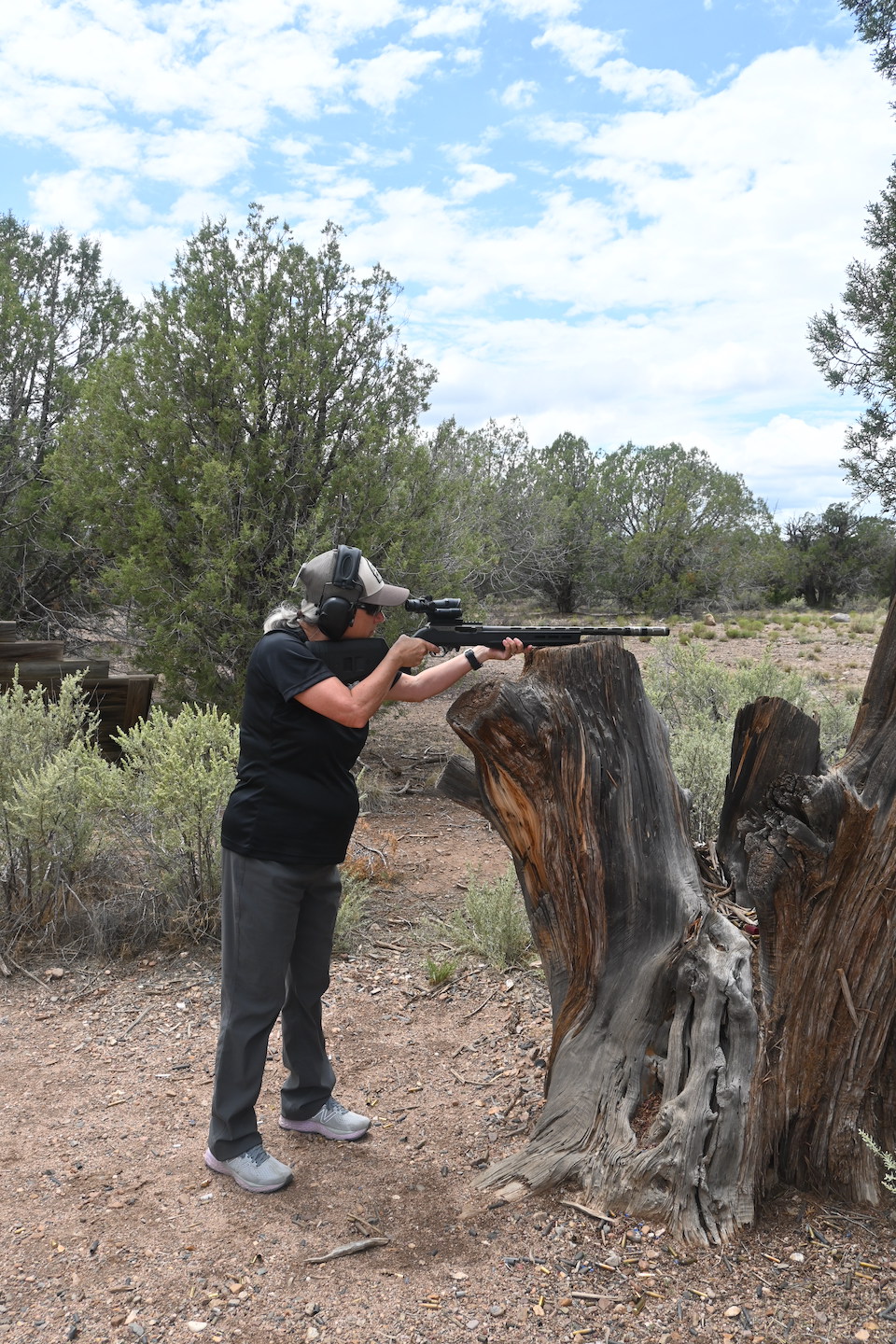 I really appreciated the respect the instructors showed to us, and the importance of listening to our bodies so that we could do what we needed to do to continue to participate and be safe. No one made me feel like a wimp because I couldn't hold the rifle up as long as the others.
If you would like to take a class like this at Gunsite Academy but don't think you can keep up, I say don't worry about it at all. You do what you can, and the instructors and staff – and fellow students – respect it.
I enjoyed getting to meet other writers and learn their stories. I had fun getting to know the very knowledgeable and down-to-earth staff of the companies sponsoring the media event. I also appreciated the chance to finally get to go to the very impressive Gunsite Academy that I've heard about so much over the years. It proved why it has such an excellent reputation.
Visit Timney Triggers online at timneytriggers.com
Visit SilencerCo online at silencerco.com
About Nancy Keaton

Nancy Keaton is a retired college administrator, president of her local gun club, competitive shooter and freelance writer whose work has appeared in A Girl and A Gun Women's Shooting League, "American Shooting Journal," "American Concealed," "Northwest Meetings + Events," and other publications. She enjoys writing about a wide variety of topics and interviewing ordinary people doing amazing things. To see a compilation of her writing, check out https://nancykeaton.contently.com. View all posts by Nancy Keaton →