SSG Amanda Elsenboss: Wins National President's Rifle Match
CAMP PERRY, Ohio – SSG Amanda Elsenboss, 33, of the Army National Guard, has made history – marking the first overall win by a female in the President's Rifle Match, an event that's been in existence since 1894.
Fired on Aug. 1 as part of the Civilian Marksmanship Program's (CMP) 2022 National Rifle Matches at Camp Perry, the President's Rifle Match is one of the most popular and esteemed events of the year in the United States. The top 100 scoring competitors are dubbed the praiseworthy President's Hundred, with the overall title regarded as an enormously honorable feat.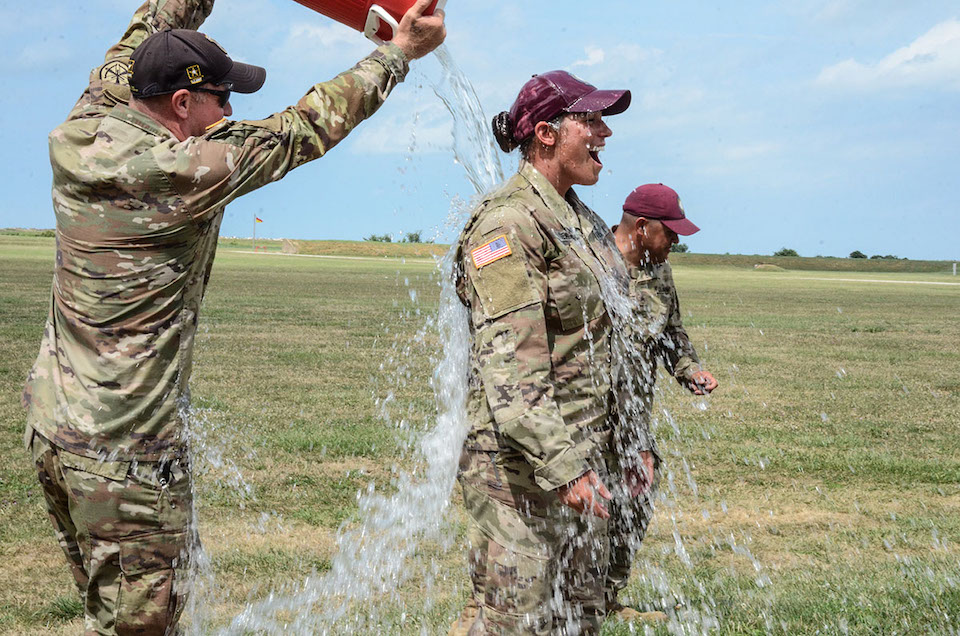 "This has been a longtime coming – everybody thinks of the President's Hundred Match," Elsenboss said, looking back on her own career.
She's been a recognizable force on the firing line for years and, incidentally, a champion for female athletes. Having started in marksmanship at 13, Amanda Elsenboss had already made history in her career, as a junior, when she and Connecticut Palmer teammate Julie Coggshall became the first all-female winners of the Whistler Boy Junior Highpower Rifle Trophy at the 2006 National Matches.
She went on to join the Army in 2009 where she was assigned to the U.S. Army Marksmanship Unit (USAMU). There, she collected several remarkable titles, including national wins in service and long range rifle. At the 2021 National Matches, she set a new national record score and was the overall individual competitor of the National Trophy Team (NTT) event – netting a near unbeatable score of 500-34X.
Last year's National Matches was also her first as a member of the National Guard All Guard Marksmanship Team, which she joined in 2019. While on the team, she has experienced many tests on the firing line, and the 2022 President's Rifle Match was no exception.
"I had a rough go with some shooting, so I was like, 'Alright, get your act together and go and win President's," she said. "That was the thought when I woke up in the morning, that was the thought when I drove to the range – that was the thought all day."
This year's President's Match was full of challenges. Heavy winds arrived and swayed throughout the day, provoking each competitor's ability to adapt to the changing conditions. Somehow, Elsenboss managed to reach a preliminary score of 297-9X – dropping only one point each in standing and prone positions.
"I shocked myself by shooting 99's everywhere, and I owe it to my teammates and the other competitors on the line who let me ask them what wind they were using," she said. "The camaraderie between all of the competitors is so large that no one's going to try to hurt you. Everyone's looking out for you. And that makes a difference."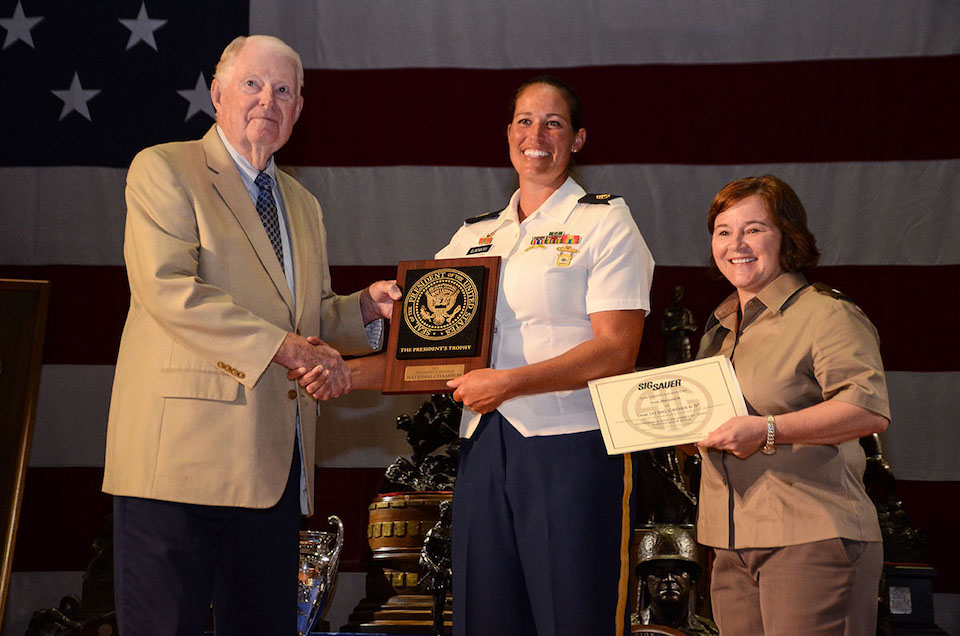 Next, she would head into the President's Match 20-person shootoff – fired after the qualifying round from the day's course of fire. Elsenboss had participated in the shootoff multiple times before, in 20th place and higher, but this year was her first starting in the lead position on the line. Remarkably, she wasn't nervous for the shootoff, despite the match rarely seeing the competitor in first position ending in the same place.
She was ready to go.
"Coming into the shootoff with a three-point lead felt like enough of a buffer," Elsenboss said.
Just as the competitors in the shootoff thought they had a handle on the conditions from firing earlier in the day, the environment took a sudden shift – thrusting its quickest gusts yet.
Still, Elsenboss was confident with her rifle specs. She put her rifle on three minutes, right where she thought it needed to be for her first record shot, and fired – a 7, to the right.
"That's not going to work," she thought. Her next shots brought a 9 on the left and a 9 on the right.
"I said to myself, 'You've got it bracketed. Stop, and just put it right in the middle.'"
She carried on, tallying consistent shots, until she pulled the trigger on the last – hoping it would be a 10 – and it was. Her aggregate score was 391-12X.
Her shootoff work was done. Now, all that was left was to see how her score measured up alongside the other competitors on the line.
"I felt I'd given it away," she admitted, thinking back to her first few skewed shots.
Unbeknownst to her, others on the line were having the same issues, and she was able to hold her strong lead.
It wasn't until SFC Brandon Green, her former USAMU teammate who won the President's Rifle Match in 2018, came up to the firing line and told her, "Congrats, Champ!"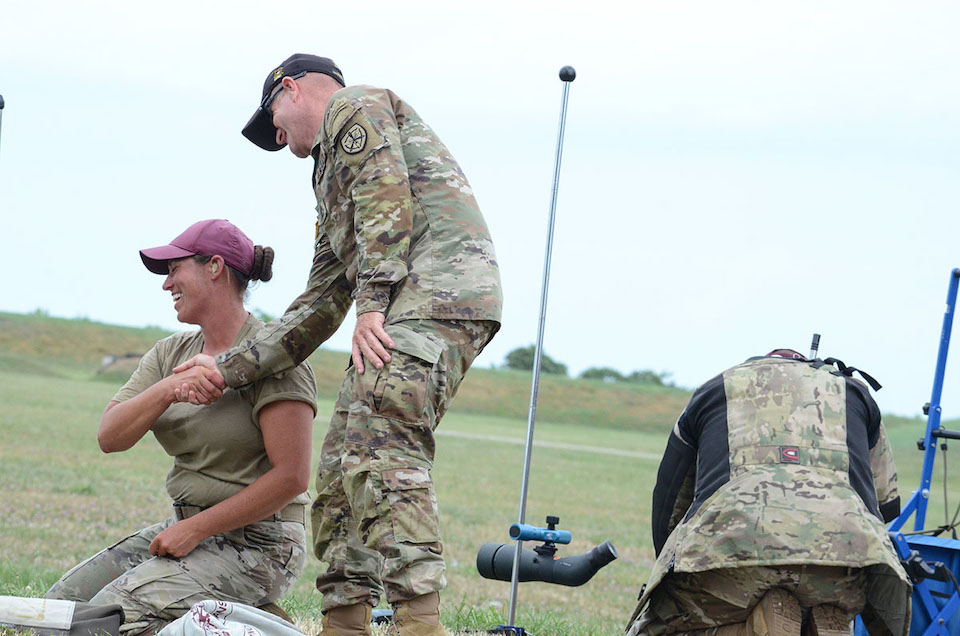 She was confused, then said, with that unmistakable Elsenboss smile, "Are you serious? You're pulling my leg."
Of course, he was serious.
"I've known Brandon for almost as long as I've been shooting, and it means something that he would do that," Elsenboss said, recalling the moment.
Amanda Elsenboss finished the shootoff just above her teammate SGT Jonathan Wood and added the third consecutive President's Rifle Match win for the Army National Guard team (SSG John Coggshall and MAJ Samuel Freeman claimed the overall titles in 2019 and 2021). The team also presented the most members on the line during the shootoff of any service team, with Elsenboss, Wood and Freeman all firing.
"I wouldn't be where I am without the help of my team," Elsenboss said. "This is a talented group, and we're all very supportive of each other."
After her win, a cluster of peers and spectators alike approached to give their own congratulations. Among her fans were young female competitors – wanting a picture next to the history-making athlete. Parents also came up to her, shaking her hand and thanking her for being an encouraging example for the next generation.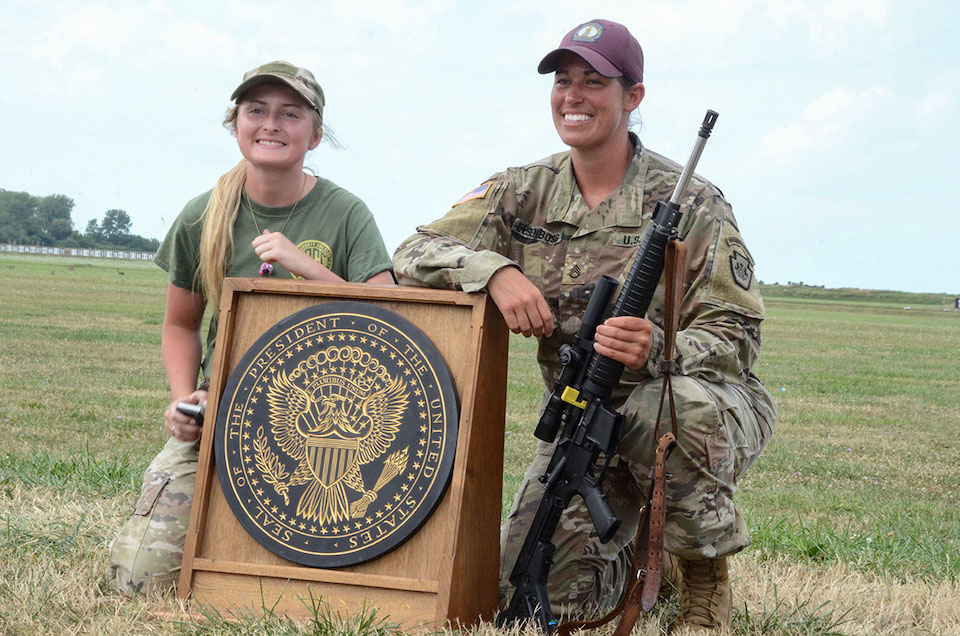 "I try my best to be an ambassador, being a female in a sport that's a male dominant sport – knowing that juniors or other females in general maybe be intimidated and want to figure out shooting," Elsenboss said.
"I'm glad that I hopefully put forth a good front in that," she went on. "And it's real – this is me, I'm a friendly, happy person who enjoys everybody."
Elsenboss remembers looking up to female inspirations of her own, like Julia Watson (now Carlson) – a legend in her own right who has won national and international titles and was even a participant of the 2022 President's shootoff. Carlson was also the first female to win the National Matches National Trophy Individual (NTI) event back in 1998.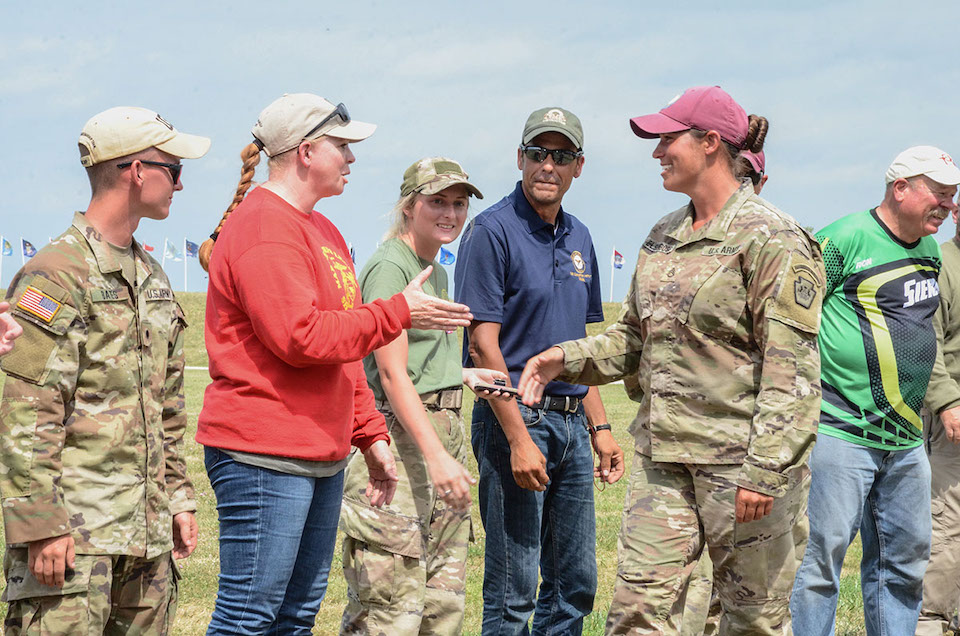 "I was a junior, and that meant something to me," Elsenboss said of Carlson and other influential women in the sport. "I thought, 'If they can do that, I can do that.'"
With one career goal down, Elsenboss is looking forward – remembering to stay humble and to remain persistent in her evolution as a competitor and a positive representative of the sport.
"It's always, what's the next match – what's the next thing that I can go to – how can I do better," she said.
Yet, from now on, no matter what she does or where she goes – Amanda Elsenboss will always be a fixture in the legacy of marksmanship and will undoubtedly carry on inspiring others.
"Let's continue this and see what we can do," she said.
— By Ashley Dugan, CMP Staff Writer
The Civilian Marksmanship Program is a federally chartered 501 (c) (3) non-profit corporation. It is dedicated to firearm safety and marksmanship training and to the promotion of marksmanship competition for citizens of the United States. For more information about the CMP and its programs, log onto www.TheCMP.org.
About The WON

The Women's Outdoor News, aka The WON, features news, reviews and stories about women who are shooting, hunting, fishing and actively engaging in outdoor adventure. This publication is for women, by women. View all posts by The WON →