Sisterhood Outdoors Utilizes Air Guns from Pyramyd Air
Pyramyd Air is a one stop shop for all things air gun. They truly are the air gun experts. I was delighted when given the opportunity to learn more about air guns and more specifically the Air Venturi Avenger. I had some goals, though: to be able to utilize air rifles to improve my shooting skills, have some fun and learn to squirrel hunt with an air rifle. I believe I accomplished all of them with this air gun.
Sponsored by Pyramyd Air
The term air rifle simply means a rifle that shoots a projectile using compressed air. The Venturi Avenger rifle is pneumatic, which means it has internally stored pressurized gas. Also, it is referred to as a PCP (pre-charged pneumatic) air rifle.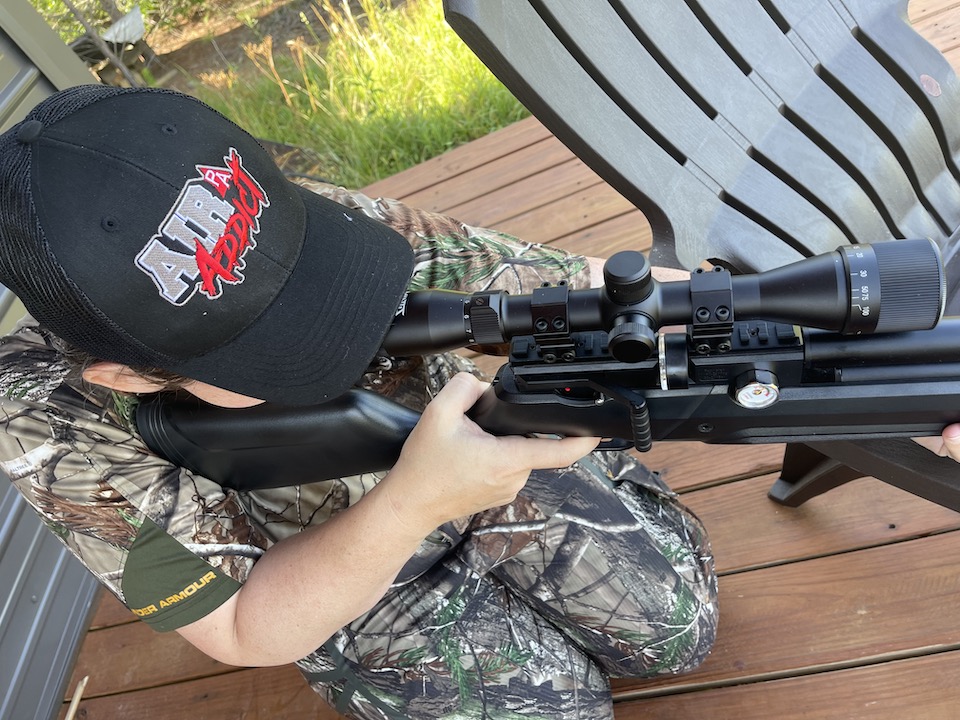 The plan was to have some Sisterhood Outdoors Staff and friends meet at my cabin in Tennessee for a weekend of learning all about air rifles and go squirrel hunting. Doesn't that sound like a fun weekend — girls, air rifles and squirrels? The original party of four became a party of two because of personal reasons. Michelle and I had to go it alone (but that meant more ammo for us). We decided to start with the basics, meaning reading the owner's manual and watching the product videos on the Pyramyd Air website. Two of the three rifles delivered to me came ready to shoot with scopes mounted. They also sent us the Air Venturi HPA compressor to be able to refill the rifles. Being new to air guns, I appreciated learning how to fill the rifle and do it safely.

Air Venturi Avenger
The Air Venturi Avenger is very simple to use. It is a well-built rifle with many features, just like a hunting rifle. It is a perfect entry level air rifle for new shooters. It is light weight and adjustable, weighting in at six pounds. We really liked the mounted swivel points for a rifle sling or a bi-pod attachment. The Avenger also features two mounting points for a scope and a picatinny rail section to mount a flashlight or laser. This really makes it perfect for a hunting air gun.
As I mentioned, we spent the good part of our morning sorting out all the gear and literature and watching the video on how to load the magazine. We quickly had two each ready to go shoot. We used .22 caliber pellets, the Air Arms Diabolo Field Heavy pellets.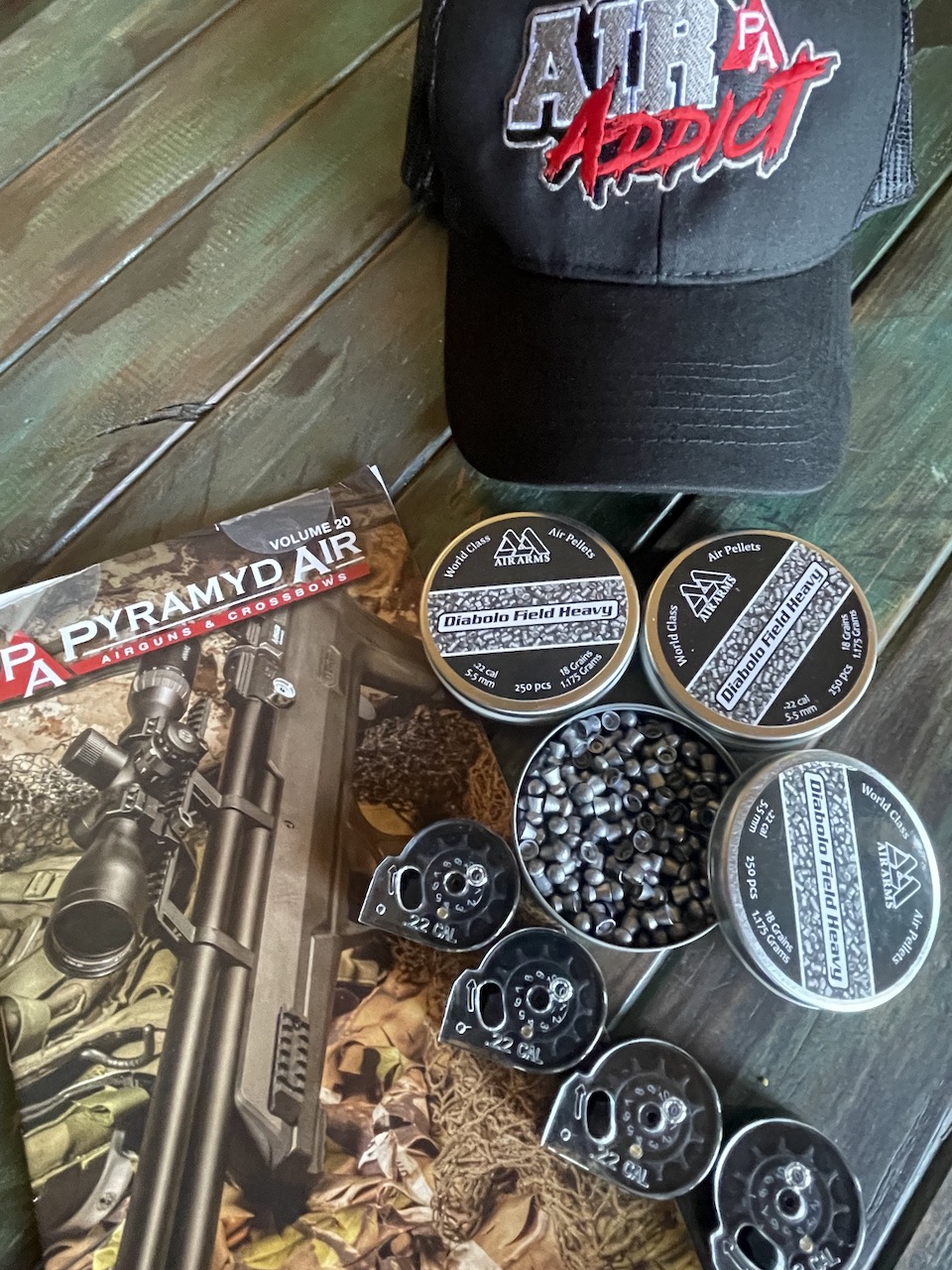 The magazine holds ten rounds and having an extra mag in my pocket assured me of quick reloads, so I could keep shooting. Michelle and I set up a target for the initial sight-in and began shooting. The first thing I noticed was the accuracy of my shots. Air guns are great for practicing acquiring a target in the scope and for shooting multiple rounds. The scope was bore sighted and all I had to do was adjust up a few clicks and I was dead on. I liked how the groups fell. What a great way to build your confidence in not only acquiring a target in a scope, but also, hitting the bullseye.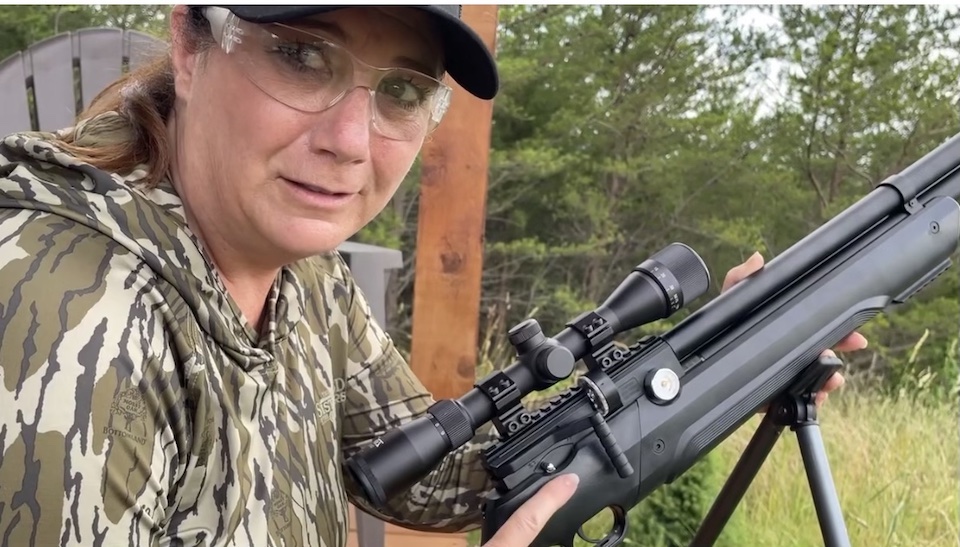 We had so much fun setting up different targets. We used small caliber metal swing target, clay targets, water bottles and a few squirrel targets set up on the range. I believe we went through about 200 rounds in one day.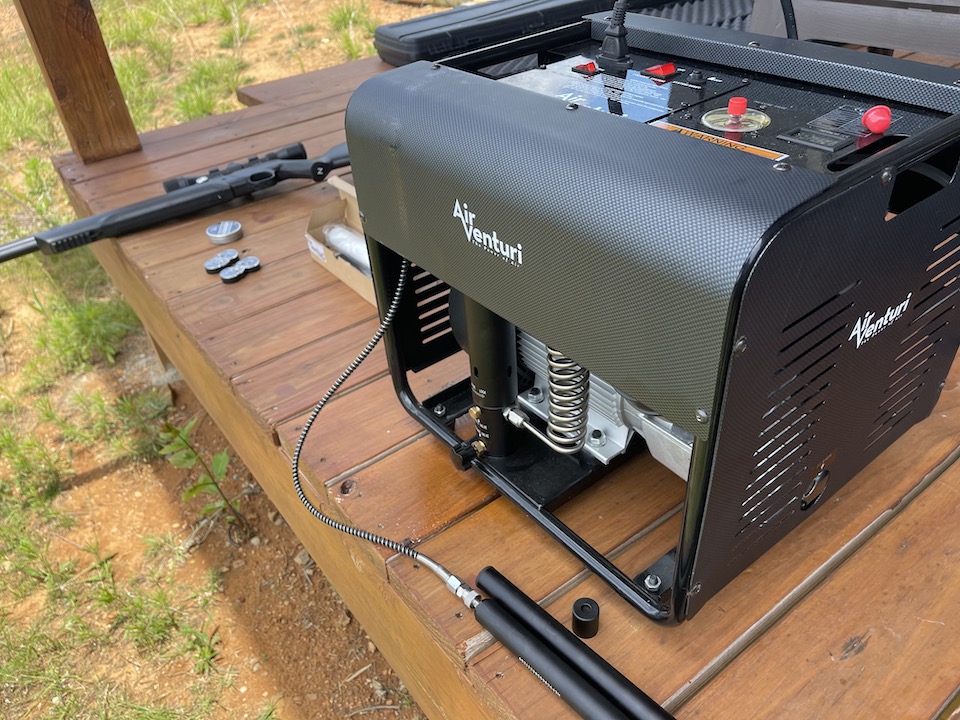 After shooting for a while, we stopped and reloaded the gun with the air compressor. Again, we used the great video instructions at the Pyramyd Air website. The Venturi Air Avenger is fitted with a cap on the end of the gun with the ready-to-fill male quick disconnect fitting. We easily filled the rifle in a surprisingly quick amount of time. That most intimidating part for me as a new air gun shooter was learning to refill. I was completely wrong and should not have stressed so much about the refill process. Anyone can do it. The left side of the rifle has a pressure gage to see when it is fully loaded. Michelle and I used a generator to reload because we were off-grid for the weekend. We had no issues.
Squirrel Hunting with the Avenger
After learning to shoot the gun and having so much fun doing it, we felt ready to take it to the woods for squirrel hunting. This was the last weekend of squirrel season in Tennessee, and as a result, we didn't have much luck – especially in the middle of a hot day. We quickly learned that the early morning and late evening hours are much better for finding squirrels. The leaves are green, and they are hard to find up in the trees. I didn't have any luck finding a squirrel within range … which is sort of a funny joke because they are everywhere when its deer season! We made it back out and sat quietly for the evening hours in hopes we would hear them in the trees. Michelle got one shot at one on the ground but missed. She thinks it may have been too far out of range. We may not have had any luck with the squirrel hunt, but we sure had fun shooting the air guns. Sisterhood Outdoors will be hosting more events with air rifles. It is just too fun not to share.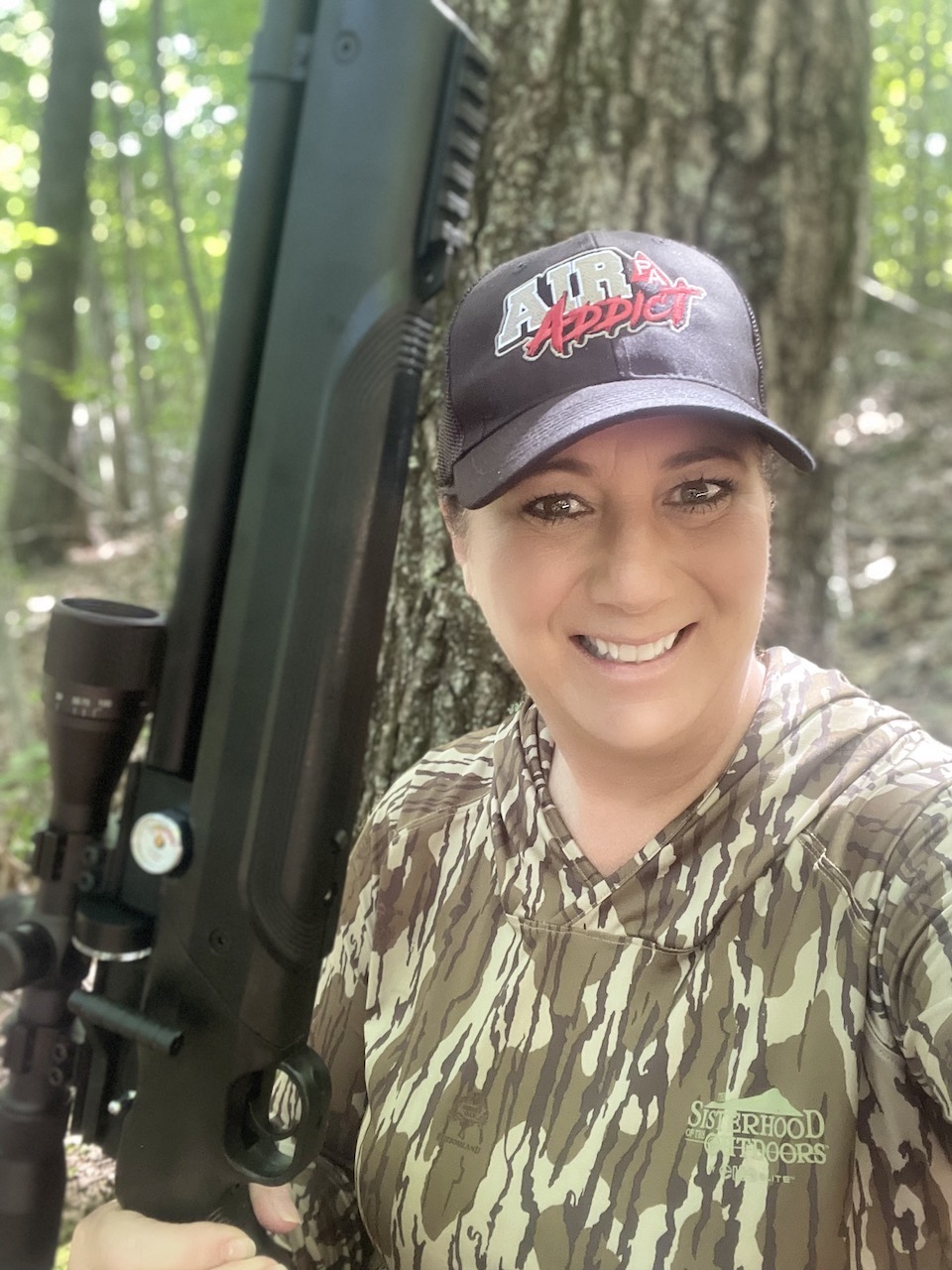 More Squirrel Hunting
I continued my hunting when the season opened in August. I spent much of my time in the woods listening for the sounds of squirrels and watching the movement in the trees. I had to learn more about squirrel behavior to get close. At this time of the year, I found they were in the treetops knocking down nuts to the ground. It took me a few times hunting to finally have success. Squirrels in trees are on the move and not an easy target.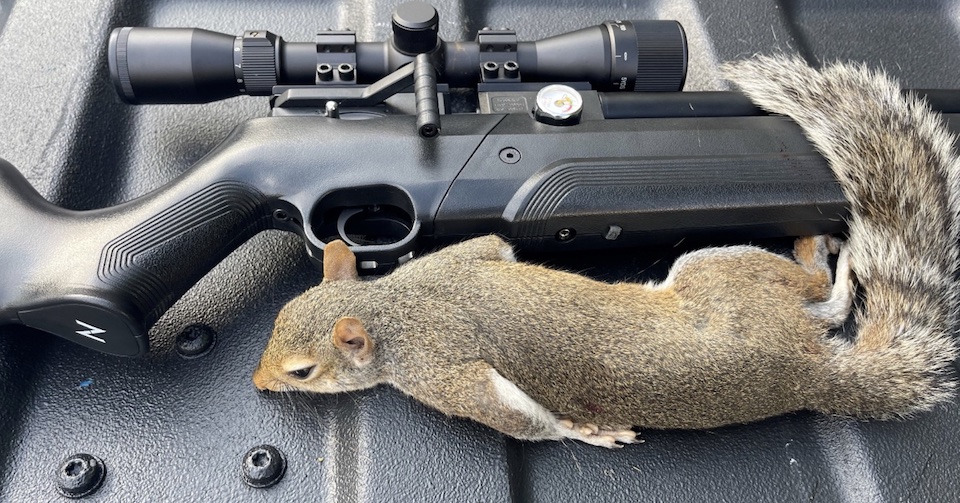 The Air Venturi Avenger from Pyramyd Air is a perfect entry level air rifle for those who want to target practice or hunt small game. The Avenger has a bolt lever that is easy to pull back to reload after each shot. The safety lever is easy to move from the safe to fire position. I used this safety lever a lot as I moved around the woods searching for squirrels. The power of the pellet out the muzzle is plenty to hunt small game. The low recoil and noise make target practice very fun.
Having the expertise of Pyramyd Air to get started was key to our success. Pyramyd Air has an air gun for every need and the accessories to go with it. The Venturi Avenger is a great entry level air rifle and retails for $349.99. Visit Pyramyd Air to start your air gun journey today.
About Amy Ray

Amy Ray is the owner of The Sisterhood Of The Outdoors, an organization that creates opportunities for women to hunt, shoot and fish. Amy is a pro-staff shooting instructor with Shoot Like A Girl. Amy is certified as an NRA pistol instructor and Refuse to Be A Victim instructor. As a member of the Freedom Hunters advisory board, she helps to expand hunting opportunities for servicewomen, Gold Star wives and daughters of fallen heroes. She also is an avid hunter and shooter and loves mentoring others in the outdoors.   View all posts by Amy Ray →