Adventuresail 2022 Wrap-Up
AdventureSail programming served many happy girls so far this year. Racine and Boston's Courageous Sailing Center, both long-standing program hosts, kicked off the East Coast sailing season fun by hosting 41 girls.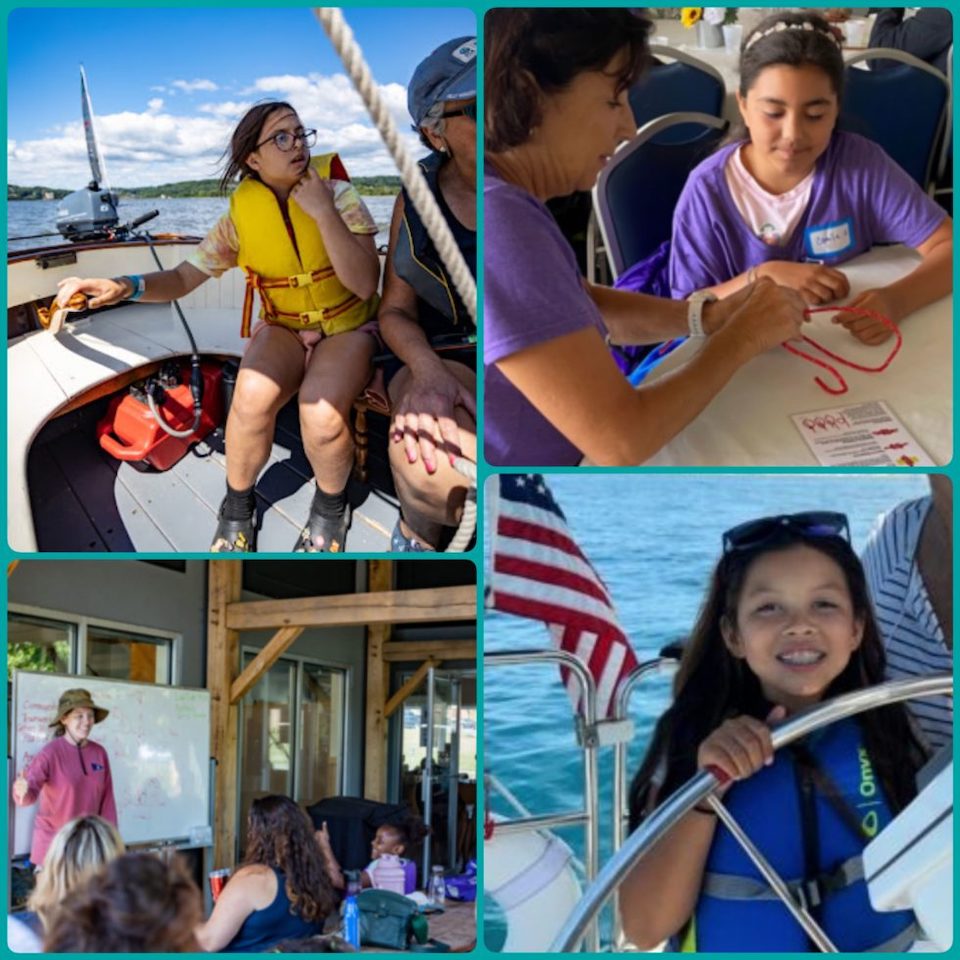 Later, in the first two weeks of August alone, 100 girls attended an AdventureSail program at different locations.
Mattituck Yacht Club, NY held their second annual AdventureSail. Girls who participated, visited Oakcliff Sailing Center, chatted with Dawn Riley, climbed aboard Maiden! Later, they had a small boat sailing experience too. Wow!
CLICK to watch the video featuring the Mattituck program scholarship recipients and their accomplishment.
"I was so excited to discover this structure — a program AdventureSail Day — that enabled me to introduce sailing to girls who wouldn't normally have access." said Mattituck Yacht Club volunteer and AdventureSail organiser Laura Venugopalan. Laura worked to assure three girls were awarded scholarships. One scholarship was awarded from WSF/NWSA and two from the local community. The 10 year old "Learn to Sail Scholarship" recipient said, "In a few years I will teach my baby sister how to sail." Another young recipient reflected, "I want to keep sailing because it was like my dream come true."
After the Kingston Sailing Club AdventureSail, a volunteer from the girl-serving program Mentor Me said, "Thank you so much for the experience. It was amazing to see the girls feel so proud!" Host organiser Jody Sterling added, "Participants experienced the world of sailing for the first time: the beauty of the Hudson River, the tranquility and peace of sailing, the focus and skill required by sailing well, the ability to stay calm despite challenges, the teamwork required and the connections built as part of a crew."
The West Coast had mighty AdventureSail events. Women's Sailing Association — Orange County, Alameda and Channel Islands hosted oodles of girls. Rhode Island participated with Bristol Yacht Club and Sail Newport. The two events hosted dozens of girls.
Linda Newland, who has served on the AdventureSail committee for decades said, "This year's AdventureSail program has enabled more girls than ever before to be introduced to sailing. Local community sailing organizations, non-profits providing sailing experiences, local sailing clubs, as well as tall ship programs partnered with us."
Continue reading the Adventuresail 2022 Wrap-Up from the National Women's Sailing Association here
About The WON

The Women's Outdoor News, aka The WON, features news, reviews and stories about women who are shooting, hunting, fishing and actively engaging in outdoor adventure. This publication is for women, by women. View all posts by The WON →