New To Archery? Why Not Start With A Crossbow?
I've always heard trying new things is good, here goes. I've rested my finger on many triggers, most of which belonged to firearms, shotguns and airguns. It's time to rest my finger on the trigger of a crossbow. Why a crossbow over a long, recurve, or a compound bow? I'm taking it one step at a time; since it's the closest archery category to what I am accustomed to, I wanted to get a little taste before I dive full into the archery world. Expecting the transition to be smooth, I began exploring the Pyramyd Air site and found everything I wanted and needed to get started. I was extremely impressed to find quite an array of archery and outdoor equipment, including the option to completely assemble my crossbow and have it shipped in a hard Plano Case MSRP $144.99. I found there's something for everyone.
Sponsored by Pyramyd Air
Making the Right Choice
The crossbow I chose – for an entry level shooter such as myself — was the CenterPoint Sniper Elite 385 (MSRP $349.99). It features an adjustable AR-style stock and pistol grip. Those features are appealing to me for the sole purpose of comfortability, not only for myself, but I enjoy taking others along on my shooting journeys. The adjustable stock will accommodate for that. It has a great rating of four stars and it's not too heavy at eight pounds – or, too long at 33.75 inches, with the stock fully extended. I found all the information I needed to make my decision under the "Specifications tab" located under the product, including the fact that it packs a big enough wallop of 132 ft/lbs of energy. I can confidently take it on a big game hunt and make a great harvest.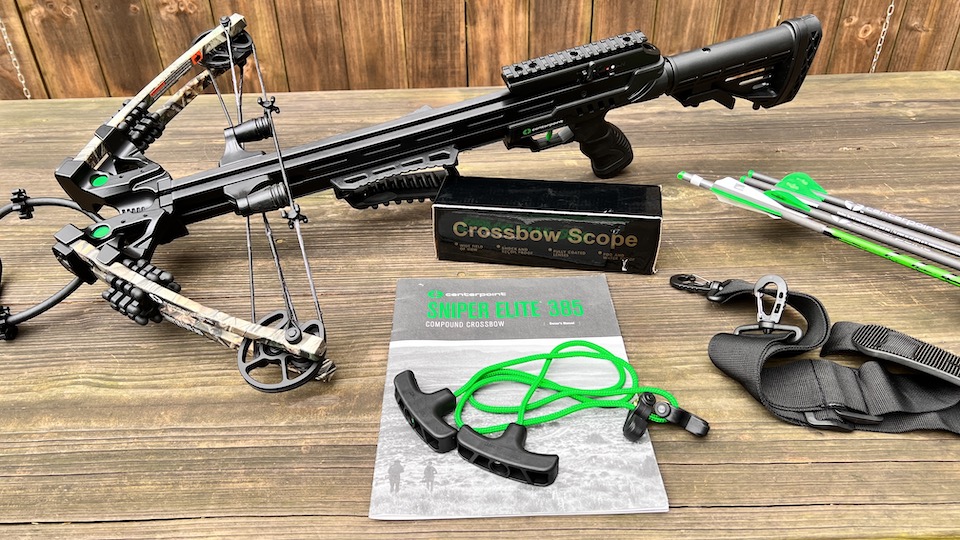 Learning About My New Equipment
What to do first? As one that is not familiar with archery, I had some reading to do. CenterPoint included a very detailed User's Manual to help a shooter to experience a safe and enjoyable hunt, that's what I'm going after. The manual clearly labels the parts of the crossbow, as well as the included accessories such as the 4-32 CenterPoint Archery Optic, a shoulder strap, the cocking rope, rail wax, a detachable four-arrow quiver and two, 20-inch carbon arrows with field tips. Another item I suggest purchasing is the CenterPoint Power Draw Rope Cranking Device (MSRP $71.99). At 185 pounds of peak draw weight, I cannot draw the bowstring back using only the rope. With everything needed for this first crossbow experience, I head to my backyard range.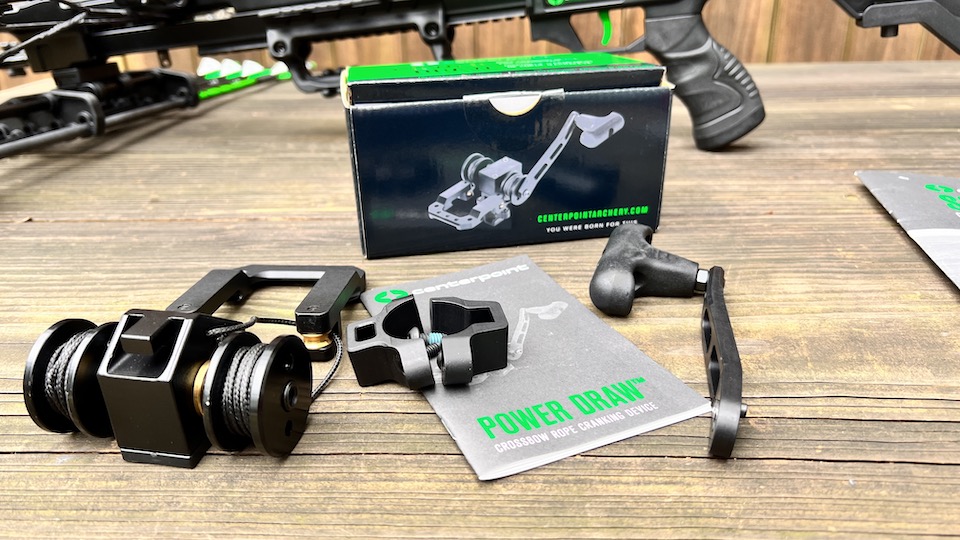 My First Shot
I place my archery bag at 15 yards to ensure the arrow finds the bag while I zero my optic. I've mounted the hand crank, I'm not sure what to expect. I began cranking. Several clicks later, it's set. I placed the CenterPoint Blazer arrow – with the white fletching down – into the arrow track. I continued to push until the nock was against the nocking point. I disengaged the safety, then rested my finger on the neon green trigger, squeeze and ah … that fell on the target and landed better than I had expected it to land. Look at that, zeroed already. Confident I would hit the bag at a farther distance, I moved the target to 25 yards.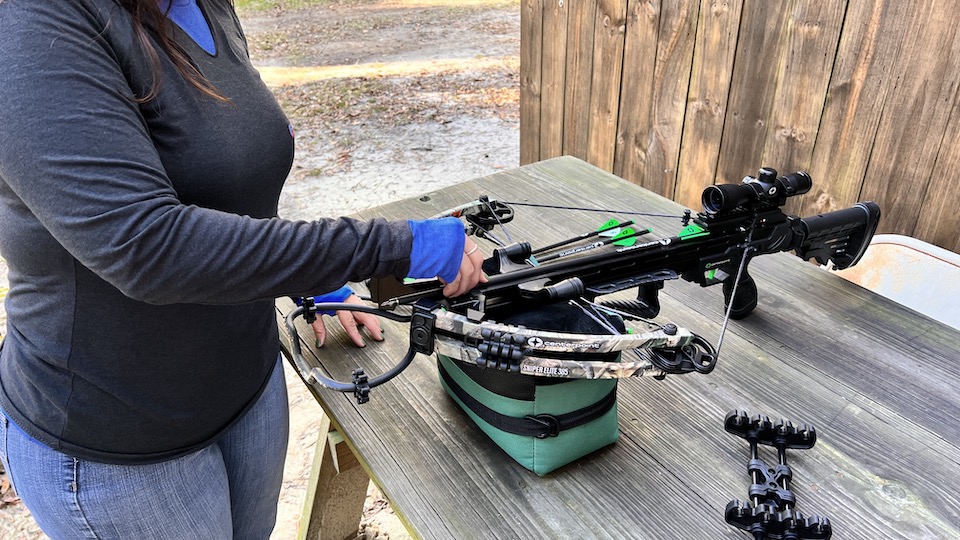 I can't believe how quiet the CenterPoint Sniper Elite 385 is, this is absolutely a backyard friendly way to get some trigger time in. The more I operate the CenterPoint Power Draw Rope Cranking Device, the more I know what to expect and the faster I become, the sooner I get to send another arrow flying down range before it penetrates the bag at my exact aim point again and again.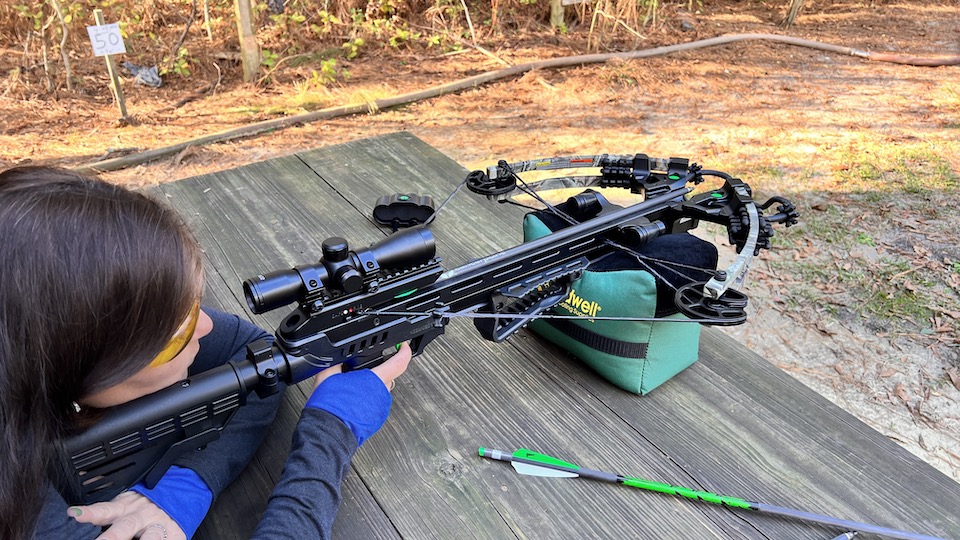 Not A Sport Better Done Alone, One to Share
The CenterPoint Sniper Elite 385 is extremely accurate and a quiet blast to shoot. I'm not keeping this one to myself. Let me introduce you to Nolan Sweet. He's 11- years old, four-foot nine inches, he loves to shoot, he smiles a lot but has never shot a crossbow. Perfect. With adult supervision and coaching Nolan could operate the CenterPoint Sniper Elite 385 like a champ. When it was time to pack up and go in, I posed a question to him, "Have you had enough? Are you ready to go inside?" Nolan with a smile replied, "I want to shoot it one more time." The only answer I've got for that smile is, "Let's do it."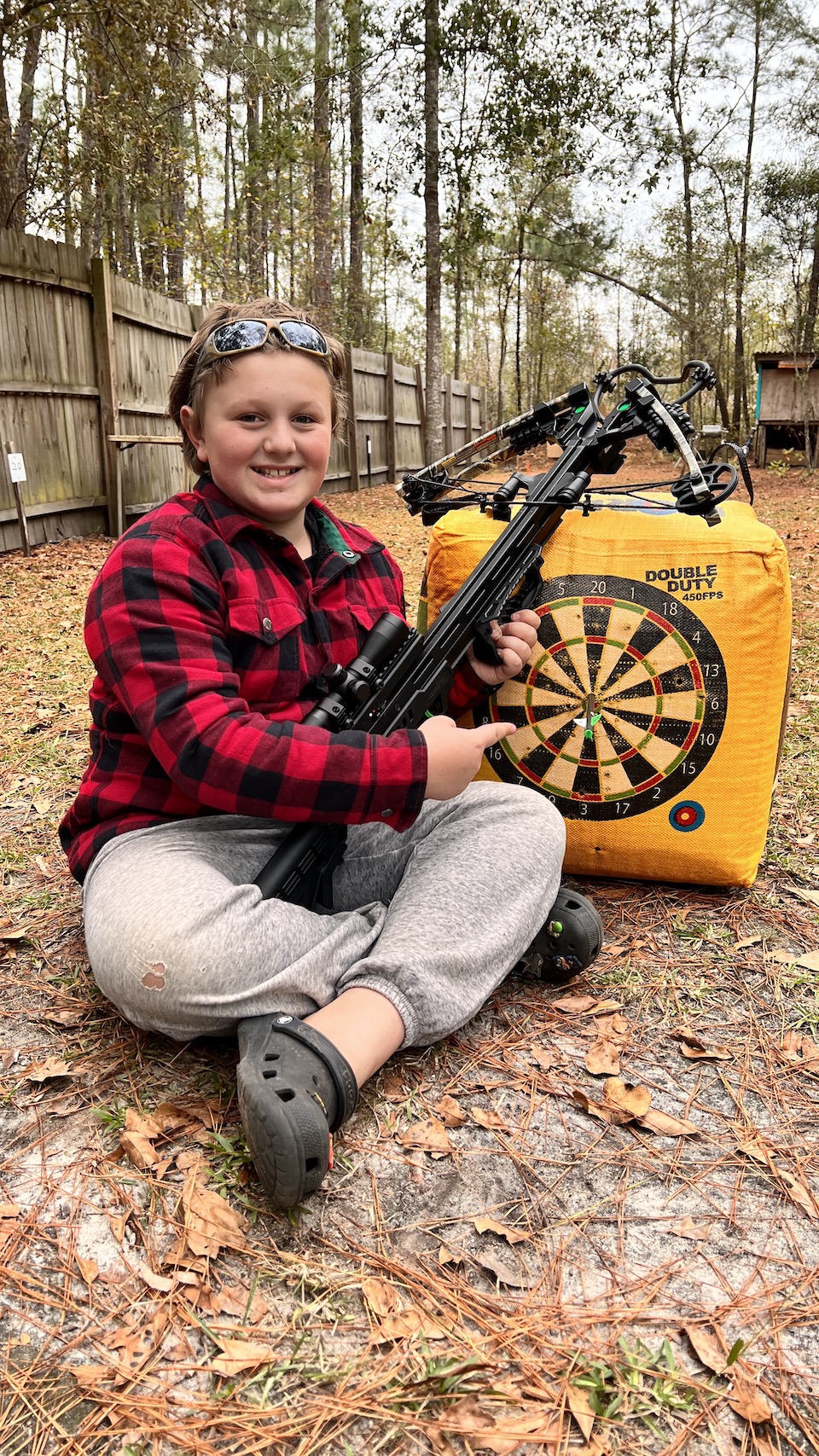 Check out the line of crossbows offered by Pyramyd Air. Christmas is around the corner.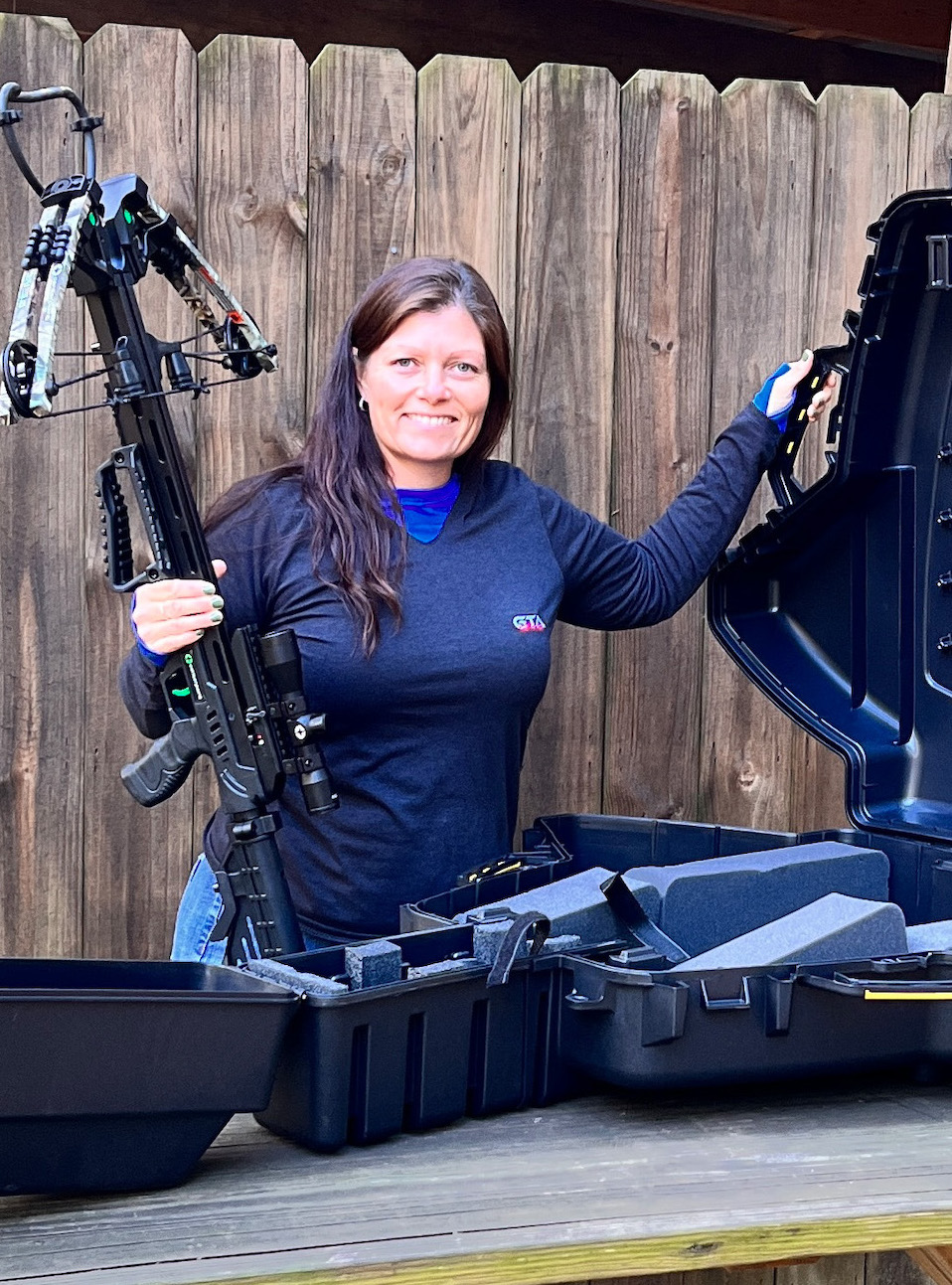 About Angie Perry

I am a wife and a mother who loves the outdoors, I also review and test airguns and shooting products for various manufacturers. As Airgun Angie, I get to spend a fair amount of time outdoors hunting and shooting! I love what I do, I get the opportunity to test many different types of shooting and hunting gear. My current adventures can be found on https://www.youtube.com/channel/UC764VE4T-i2XihiyISmkJKA You can also follow me on Facebook, @leadlife17 "Airgun Angie." View all posts by Angie Perry →