How to Maintain Your Fish House Axles
The lake is finally making ice ice, baby and that means fish house season is nearly here! We've officially winterized our RV, the Peppermint Patty, and got our fish house (still to be named) out of storage. I am counting down the days until our family can go ice fishing while ice camping.
If you're new to ice fishing in a hard sided fish house or an ice fishing RV, check out this article I wrote for Camping World on what to look for in the perfect fishing RV. Camping World has many new and used fish houses to choose from just in time for the ice fishing season.
With each new season comes a to-do list for maintaining an RV. The same goes for fish houses. One major not-so-fun task is keeping the rust under control by maintaining the fish house axles.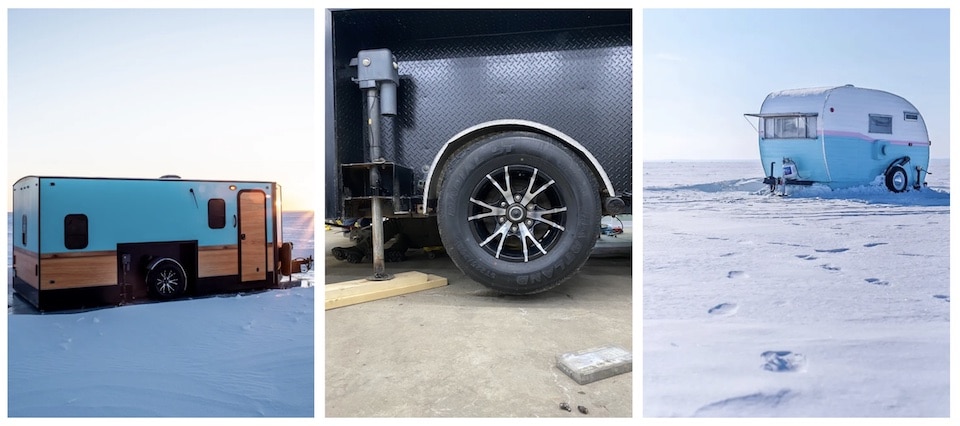 Here in Minnesota, our wintertime roads are famous for salt, pot holes and debris. That's why it wasn't surprising when our fish house axle hubs, also known as pivots, rusted up and locked up last winter (much like our first fish house) making it extremely annoying to use the fish house. Rust gets in between the spindle and hub from the axle which causes the axle to lock up and prevents it from raising and lowering off the ice freely.
This situation is frustrating because it's time consuming, conditions are typically very cold and we are stuck on the frozen lake unless we happen to have the right tools and a ton of patience. It's even more of a challenge when your kiddos are along for the ice fishing trip.
Because of the state of our axles, we turned to the experts and professionals at Camping World of Baxter where we first got our fish house. Their Service Center actually did a couple of huge projects with us including redesigning the inside of our fish house and most recently, they gave our fish house axles new life. The project is cumbersome to explain, but they basically honed and cleaned our axle hubs to restore them back to working state and then used a die grinder to cut in grooves to allow grease to move freely through the inside of the axles.
Continue reading, "How to Maintain Your Fish House Axles" from Girl of 10,000 Lakes here.
About Jenny Anderson

Jenny Anderson, known as 'The Girl of 10,000 Lakes' is a young mom, avid angler and outdoors enthusiast. Hailing from Minnesota, there are few places she'd rather be than canoeing in the Boundary Waters, ice fishing on Mille Lacs or enjoying lake life at the cabin. But her love for all things outdoors wasn't something always instilled in her. It's something she discovered later on in life and that's why she encourages everyone to take more detours, step outside your comfort zone and try something new outdoors. View all posts by Jenny Anderson →