Gamo USA Iguana Control in Florida
Iguanas might seem a very likeable reptilian pet, right? That may still be the case for some in South Florida, for most people, iguanas are a nuisance, and it can seem like they're fighting a losing battle. Floridians face a daily struggle to protect their personal properties against these rapidly increasing lizards. (To find out more about this problem, visit this Florida Fish and Wildlife page.) GAMO USA invited me to see first-hand the advantages their pellet rifles give Harold Rondan, guide, and owner of Iguana Lifestyles LLC.
Sponsored by Pyramyd Air
Upon Arrival
Meeting at, in my opinion, the jacket-necessary baggage claim did not give a proper depiction of the warm Ft. Lauderdale air that I so eagerly welcomed as I exited the airport. Upon arrival to our temporary home base, we chose our rooms and began sifting through the equipment we would rely on for the two-day, urban-guided, iguana-removing adventure. We would use the Gamo Magnum Gen3i (MSRP $279.99) and the Gamo Arrow in .22 caliber (MSRP $219.00) – two very different but great pellet rifles.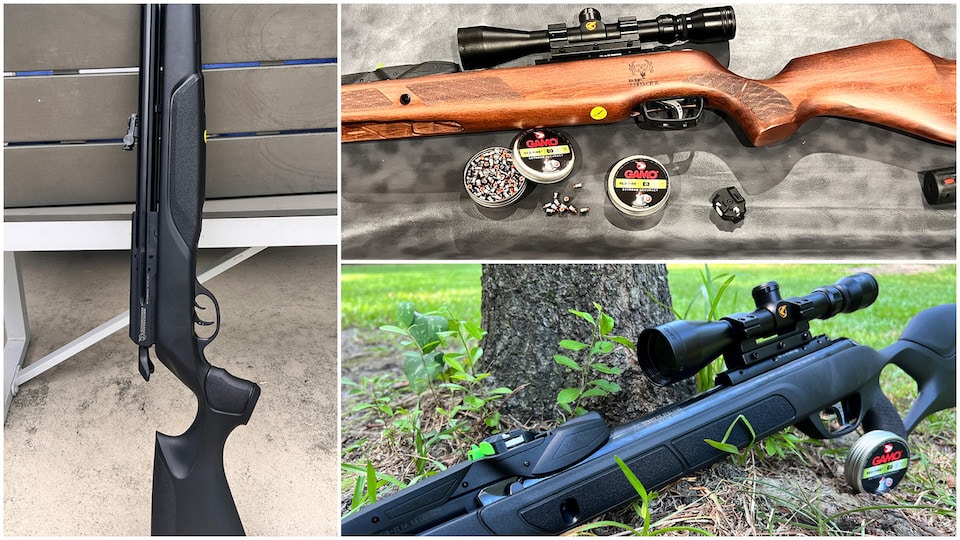 The Gamo Swarm Magnum Gen3i is a powerhouse that sends alloy pellets at velocities of up to 1300 FPS. Its accuracy shines at a much farther distance than the other break-barrel air rifles. It is a multi-shot repeater, and comes with a 10-shot inertia driven magazine which allows a shooter to insert a loaded magazine, break the barrel and shoot, giving opportunity for quick follow-up shots if necessary. Some would confidently tell you they've taken small game at 100 yards with it. I'm not there yet.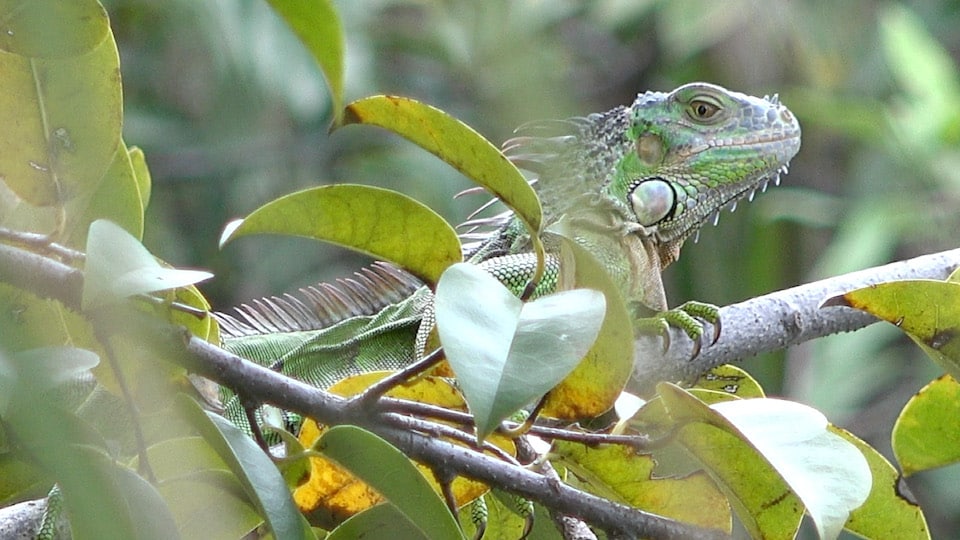 Then, there's the Gamo Arrow PCP in .22, I wouldn't say it's a powerhouse, nor would I say you should take long distance shots with it, but the accuracy is phenomenal! It's great for this type of shooting because since the kill zone on a green iguana is the size of an aspirin, the Arrow can get it done. Then I was pleasantly surprised when Harold showed up with more of the same pellet rifles, as well as my all-time favorite, the Gamo Swarm Bone Collector Gen3i in .22 caliber (MSRP $319.99). I said, "I call dibs!" By the next morning, all the airguns were scoped and ready to sight-in.
Sighting In
Before having the ability to make accurate and ethical shots, we needed to zero our optics, which didn't take long to do. The Gamo Bone Collector came with a standard Gamo 3-9X40 scope that's included with the gun; the Gamo Magnum had a BSA Outlook 3-9X40 (MSRP $79.90) and the Gamo Arrow had an ATN X-Sight 4K Pro (MSRP $699) attached.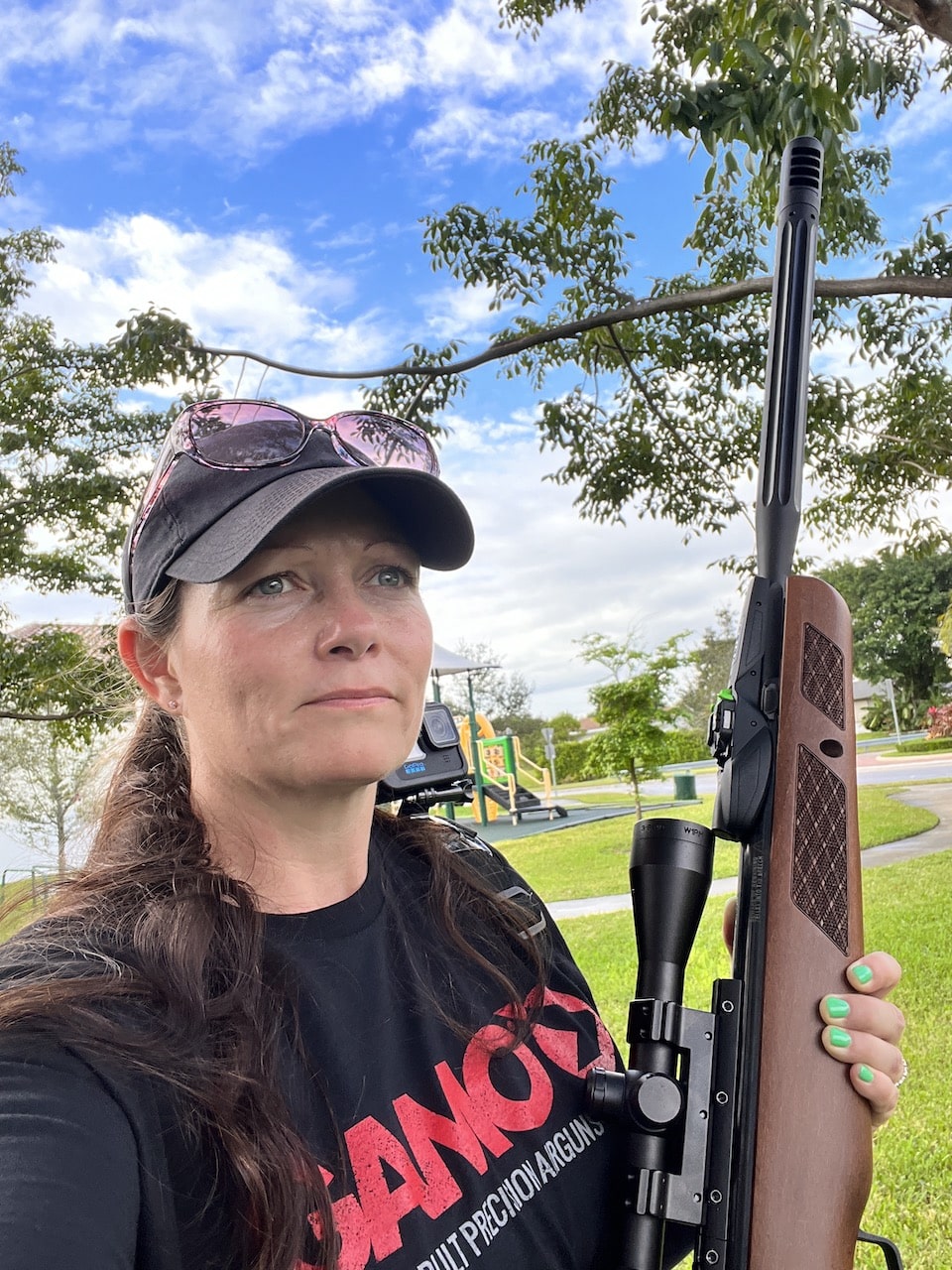 Unusual Circumstances
This type of "hunting" in this setting appeared a bit out of the ordinary. As we unloaded, we could hear the sound of busy roadways and see a close view of houses and apartments.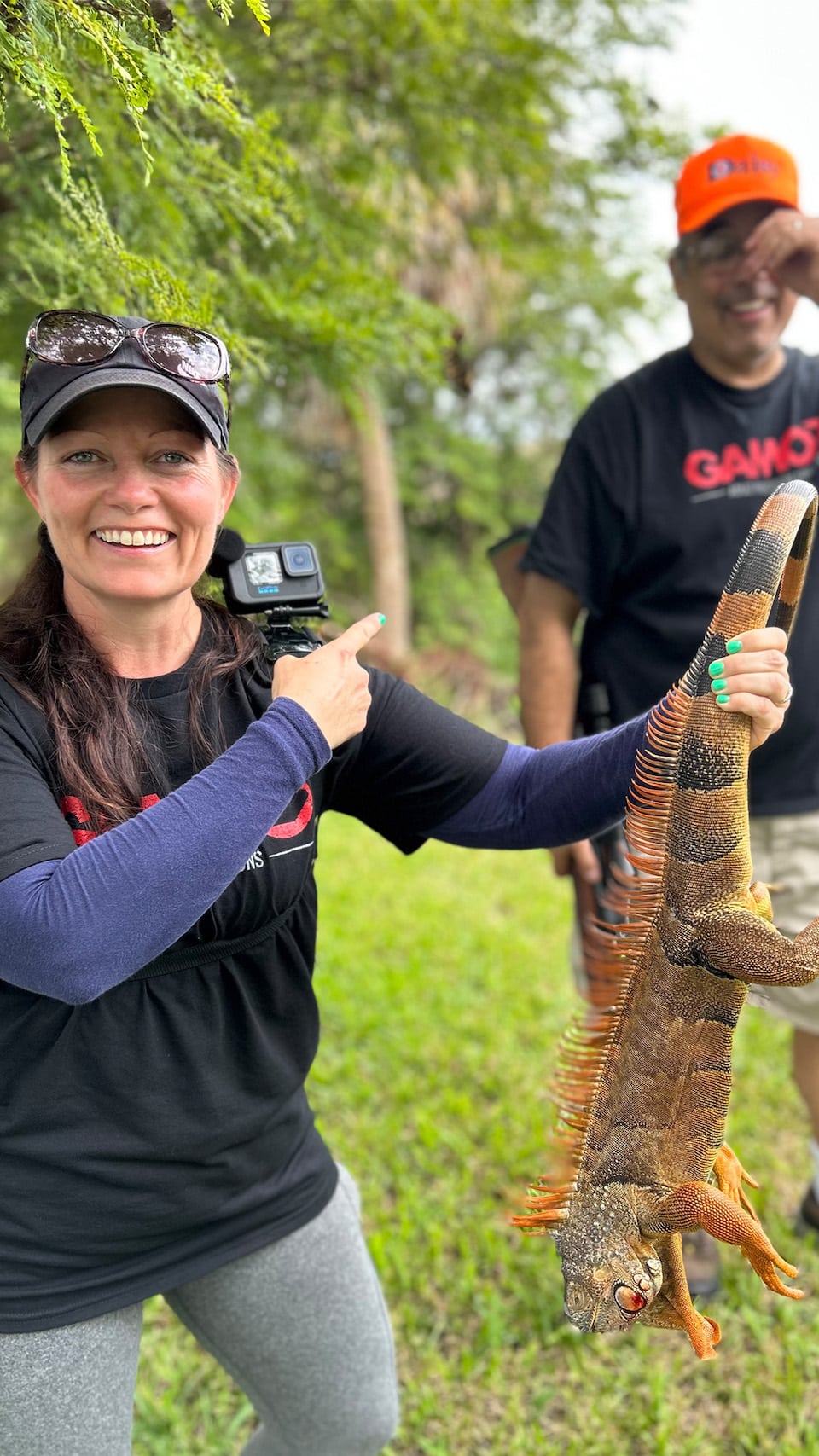 First Shots
After filling our Gamo Swarm 10-shot mags (MSRP $18.99) with the Gamo Red Fire hunting pellets (MSRP $9.99), Harold spotted a green iguana on the bank of the canal. Ken Perrotte, (writer, editor, and photographer) and I posted on each side of a large palm tree for stability to take a shot. With Rick Eutlser (videographer from AirgunWeb) assisting by counting to three. It was a team effort and a hit which sent the iguana into a death quiver. Another first, my first iguana harvest! While Ken and I worked together to take this one out, Tony Stratis (Daisy/GAMO Quality Assurance/Technical Expert) had success with the Gamo Swarm Magnum Gen3i.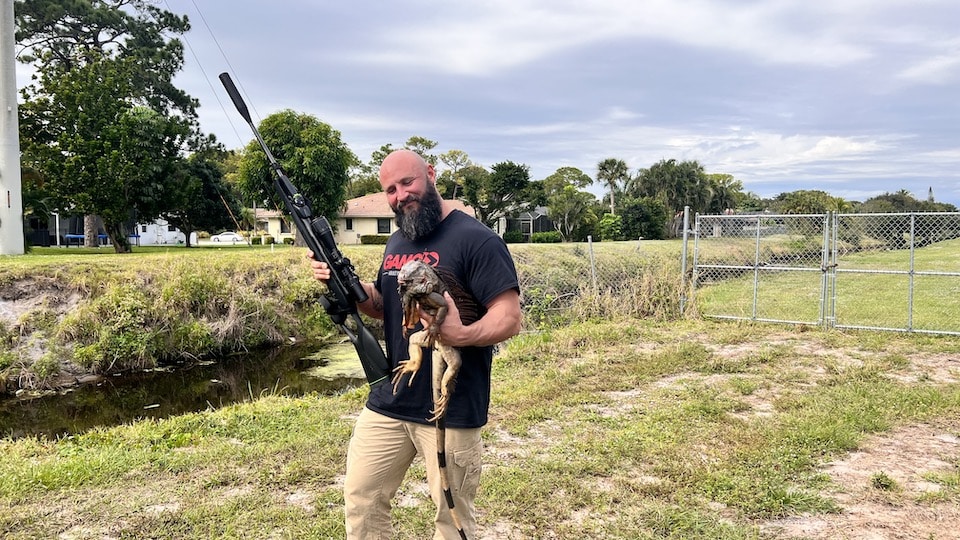 Pipe Dreams
While making our way toward the car to venture to another spot, Lawrence Taylor, (Daisy/GAMO PR and Social Marketing Manager) had another green iguana in his sights with the ATN 4K Binox (MSRP $899). Fortunately, he pressed record to capture my offhand 40-yard shot. With an inerasable smile on my face, I exclaimed, "I got him! I love you, Bone Collector!" Time to collect. Harold and I sauntered along the opposite side of the canal to pick up a few iguanas the team had sacked. As we returned, he noticed a larger green iguana sunning itself at the end of the drainpipe. Tony cocked his Magnum, took aim and with a quiet, "BAM!" he sent it dreaming in the pipe.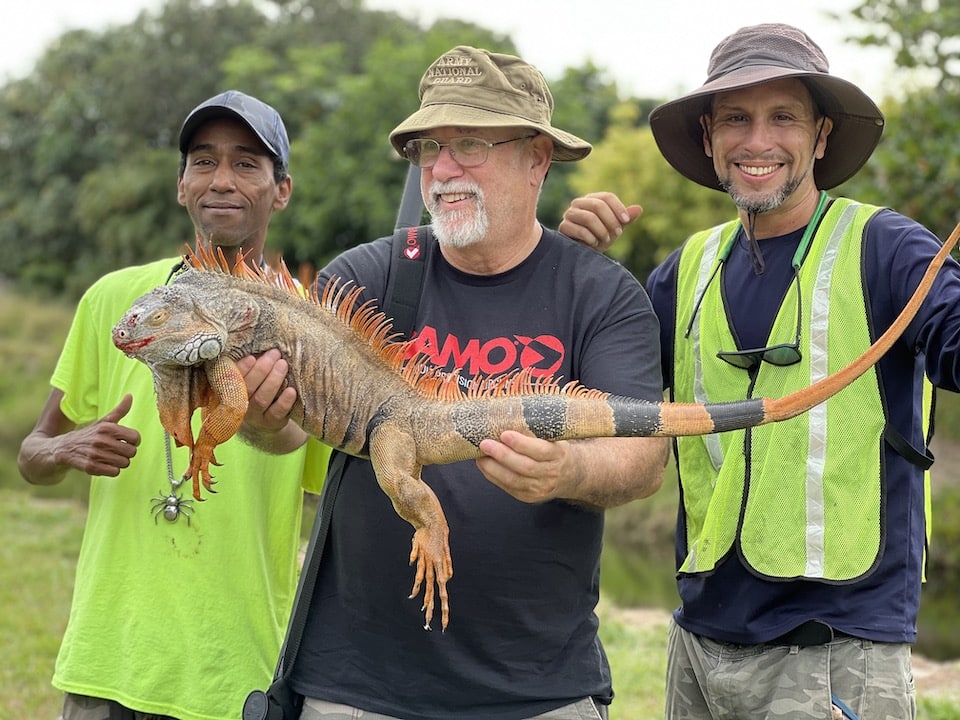 Wait! One More!
As we began to load our equipment into the car, Harold spotted an orange monster in a large tree across the canal. He shouted, "Someone shoot him!" This one was farther away than the others had been, but Tony's Magnum smacked it. Under the impression he was done, Harold jogged to the other side to fetch him. In the meantime there were more, so I ran to the car and retrieved my air rifle, the Bone Collector!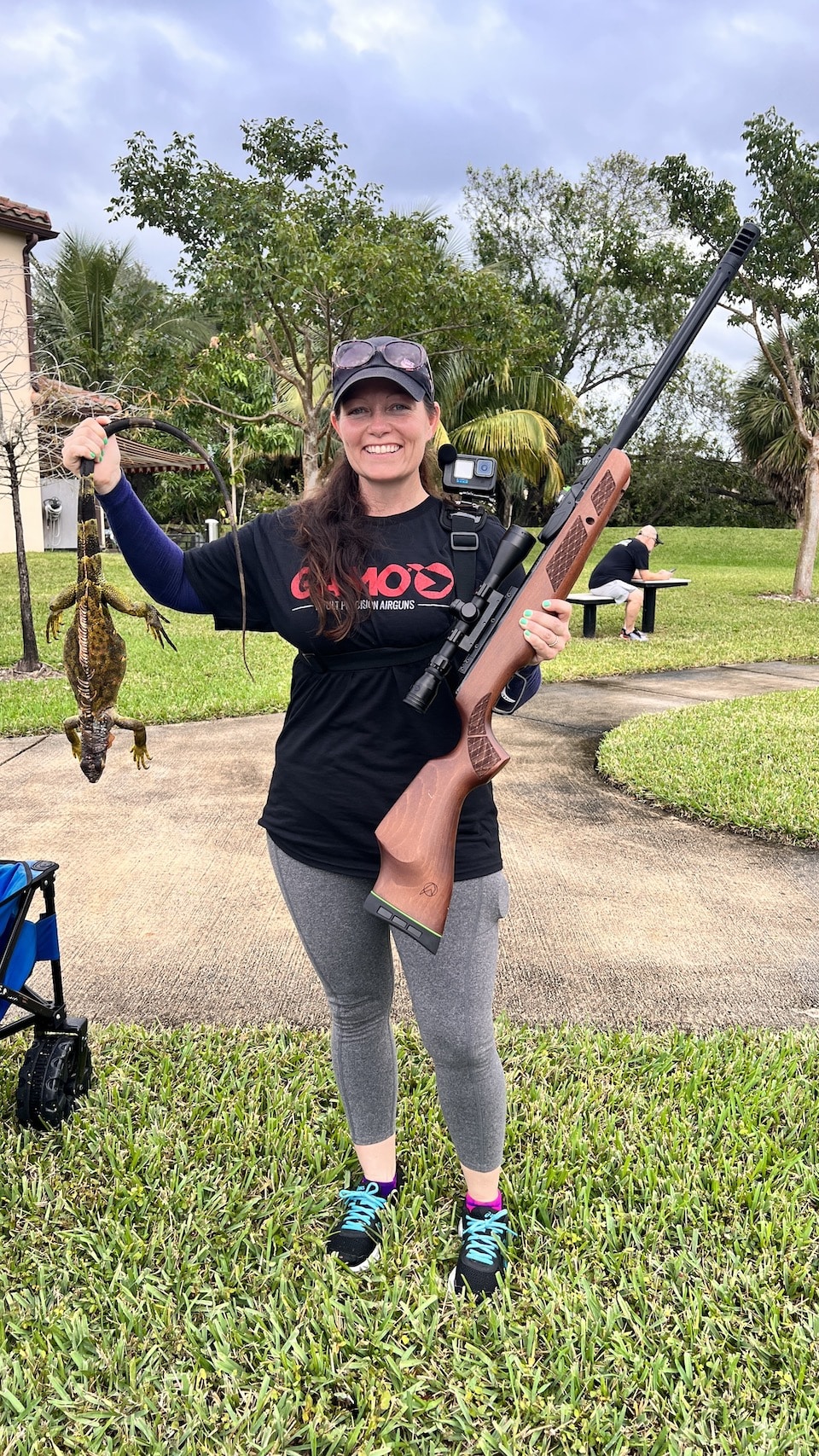 Ain't No Sunshine …
The mission grew difficult when clouds seeped in, which left an iguana's desire to appear lacking, to say the least. We experienced some success, but it was not the norm for Harold. We returned to home base and prepped for the next day. Unfortunately, the next day brought more of the same, so we added rain ponchos to our wardrobe. Note: these are not desirable conditions for taking lizards out. Harold brought us to an apartment complex to scan large trees along the canal where the iguanas tend to hunker down in these conditions. As we crept along the tree line, the very well camouflaged beasts dropped into the canal with a large splash before the team had a chance. We decided to send a spotter in front, and have everyone else hang back and wait for his signal. Success! Success! Success!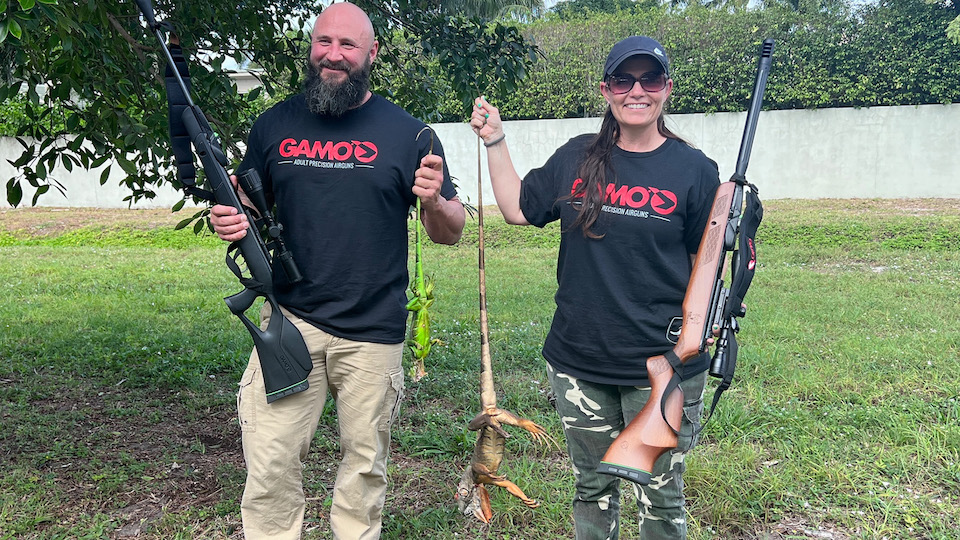 Most Memorable
Our spotter, Rick, led the way, signaled the team to a halt and demanded I give him my Gamo Bone collector. With an excited snatch, a quick shouldering, and the pull of the trigger, he had a beautiful orange monster down. Rick acted fast, into the brush headfirst. Remembering the instruction given by Harold of how to hold them, he had the large, beautiful pest in possession. However, this begs the question: "If you take my gun, I take your Iguana, right?"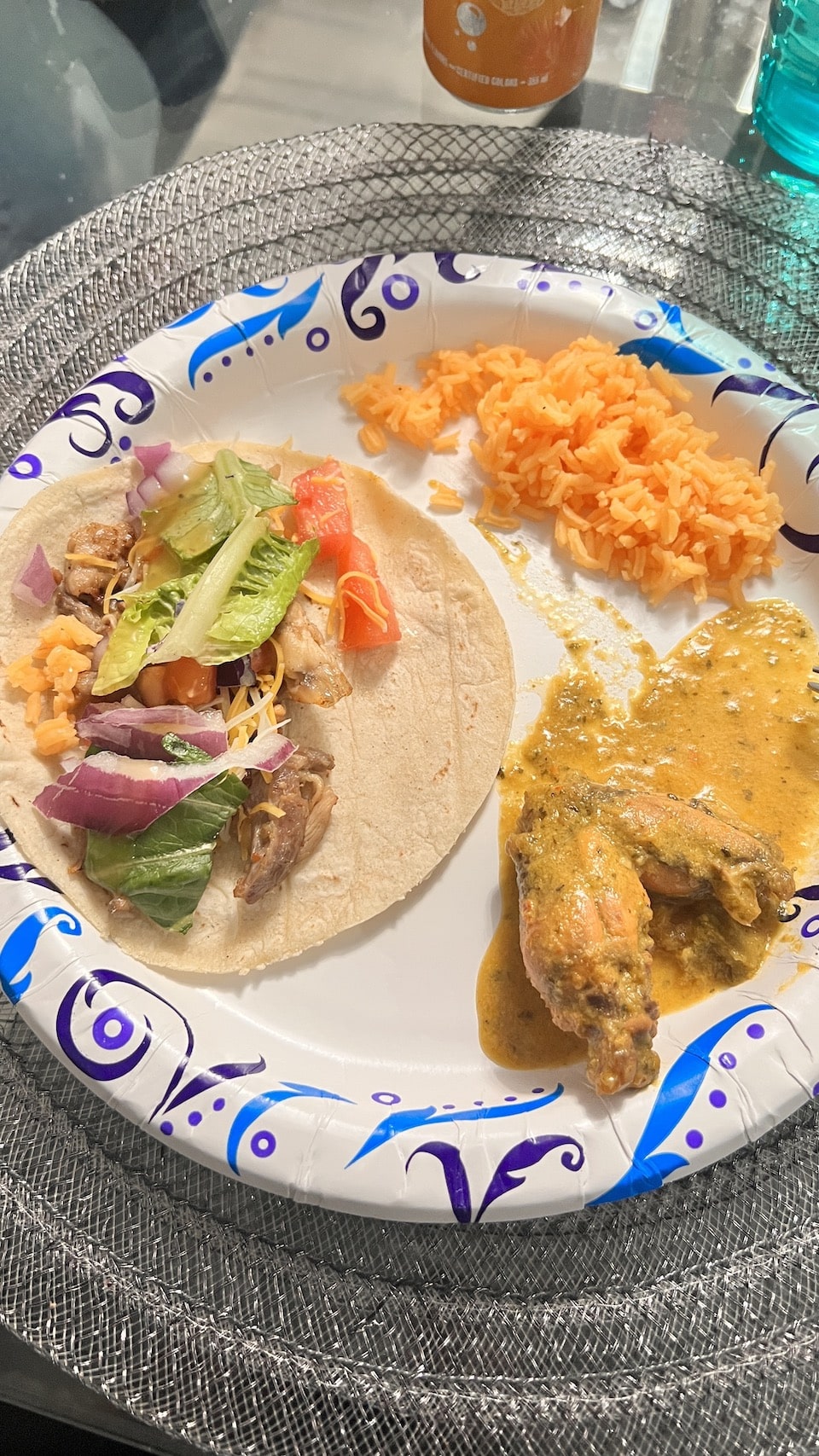 The Last Supper
Not only is Harold the guide and owner of Iguana Lifestyles LLC, but he's also a chef! He prepped the harvested lizards for a feast. As many breaths that I've taken, not one of them was spent dreaming of the day I would eat an iguana, but I am willing to try MOST, anything. Bring it on, Harold. He prepared a curry stew and soft-shell tacos with Spanish rice. My first bite was of a leg from the stew and the taste was nearest chicken, a meat that marries to the flavor of the seasonings well. The tail, on the other hand, was flaky like fish, but without a fishy taste. Short conclusion – much better than I expected. Dessert was not left out, either. Harold prepared us each a glass of his traditional holiday drink, Coquito, which proved to be a sweet and rich finishing touch to this unforgettable quest.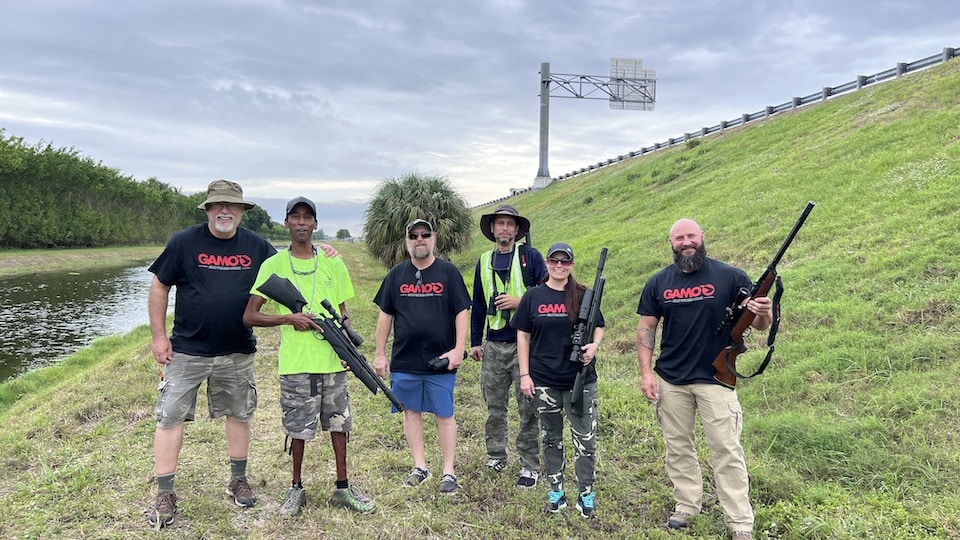 Perfectly Adequate
These Gamo pellet rifles are perfectly adequate to help property owners in South Florida protect their property against this extremely invasive species, the green iguana, safety being first and foremost followed by ethical kills. To find out more about any of the pellet guns in this article, please visit Pyramyd Air.
About Angie Perry

I am a wife and a mother who loves the outdoors, I also review and test airguns and shooting products for various manufacturers. As Airgun Angie, I get to spend a fair amount of time outdoors hunting and shooting! I love what I do, I get the opportunity to test many different types of shooting and hunting gear. My current adventures can be found on https://www.youtube.com/channel/UC764VE4T-i2XihiyISmkJKA You can also follow me on Facebook, @leadlife17 "Airgun Angie." View all posts by Angie Perry →