Vera Koo: Houseboating on Lake Mead
When my youngest daughter and my husband get behind an idea, amazing progress occurs. Our family's houseboat outing in August on Lake Mead became a byproduct of their dedication.
Sponsored by Vera Koo
My husband's passion for our family and for new adventures resulted in our children being raised in the outdoors. We camped and windsurfed, snow-skied and water-skied, to name just a few of our adventures.
When our children were growing up, we'd go out on rented houseboats in the summers. We also owned a ski boat that we used for boat camping on Lake Shasta in California. We would find a cove to anchor in and venture onto land to barbecue. I can remember skiing in the evenings, when the water felt like silk. At night, we slept under the stars, and Carlos hung canopies to protect us from potential rain showers. I remember gazing into clear night skies unpolluted by city lights and admiring the stars. The beauty and serenity of those peaceful nights ranked among my favorite parts of being on the water.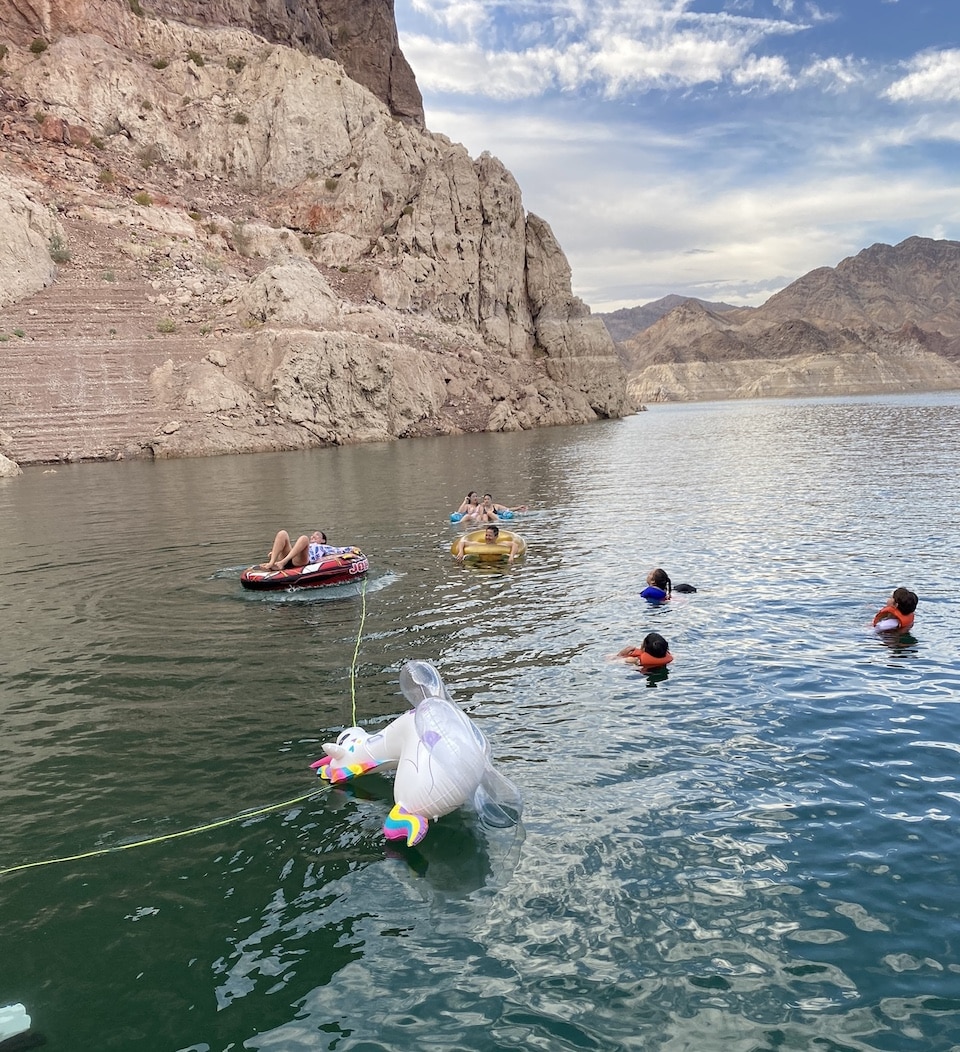 But our kids grew up, and the ski boat we owned, along with a pontoon boat, had been in storage for more than 30 years – until our youngest daughter and Carlos became motivated to get those boats up to date and back on the water.
It all started after a summer 2021 outing on Lake Mead, when the family enjoyed a day on the water on a rented pontoon. I could not attend because I was away on a shoot, but Carlos told me about the fun our children and grandchildren had, enjoying rented jet skis and going tubing.
Afterward, our youngest daughter suggested we go houseboating this year. That's all the motivation Carlos needed to spring into action.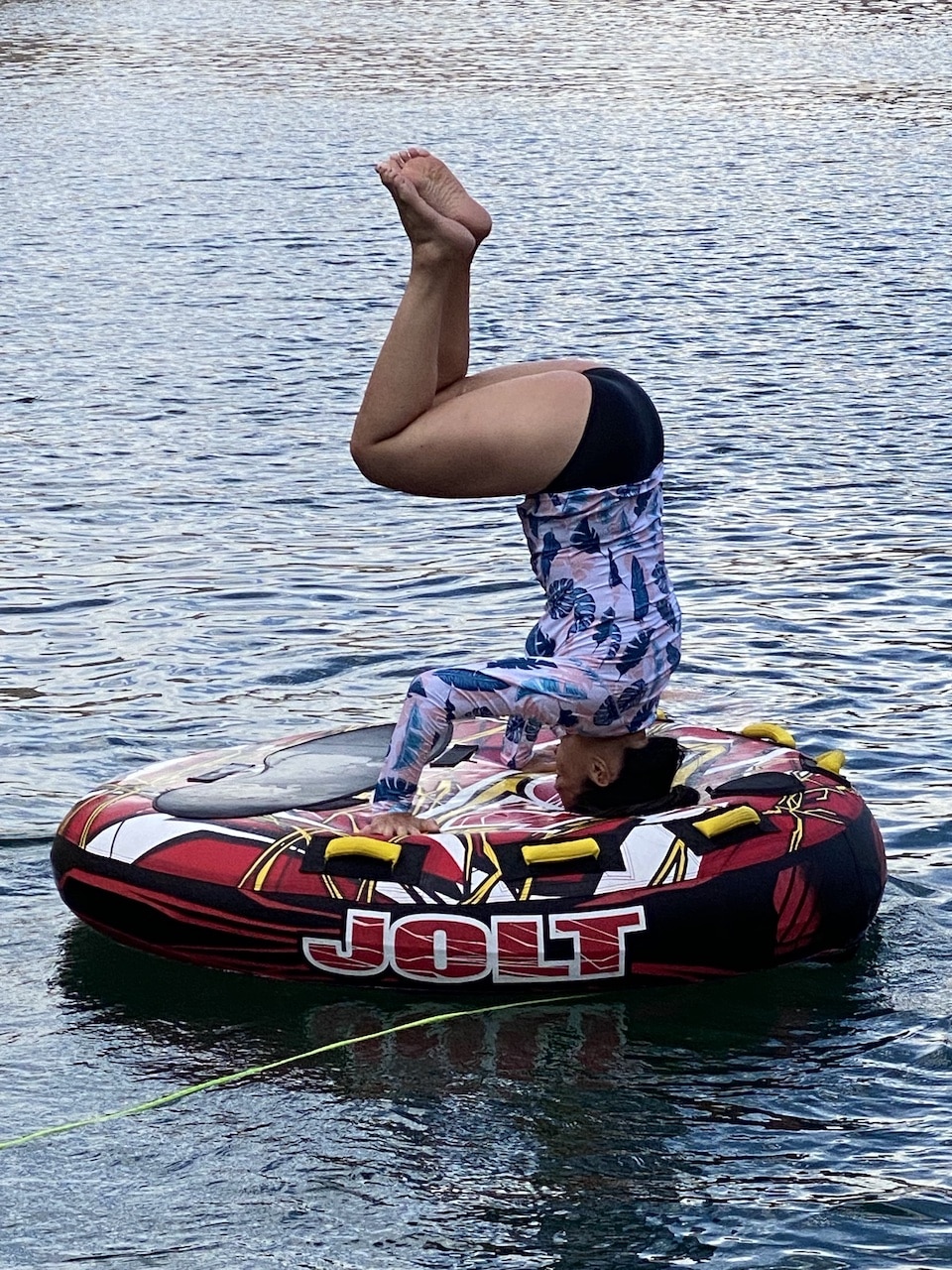 The houseboat would need to be rented, but Carlos wanted to bring our ski boat with us. Of course, after more than three decades in storage, the boat required work, but Carlos does not let any hurdle stand in the way of his desire for adventure – especially when it involves a family outing.
The past year brought significant changes to our family, and more distance separates us.
Until recently, Carlos and I had been fortunate to have all three of our children living nearby. While we never requested that they do this, we certainly felt blessed to have them around, and we all benefited. When we weren't on adventures together, Carlos was inviting everyone over to dine on shish kabobs he prepared.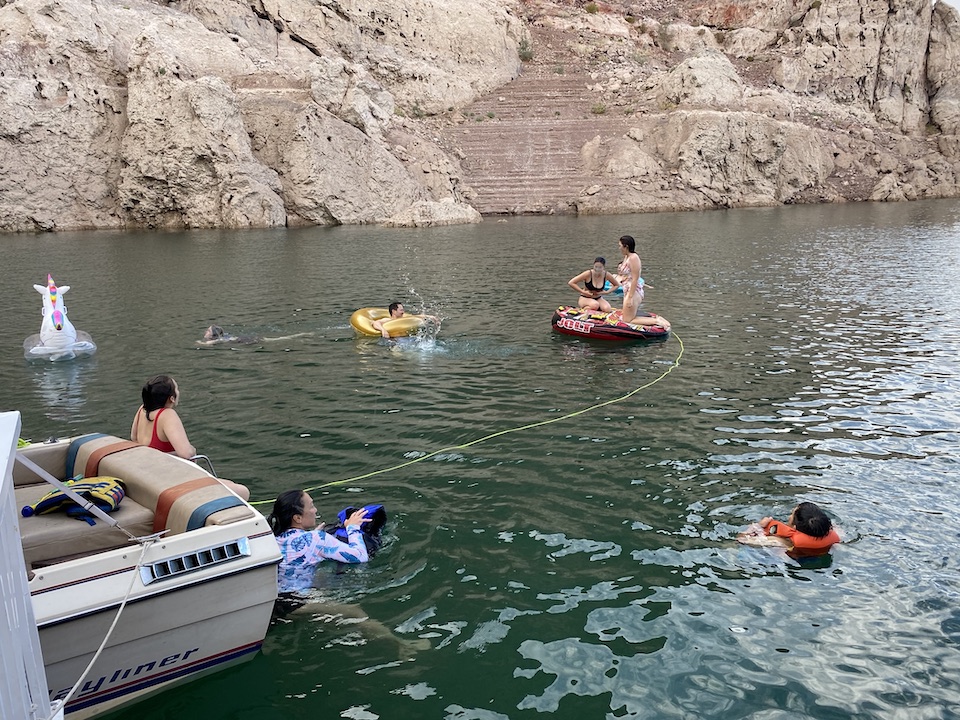 Carlos and I especially relied on our oldest daughter. She was our rock and helped us tackle any problems that may arise. If we needed something fixed in our house, she could do it. While I was in the full swing of my action pistol shooting career, she even oversaw a kitchen remodel in our home while I was away competing. I told her, "I trust you. You make the choices." She managed the whole project while I was away.
Our oldest daughter is an excellent cook. She has a culinary degree in addition to her MBA. Whenever I returned home from a shooting match, I'd visit her at her house, where I would enjoy a delicious meal, and we'd get caught up on what I had missed.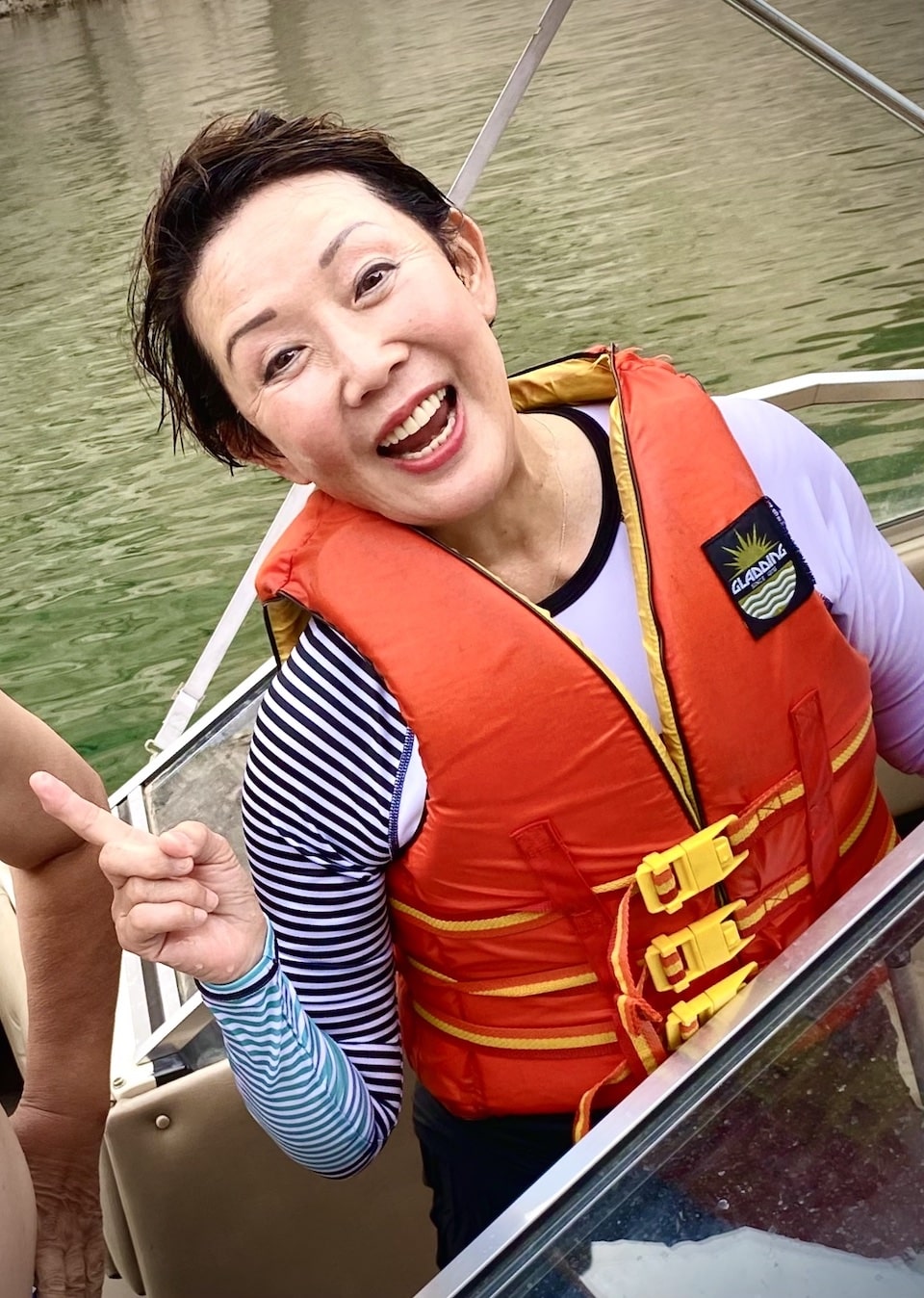 Our whole family enjoyed dining at her house. She custom-built a table to seat 16 people, allowing plenty of room for our family to gather and enjoy fellowship and food at her table.
So, when I learned she was moving out of state, I felt incredibly sad. Additionally, our youngest daughter and her daughter relocated out of state, meaning our son is now our lone child living nearby.
These changes were difficult to digest, but we adapted. Shotgun shooting practice and competitions keep me busy, and together with Carlos and our children, we make a committed effort to gather as a family.
And that brings us back to the ski boat. Carlos made it his mission to get the boat in operation for the August houseboat trip.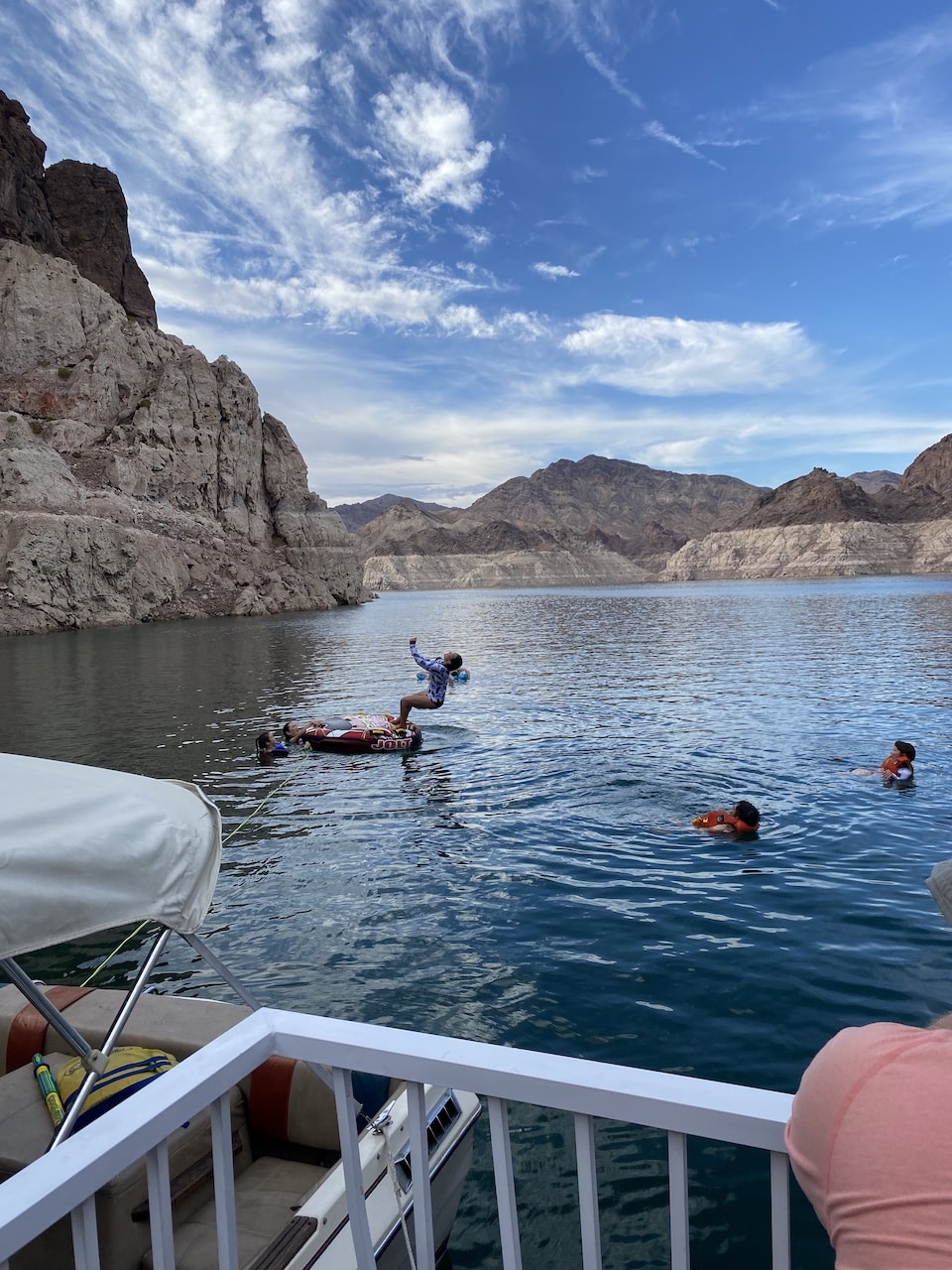 Carlos searched for months to find the right mechanic to work on the boat. He located a mechanic who got the boat in working order, and he also got it refurbished. Then, Carlos towed the boat on our drive to Las Vegas, so we could take it out on Lake Mead.
Carlos aced the instructor's lesson on operating the houseboat, and he skillfully served as our boat captain, whether we were on the houseboat or ski boat.
At 79, Carlos may be slowing down, but his passion for family and adventure has not faded.
His payoff came in the form of joyful family reunion and reconnecting our children and grandchildren. Our daughters' children are so close-knit they're like twins, a byproduct of growing up near each other. I also saw my son's young children grow up in front of my eyes. Our young grandchildren benefited from spending time with their older cousins.
Our daughters were like kids at heart, doing backflips into the water from the houseboat. We spent two nights on the water. The air-conditioned houseboat, comfortably equipped with four queen beds plus air mattresses for additional bedding, served as our home away from home.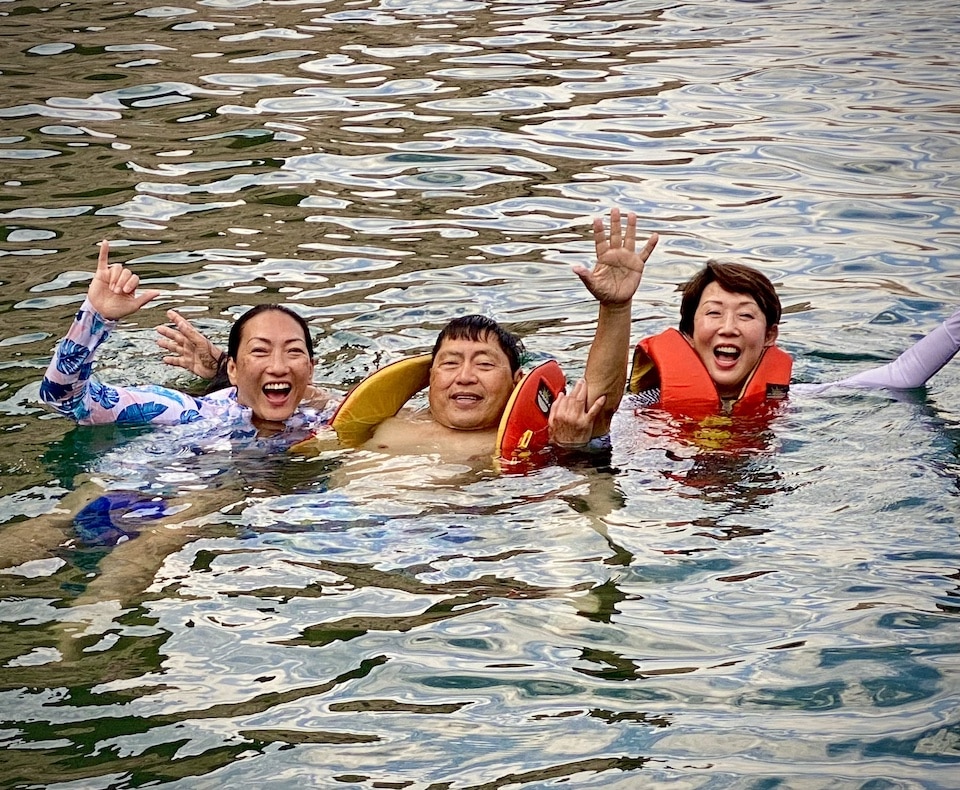 The water was so warm, I even hopped in one afternoon.
Recently, I looked at a photo from the trip and considered how blessed Carlos and I are to gather our whole family and enjoy each other's company. I feel a special reward as I see the love for family and for the outdoors passed down from our children to our grandchildren.
This trip will not be the last of our boating adventures. Our youngest daughter is determined to get the old, dilapidated pontoon up to speed after more than 30 years in storage. She's refurbishing it, redoing the floor and the chairs. Once it regains its form, she's planning for a family picnic on the pontoon.
While I find joy seeing our old boats, which hosted so many memories from our children's youth, brought back to life, the togetherness we feel is even more important.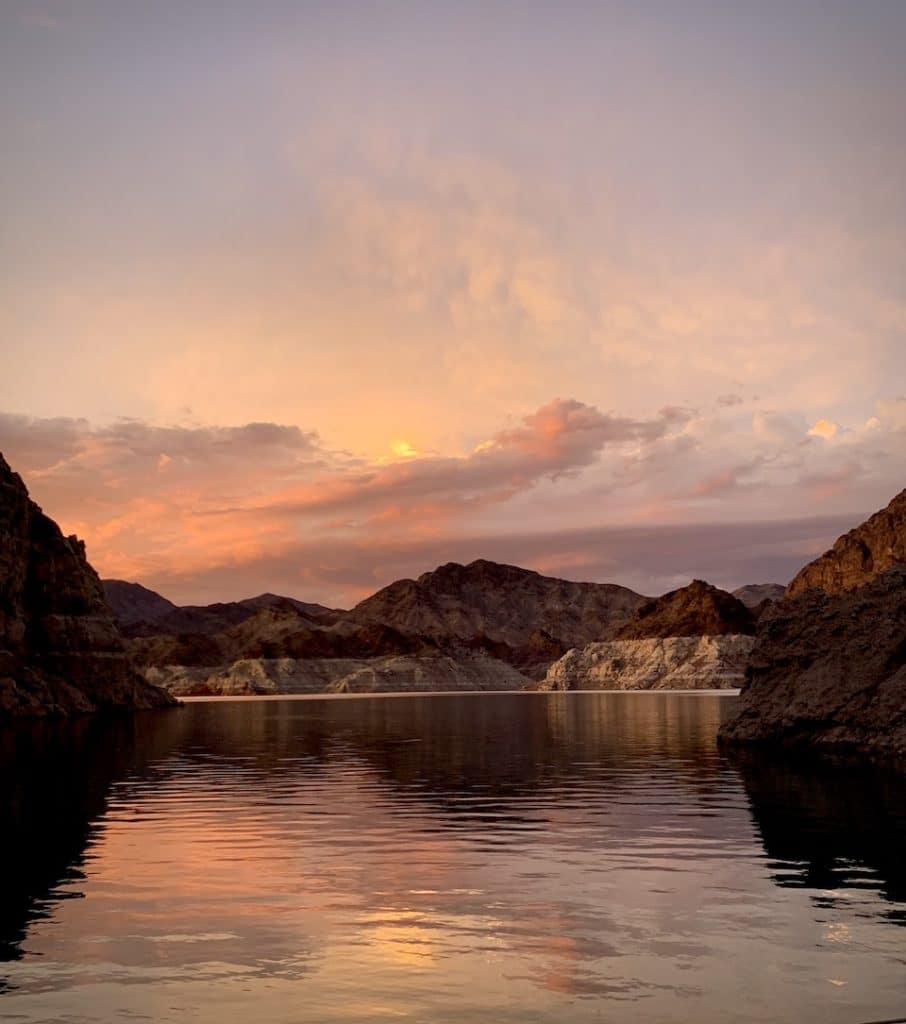 God has truly been generous to us, and the past year showed Carlos and I that although more physical distance separates our family, nothing can keep us apart or interrupt the love we have for each other.
Be sure to visit Vera Koo's lovely blog online, to see book reviews, blog posts and videos.
About Vera Koo

Vera Koo is a first-generation Chinese American woman. She's a wife and mother, author, entrepreneur and retired competition shooter. Along with two published books -- "The Most Unlikely Champion" and "Wisdom and Things: Essays From an Unlikely Champion" -- she writes her column, Vera Koo, at "Women's Outdoor News." View all posts by Vera Koo →