Irish Setter MUDTREK Hunting boots
I recently had the opportunity to try the Irish Setter MUDTREK snake-guard pull-on boots and to my surprise, they are amazing. Snake boots in the South are a must for most of the year. I hunt and work our property in Tennessee and in Georgia. This area is known for venomous snakes and I have experienced more than enough encounters to know better than to walk around in the woods unprotected.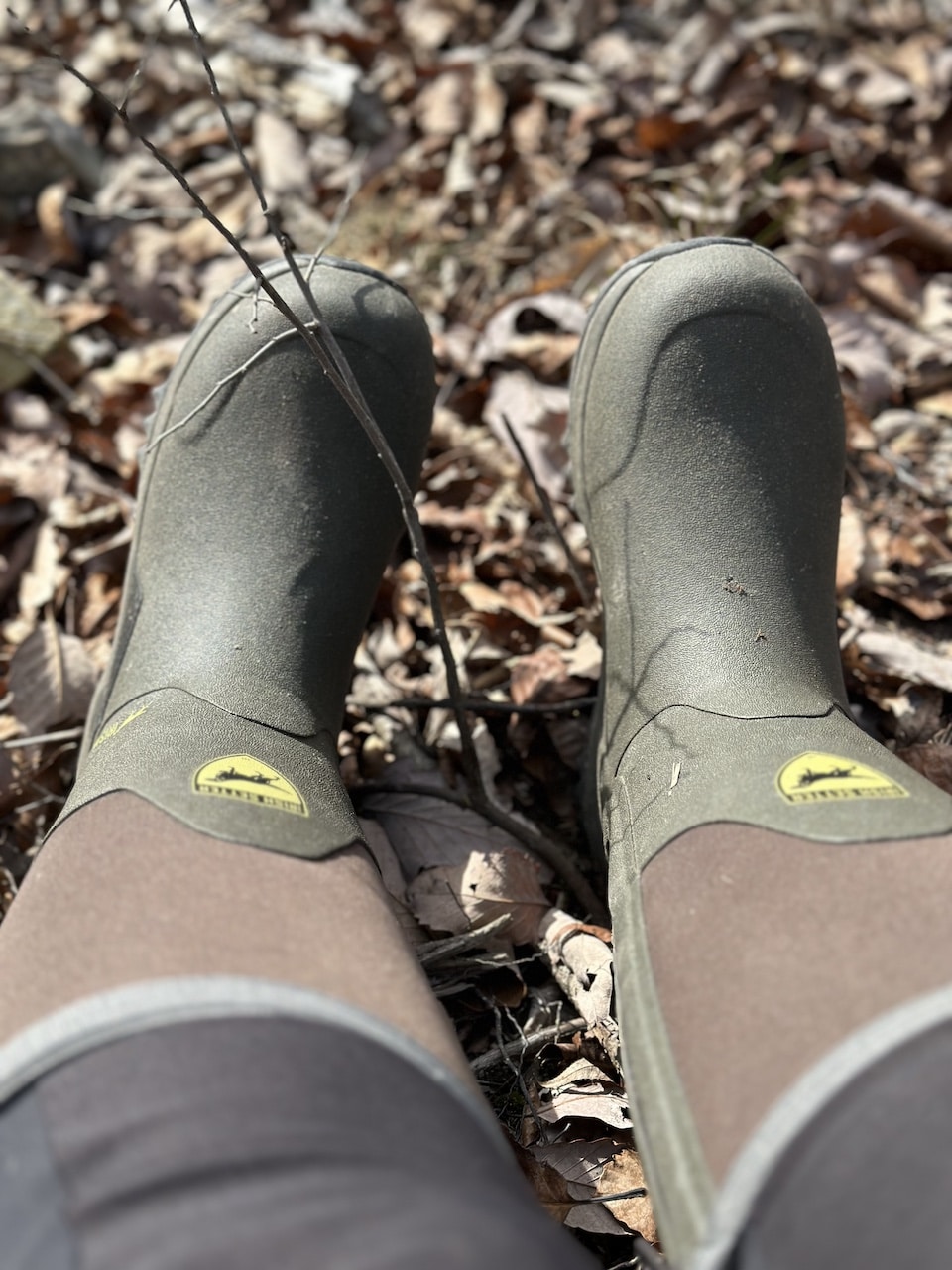 I wear snake boots almost exclusively from late February to November. I put so many steps into a pair that they wear out in a few years' time. I also need them to fit and be comfortable as they are my main footwear for so much of the year.
The first thought that came to mind when I saw the Irish Setter MUDTREK was this one: "I hope they fit my large calves." To my surprise, they fit just fine – probably because they have been designed with a 17-inch opening. That is the first hurdle to having a good pair of rubber boots. I hear it often on social media, women wanting a boot that is tall and actually fits their larger calves. These boots are made to be unisex – which works and is true to size. I normally wear a women's size 9 and I ordered a men's size 8 and they fit perfectly.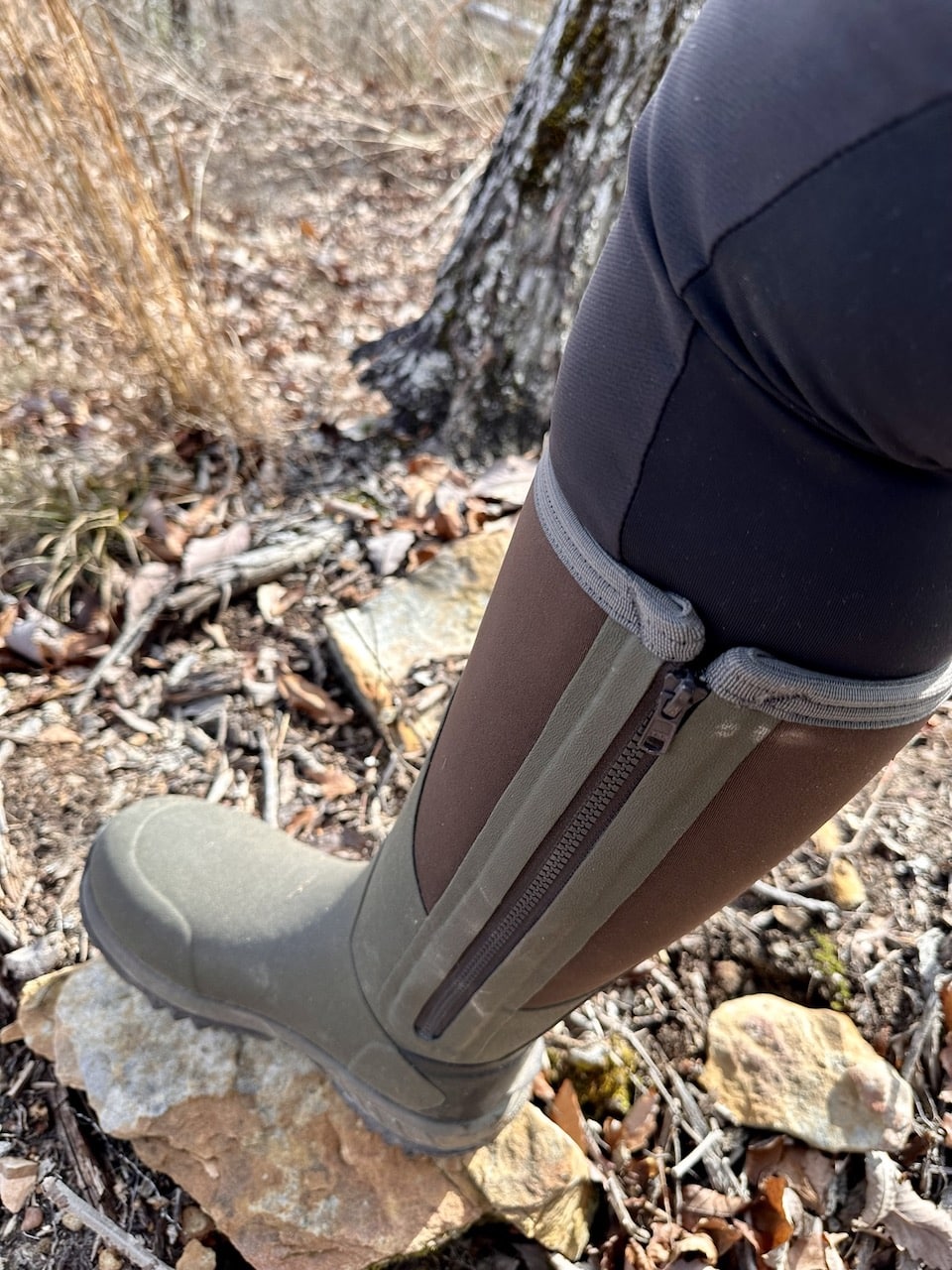 The boots slide on, and come with a long zipper down each inside seam. I am able to zip them all the way to the top — no problem. The zipper is actually very quiet and easy to work. I like the added feature of a gasket barrier on the back side of the zipper for keeping my legs dry while crossing creeks or walking in tall wet grass.
The lug sole was also something of interest to me. A previous pair of rubber style boots had me off-balance and losing my footing in the woods on wet leaves and acorn crops. The sole on the MUDTREK is made to hold in all types of terrain.
To put them to the real test, I wore them for a day of hiking and refilling feeders on our mountain property in Tennessee. It was wet and muddy, cold and raining. I wore them up and down the rocky hills and in the leaf-covered dense forest. I had no issues and quickly found that these would work great for farming, hunting and working the land.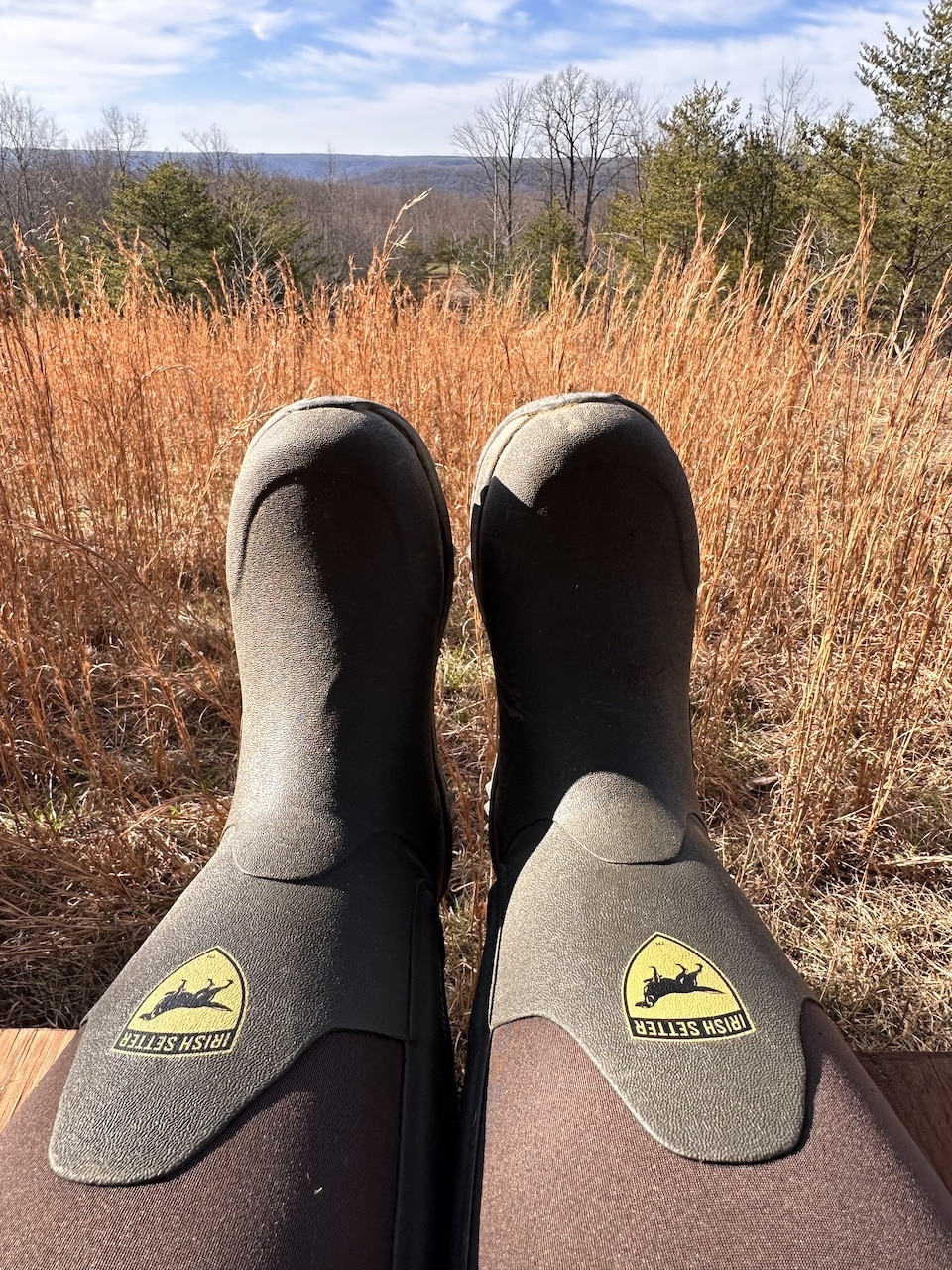 Some of the best features I found in this footwear include the comfort of the foot bed, the sturdiness of the lug soles and the TEMPSENS technology. These boots have a built-in temperature sensing lining for comfort. I wore light weight wool socks during my testing and my feet were warm, but not wet. This made them easy to remove at the end of the day. I hate when a rubber boot is too hot, and my feet sweat. When my socks get wet, it can be hard to remove a tall boot without a boot jack.
I need snake protection, but I also need a waterproof barrier, and these boots are the best of both. Another feature I really like is the SCENTBAN scent control. I am really looking forward to having a pair of rubber boots that don't stink.
I will be wearing these boots this turkey season. I don't plan to have wet feet, stinky feet or sweaty feet. But I do plan to be protected from venomous snakes. I am excited to put more miles on these boots. I assure you that these boots will be sitting at my doorstep waiting for weekends this spring.
Visit Irish Setter MUDTREK boots online.
About Amy Ray

Amy Ray is the owner of The Sisterhood Of The Outdoors, an organization that creates opportunities for women to hunt, shoot and fish. Amy is a pro-staff shooting instructor with Shoot Like A Girl. Amy is certified as an NRA pistol instructor and Refuse to Be A Victim instructor. As a member of the Freedom Hunters advisory board, she helps to expand hunting opportunities for servicewomen, Gold Star wives and daughters of fallen heroes. She also is an avid hunter and shooter and loves mentoring others in the outdoors.   View all posts by Amy Ray →
The Conversation