Antelope Stuffed Poblano Peppers
While you're planning your garden, you'll want to add poblano peppers, especially after reading this recipe for antelope stuffed poblano peppers.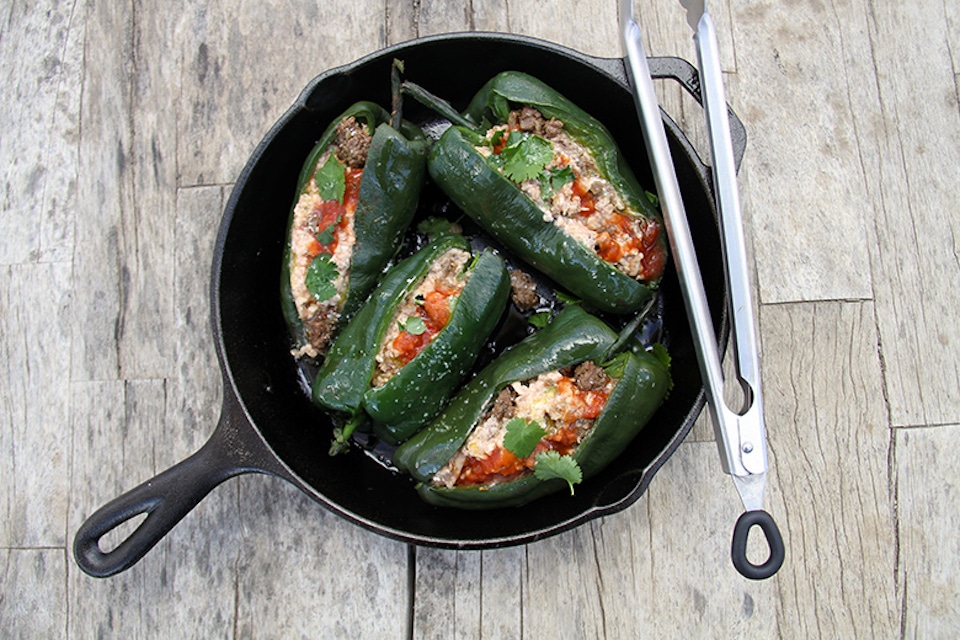 Protein Packed Peppers
The poblano is a mild chili pepper that is perfect for stuffing with a combination of ground wild game meat and cheesy ingredients.
I prefer to boil the peppers prior to stuffing which softens their outer skin, but you can also roast them on the grill or in the oven. I stuffed these peppers with a combo of seasoned ground antelope, onions, cheese, cream cheese, quinoa, fresh cilantro and my favorite jalapeno salsa – El Pato.
If you don't have ground antelope, substitute with ground elk or ground venison. Really any ground game would work.
Wood-fire or bake in the oven at 400 degrees for 30-35 minutes. Want to add more protein to each stuffed pepper. Add a cracked egg to each pepper 20 minutes into cooking. Absolutely amazing and a great recipe to dish up for dinner or breakfast. Serve each stuffed poblano with sliced avocado, sour cream and salsa.
Preheat the Traeger grill or oven to 400 degrees. Set the cast iron skillet on the grill or in the oven to preheat until ready.
Boil the poblano peppers for 10 minutes to soften the outer skin. Remove from the water and let cool. Slice the peppers open, run under cold water and remove the seeds. Set aside.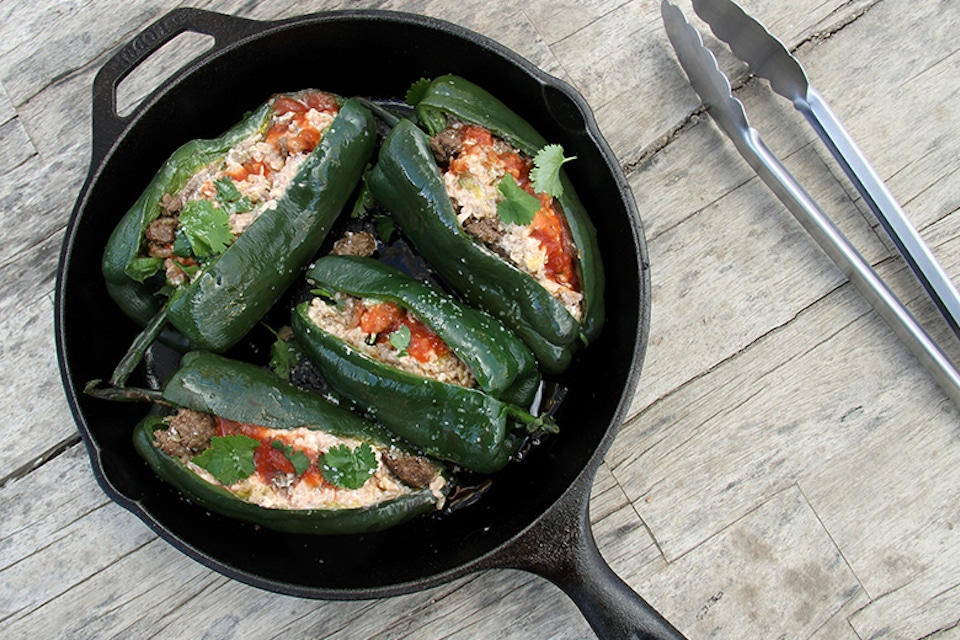 Heat a skillet over medium heat and add the oil and onions cooking for 5 minutes. Add the ground meat to the skillet and cook until browned. Season with cumin. coriander, garlic powder, Mexican oregano and salt. Remove from heat.
In a bowl combine the meat, shredded cheese, cream cheese, cooked quinoa (or rice), cilantro and jalapeno salsa. Divide the filling and stuff each poblano pepper. Top each stuffed pepper with more shredded cheese.
Carefully set the stuffed poblano peppers in the cast iron skillet and bake for 30-35 minutes.
Continue reading the recipe, "Antelope Stuffed Poblano Pepper" from our friends at Wild Game Cuisine here.
About The WON

The Women's Outdoor News, aka The WON, features news, reviews and stories about women who are shooting, hunting, fishing and actively engaging in outdoor adventure. This publication is for women, by women. View all posts by The WON →