Crispy Whole Fish
This featured recipe for Crispy Whole Fish from the "Lodge At Black Pearl Cookbook" serves up a fresh way to make a Cuban-style fish dinner. This is a wonderful way to enjoy the day's catch with your family and friends! ~ The Editors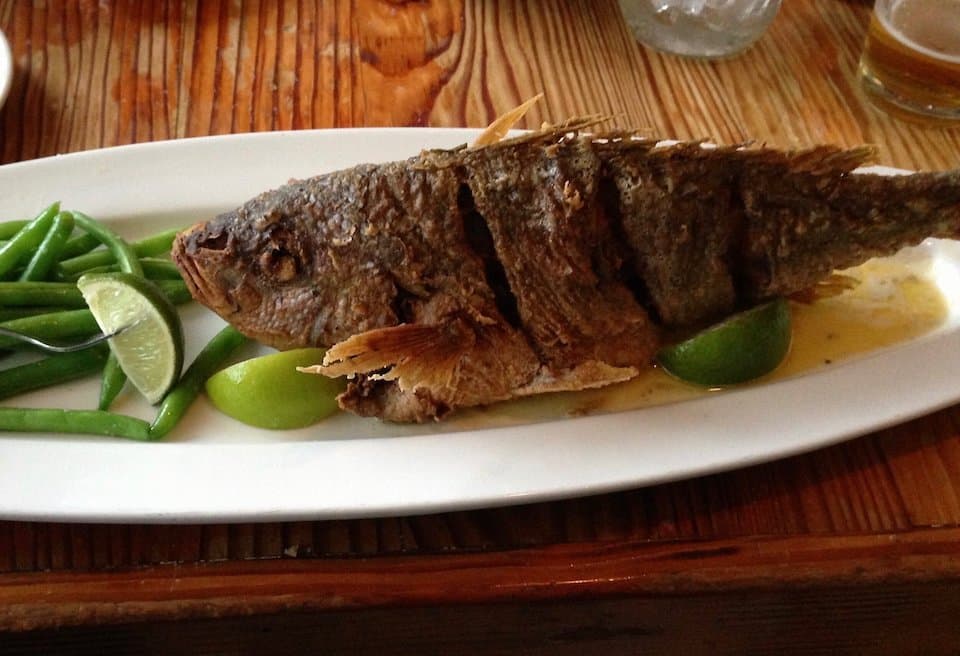 Family fishing trips in the Florida Keys were always worthwhile. We'd return to Bud and Mary's Marina with a cooler full of fish, a bit of sunburn, and memories of a fun day spent together. We love to eat "Cuban style" when we catch a lot of snapper. Crispy whole fish served with black beans, yellow rice and plantains is a favorite dinner for us. I usually make a fresh salsa, throwing in mango, or other fresh fruits/vegetables I have on hand.
Crispy Whole Fish
Ingredients:
whole fish
kosher salt
pepper
granulated garlic
sprigs fresh rosemary
peanut oil for frying
Salsa Fresca
2 cups finely chopped tomatoes
3/4 cup finely chopped sweet onion
1/2 cup finely chopped cilantro
1/2 cup finely diced mango, pineapple, or corn
2 serrano or jalapeño chiles, finely chopped
juice of 1 lime
Kosher salt, to taste
Fish Cooking Tips:
Remove scales, guts, and gills. Trim sharp bone tips from fins with scissors. Score diagonally with a sharp knife on both sides. Mix the salt, garlic and pepper together in equal amounts based on the number of fish you are frying. I use 1/4 tsp of each for each fish, so 4 fish = 1 tsp of each. Sprinkle mixture inside cavity, over skin, and in scored flesh. Place rosemary sprigs inside cavity and pull through mouth so it's secure.
Heat oil to 350 degrees F and slip fish (one at a time, if necessary, to prevent overcrowding) into hot oil. Fry 4 minutes; turn over and fry for a few minutes until cooked through and golden brown.
Continue reading the recipe for Crispy Whole Fish from the Lodge at Black Pearl Cookbook here.
About The WON

The Women's Outdoor News, aka The WON, features news, reviews and stories about women who are shooting, hunting, fishing and actively engaging in outdoor adventure. This publication is for women, by women. View all posts by The WON →