Stag Arms: Project SPCTRM Rifles
The WON is excited to announce our new partnership with Stag Arms. We met with the Stag team during the 2023 Shooting, Hunting Outdoor Trade (SHOT) Show in Las Vegas and already have plans for some spectacular content coming your way. We can't wait to share. But first, we have to show you an exciting new line we learned about at SHOT, the Stag Project SPCTRM (Special Tactical Rifle Makeup) rifles.
Sponsored by Stag Arms
The Stag 15 Project SPCTRM (Special Tactical Rifle Makeup) rifles or Spectrum Series are limited-edition guns. Currently, they are available in (flat dark earth) FDE and (olive drab) OD Green and (gray) GRY versions. What's really cool about these rifles is all the different shades; it's not one solid color. Instead, they're composed of hand-selected and anodized key components put together to create a cohesive tone – a unique look in an industry of solid color rifles.
Stag 15 Project SPCTRM features included the following:
B5 Systems Bravo Stock and Type 22 P-Grip
16-inch Ballistic Advantage lightweight Hanson profile .223 WYLDE barrel with a 1:7-inch rate of twist
1/2×28 thread pattern
ATC AR Gold (ODE and FDE) and RISE Armament (GRY) trigger
Lancer Mag in matching color 30+1
Rearden Mfg SPB Heat Treat (FDE) SPB Rainbow PVD (ODG) DPB Nitride (GRY)
Aero Precision BREACH charging handle
Mil-Spec 7075-T6 aluminum forged receiver
Mid-length gas system
15-inch Slimline M-LOK handguard
Configurable Ambidextrous safety lever – 60 and 90 degree throw
6.3-pound weight
Project SPCTRM Rifles are the brainchild of the General Manager of Stag Arms, Ryan Donahue, who claims to be inspired by his favorite gun on the planet, the FN Scar. Although the FN Scar historically doesn't match in FDE colors, Stag's are intentional. The upper and lower are cerakoted in RAL 8000 – the color HK used back in the day. Everyone with an AR owns one in black or FDE. Stag searched for a way to shake things up and make something entirely new and exciting in the industry.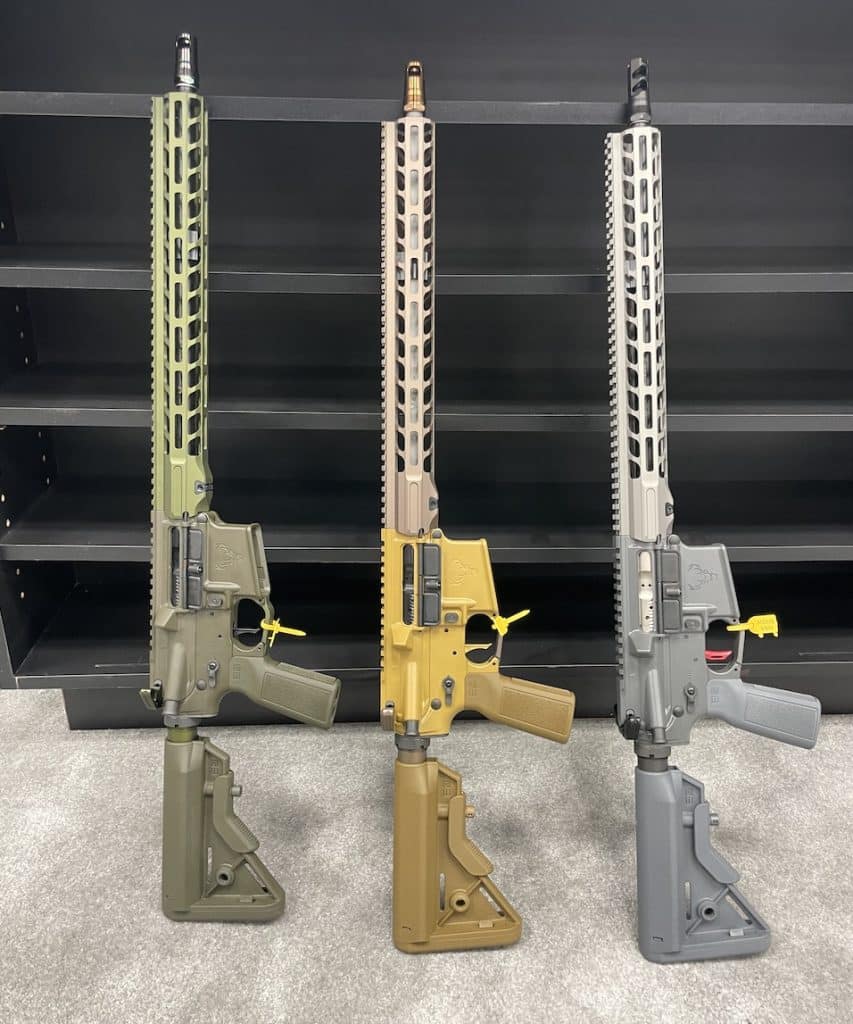 The Stag Team ordered parts and furniture in a variety of colors from a variety of vendors to see how things might look paired together. When everything showed up, they went out into the sun mid-winter to see what looked good together and what didn't. The GM, the sales team, the products manager, the armory and the compliance guys all spent time reviewing the colors of the parts and furniture. They came up with two solid offerings for the most popular colorways and an idea for a third round when they can settle on colors. FDE, ODG, and GRY are the current offerings they have put together for this unique project. (Hopefully, they will be able to continue with more.)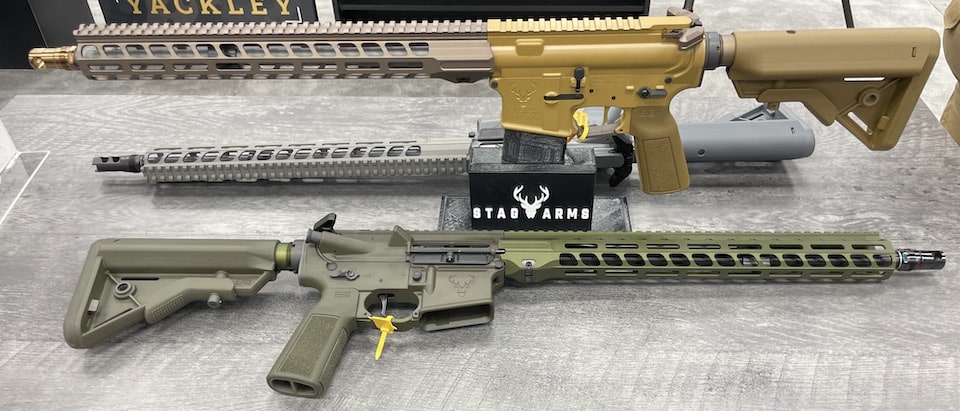 Stag Arms collaborated with some incredible accessory partners that have made this project sing. They are grateful for Rearden's muzzle brakes, Lancer mags, B5 for the furniture, along with ATC AR Gold and RISE Armament for triggers that stand out and are also top of the line. The team is constantly working to present outstanding products with significant upgrades that won't break their customers' banks.
The Stag 15 Project SPCTRM rifles are expected on store shelves within the next 60 days. MSRP: $1899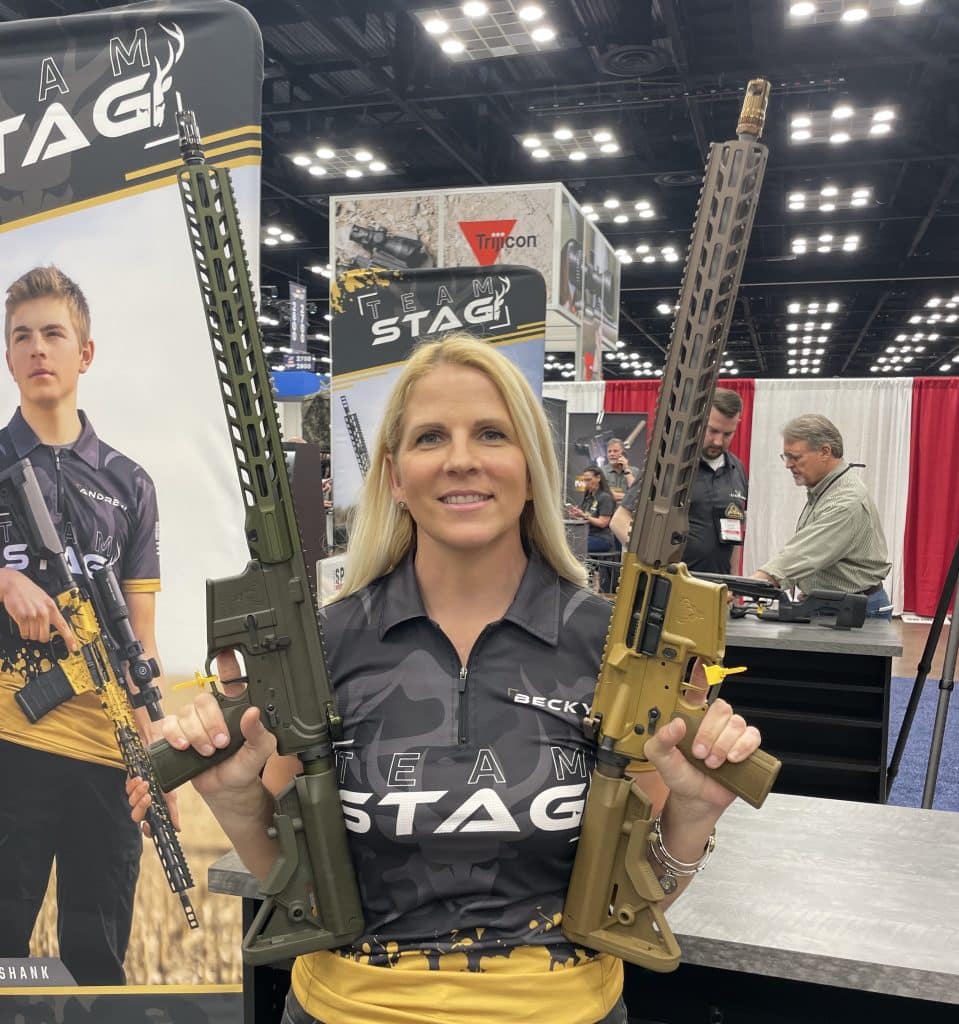 We are beyond excited to have the opportunity to partner with that and can't wait to show you what's in store.
Read more about Stag Arms here.
About Michelle Cerino

Michelle Cerino, aka Princess Gunslinger, first entered the firearms industry in 2011 as co-owner, president and trainer at a national training company. She immediately began competing in both 3-Gun and NRA Action Pistol, becoming a sponsored shooter. Michelle is currently a columnist and Managing Editor of Women's Outdoor News, as well as owner of Pervenio LLC. She also manages social media for Vera Koo and GTM Original. Michelle encourages others to step out of the comforts of home and explore. View all posts by Michelle Cerino →