Gal Gab: 6 Questions for Lady Angler Lentz
Rebecca Baker (née Lentz), better known by her social media handle "Lady Angler Lentz," is a force to be reckoned with in the outdoor world. Former foster child, victim of abuse and runaway at the age of 16 – Rebecca didn't have an easy upbringing. She found safety, security and purpose in the Texas Army National Guard and served six years in the active guard reserves as an all-wheel diesel mechanic. Diagnosed twice with cervical cancer at a young age, Rebecca still fulfilled her commitment to the military before being honorably discharged while still in her twenties.

"My past is a place of reference, not residence."

~ Roy T. Bennett
It was by happenstance that she discovered her love for fly fishing and started down the path to becoming the accomplished angler that she is today. Rebecca was practicing yoga on a creek bank while her boyfriend (now husband) fished. She watched with fascination as a man fly fished down the creek. He noticed her observation and offered for her to try her hand at the sport. From that moment, she was hooked (pardon the pun).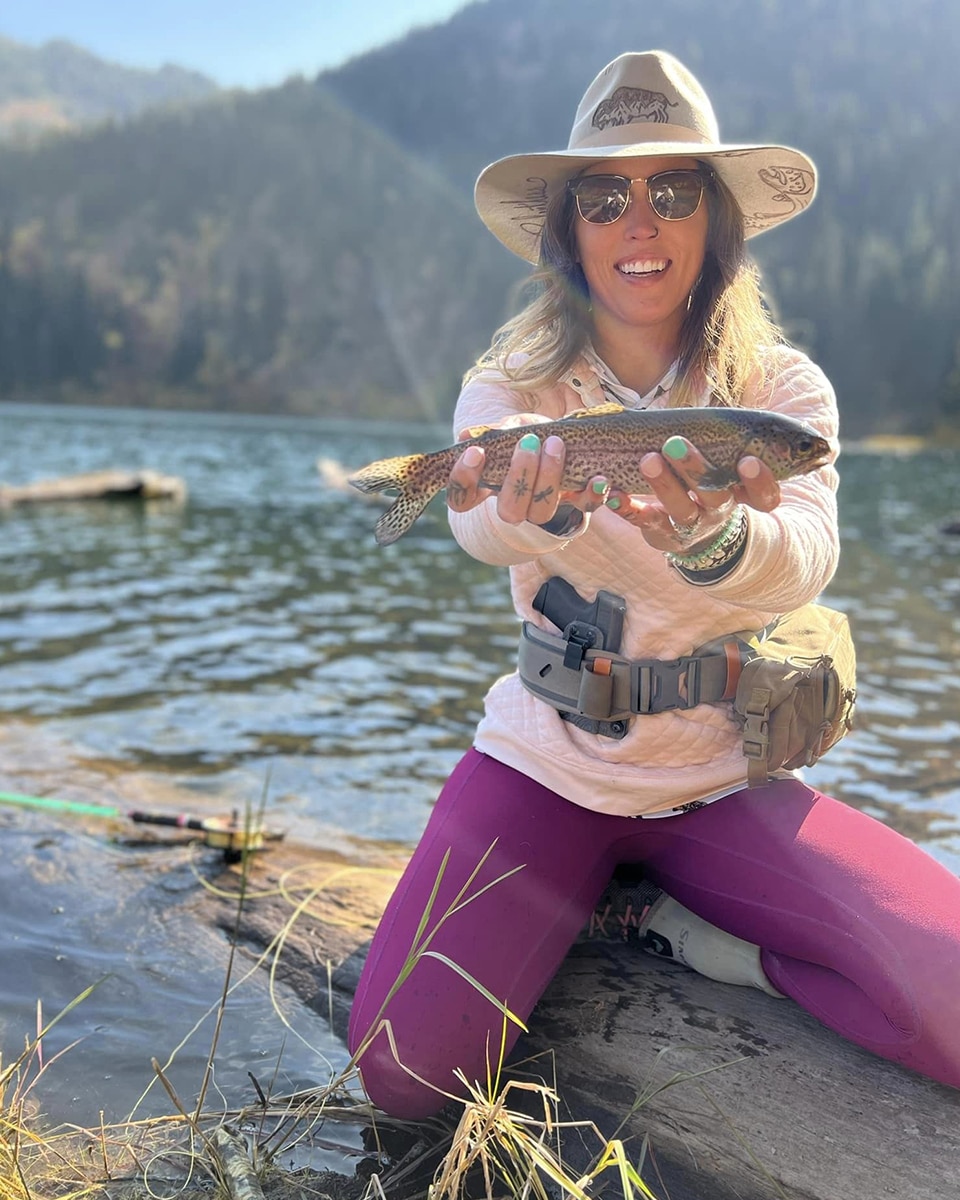 Lady Angler Lentz is an avid outdoorsman who is also involved in the Mayfly Project, a program that teaches foster children how to fly fish (read more about this wonderful program here). She lives in Arkansas with her husband, and uses her various social media platforms to promote her state's outdoor offerings. Arkansas State Governor Sarah Huckabee Sanders recently appointed Rebecca to the Arkansas State Parks, Recreation, and Travel Commission. This appointment surely is an acknowledgement of the positive attention Rebecca is bringing to her state of residence.
Rebecca is also a staunch supporter of a woman's right to defend herself. Her social media content often showcases her every-day-carry (or "EDC") firearm while she's involved in outdoor activities. Keep reading to learn more about Rebecca Baker. If you follow her on social media you'll understand – her life story is an open book.
Getting to Know Lady Angler Lentz
1. Describe a typical day in your work life:
I wake up at 3:30 am, give my sweet dog Zeke his insulin shot then pack up my gear for the day. Next I hit the gym as a personal trainer, then train myself. Afterwards I head home to walk my three dogs and cultivate content for social media. That means I am either fishing, practicing shooting my bow or creating lifestyle content. I'm very fortunate to have a patient and awesome teacher in my husband; he helps me learn outdoor skills (like fly fishing or shooting a bow).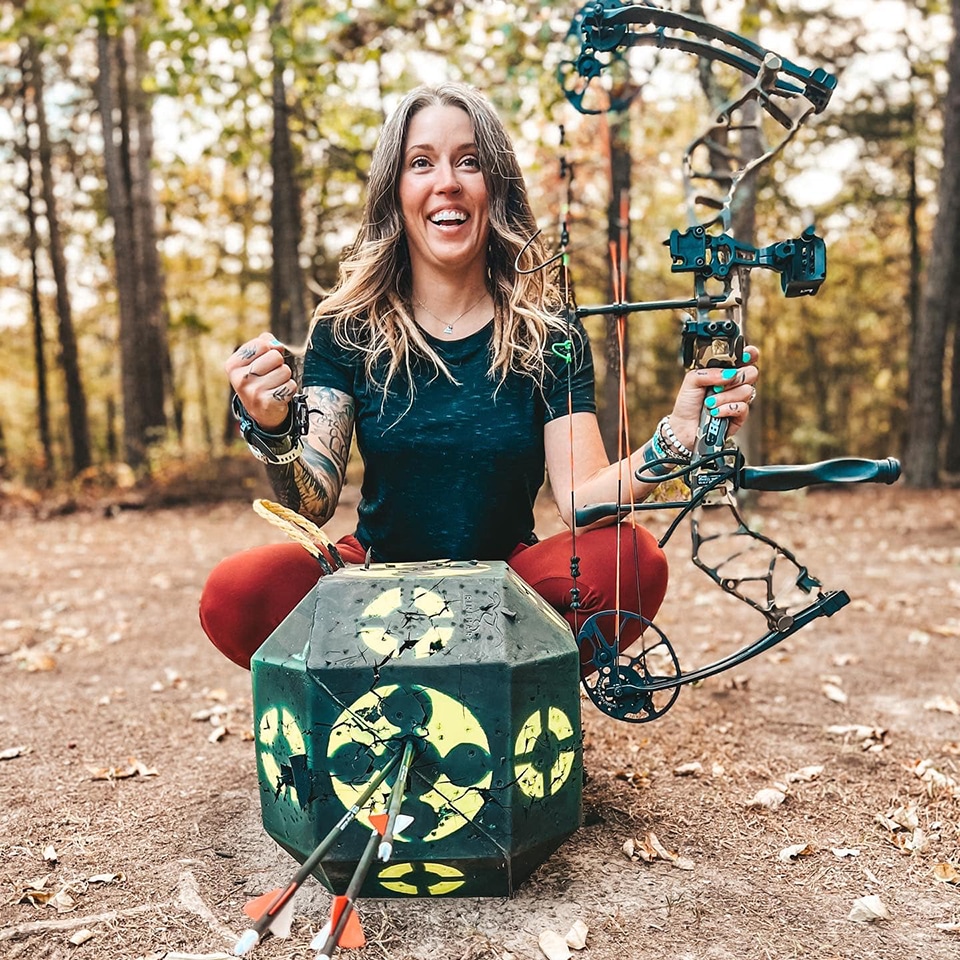 Arkansas First Gentleman Bryan Sanders called me up one day and stated that he and his wife Sarah, the Governor of Arkansas, had been following me for a while on social media. Because I was such a supporter of Arkansas, they thought I would be a great fit serving on the Commission. This appointment is an incredible honor and opportunity to represent my state in a positive way. Governor Sanders said of the appointment:
"I am excited to appoint Eric Jackson, Dr. Trey Berry and Rebecca Baker to the Arkansas State Parks, Recreation, and Travel Commission – three excellent representatives of Arkansas who will continue to show the nation and the world the incredible natural beauty, world-class outdoor recreation, and great economic success of our state. I am ready to unleash our state's potential to be a national leader in tourism and outdoor recreation, and work with these talented individuals to attract visitors and businesses from across the nation to the great state of Arkansas."

~ quote from governor.arkansas.gov
2. #1 piece of advice you would give other females who want to break into the industry?
LESS SKIN MORE SKILL. I say this from experience, we earn respect by knowing our (stuff), not showing it. Be authentic and consistent with followers. Always engage and don't be afraid to stand up for what you believe in.
3. What motivates you?
Telling my story, no matter how hard that can be.
"One day you will tell your story of how you overcame what you went through and it will be someone else's survival guide."

~ Brene Brown
4. Most unexpected thing you've learned, while working in this industry?
The amount of shadowbanning. Whether I show a humane harvest, my EDC gear, or speak about mental health – my content is often banned. But I am becoming an expert on maneuvering around the algorithm!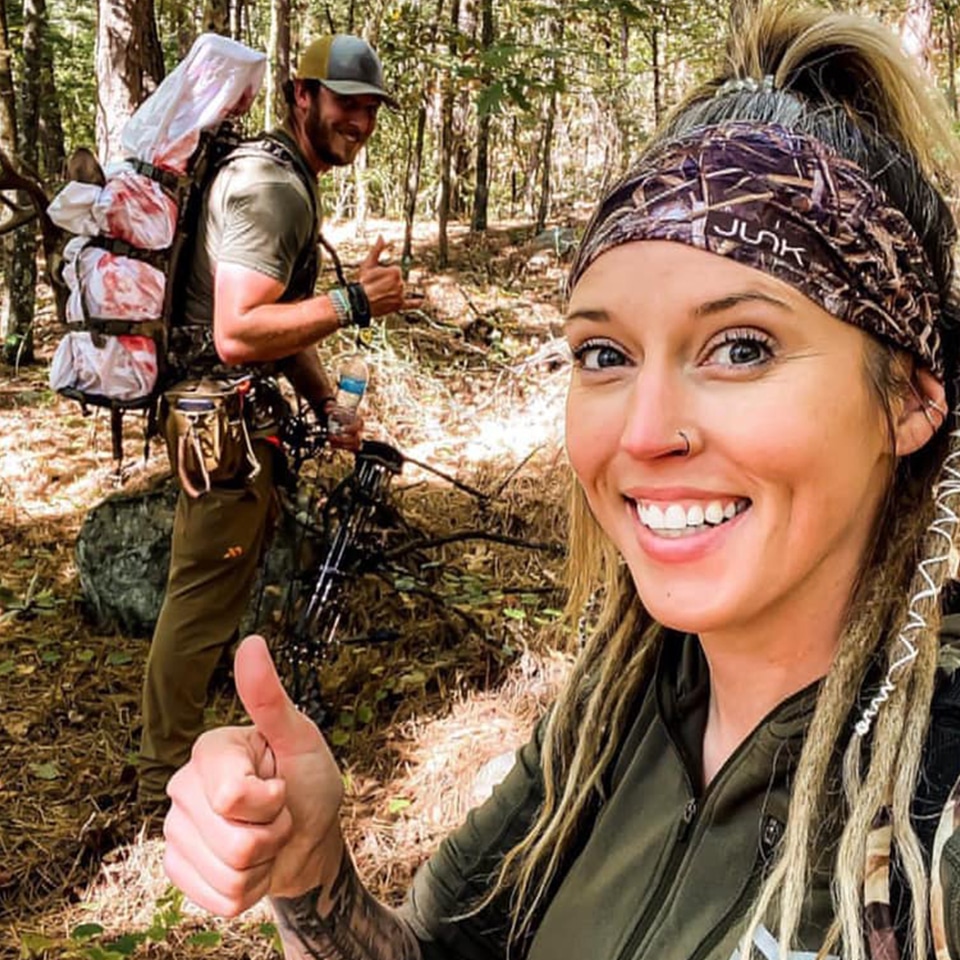 5. Favorite product in the outdoor or shooting market right now?
My bellyband 2.0 from Crossbreed Holsters! I can wear it while running, fishing and at the gym. Best EDC piece I have!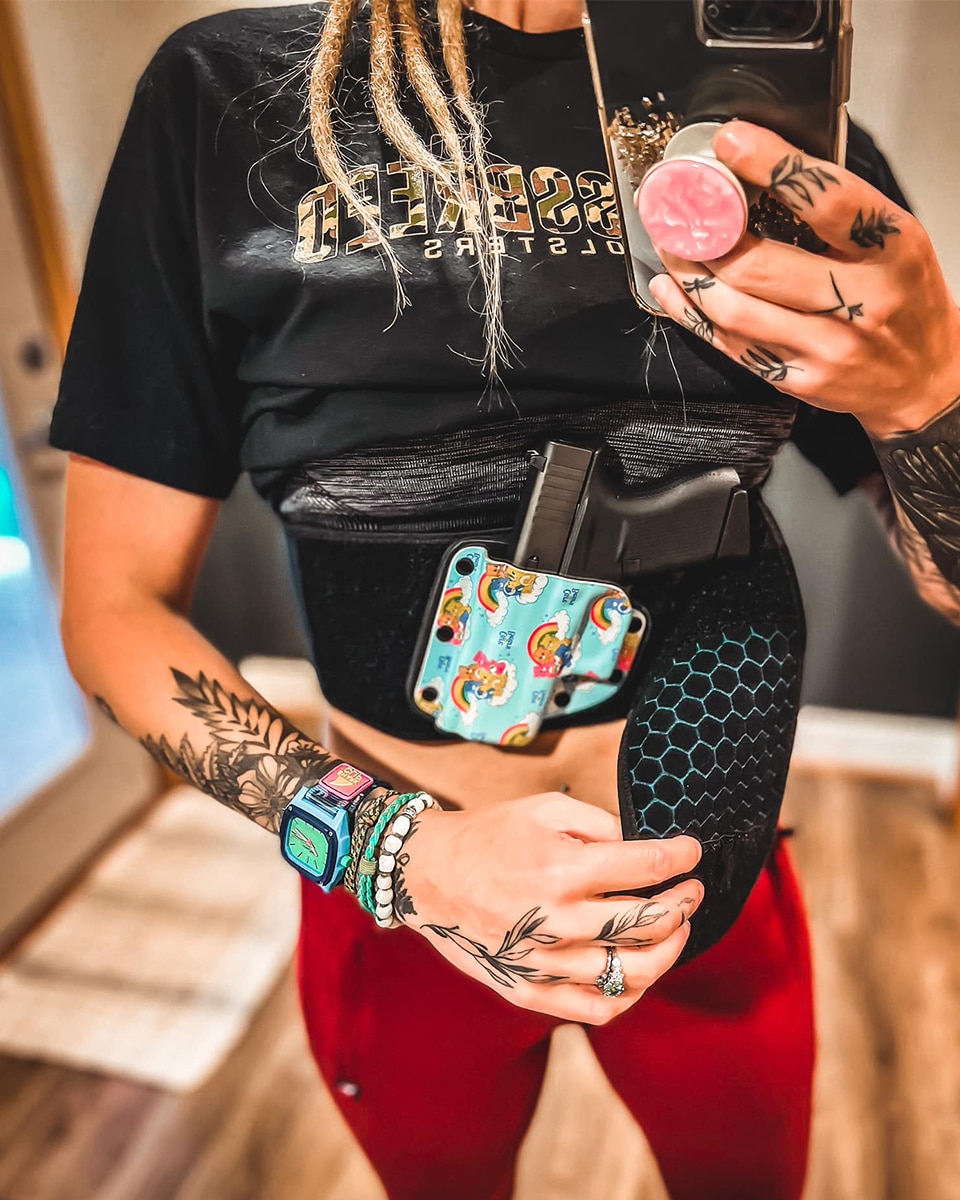 6. Let's have some fun … what weapon would you use to battle a giant?
Hmmm, razor sharp trip cord to cut his achilles… then go from there.
Follow Lady Angler Lentz
Keep up with Rebecca's adventures at Instagram / Facebook. Her website "It Set You Free Outdoors" hosts her blog, podcast and shop selling fly fishing accessories. She offers a 10% discount to veterans on all her merchandise.
About Jackie Richardson

Jackie Baird Richardson is an interior designer, editor at The WON and avid junker. Watch for her design tips and occasional crafting ideas, bringing the outdoors indoors. View all posts by Jackie Richardson →