Revisited: Reasons to Obtain Project ChildSafe's Free Gun Locks
Following the correct path is often made tremendously easy when the resources to do so are at your disposal. For some, the most engrained skills are those earned through learning, trial and error; however, negotiating this dance with firearms can sometimes be imposing and final. When it comes to safety, don't take any unnecessary risks. There are many reasons to obtain Project ChildSafe's free gun locks and with this tremendous initiative toward hardening safety comes the opportunity to be a thriving gun owner.

Sponsored by Project ChildSafe and NSSF
As a 3-Gun competitor, Becky Yackley knows the ins and outs of an efficient and disciplined sense of safety. In her article titled "The Many Reasons to Obtain Project ChildSafe's Free Gun Locks," she tackles not only the effortless task of acquiring a free safety kit, but also zeroes in on the habits and considerations involved in making it a pastime, negotiating TSA not excluded.
Throughout her article, Becky sees Project ChildSafe's free gun locks as an ongoing action item. Although one can stop after the click of a secured lock, she sees a wider training opportunity such as moving the firearm to a low-profile location, considering the gun's deployability and continuing to teach others and in particular, young ones, the merits of understanding firearm uses, risks and enjoyment. ~IBR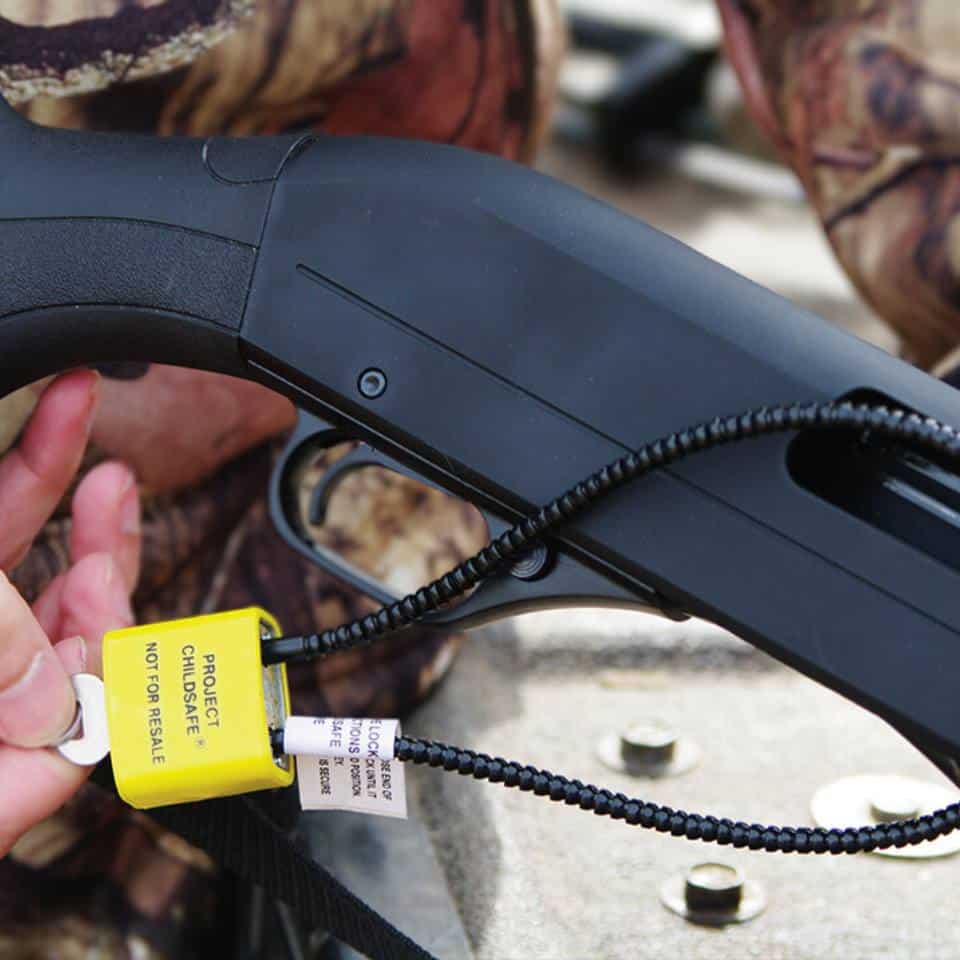 The Many Reasons to Obtain Project ChildSafe's Free Gun Locks
If you believe that the idea of safety and 'free' go hand-in-hand, check out this excerpt from Becky's longer article on acquiring free gun locks and training for their uses and deployment.
Establish a pattern of behavior when you use [your free gun lock], so that if it is the only way your gun is secured, it is always used.
You also should consider that while this will keep children from using the lock, the key needs to be stored someplace they cannot find it. This is one of the ways critics find fault with gun locks. Locks cannot be used as a replacement for teaching your children firearms safety, and to respect the power in them. So, lock your guns away and out of sight.
And just like we teach our youngsters about the dangers of crossing the street or swimming alone, firearms and what to do if they find one is something that should be taught early and clearly. Demystifying danger helps kids understand the truth of what can harm them – and that should be every parent's goal: to have kids who know to stay away from dangerous situations and trust what their parents tell them.
So, be active in securing your firearms. Teach those around you to respect them and don't be afraid to use simple tools for safety when you don't have access to a safe.
View the original post here. Be sure to familiarize yourself with the NSSF's important program, Project ChildSafe.
About The WON

The Women's Outdoor News, aka The WON, features news, reviews and stories about women who are shooting, hunting, fishing and actively engaging in outdoor adventure. This publication is for women, by women. View all posts by The WON →