Firearms Instructor Carries New GTM Crossbody Messenger Bag
As a busy mom of five, I am always looking for something durable that can carry everything from my iPad to a first aid kit, as well as everything in between while still looking stylish. I love to dress professionally, yet prefer a more casual accessory. As a GTM bag tester, how excited was I to get a new GTM-CZY/186GREY Crossbody Messenger Bag in distressed buffalo to try out?
The bag is gorgeous with its simple, yet elegant, design. It is in my favorite color – distressed buffalo in a grayish-blue hue that gets better with age and wear. I've even spilled things on it and it wipes right off. Even better, it doubles as an inconspicuous range bag that can carry my pistol, a couple of magazines, ammo and my eye and ear protection. This means I can hop from a lunch meeting to the range without changing my bag.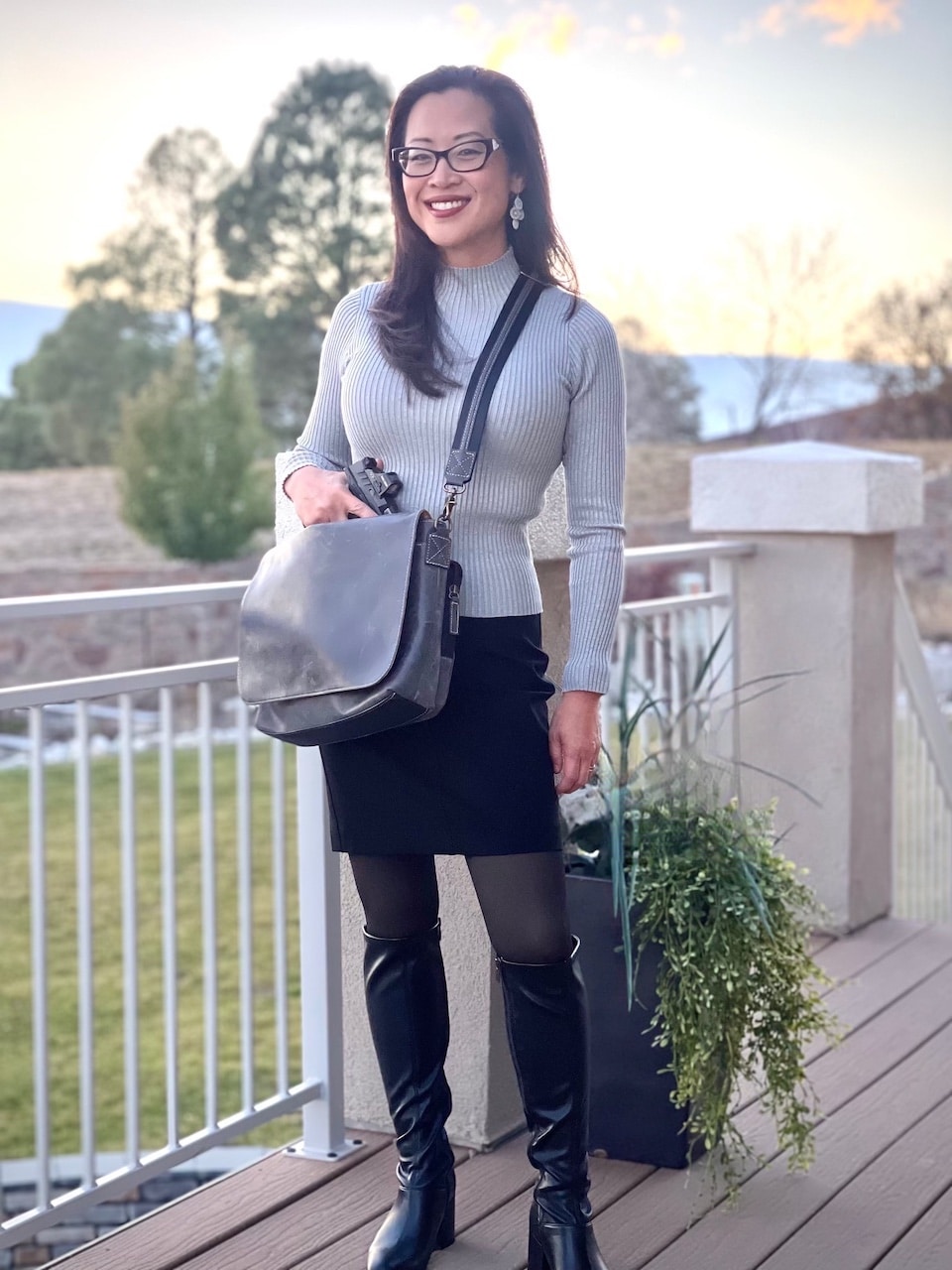 I've been testing this bag now for a few months and somehow it is looking better with wear. It is not overwhelming for my petite frame and it is the perfect size for a device, keyboard, notebook, wallet and my Walther PDP-F series with a four-inch barrel. There are very few bags that can carry a larger firearm and have easy top, left, right and angled access like this one offers.
The bag comes with a roomy separate and dedicated compartment for a gun, including a standard holster (designed by Mernickle Holster) that is adjustable for left- or right-handed draws. For when I want to carry on-body, I still use this bag. Then, I will carry my IFAK components (tourniquet, gloves, shears, gauze, bandage), rather than my firearm. This feature is why it's wonderful to have a dedicated pocket in a concealed-carry handbag.
There are so many thoughtful details in all GTM bags and this one is no exception. From the easy-to-see khaki lining to the slash-resistant, cable-embedded crossbody strap, GTM bags are made with much care and serious testing. There are many concealed carry bags out, there but few that marry comfort, function, and style in such an attractive package.
You may find the GTM-CZY/186GREY Messenger Bag at GTMoriginal.com.
MSRP: $189.95
About the author
Julie Park was born in South Korea and grew up in Canada near the Rocky Mountains and currently enjoys living in the beautiful state of Colorado. She has homeschooled her five kids for more than 20 years and counting. Ten years ago, an attempted break-in launched her into the world of firearms and training – and she hasn't looked back since. What was a frightening experience turned into a passionate quest to help equip and educate women in the safe handling of firearms and in defensive pistol. She is a NRA-certified instructor (Basic and Advanced Pistol, PPOTH, PPITH, Chief Range Safety Officer), a MAG-40 Lethal Force Instructor and A Girl & a Gun Facilitator in Colorado Springs. She is a gun reviewer and blogger for "Women's Outdoor News," and a freelance writer for gun magazines. She also is a tester for firearms-related products and her favorite bags by Gun Tote'n Mamas.
About The WON

The Women's Outdoor News, aka The WON, features news, reviews and stories about women who are shooting, hunting, fishing and actively engaging in outdoor adventure. This publication is for women, by women. View all posts by The WON →