Gal Gab: 6 Questions for 'QueenBee' Brianne Leys
Brianne Leys (IG handle QueenBee.9) is an avid, multi-species angler and DSG outerwear pro-staff member. She lives and works in Manitoba, Canada, and is a self-proclaimed fishing junkie who takes every opportunity to get on the water. Brianne and her husband, Trevor, try and fish as much as possible after work is done during the week, but go hard on the weekends. They are expecting their first child this fall, but are hopeful to continue getting out often to pursue their shared love of fishing.
Brianne became an angler in the summer of 2013. Her husband introduced her to fishing for stone cat and catfish, and on her second day she caught a 35-in catfish. Brianne credits her husband with giving her a great start in fishing, as he targeted species she could catch in abundance. Brianne later realized that not all days on the water led to catching fish that easily, but it was too late — by that second day, she was hooked!
As Brianne spent more time with a rod and line and branched out to fishing for different species, her love of the sport grew. One day she saw an Instagram post from DSG Outerwears, which was an open call to all anglers to apply to be on their field staff. She applied and was accepted to be a member, and worked her way up to their pro-staff level. Keep reading to find out more about this weekend (fishing) warrior who loves to share her passion for the sport with other women in her community. As Brianne says, "We women can do anything we set our minds to!"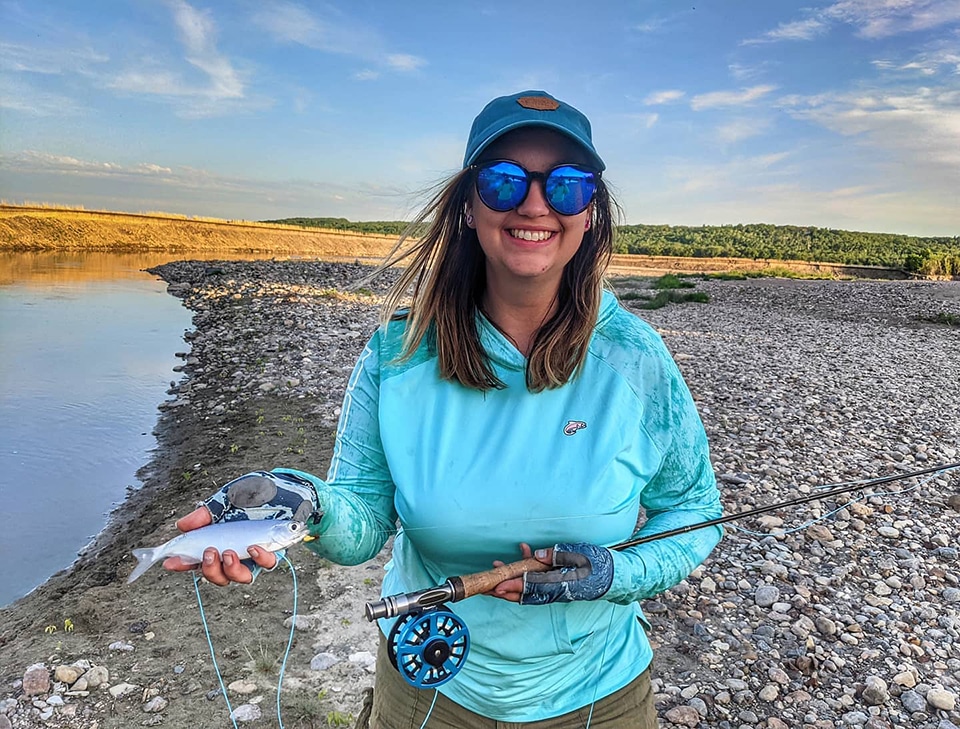 Getting to Know the QueenBee
1. Describe a typical day in your work life:
For the past 10 years I've been working Monday to Friday, 9-5, as an office manager in a denture clinic. I keep the office running and wear multiple hats, taking on all sorts of jobs.
In October my job and daily life is going to change drastically! My husband and I are expecting our first child, so I'll be on maternity leave. Currently we only get to fish the odd day after work, but we go hard every weekend. With our baby arriving this month we'll be going with the flow everyday, but are optimistic that we will be still able to get out and fish.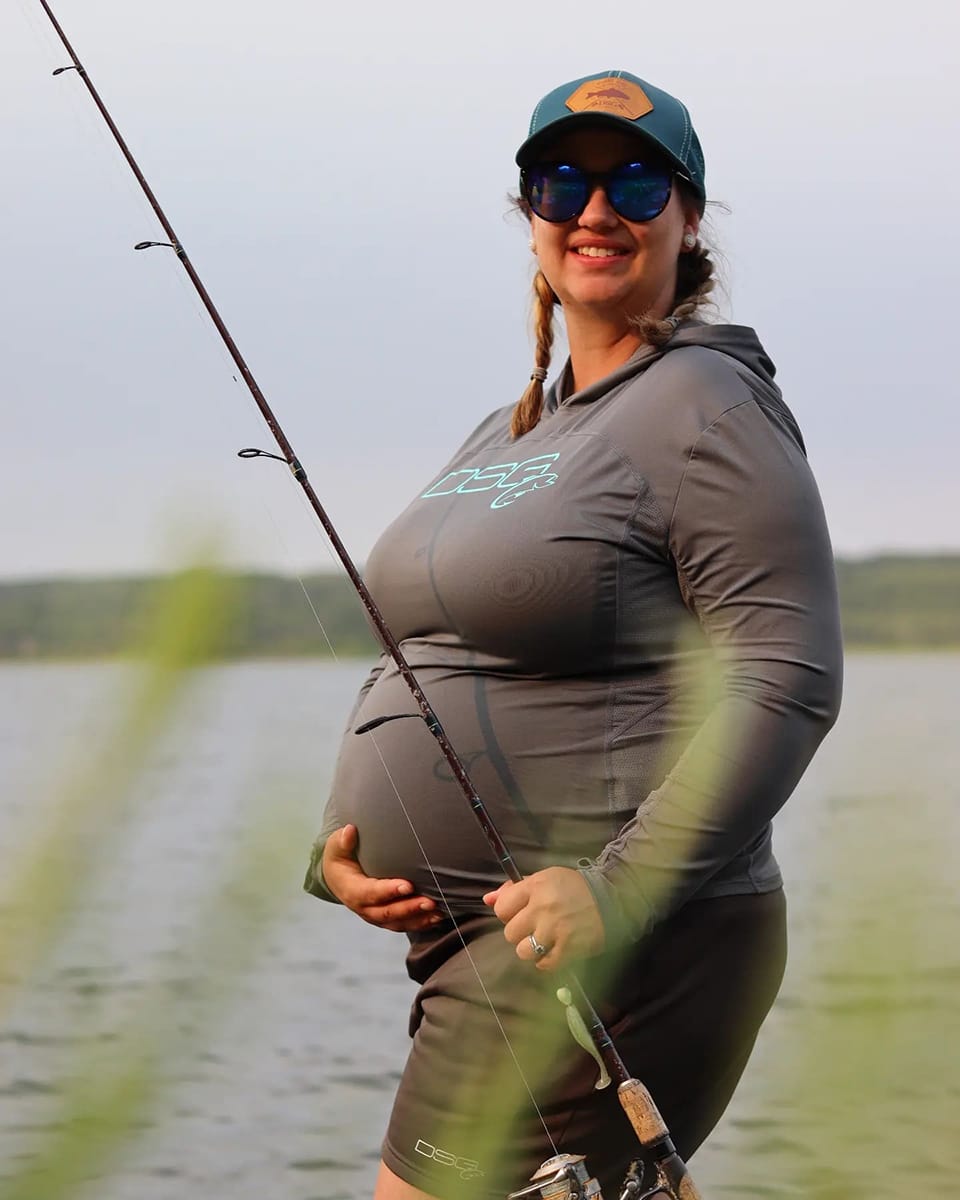 2. #1 piece of advice you would give other females who want to break into the industry?
If you've been thinking about going out fishing, just do it! Even if you're nervous, get out of your comfort zone and try something new. The things that scare you are usually worth doing and it helps you grow as a person. Being an introvert and shy woman myself, getting out of my comfort zone has taught me things I wouldn't have known about myself otherwise.
For example, recently I went to an all-girls carp fishing trip; I spent the entire weekend with other female anglers, learning new fishing techniques and exchanging knowledge. Last ice season, I volunteered to teach a group of women to ice fish. Both of these experiences were things I'd never done before, and I now have even more confidence in going out alone or without my husband on the ice.
Knowing I can do it all on my own from using the auger, to setting up an ice shack and using the depth charts/maps to find a great spot to catch fish is so empowering. We women can do anything we set our minds to.
3. What motivates you?
A couple of things motivate me. I always want to beat my personal best species of fish, and love the challenge of knowing there are so many more species I haven't caught (yet). But I think the biggest motivation for me to become a better and more knowledgeable angler is that I can be a role model to other female anglers.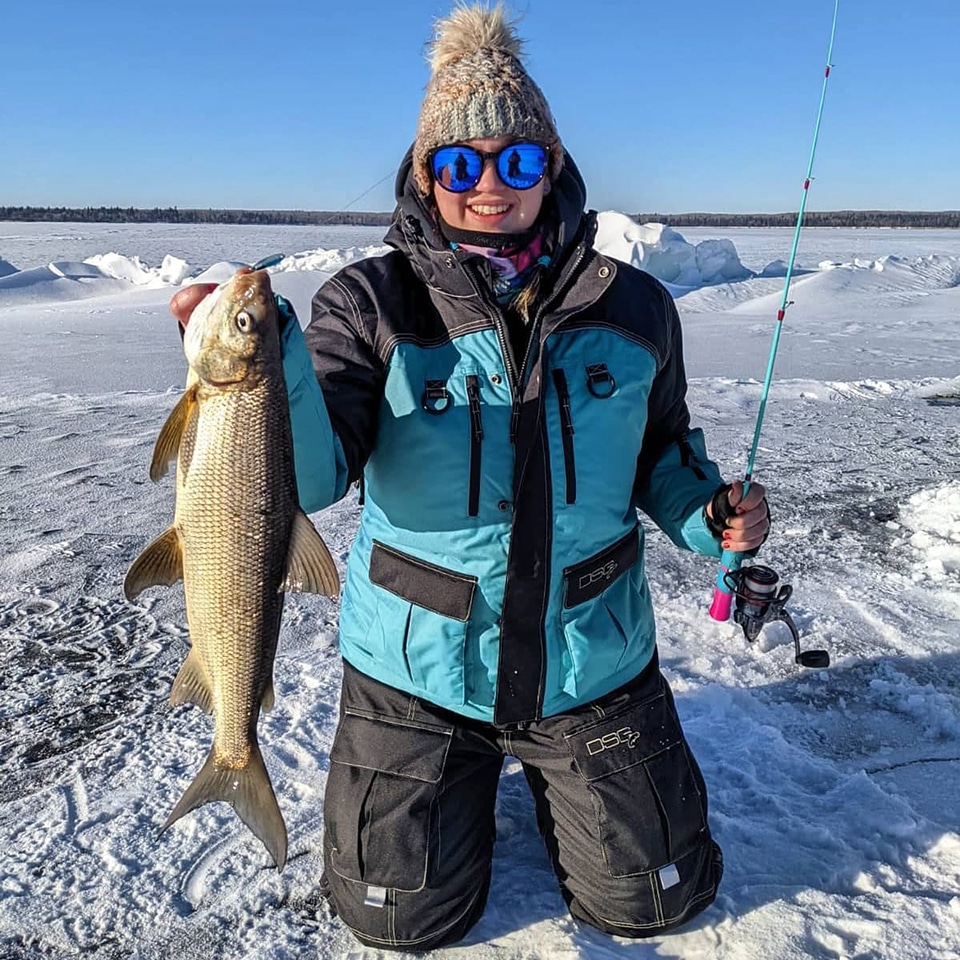 My niece talks about fishing nonstop and I feel proud that she tells people she has an auntie who loves to fish. She's learned that fishing is not just a male sport, and that if there's something she's interested in then she needs to get out and try it.
4. Most unexpected thing you've learned, while working in this industry?
I've learned how much women are underestimated in the fishing industry. I've had tons of people talk to me as if I don't know anything about fishing. With it being 2023, I am surprised that people are still astonished I fish and can give them advice about fishing. My husband and I are partners on the water and I love that he treats me like an equal, asking and listening to my opinion on what to use for tackle and where to go on a lake.
5. Favorite product in the outdoor or shooting market right now?
My ice dropseat bibs from DSG Outerwear. Being made by women for women, it's been a real game changer for being able to stay out on the ice that much longer. The dropseat on the bibs is a feature I never knew how much I'd love, not having to remove the bibs to get my business done allows me to get back to fishing so much faster! The built-in knee pads are amazing for jigging for fish and setting things up. It's been a dream being able to wear clothing for women that fits and is fashionable. I no longer have to wear men's winter gear and bundle up with tons of layers.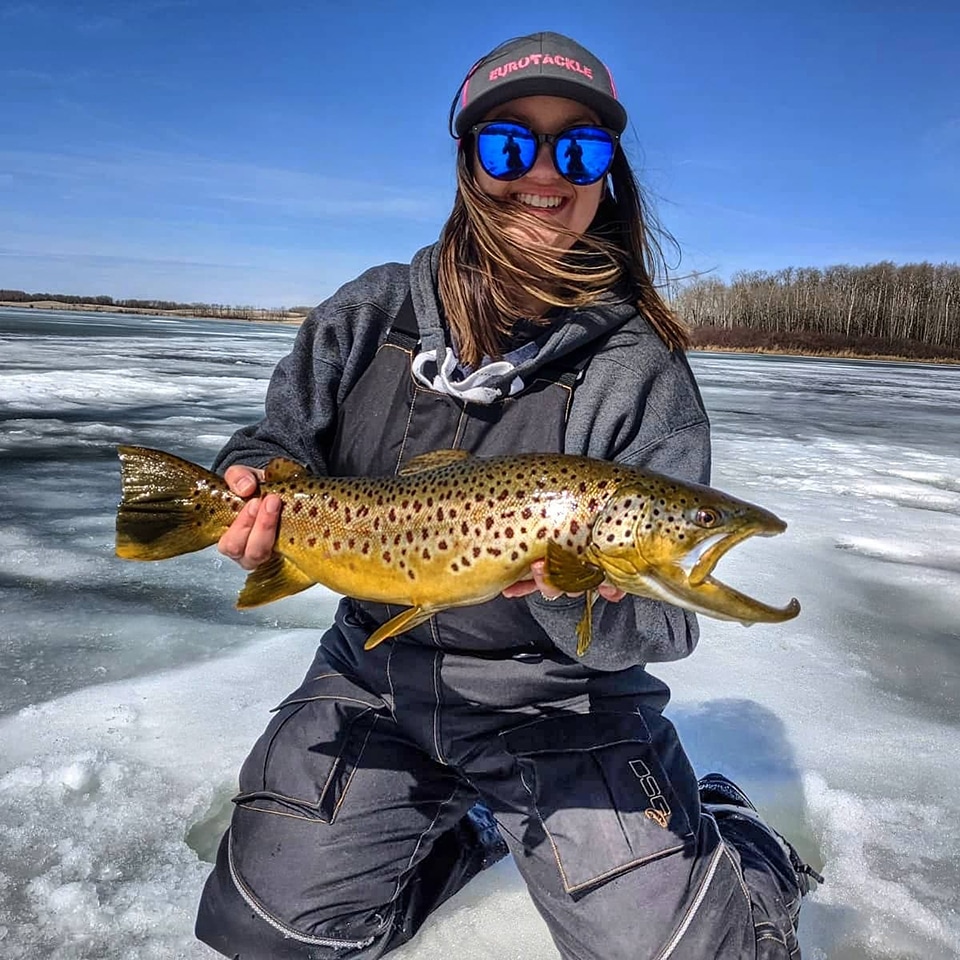 6. Let's have some fun … what weapon would you use to battle a giant?
I love using my 4wt fly rod to battle giant blue gills. I was interested in fly fishing and purchased an inexpensive fly rod and ended up loving it. You don't need to spend a lot to learn a new skill and catch beautiful fish.
Follow the QueenBee
Brianne Leys shares her adventures on water and ice at her Instagram and Facebook pages. Be sure to give her a follow. She loves to share her catches and gear tips. We look forward to watching as Brianne starts her biggest adventure yet — motherhood!
About Jackie Richardson

Jackie Baird Richardson is an interior designer, editor at The WON and avid junker. Watch for her design tips and occasional crafting ideas, bringing the outdoors indoors. View all posts by Jackie Richardson →