We all know that Filson products speak and move quality — high quality. When you purchase something from Filson, it's a lifestyle statement of "Yeah, I'm worth it," coupled with "I trust that this [insert item name here] will benefit me in whatever outdoor activity I do." Not only does Filson run a beautiful website with photos of real people wearing their line of sporting apparel, it also highlights those real people in its "In the Field" section.
We found Judith O'Keefe's story here. She's an outdoor photographer, fly fisher, gardener in the Slow Food Movement — an interesting international organization promoting clean, fair and healthy food. The photos of Judith — fishing, in her truck, with a goat — are all quite "Bridges of Madison County" looking, and we like that.
Perhaps you are a Filson "In the Field" female? Check it out.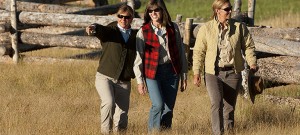 Photo courtesy of Filson
Disclaimer: The WON • This publication receives payment for advertising. • This publication reviews products and provides editorial copy (like all other major publications) because of advertising sold. It does not guarantee a positive review of such products. • If our freelance writers do not pay a full retail price for a product being reviewed, from Feb. 11, 2015, forward, they will explicitly state that in the review. • Unless explicitly stated, any writers at The WON have no affiliation or relationship with the supplier of a product being reviewed. • We generally follow the "if you can't say something nice, say nothing" rule. If we review a product and don't like it, we will either offer constructive criticism as to how to improve said product in print, or we will refuse to review it.