Review: Remington R51 Gen 2
Especially designed for the concealed carry market, Remington's recently released R51 packs a perfect 9mm punch from a slim design.
Remington calls it "perfected." That's because, for those of you with long memories, the first generation of this model had some problems and was recalled. Immediately after that unfortunate experience, Remington offered 3 options to its disappointed customers: a different gun (more expensive) from its lineup, a refund or the next generation R51. Most of its customers, I've heard, chose to wait for the new version. That's a testament to the company, right there.
Redoing the R51
I spent some time with Remington's engineers last December at company-sponsored tour that took several gun writers from Ilion, N.Y., to Huntsville, Ala., in a whirlwind 2-day tour. The R51 is being built in Alabama now – having relocated from Charlotte, N.C. You may think that the gun industry is a big, well-oiled machine without a heart, but I have seen the human component within the industry. I've talked to people working on the lines and in the drawing rooms at some of the largest manufacturing gun companies in the world, and believe me … there is one thing they all have in common: they want to be proud of what they're making.
So, the Remington engineering team took the gun back and worked it over; in fact, if you visit Remington's webpage on the R51, they'll tell you what they've improved on this model. I think they should be very proud of the results.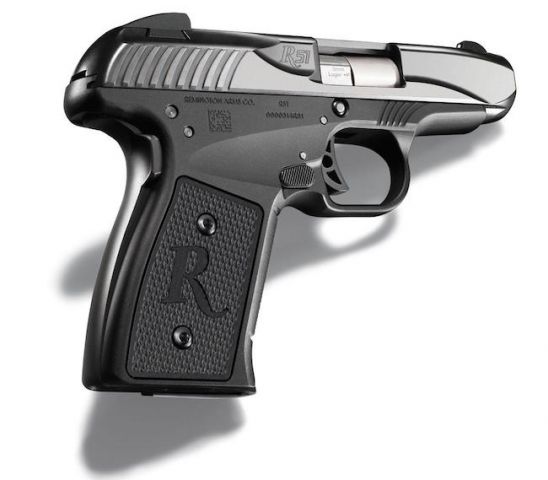 My first shots with an R51
Remington sent me an R51 a couple of weeks ago. I took it to the range, shot 200 rounds through it without a single malfunction – using different types of target and personal defense ammo. We're not done yet. I plan on shooting the R51 several hundred more times and coming back with a more thorough review. I'm going to holster it and bag it and drop down with it and shoot from prone and kneeling and I may even move from target to target on occasion.
I will then, add it to my concealed carry arsenal of choices.
Why women will love this gun
I believe, though, that the R51 will appeal to the women's market for several reasons. Now, some of you guys out there think it's an ugly little gun. Beauty is in the eye of the gun-holder, and frankly, I think it looks a little Bond-ish, James Bond-ish, if you must know … and it feels like some of those slim James Bond-type guns. And it uses a retarded blowback action as the Walther PPK, the gun that Bond used (because he didn't have this gun to choose from). So, to me, it's attractive.
Thanks to the gun's Pederson-block design, most women will appreciate its low felt recoil.
Some of the other reasons I like it?
Grip: It comes with a positive grip safety and has been designed at a comfortable, forward angle. I like that little bit of checkering on the front of the grip, too, for sweaty hands.
Size: It can hold 7 in the metal magazine. I prefer a metal mag.
Trigger: It's a polymer trigger that resets fast. Once you load up a mag and start shooting, you'll feel the big difference between the dry-fire and the loaded-fire versions.
Balance: Perfect. I like it.
Snag-free factor: You can pull this from a holster or a bag freely and fast.
Lightness: Again, it's summer. You need something to put on your waist or inside your waistband and enjoy. You can do that with this slim Jim of a gun.
Only challenge?
I have to admit, disassembly of this gun is a challenge – of which I am up for and will master within a few more times of taking it apart to clean. Just wear safety glasses when working with it, because that spring is a strong one.
The R51 will be on store shelves on Aug. 12.
MSRP: $448
Visit Remington to learn more about the R51.
In fact, up until Mon., Aug. 22, you can enter to WIN WON below.
About Barbara Baird

Publisher/Editor Barbara Baird is a freelance writer in hunting, shooting and outdoor markets. Her bylines are found at several top hunting and shooting publications. She also is a travel writer, and you can follow her at https://www.ozarkian.com. View all posts by Barbara Baird →
The Conversation