Guru Huntress: She did it … the Grand Slam is complete

Sunday, Apr. 18, 2010, was a very exciting day for Richard and me —I achieved my Turkey Grand Slam harvesting my Merriam's in central Montana. This, by far, was one of our most challenging hunts — both mentally and physically due to lost luggage upon our arrival, two to five feet of fresh snow on the ground, a flat tire on our rental vehicle and a whole plethora of other shenanigans and calamity that continually happened—but worth every minute of it. Our original return flight was changed so we didn't arrive at our home until well after midnight. The story is at my blog here.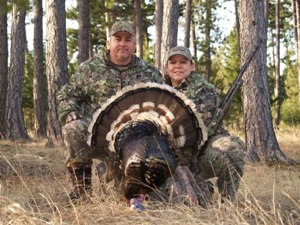 I harvested my Merriam's at 7 a.m. MDT on March 18, 2010, in the mountains of central Montana. The bird had a 9" beard, 1/2 " rounded spurs and weighed in at 23 pounds. It is typical for birds in this region to have broken or worn-down spurs from the freezing temps and rocky terrain. I can TOTALLY relate to that because I wore quite a bit of sole off my own boots.
I am headed to Florida this week and then Oklahoma next week … my original goal was to complete my Grand Slam in one year which by calendar date I succeeded, but for last season my Merriam's carried over. I still have the opportunity to complete a Grand Slam in the same season if I can be successful in harvesting my Osceola in Florida and my Rio in Oklahoma—so my goal is still in reach!!
A heartfelt thank you to everyone that supported me, cheered me on, wished me luck, or sent me in the field with their products; you made this special. Good luck to each and every one of you this season and please keep me updated with your success or stories. ~ Nancy Jo Adams
About The WON

The Women's Outdoor News, aka The WON, features news, reviews and stories about women who are shooting, hunting, fishing and actively engaging in outdoor adventure. This publication is for women, by women. View all posts by The WON →
The Conversation