Guru Huntress: ThermaCell on … mosquitoes off!

As I was preparing to pack for my next adventure, I did my usual thumb through of my mental checklist. The pile was made, but that odd feeling out of sorts that something was missing still lingered. I went through my list one more time. What am I forgetting?
I didn't need a weapon and ammunition on this trip; they were being supplied. This was going to be a special mission – hog hunting to aid crop damage control, in hot, humid South Georgia, in the pitch black of night. What was I forgetting? Something I kept telling myself ALL weekend long that I could not forget. Don't you hate when you get that feeling?
The next day I was sitting at my desk when it came to me like a clap of thunder – my THERMOCELL!!! How in the world could I have forgotten that? ThermoCell is a necessity in the South where we have mosquitoes just about year round and especially under the aforementioned conditions.

ThermoCell is a small portable unit that dispenses repellent into the air by the use of a butane cartridge which provides enough heat to warm a metal grill. An Allethrin-saturated pad is inserted into the grill and the heat vaporizes the repellent allowing it to rise into the air. The vapors control mosquitoes in a 15 x 15 (225 sq. ft.) area. ThermoCell repels 98 percent of mosquitoes and also is effective on other biting insects such as black flies, no-see ums and sand flies.
The vapors are very offensive to mosquitoes and nearly undetected by humans The chemical that the pads are saturated with is Allethrin, a synthetic chemical copy of the naturally occurring insecticide, pyrethrin, which is found in the Chrysanthemum flower. The chemical has been toxicology tested, approved by the EPA and is safe for humans and pets.
The unit is compact, cordless, silent and portable. It does not require batteries and the butane cartridge and pads are both refillable. For hunters there is an earth scent pad for use as a cover scent when hunting. A more compact unit is also available. ThermoCell is sold in several exterior colors: olive, gray, woodlands camo and Realtree APD HD . A convenient holster with snap closure storage pockets and adjustable straps with a plastic buckle is sold separately in two color choices.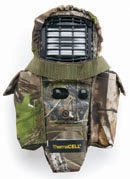 ThermoCell is highly effective and allows hunters to be protected against mosquitoes in the field undetected by game animals. ThermoCell products are also ideal for many other outdoor activities. I never leave home without it and thankful that I didn't forget it on this adventure — it remained on the entire time I was in the field.
See the entire line of ThermoCell products at http://www.mosquitorepellent.com/index.asp .
About The WON

The Women's Outdoor News, aka The WON, features news, reviews and stories about women who are shooting, hunting, fishing and actively engaging in outdoor adventure. This publication is for women, by women. View all posts by The WON →
The Conversation