Kathryn Nazzaro gets comfortable with red-shouldered hawks
I had the luck of being in the company of this beautiful red-shouldered hawk back last February. I made sure not to get too close too fast and I was able to sit with this raptor for nearly an hour. The tree was on a hill and a perfect opportunity to shoot from all angles and heights.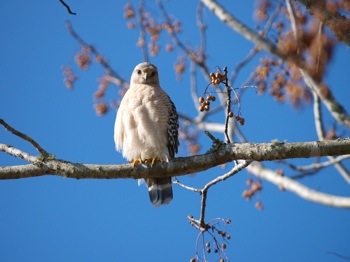 You can really change the look of a subject shooting from different angles. Take the time to compose from different angles and heights if possible. I was able to get almost eye level with the raptor as it was sitting in a low branch and going up high on the hill really worked out nicely.
Of course, you have to have a cooperating subject and this is not always the case with hawks. They tend to have a "no closer zone" and just fly away on you. If you take the time to have patience and let them know you are not a threat by easing your way closer, they will sense that you are not a threat. I ended up leaving before the hawk did. This red shouldered hawk was in The Villages, Florida, in central Florida. I was on vacation and spent the week birding since I was in such a great location to do so!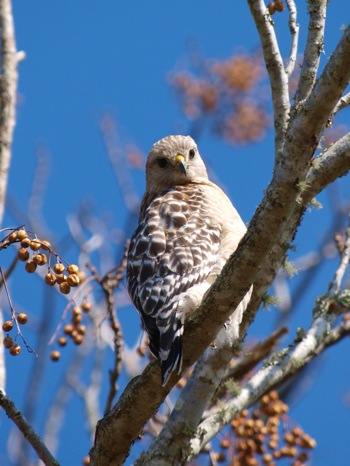 Kathryn Nazzaro works for Hunt's Photo & Video in sales. In fact, she was "top sales person" for 2007 and 2008.
Kathryn says, "For as long as I can remember, I have loved the outdoors and all the beauty it has to offer. I started exploring the outdoors at the age of three, by catching snakes, frogs, turtles and birds. I began fishing at my "Nana's" camp in Raymond, N.H., from the dock or by rowboat all by myself. I'd row across the lake to an island to eat the wild blueberries.
"Loving nature and being fascinated by it has shaped my life into how I live today. The outdoors is my church. I have grown to love outdoor photography and have been active in this area for 17 years. Teaching myself by books and lots of practice has brought me lots of great photos and experiences to remember. Being onboard with Hunt's Photo and Video sales team has introduced me to a lot of great outdoor photographers across the country."
About The WON

The Women's Outdoor News, aka The WON, features news, reviews and stories about women who are shooting, hunting, fishing and actively engaging in outdoor adventure. This publication is for women, by women. View all posts by The WON →
The Conversation