My Job … My Outdoors: Pat Hendrixson — only a senior statistically

Two World Slams in the turkey world combine with several hunting trips to make this senior lady's, Pat Hendrixson's, life interesting and full. At home, she continues grassroot's efforts to promote conservation by serving as her local National Wild Turkey Federation chapter's president. Pat Hendrixson also has served as a mentor to our Guru Huntress, Nancy Jo Adams. Pat commented on our Facebook page about age not being a factor for women in the outdoors, if one maintains the right attitude. We think Pat's right. We think you'll enjoy reading about her lifestyle and you'll also get inspired by her "can-do" attitude.
My Job
I am a retired Postmaster from the USPS, of 28 plus years. Presently, I have a home base business with the very latest high tech declassified military technology. My web site is ww.pathendrixson.safeguarddirect.com.
My Outdoors
I have been an avid big game hunter for 30 years now, but only a wild turkey hunter for the past 11 years. Have been very blessed in the past two years, I have completed two world slams with the National Wild Turkey Federation (NWTF).
I live in southern Indiana on 80 acres, where I can hunt whitetail and the Eastern wild turkey. For other big game I have traveled from Newfoundland three different times, hunting the woodland caribou and moose. First trip to Newfoundland was a bow hunt for caribou, a tough stalk but was able to get within a 20 yard successful shot that was my first stag caribou. After that trip I returned to Newfoundland two more times for both caribou and moose. All were successful filled tags. Then I needed to hunt out west, so that took me to Colorado after Rocky Mountain Elk. My first morning out, was a lucky one, with a nice bull elk. Then while there of course had to hunt the mule deer. Have enjoyed all my hunts. North to Maine for black bear, to S. D. for the beautiful Merriam's. Other states included in my hunting chapters, but must not leave out my two trips to Mexico for the Gould and Ocellated turkeys.
In many of these hunts I was the only woman in camp. Usually, there would be some of the fellows there that were very supportive and positive and then there might be one or two that acted like a woman didn't belong there. But, all in all women are usually received very positively from guides. They said woman will listen and don't act like they know more than the guide.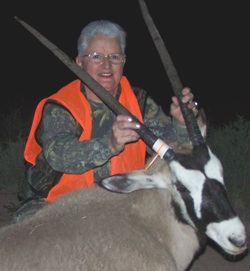 I have been president of our local NWTF chapter for the past three years and have a strong chapter that supports the JAKES (youth) with annual events; each holiday at Christmas, we provide frozen domestic turkeys to the needy. Besides we honor local students with scholarships and continue to support our local conservation.
You may read more about Pat Hendrixson, as told by the Guru Huntress at her blog, Shenanigans From the Field, here.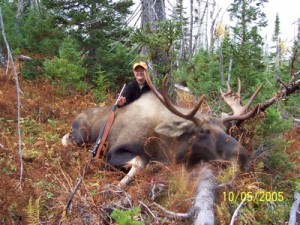 About The WON

The Women's Outdoor News, aka The WON, features news, reviews and stories about women who are shooting, hunting, fishing and actively engaging in outdoor adventure. This publication is for women, by women. View all posts by The WON →
The Conversation